Deadly tornadoes hit Missouri
5:03 p.m. ET, May 23, 2019
3:57 p.m. ET, May 23, 2019
Parts of the Mississippi and Illinois Rivers closed due to high water levels
The US Coast Guard closed portions of the Mississippi and Illinois Rivers near St. Louis, Missouri, on Thursday due to fast currents and high water levels.
"The St. Louis Harbor is closed from mile marker 179 to mile marker 184 on the Mississippi River. A no wake order has been issued on the Illinois River from mile marker 10 to mile marker 80.2," the Coast Guard said in a statement.
The Coast Guard said it will lift vessel and travel restrictions on the rivers once conditions improve.
2:42 p.m. ET, May 23, 2019
With 160 mph winds, the Jefferson City tornado was in the top 5% in terms of damage
From CNN's Brandon Miller
The tornado in Jefferson City, Missouri, has been rated at least EF-3 on the Enhanced Fujita tornado damage scale, indicating maximum winds of 160 mph. This rating could increase as the survey continues, according to an ongoing preliminary damage survey from the National Weather Service.
The tornado touched down at 11:40 p.m. Central Time last night.The path width and length of the tornado has not yet been determined as the survey is still ongoing. 
Only about 5% of all tornadoes are rated EF-3 or greater on the scale, which goes from zero (least damage) to five (the highest damage).
1:38 p.m. ET, May 23, 2019
Missouri official says storm-related injury numbers not available yet
From CNN's Melissa Alonso
Missouri Lt. Gov. Mike Kehoe says there are no statewide injury numbers at this time because the recent storm cell hit so many different areas.
Emergency crews, he said, are still working to assist residents.
There is also active flash flooding in portions of the state that will likely impact injury figures.
1:15 p.m. ET, May 23, 2019
Trump's message to Missouri: "You are strong and resilient"
President Trump just tweeted about the devastating tornadoes in Missouri, saying his administration will assist residents.
"You are strong and resilient, and we are here to assist," he tweeted.
He also urged residents to heed storm warnings.
12:21 p.m. ET, May 23, 2019
Aerial video shows homes destroyed by tornadoes
Now that the sun is up in Jefferson City, Missouri, the full scope of the devastation is coming into fuller view.
Aerial images from CNN affiliate KTVI shows the roofs torn off of houses.
Watch more:
12:20 p.m. ET, May 23, 2019
The Jefferson City tornado stood a truck up on its front bumper
From CNN's Gianluca Mezzofiore
The vehicles at Riley Chevrolet did not stand a chance when the large wedge tornado barreled through Jefferson City, Missouri.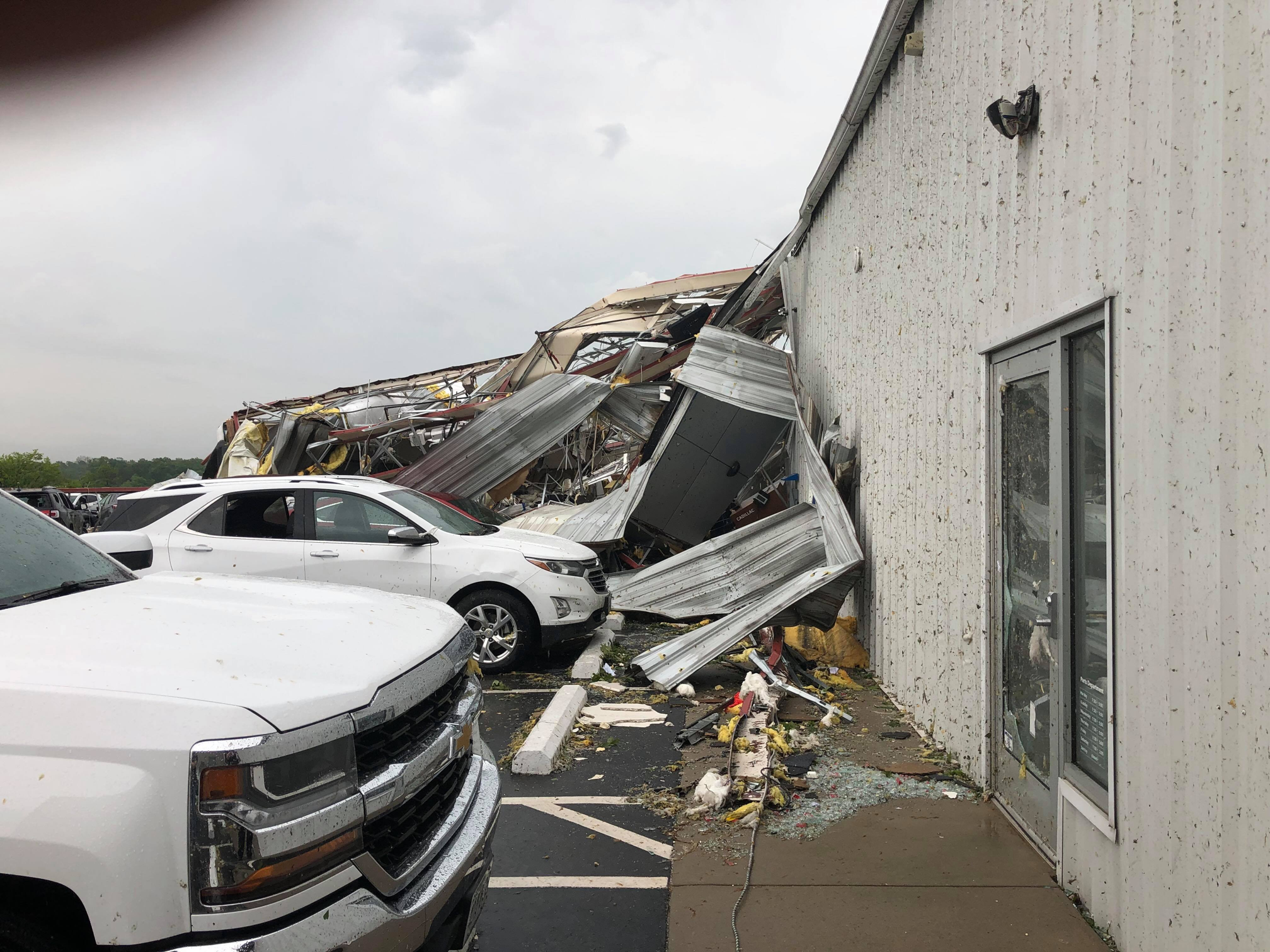 A number of cars were flipped, including this truck.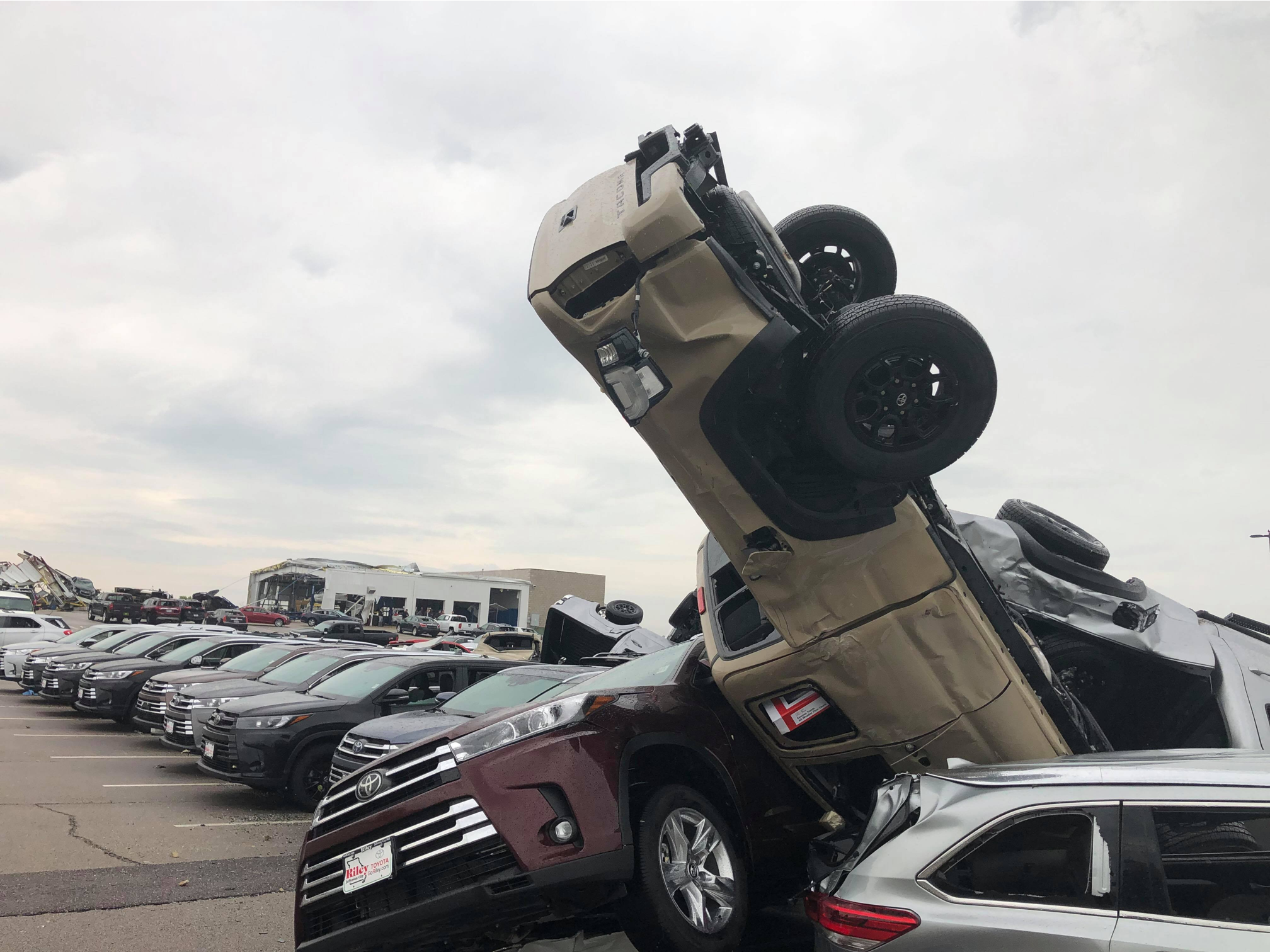 One of the buildings at the Chevy dealership also received significant damage. The building's roof was ripped off and dropped onto a series of parking spots.
11:45 a.m. ET, May 23, 2019
A tornado hit Jefferson City overnight. Here's what the area looks like in the daylight.
CNN affiliate KTVI is surveying the damage in Jefferson City, Missouri, this morning.
Their video shows a gas station's awning ripped to shreds and power lines littering a street.
Take a look:
11:33 a.m. ET, May 23, 2019
President Trump is monitoring the Missouri tornadoes
From CNN's Betsy Klein
President Trump is monitoring the situation in Missouri after tornadoes ripped through Jefferson City and nearby areas overnight.
"The White House has been in regular contact with state and local officials in Missouri since late last night. President Trump continues to monitor the situation," deputy press secretary Judd Deere tells CNN.