Deadly tornadoes hit Missouri
12:20 p.m. ET, May 23, 2019
The Jefferson City tornado stood a truck up on its front bumper
The vehicles at Riley Chevrolet did not stand a chance when the large wedge tornado barreled through Jefferson City, Missouri.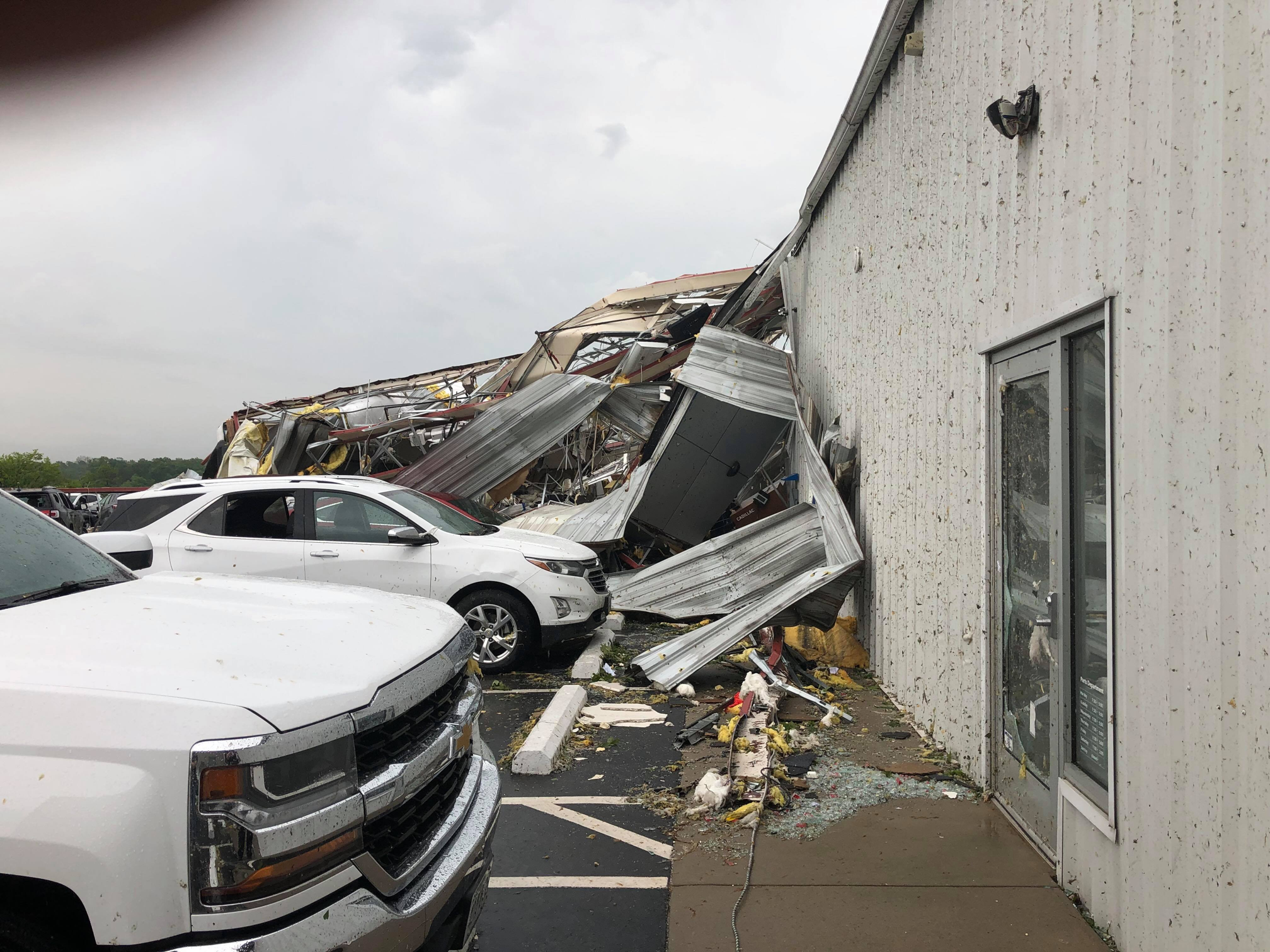 A number of cars were flipped, including this truck.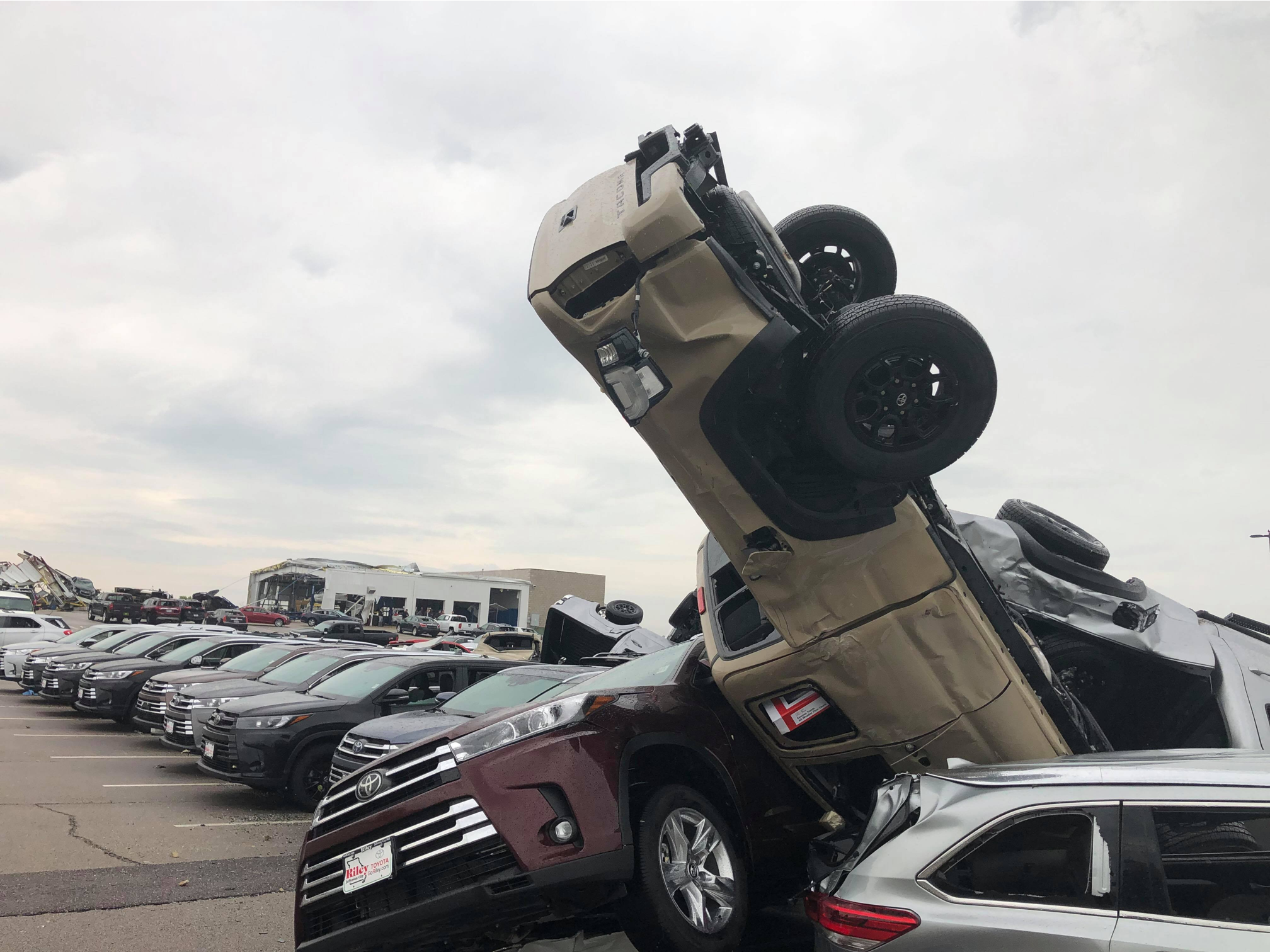 One of the buildings at the Chevy dealership also received significant damage. The building's roof was ripped off and dropped onto a series of parking spots.
11:45 a.m. ET, May 23, 2019
A tornado hit Jefferson City overnight. Here's what the area looks like in the daylight.
CNN affiliate KTVI is surveying the damage in Jefferson City, Missouri, this morning.
Their video shows a gas station's awning ripped to shreds and power lines littering a street.
Take a look:
11:33 a.m. ET, May 23, 2019
President Trump is monitoring the Missouri tornadoes
President Trump is monitoring the situation in Missouri after tornadoes ripped through Jefferson City and nearby areas overnight.
"The White House has been in regular contact with state and local officials in Missouri since late last night. President Trump continues to monitor the situation," deputy press secretary Judd Deere tells CNN.
11:01 a.m. ET, May 23, 2019
Jefferson City tornado survivor: "My house is gone. Our cars are gone. We're alive but not okay."
Kayleigh De Rosa didn't sleep at all last night. Yesterday, she had a home and cars. It took seconds for a tornado to destroy everything.
She was in bed with her boyfriend, Stevan Rance White, when they heard a woosh from the open window. White got up to slam the window shut — and then the couple darted to the bathroom to hide in the tub.
Inside the tub, their home started to disintegrate around them.
"It felt like a train hit my home," De Rosa told CNN. "Our windows and walls were ripped out."
Stepping outside afterward, the extent of the devastation became very clear. She says it was like an apocalypse outside. They threw on their boots to check on their neighbors needed help.
"My house is gone," she wrote on Facebook. "Our cars are gone. We're alive but not okay."
In her video, she points out where their balcony used to be: It's now on top of her mother's car.
Watch:
10:43 a.m. ET, May 23, 2019
One tornado flipped cars at a Chevy dealership
John Dolson can count himself as one of the lucky ones in Jefferson City, Missouri: The part of town he lives in wasn't affected.
After the storm, he decided to go across town to check on a friend. On the way, he stopped at Riley Chevrolet, where he works.
Cars were thrown around and flipped by the large tornado that moved through.
"The dealership took a direct hit, literally cut the building in half," he told CNN.
Here's a look:
10:30 a.m. ET, May 23, 2019
These houses are dangling over a swelling river outside Oklahoma City
CNN just had a drone up above the surging Cimarron River outside of Oklahoma City, and it showed two houses that were falling, piece by piece, into the water.
A number of residents living along the river evacuated last night, CNN affiliate KOCO reported, in advance of the flooding. Their homes were known to be at risk due to erosion from the flood waters.
10:21 a.m. ET, May 23, 2019
This stormchaser shot videos of tornadoes near Jefferson City, Missouri
Ricky Jarvis was out stormchasing as a series of strong cells moved through Missouri.
In the dark, lightning illuminates what appears to be a number of tornadoes dropping from the clouds above.
Watch his video:
10:00 a.m. ET, May 23, 2019
These were the tornado sirens in Eldon, Missouri, as the wedge tornado moved through
The wail of tornado sirens are eerie enough. They're made even more scary when sparks and flashes from power lines snapping in the distance are visible.
Bret Powell, Jr. took video that shows just that.
The same tornado that tore through Jefferson City, Missouri was moving through Eldon, Missouri.
Listen:
9:40 a.m. ET, May 23, 2019
Lightning revealed just how big the tornado was before it hit Jefferson City, Missouri
There was lightning and thunder when Jaclyn Morrow stepped onto the patio outside her basement overnight.
She was taking a simple video of the lightning and thunder in Eugene, Missouri when distant lightning illuminated a horrific silhouette.
On the horizon, about 40 seconds into the video below, you can see the massive wedge tornado that tore through Jefferson City, Missouri.
Watch: