Mass immigration arrests in Mississippi
4:53 p.m. ET, August 8, 2019
At least 377 migrants are still in custody after ICE raids
At least 377 migrants are still in custody following Wednesday's ICE raids, according to Jere Miles, special agent in charge for the Department of Homeland Security.
Here's what happened to the migrants that were released:
271 migrants were released from the processing center and transported back to their individual arrest locations, Miles said.
32 individuals were released from the worksite location without being transported from processing center, Miles said.
4:30 p.m. ET, August 8, 2019
18 juveniles were found in plants during raids
Eighteen juveniles were found working in the plants that were raided Wednesday, according to Jere Miles, special agent in charge for the Department of Homeland Security.
Nine of those juveniles were released from the site and were not taken for processing, Miles said. At least one juvenile was 14 years old, according to Miles.
When their age was determined, they were put in a special processing line, Miles said
4:11 p.m. ET, August 8, 2019
Mississippi immigrants' rights group: "The men and women taken by the raid are our neighbors"
The Mississippi Immigrants Rights Alliance just held a news conference with multiple organizations on Wednesday's immigration raids.
"The men and women taken by the raid are our neighbors," the groups said in a statement released at the news conference. "Mississippi did not ask for this raid. In fact we stand strongly against it."
The group said the raids have created a "humanitarian crisis, harming not only the local economy, but also tearing children apart from their parents, spouses from each other, worshipers from their fellow church members and the relationships that make us a community."
Here's the full statement:
3:11 p.m. ET, August 8, 2019
These companies were raided by ICE yesterday
US Immigration and Customs Enforcement officials arrested undocumented immigrants at three Peco Foods plants, Koch Foods in Morton, PH Foods and Pearl River Foods Wednesday, according to a senior immigration official with knowledge of the investigation.
Peco Foods, Inc. released a statement Thursday confirming that the Department of Homeland Security was at three of their facilities in Mississippi Wednesday.
Those facilities were located in Bay Springs, Canton and Sebastopol, the statement said.
Peco says they adhere to all laws and utilized the government-based E-Verify program to screen their new hires.
CNN has reached out to Koch, Pearl River Foods, and PH Foods and has not yet received a response. 
3:03 p.m. ET, August 8, 2019
She was detained by ICE yesterday. Here's what she said the raid was like.
A woman spoke to CNN Thursday from her home in Morton, Mississippi, after being released from US Immigration and Customs Enforcement custody.
Cynthia is exhausted. The single mother hasn't slept in two days and her 12-year-old daughter is traumatized from seeing her loaded onto that bus. She said so many of the people detained had small children and babies.
Cynthia told CNN she was released to the wrong city almost an hour away overnight. She does not have an ankle bracelet on.
She said she "had a feeling, a feeling something might happen."
Cynthia went on to describe the moments after the raid.
She said that an agent told the people on the bus "we are going to clean out Mississippi" of people like you. 
At the processing area, Cynthia said there were about 50 buses waiting to take people to different places. She said they were divided into groups: people with final deportation orders, criminal records, and then people like her. She said they told her because she was her daughter's caretaker, she could go home. 
She said she will not be returning to work at Koch Foods plant, which was raided by ICE agents Wednesday. Cynthia added that ICE officials kept her identification card.
She said she is not a criminal, and has been in the US more than a dozen years working and raising her family. Now, Cynthia said she is thinking about going back to Guatemala.
She wanted to wait until her daughter was 15, but she is afraid now. But she probably won't leave because her daughter is a US citizen, is getting an education and she is only 12.
The thought, however, has crossed her mind, she said.
2:53 p.m. ET, August 8, 2019
Inside the decision on timing of ICE raids in Mississippi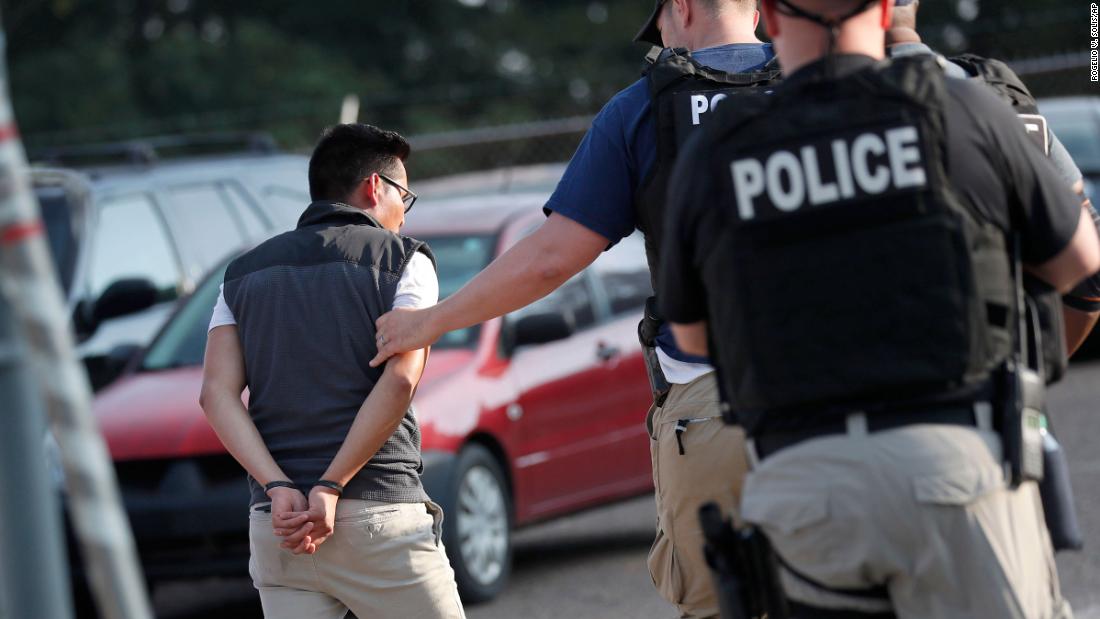 Responding to criticism that the arrests of hundreds of undocumented immigrants fell on the first day of school and just after a deadly mass shooting targeting Hispanics, a US Immigration and Customs Enforcement official with direct knowledge of the raids defended the timing as "coincidental"
"This was planned for months. Well before El Paso, well before the shootings happened," the official said. "The dates just happened to be after El Paso. On our end, this was months and months of planning by intel agents, locals. We did this under past presidents. This is business as usual for us."
The official said ICE did consider the impact on the first day of school.
"I do know it was a concern that came up," the source said. "We had our community liaison officer to alert school administrators on the day of that it was happening, working with the schools saying students' parents may be detained."
"The emotion is a horrible thing. I saw kids coming up crying at the gates," the official told CNN.
2:38 p.m. ET, August 8, 2019
Her son keeps asking for his father, who was taken during the raids
A woman said her 5-year-old son has been asking for his father, who was detained in Morton, Mississippi, during Wednesday's raids.
"The day before yesterday was his first day of school, the day they took him, and he asks me for his dad, where he is, and I tell him, 'He's not here.' I told him, 'They took him' and he starts to cry because he needs him," she told CNN.
Her husband, a native of Guatemala, is the family's provider and also has a heart condition, she said. He did not have a work permit, she said.
She said her husband was taken to New Orleans, roughly 200 miles away from Morton.
"I want someone to help me and to get him out because he hasn't committed ... he's not a delinquent and someone needs to help me get him out," she said.
2:20 p.m. ET, August 8, 2019
More than 300 migrants have been released after the raids
More than 300 migrants detained after a raid Wednesday in Mississippi have been released, according to Bryan D. Cox, spokesperson for Immigration and Customs Enforcement.
About 270 migrants were released after being detained at a hangar and were placed into proceedings before the federal immigration courts, Cox said. Another 30 migrants were immediately released after being detained at the plants themselves, which includes nursing pregnant mothers who were not even transported to a detention facility, Cox said.
1:41 p.m. ET, August 8, 2019
More 2020 presidential candidates react to ICE arrests
Democratic presidential candidates are reacting on Twitter to the raids that led to the arrest of at least 680 immigrants in Mississippi on Wednesday.
Sen. Elizabeth Warren tweeted she will keep fighting for immigrant communities so families will be "able to live without fear."
"This is inhumane and will have devastating effects on the children that are left behind. Make no mistake: I'll keep fighting my heart out for our immigrant communities—and in a Warren administration, immigrant families will be able to live without fear."
Sen. Kirsten Gillibrand commented on kids being left on their own if their parents were detained. She called the arrests "obscene" and "inhumane."
Hundreds of families torn apart. Children coming home from the first day of school, only to find their parent was taken away. All for racist, cruel political points. This is obscene. It's inhumane. And it has to stop.
Seth Moulton, a three-term congressman from Massachusetts, tweeted: "There are no words for how devastating this is. This is not the America I and so many other fought for."