Deadly shooting at Maryland newspaper
8:25 p.m. ET, June 28, 2018
The shooting was a targeted attack on Capital Gazette, acting police chief says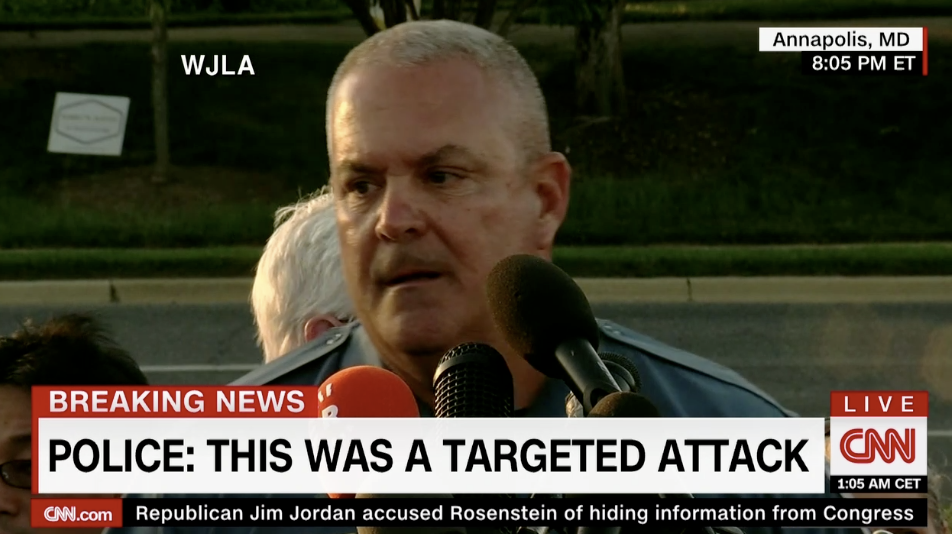 A shooting this afternoon that left five dead was a targeted attack on the Capital Gazette, said Anne Arundel County Acting Chief William Krampf.
The suspect, a white male in his late 30s, entered the building at 888 Bestgate Road, with a shotgun and looked for potential victims as he walked through the lower level, he said.
Krampf said the suspect's intent was to cause harm.
8:05 p.m. ET, June 28, 2018
Executives from Capital Gazette parent company on way to Annapolis
Executives from the Capital Gazette's parent company are on the way to Annapolis, according to an internal memo from Tronc CEO Justin Dearborn.
In the memo, obtained by CNN, Dearborn said that "out of abundant precaution, we are increasing security presence at the company."
He also reminded employees that counseling and support services are available. The company's papers in Maryland will have counselors on site in the coming days.
"We are focused on providing support to our colleagues and their families," Dearborn wrote in the memo. "Members of our corporate leadership team are traveling to Maryland immediately to assist our local leadership and employees in Annapolis and Baltimore."
Dearborn also said "we are fully cooperating with the authorities."
Capital Gazette Communications is a unit of The Baltimore Sun Media Group, which in turn is owned by Tronc.
8:00 p.m. ET, June 28, 2018
Paul Ryan: Shooting at newspaper is "sickening"
House Speaker Paul Ryan took to Twitter tonight to offer prayers to journalists at the Capital Gazette.
He tweeted:
7:46 p.m. ET, June 28, 2018
The Capital Gazette is still publishing tomorrow
Yes, the Capital Gazette will be publishing a newspaper tomorrow.
Multiple newsroom staffers, plus reporters from its parent company, The Baltimore Sun, are working on stories for Friday's edition.
"I can tell you this: We are putting out a damn paper tomorrow," reporter Chase Cook tweeted.
Joshua McKerrow of the Sun tweeted that he is working with Cook and another journalist, Pat Ferguson, on a coverage plan. "Thanks to our @baltimoresun colleagues who are here too," McKerrow wrote. "There will be a Capital Friday."
There has been an outpouring from journalists -- both from rival Maryland newsrooms and from others across the country -- offering to help however they can.
8:06 p.m. ET, June 28, 2018
Suspect had previous interaction with newspaper executive, source says
Police are executing a search of an address associated with the suspect, law enforcement officials tell CNN. 
They believe the suspect had a some interaction with an executive at the newspaper previously, one of the sources said. The source cautioned that this is preliminary information, and the investigation is just beginning. 
The suspect is described as being in his 30s.
7:39 p.m. ET, June 28, 2018
Suspected incendiary device was a bag of gas cans, mayor says
Annapolis Mayor Gavin Buckley revealed that the suspected incendiary device was a bag containing multiple gas cans in an interview with CNN's Erin Burnett on "Out Front."
"My understanding on the bag that could have been explosives, it was gas cans. I don't know if there were any kind of detonation things with them," he said. "I just know that our emergency responders didn't even think about that."
Buckley called today's shooting devastating. He said police were at the scene of the shooting within 60 seconds.
"If they didn't get there as fast as they did, I think there could have been a lot more devastation," he said.
7:31 p.m. ET, June 28, 2018
Melania Trump calls shooting "tragic" and "evil"
First lady Melania Trump, returning from Arizona, has tweeted about the shooting in Annapolis, Maryland, saying it was "tragic" and "evil."
Some background: Trump was in Arizona to "learn and educate herself" about issues at the border.
She met with US Marshals, border patrol agents and ICE agents. The first lady also visited small children and babies at a facility.
7:24 p.m. ET, June 28, 2018
Sarah Sanders: An attack on "journalists doing their job is an attack on every American"
White House press secretary Sarah Sanders denounced the shooting in Annapolis, Maryland, tonight, saying an attack on "journalists doing their job is an attack on every American."
She tweeted:
7:16 p.m. ET, June 28, 2018
Suspect's fingerprints appear to have been altered, sources say
The suspect's fingerprints appear to have been altered, making it difficult to identify him that way, two law enforcement sources said.
The suspect was identified using facial recognition software, according to one law enforcement source.