Apple reveals three new iPhone Xs, latest Apple Watch
Brenna Cammeron, Penelope Patsuris
Updated
10:56 a.m. ET, September 25, 2018
3:24 p.m. ET, September 12, 2018
Our live coverage has ended. To see how Apple's announcement unfolded, scroll through the posts below, or read more here.
3:25 p.m. ET, September 12, 2018
That's a wrap!
From CNN's Brenna Cammeron
Thanks for joining us for our live coverage of Apple's autumn launch event.
What we got: Pricy new iPhones with flashy new camera features, a "budget priced" $799 iPhone XR, and a heart-focused refresh of the company's 3-year-old smartwatch.
Notably missing from the lineup: Apple's long-awaited wireless charging pad and refreshed AirPods.
4:05 p.m. ET, September 12, 2018
Anyone who wanted a surprise announcement today came away disappointed
From CNN's Brian Stelter
Today's event was evolutionary, not revolutionary.
And maybe that's okay for a trillion-dollar company that has hordes of fans awaiting every single new product. But anyone who was waiting for a surprise announcement at the end came away disappointed. 
From my seat in the back of the theater, this event was all about "more-more-more," meaning faster processors, more storage, better cameras.
Reading between the lines, I also heard Apple execs telling us not to take these features for granted. Not to shrug off the technological achievements that we're all carrying around in our pockets.
It's definitely easy to start taking this tech for granted, but Apple wants you to remember what you're paying for -- or, to put a finer point on it, WHY you're paying so much.
2:59 p.m. ET, September 12, 2018
Here are your Apple save-the-dates
From CNN's Jordan Valinsky
Are you confused on when all the sparkly things Apple just announced come out?
Here's a guide:
iPhone XS and XS Max pre-orders start Sept. 14 and ship on Sept. 21.
iPhone XR will be available for pre-order on Oct. 19 and ship on Oct. 26.
iOS 12 will be released on Sept. 17.
HomePod and tvOS software updates also come out Sept. 17.
macOS Mojave will come out on Sept. 24.
9:41 p.m. ET, September 12, 2018
This is the first iPhone that starts at more than $1,000
From CNN's Heather Kelly
Prices for the new iPhone range from $749 to $1,099. (Apple's iPhone X was $999)
On the bright side, an iPhone 7 is now $449, and an 8 is now $599.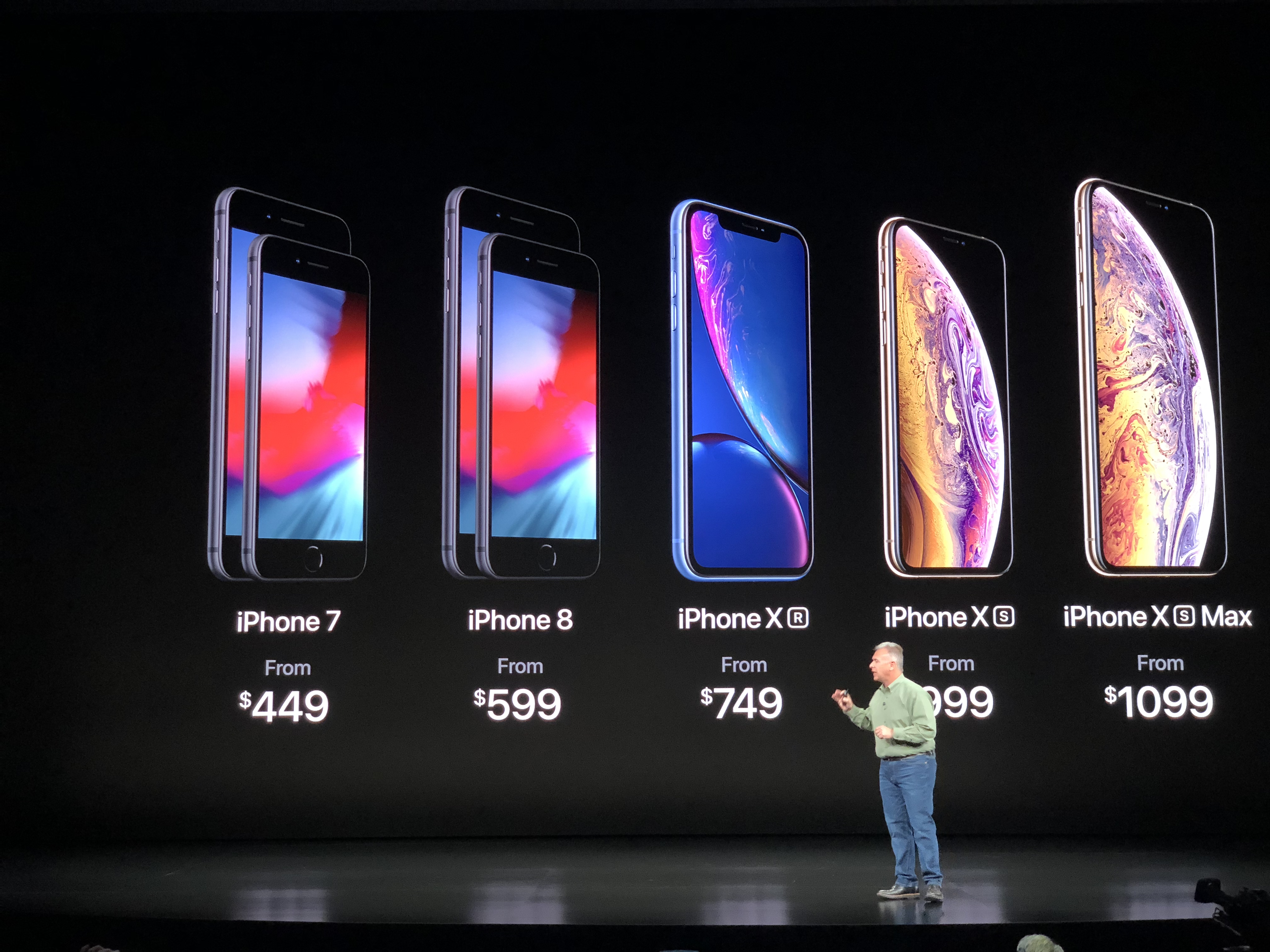 9:39 p.m. ET, September 12, 2018
Bonus iPhone!
From CNN's Jordan Valinsky
Apple's surprise announcement: The new iPhone XR. It's 6.1 inches with a bright LCD screen and comes in a variety of colors including, white, black, blue, coral and red. It's missing a home button, and instead will be activated by swiping.
The new phone also has a 12 megapixel wide-angle camera. Prices will start at $749.
6:39 p.m. ET, September 12, 2018
Apple emphasizes sustainability
From CNN's Jordan Valinsky
Apple highlighted a recycling program called GiveBack. The company will buy your old device if it's in good condition or recycle them for free if it's not usable. It also reiterated that it's now completely powered by clean energy.
Note: An earlier version of this post indicated the GiveBack program was new; it had already existed, but Apple discussed it at the event.
4:22 p.m. ET, September 12, 2018
The new buzzword iPhone photographers need to know
From CNN's Brenna Cammeron
The iPhone camera is the most popular camera in the world, says Apple's Phil Schiller. Now, it's even better.
There's a buzzword for these iPhone cameras that might be familiar to photo experts, but it's new to most of us: bokeh.
That refers to the amount of blur delivered in the out-of-focus parts of an image. The new iPhone allows you to adjust the level of bokeh post-production: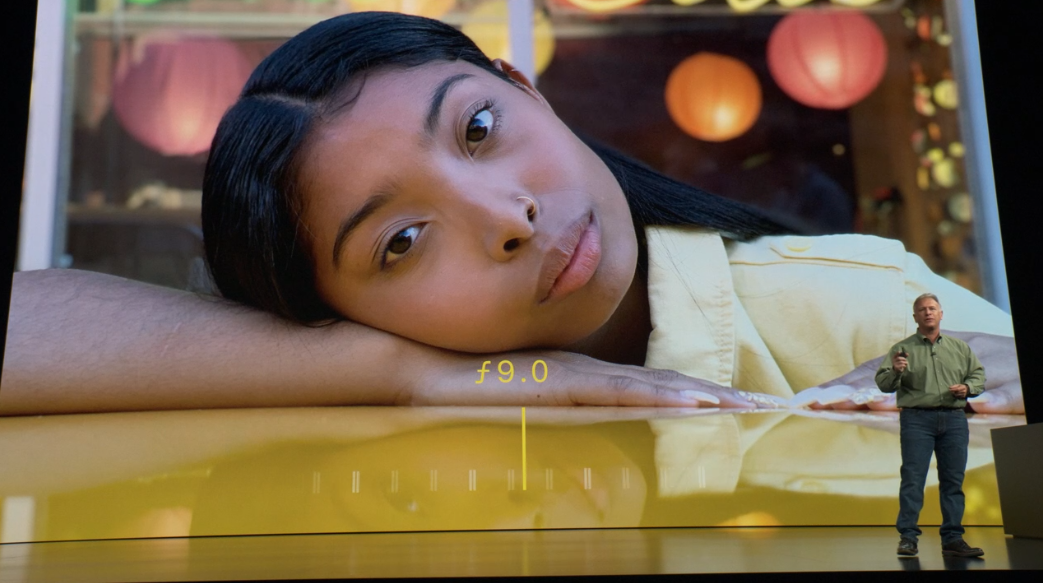 Schiller says this is a new era of photography -- "computational photography."
2:24 p.m. ET, September 12, 2018
Swords and basketballs
From CNN's Heather Kelly and Jordan Valinsky
Apple says the "next generation of apps" will work thanks to its new A12 Bionic chip. What's that mean? Lot of speedier games for AR, like NBA star Steve Nash's new app Homecourt. It uses machine learning to evaluate your shooting.