The crisis at the US-Mexico border
4:52 p.m. ET, June 26, 2019
What you need to know about the crisis at the US-Mexico border
A disturbing photo showing two migrants who drowned traveling to the US sparked a day of reaction and debate in Washington and around the country.
Our live coverage is ending, but here's what you need to know:
The crisis at the border: A shocking picture taken at the US-Mexico border showed a father and his daughter lying face down in the Rio Grande. They left El Salvador with family on April 3rd seeking a better life in Dallas, Texas, according to family members.
Disagreement in Congress: The House and Senate passed two versions of a border funding bill. They are expected to meet in a conference committee to reconcile the bills — but Republican Senate leaders have said they won't negotiate with House Democrats, essentially daring the House to take or leave the Senate bill.
About the two bills: The House bill includes some amendments that are not in the Senate bill. This includes stronger requirements for the care of unaccompanied minor children, translation services, time limits for how long immigrant children can be detained and resources that would help migrants navigate the court system.
3:43 p.m. ET, June 26, 2019
Senate passes another border funding bill, setting up a clash with House Democrats
The Republican-led Senate on Wednesday passed a $4.6 billion bill to address the migrant crisis at the southern border. The Senate vote was 84 - 8.
What this means: The vote now sets up a clash with House Democrats, who have passed a different version of similar legislation.
So what happens now? The House and Senate must now decide on how to reconcile their differences on the two separate bills    
3:23 p.m. ET, June 26, 2019
Joe Biden: "The cruelty we're seeing at our border is unconscionable"
Former vice president and current 2020 presidential candidate Joe Biden called the photo of a Salvadoran father and his daughter lying face down in the water of the Rio Grande "gut-wrenching."
"The cruelty we're seeing at our border is unconscionable. History will judge how we respond to the Trump Administration's treatment of immigrant families & children—we can't be silent," he tweeted.
Read more:
2:57 p.m. ET, June 26, 2019
Migrants who drowned began journey from El Salvador almost 3 months ago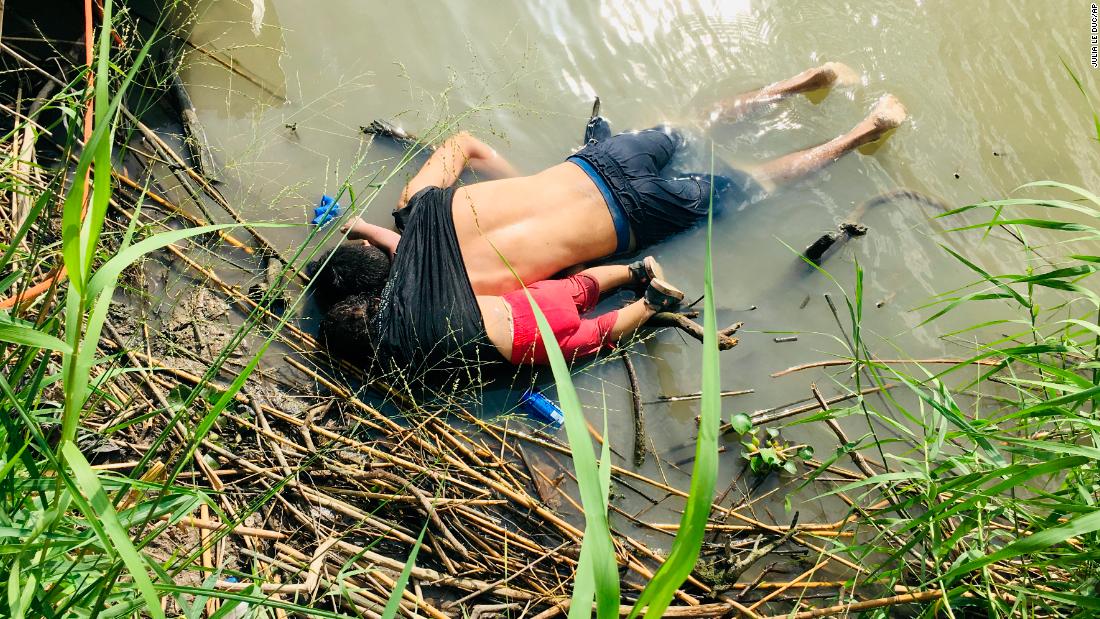 The father and daughter who drowned left El Salvador with family on April 3rd seeking better life in Dallas, Texas, according to family members.
On Sunday they arrived at the border: Salvadoran migrants Oscar Alberto Martinez, his wife Tania Avalos, their almost 2-years-old daughter Angie Valeria Martinez and a cousin arrived to the bordering city of Matamoros in northeastern Mexico Sunday morning, according to Enrique Maciel Cervantes, Director of the Tamaulipas Institute for Migrants.
Cervantes explained that on the same day of their arrival, the family voluntarily headed to the "New International Bridge" seeking information. They were told to visit the National Institute of Migration and to request an appointment-interview-number to petition for a humanitarian aid visa to the United States.
According to Tania Avalos, the family left the National Institute of Migration, went for lunch and "once walking on the edge of the Rio Grande, they decided to cross-over to the United States, unluckily," Cervantes said.
The mother of Oscar Alberto Martinez, Rosa Ramirez, confirmed that her son, daughter-in-law and granddaughter left the country on April 3 in hopes to make it to Dallas, Texas to work. The family stayed in Mexico with a permit from the Mexican authorities.
Mrs. Ramirez explained that her family wanted to buy their own house and better their financial situation.
Ramirez said her son used to work as a cook in a pizzeria and that he was a good man that always tried to help his family out, she told CNN's affiliate Canal 33. Ramirez said the last time she talked to her son was on Friday and he said everything was going well.
2:44 p.m. ET, June 26, 2019
JUST IN: Senate votes down House-passed border bill
In the first series of votes on border funding, the Senate voted down the House-passed bill.
The bill failed in the senate 37-55.
After the vote, Senate Democratic leader Chuck Schumer spoke briefly on the floor and said he and most Democrats will vote for the bipartisan Senate compromise bill — which is expected to be voted on in a few minutes.
He also advocated for a conference committee with the House to merge the two chambers' bills, something GOP leaders say they don't want to do. 
2:17 p.m. ET, June 26, 2019
Trump blames Democrats for father and daughter drowning in the Rio Grande
President Trump was just asked about a shocking picture taken at the US-Mexico border, which shows an immigrant father and his daughter drowned in the Rio Grande.
 "I hate it," the President said.
"That father, who probably was this wonderful guy, with his daughter, things like this wouldn't happen," he said, before going on to blame the Democrats for "their asylum policy."
The President called the trip to the United States "a very dangerous journey, a very, very dangerous journey," and said "the asylum policy of the Democrats is responsible because they will not change the policy."
Trump once again claimed that the Democrats want open borders — which is not something the mainstream Democratic party is advocating for — and said that "open borders mean people drowning in the rivers."
"If they fix the laws, you wouldn't have that," he said. "They wouldn't be trying." 
2:03 p.m. ET, June 26, 2019
Pelosi says the House won't take up the Senate border bill
House Speaker Nancy Pelosi said firmly "no" when we asked if there's any chance she will just take up the $4.6-billion Senate's border funding bill and simply pass it. 
"They passed their bill, we respect that. We passed our bill, we hope they will respect that. And if there's some improvements that we think can be reconciled."
She confirmed she spoke with Trump and asked for further negotiations. "That's what we asked for."
2:02 p.m. ET, June 26, 2019
Trump says Nancy Pelosi "wants to get something done" about the border crisis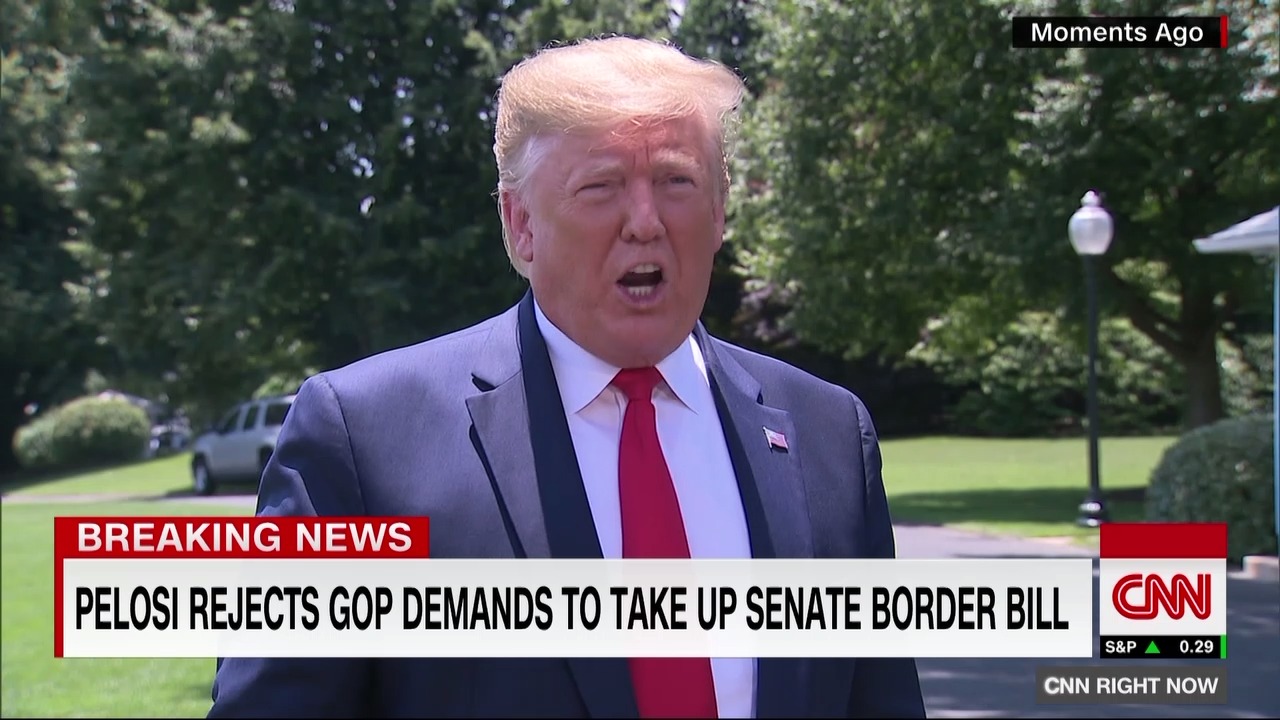 President Trump said he just spoke to Speaker of the House Nancy Pelosi about the border aid bill that passed last night and said he believes she wants to "get something done."
Remember: The White House has already signaled that Trump would veto such a bill if it reached his desk, arguing that the legislation "contains a number of problematic policy provisions that would hinder the administration's efforts to enforce our immigration laws and protect children."
"I just spoke with Nancy Pelosi and we had a good conversation, having to do with the bill, humanitarian aid at the border for the children, mostly." Trump said today. "And we are moving along very well with a bipartisan bill in the Senate."
He continued: "I think that Nancy wants to get something done. And the Senate and the House will get together. I think they'll be able to do something very good."
What's in the bill: The Democratic-led House approved $4.5 billion in aid for the growing crisis at the US southern border. Meanwhile, the Senate has a bipartisan bill that would allocate $4.59 billion for the border crisis — but that proposal has significant differences with the House bill, adding to the uncertainty over whether a deal can be reached.
1:31 p.m. ET, June 26, 2019
Bernie Sanders: Photo of drowned migrants is an example of "reckless disregard for basic humanity"
Bernie Sanders' campaign is reacting to the drowned Salvadoran father and daughter photograph. The statement said the photo is "horrific" and called for an overhaul of the US immigration system.
Read more of the statement:
"The photo of this father and his young daughter is horrific. It is just one painful example of so many that demonstrate the reckless disregard for basic humanity that have come from Trump's policies.
The Trump administration has refused to expeditiously process asylum seekers, torn families apart and thrown children into cages — all in a deliberate effort to stoke anti-immigrant hatred.
We need an overhaul of our immigration system that treats desperate people with humanity and compassion, not as criminals, and fulfills our obligation to guarantee those coming to America with safe and healthy conditions."