Protesters march against Trump's immigration policy
4:17 p.m. ET, June 30, 2018
Our live coverage of the nationwide "Families Belong Together" protests has concluded. Read all about them here, or see photos here. To watch live CNN, visit CNNGo.
4:06 p.m. ET, June 30, 2018
She beat out a 10-term congressman in New York. Now, she's marching for separated families.
Alexandra Ocasio-Cortez, Democratic candidate for New York's 14th congressional district, joined a small march today in Queens, New York.
They chanted: "Sin papeles, sin miedo," which means "no papers, no fear."
Ocasio-Cortez, who ousted 10-term incumbent Rep. Joe Crowley during Tuesday's primary election, has called for the abolition of US Immigration and Customs Enforcement. She also visited Tornillo, Texas, to protest the separations of families at the border.
3:55 p.m. ET, June 30, 2018
Maxine Waters to President Trump: "You have gone too far"
Rep. Maxine Waters, who's been warring with President Trump in recent days after encouraging protesters to heckle and harass members of Trump's Cabinet in public spaces, just spoke at the L.A. rally, where she told the President he's gone too far with his zero-tolerance policies that led to separating families.
"How dare you?" she said. "How dare you take the babies from mothers' arms? How dare you take the children and send them all across the country into so-called detention centers?"
She continued, "You are putting them in cages. You are putting them in jails. And you think we're going to stand by and allow you to do that? I don't think so. Donald Trump, you think you can get away with everything, but you have gone too far when you are trying to break up families in the way that you do."
Watch:
3:27 p.m. ET, June 30, 2018
Singer John Legend urges L.A. crowd to resist the temptation to disengage and "do something"
Singer John Legend, speaking to a crowd in Los Angeles today, urged protesters to take action before performing his new song "Preach."
"You can't just talk about it or tweet about it," he said. "You've got to do something."
Legend said the song hasn't been released, but it felt right for the moment.
"I know that opening up Twitter right now feels like it can be a horror show, so much of the news is shocking and maddening and depressing," he said. "I think some of us have a strong temptation to just disengage, but we can't. We can't do that. I can't do that. I have to do something."
Here's a portion of Legend's new song:
3:02 p.m. ET, June 30, 2018
This mom brought her kids to teach them about resilience
Holly Johnson 46, and her twin 8-year-olds Dexter and Gretchen are marching in Washington, DC, today. Johnson told CNN she is "horrified" about what is happening and believes the government doesn't have a plan to reunify the separated children with the parents.
"I think our only hope is the next generation" she says of her kids, who she brought to teach a lesson about the power of resilience.
"You have to show up" in times like these, even if you aren't sure it will change things, she said. "It's about who do I want to be in these times."
Johnson told CNN she worries America is giving the next generation "a world that is terrifying," so she is trying to teach them now to be "resilient and strong."
3:00 p.m. ET, June 30, 2018
Her kids dedicate their nightly prayers to the separated children
Jaime Cammack says her kids have been dedicating their nightly prayers to separated children.
Cammack, 32, of Fredericksburg, Virginia, said at bedtime she talks about the family separations with her children. She said she asks her children what they want to pray for and that they now say the separated kids.
"We pray for those separated, those scared. We talk about hoping they get back together with their families fast," Cammack said.
Cammack, her daughters — Genevieve, 5, Neve, 4, and Allister, 7 — and other family members marched today in Washington, DC, against the Trump administration's immigration policies.
She said they have a lot of family friends from Mexico, so it's personal for her. "These kids don't deserve this," Cammack said of the separated children.
2:42 p.m. ET, June 30, 2018
The President is in New Jersey. Protesters are gathered nearby.
Protesters gathered today in downtown Bedminster, New Jersey, which is about 4 miles from President Trump's golf club.
The President and his family left Washington on Friday and are staying at the Trump National Golf Club for the weekend.
Here's what the protests look like:
2:21 p.m. ET, June 30, 2018
Protesters boo and chant "shame" as they pass Trump hotel in DC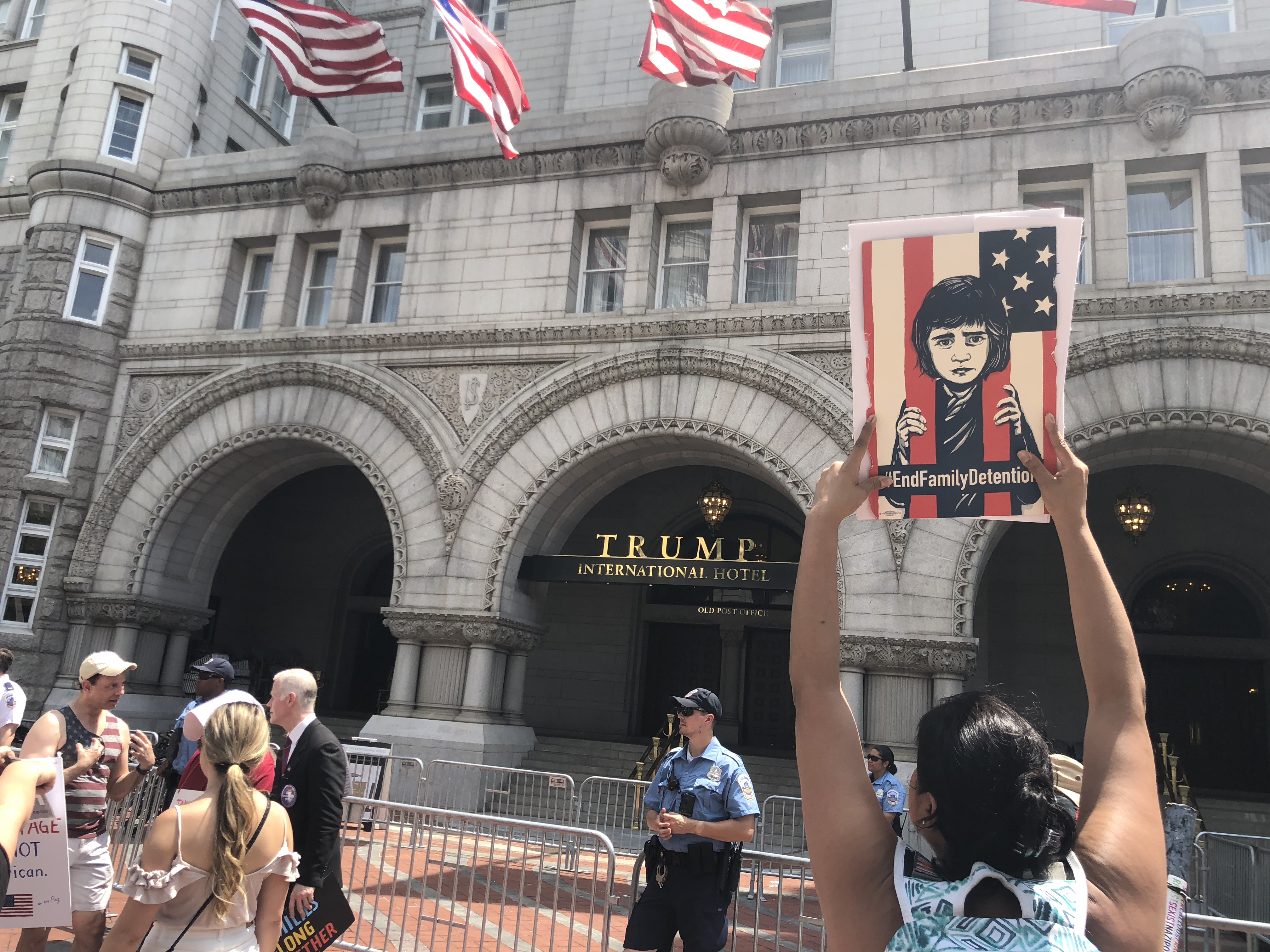 Protesters in Washington, DC, have been withstanding insanely hot temperatures to march from Lafayette Square to the White House.
As they marched down Pennsylvania Avenue and passed the Trump hotel, demonstrators shouted "shame, shame, shame" and "hey, hey, ho ho Donald trump has got to go." Other protesters booed the hotel, and some left protest signs on the barricades surrounding the building
They stopped at the Department of Justice, where shouted the same, but about Attorney General Jeff Sessions.
The crowds chanted "vote them out" as they marched back and forth. Demonstrators held signs that read "Resist" and "Not my president."
Watch the protesters on the move:
2:20 p.m. ET, June 30, 2018
2 people in DC taken to hospital for heat emergencies
Vito Maggiolo, a public information officer for DC Fire and EMS, said the agency is treating a number of heat-related emergencies today at the protest.
At least 45 people have been taken to medical and cooling tents to be treated. Two people have been transported to hospital with non-life threatening injuries.
There are firetrucks on scene, and one of the trucks is spraying mist for people to walk through to cool down. 
Watch more: