Protesters march against Trump's immigration policy
12:45 p.m. ET, June 30, 2018
The signs they're carrying in New York
Demonstrators are marching through New York City against the Trump administration's immigration policies.
Here are just a few of the signs they carried:
"This episode of Handmaids Tale sucks"
"Mr. President, why do you like Mexican food, but not Mexican people?"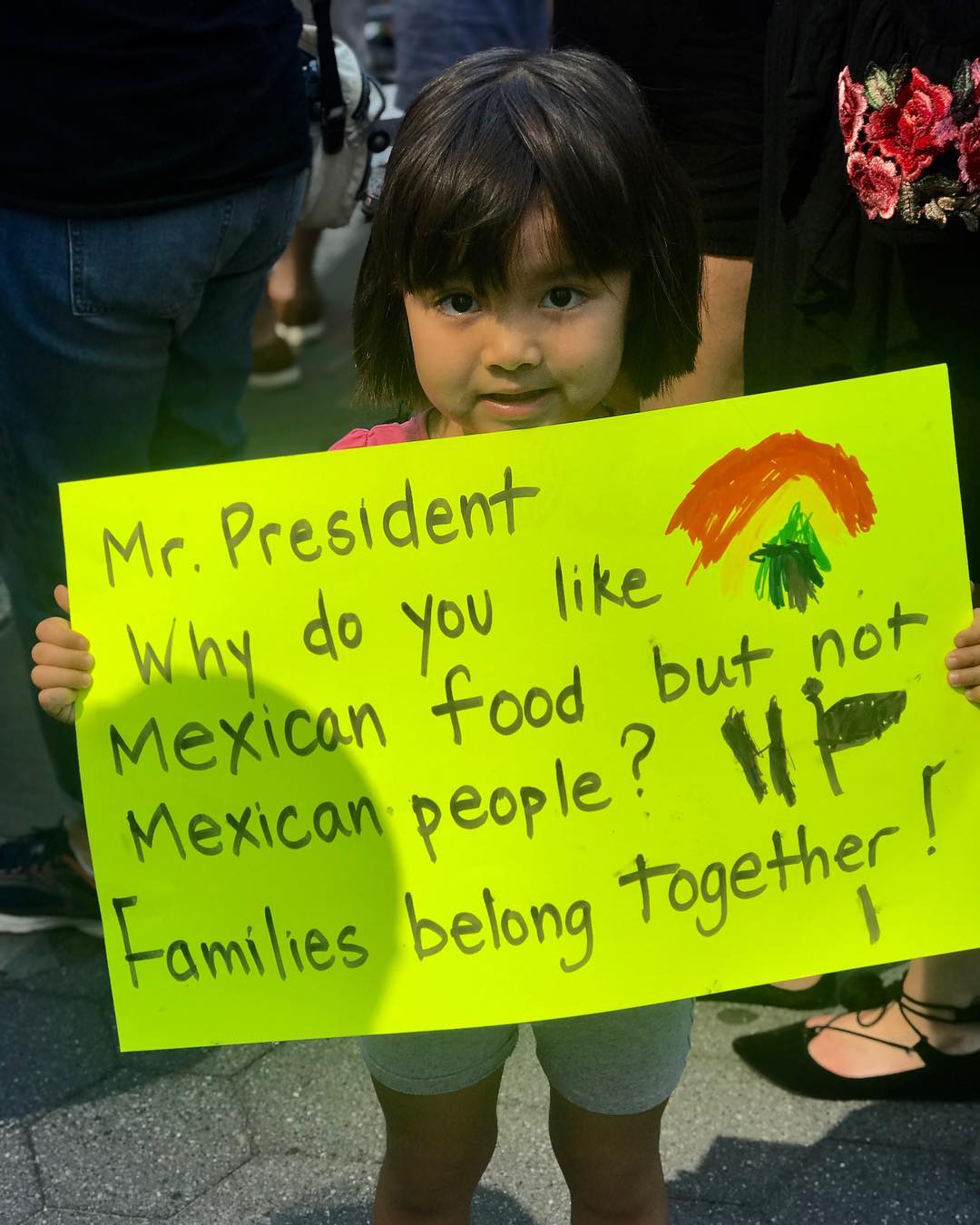 "Kids should not be in cages"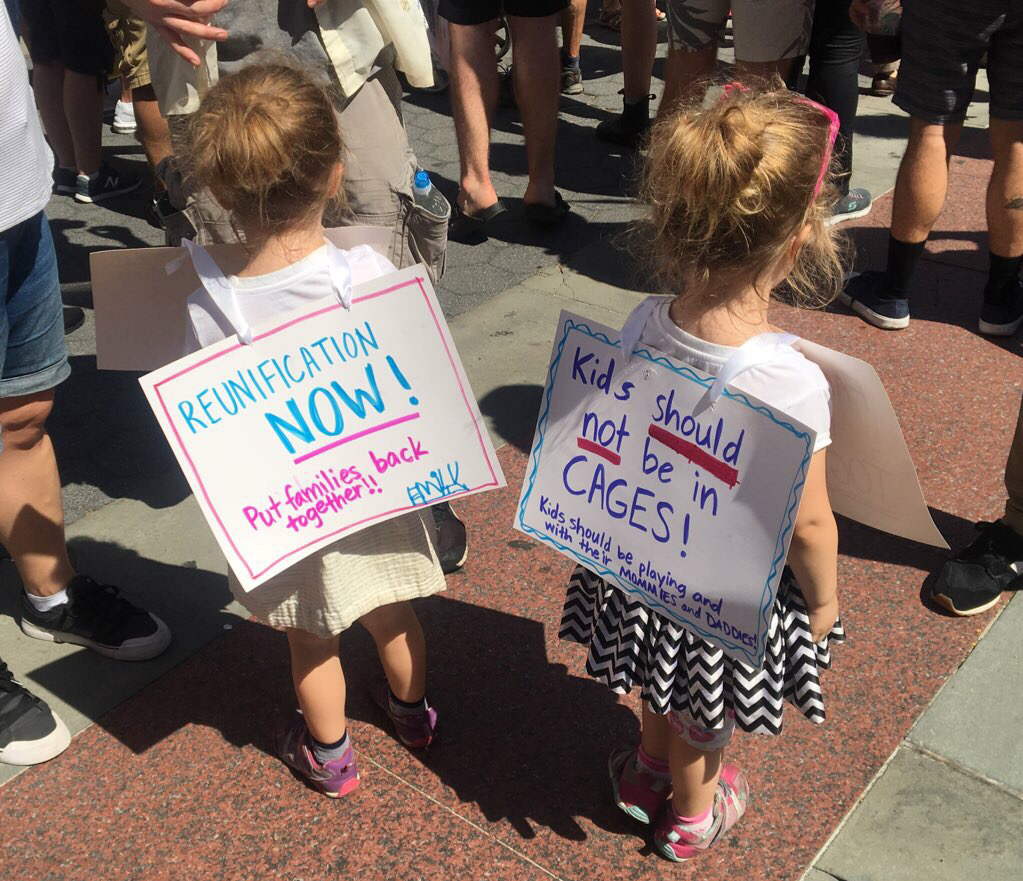 12:37 p.m. ET, June 30, 2018
A mom brought her 3-month-old to protest: "It's never too early to start, right?"
The youngest protester at the Washington, DC, might be 3-month-old Amos.
His mom, who only identified herself as Daphne, was pregnant with him when she attended March for Our Lives in March.
She said she's starting Amos early when it comes to protesting.
"It's never too early to start, right?" she said. "It's ridiculous that we have to even say do not rip kids from their parents and put them in cages"
12:36 p.m. ET, June 30, 2018
Protesters in Houston are chanting "no baby jails"
Jeremy Parzen took this video of demonstrators in Texas chanting "no baby jails" outside Houston City Hall at a Keep Families Together rally.
They group carried protest signs and gathered under a swath of trees.
1:12 p.m. ET, June 30, 2018
These mothers have never been to a protest, but couldn't sit out this one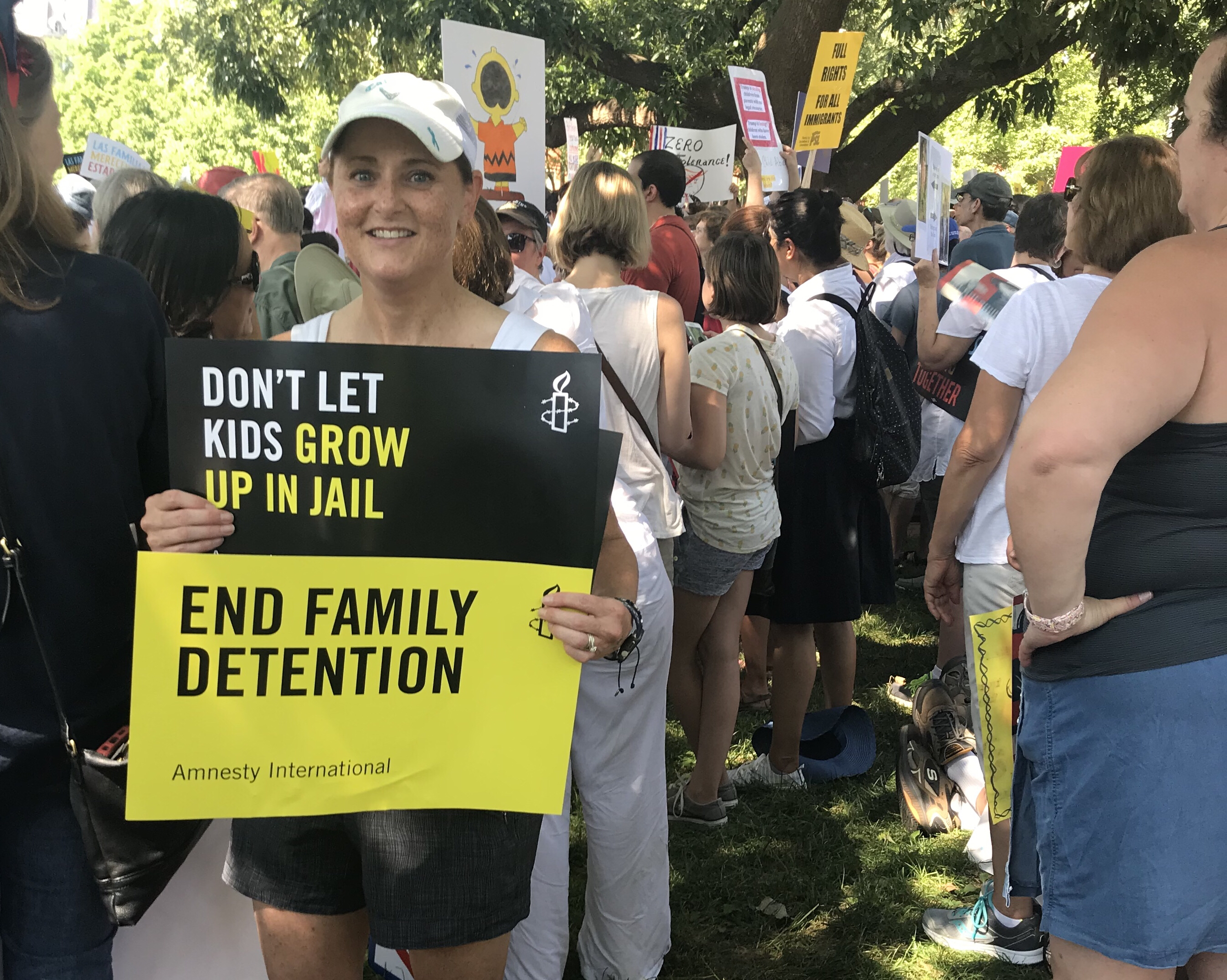 Allison Thompson, a 49-year-old lawyer, drove to Washington, DC, with a group from Fayetteville, North Carolina. She said she's a registered Republican and that this is her first protest.
"As soon as I heard about the march, I told my husband, 'I'm going. I don't care where it is,'" Thompson said.
As a mother, she said, hearing about the administration's practice of separating immigrant families shook her to her core. She thinks of her 9-year-old and 12-year old son and how traumatized they would be in a similar situation.
"It's unconscionable, immoral, none of the words are quite strong enough," she says. "Separating a child from a parent — as a parent — is the most inhumane thing ever. There is just nothing worse to me."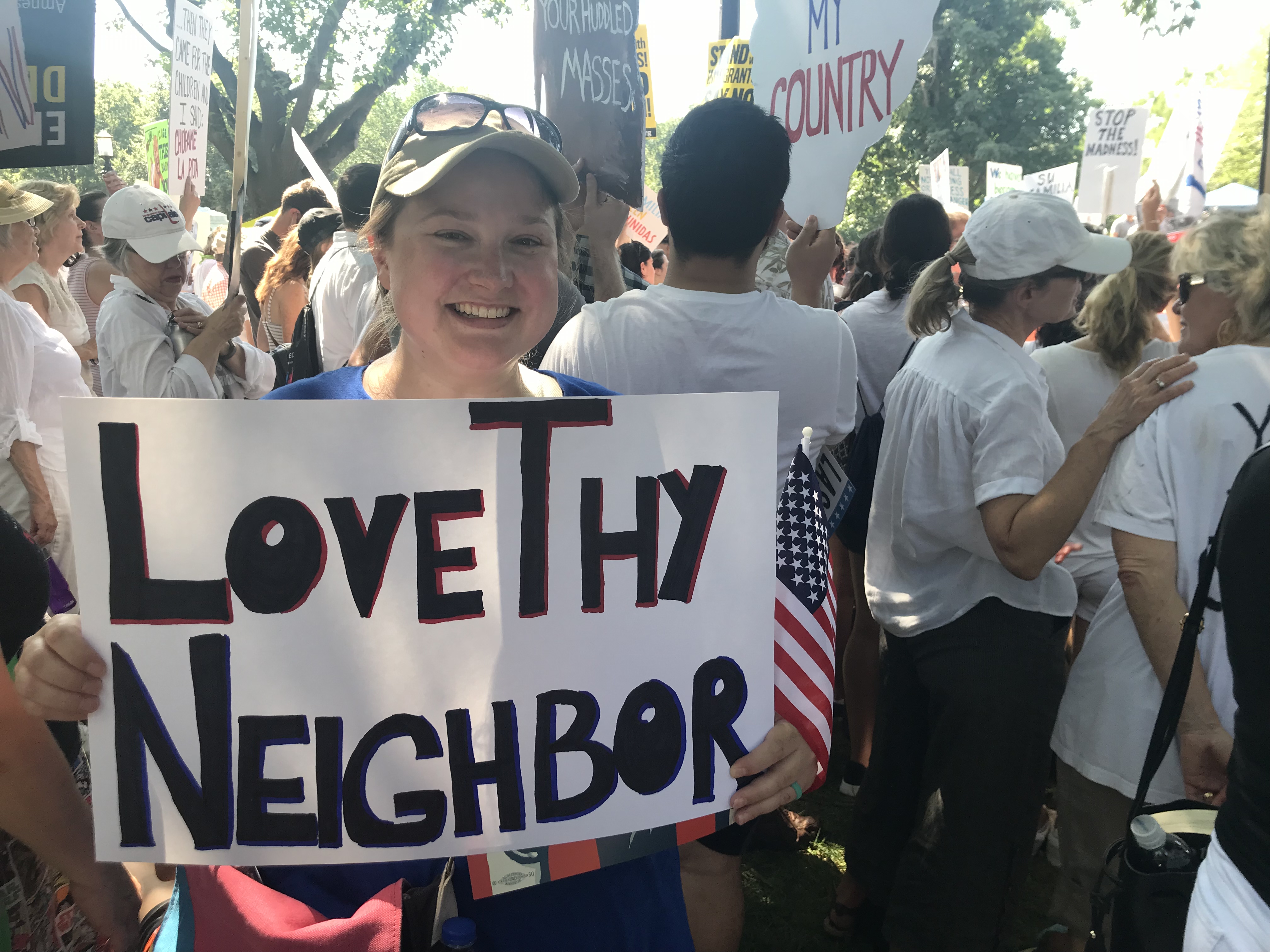 Carrie Amabile, 38, of Fayetteville, traveled with Thompson and said this is also her first protest. She toted a sign that said "Love thy neighbor."
Her two daughters are at home in North Carolina, but Amabile said before she left she made sure to tell them why she was going to protest today.
"I shared with my daughters a video of the children's detention centers and we cried," said Amabile, a stay-at-home mom.
12:37 p.m. ET, June 30, 2018
Alicia Keys and America Ferrera read letters from families separated from children
Singer Alicia Keys and actress America Ferrera, speaking at the rally in Washington, DC, read letters from a mother and grandfather who were separated from their children.
Keys brought her 7-year-old son Egypt to the march and shared her frustration over family separations. She read a letter from a mother whose son is being held in a facility in Oregon.
"I couldn't even imagine not being able to find him," she said. "I couldn't imagine being separated from him or scared about how he is being treated. So this is all of our fight. Because if it can happen to any child, it can happen to my child and your child and all of our children." 
Ferrera, whose parents are Honduran immigrants, read the story of a grandfather who is hoping to be reunited with his granddaughter. She encouraged the crowd to listen to his words and imagine themselves in his situation.
"This fight does not belong to one group of people, one color of people, one race of people, one gender. It belongs to all of us," she said. "What makes humans remarkable is our capacity to imagine. We have an imagination. Let's use it."
12:19 p.m. ET, June 30, 2018
Chicago protester: "We're in a a battle for the soul of the country"
Crowds of protesters are rallying in Chicago to protest President Trump's immigration policies. It's an exceptionally hot summer day, and many of the demonstrators have clustered in the shade of trees as they wait to start their march.
One protester described what's happening with the immigration debate as "a battle for the soul of the country."
Watch more:
12:08 p.m. ET, June 30, 2018
This Knoxville family wants the White House to know they "really do care"
This family traveled from Knoxville, Tennessee, to Washington, DC, to visit the White House, but they were denied.
So they decided to march and deliver this message: "I really do care, do you?"
Mike Ickowitz, 39, said he believes Melania Trump's jacket was deliberate, so he and family are "sending one right back." (The first lady wore a jacket with the words "I really don't care. Do u?" on the back before as she boarded a plane to tour an immigrant children's shelter.)
They tried to explain to their kids what was going on, so they can "imagine what it would be like if they were taken from us."
"We wanted to explain to them we can't take our freedom for granted," Tanya Ickowitz said.
She said as people of privilege, "we have to speak for the marginalized" people.
12:05 p.m. ET, June 30, 2018
"Hamilton" creator sings a lullaby for parents who can't sing to their separated kids
Lin-Manuel Miranda, the creator of the Broadway musical "Hamilton," just sang a lullaby to a crowd of protesters gathered in Washington, DC.
"We're here because there's parents right now who can't sing lullabies to their kids. And, well, I'm just going to sing a lullaby that I wrote and this is for those parents. And we're not going to stop until they can sing them to their kids again," he said. 
He went on to sing "Dear Theodosia," a lullaby from "Hamilton."
Watch the moment:
11:57 a.m. ET, June 30, 2018
Kennedy vows to fight Trump's immigration policies
Rep. Joe Kennedy III, a Democrat from Massachusetts, addressed a crowd of protesters in Boston.
Kennedy vowed to fight Trump administration's immigration policies, saying the US will not accept "children locked in those cages."
"We stand up and we say: Not on our watch. Not while we have something to say about it. Not while you will hear our voices and see our signs. Not while we can march. Not while we can protest. Not while we will stand up and say to the people of Boston and Massachusetts and the United States and around the world with nearly 650 gatherings just like this one around the planet today they with will stand up and fight for our humanity and the humanity of our neighborhood. 
He added: "We will win. We will win. It might not be today, but it will be tomorrow. We will win. Thank you for being here. Stand up, speak out, keep fighting."