Protesters march against Trump's immigration policy
2:21 p.m. ET, June 30, 2018
Protesters boo and chant "shame" as they pass Trump hotel in DC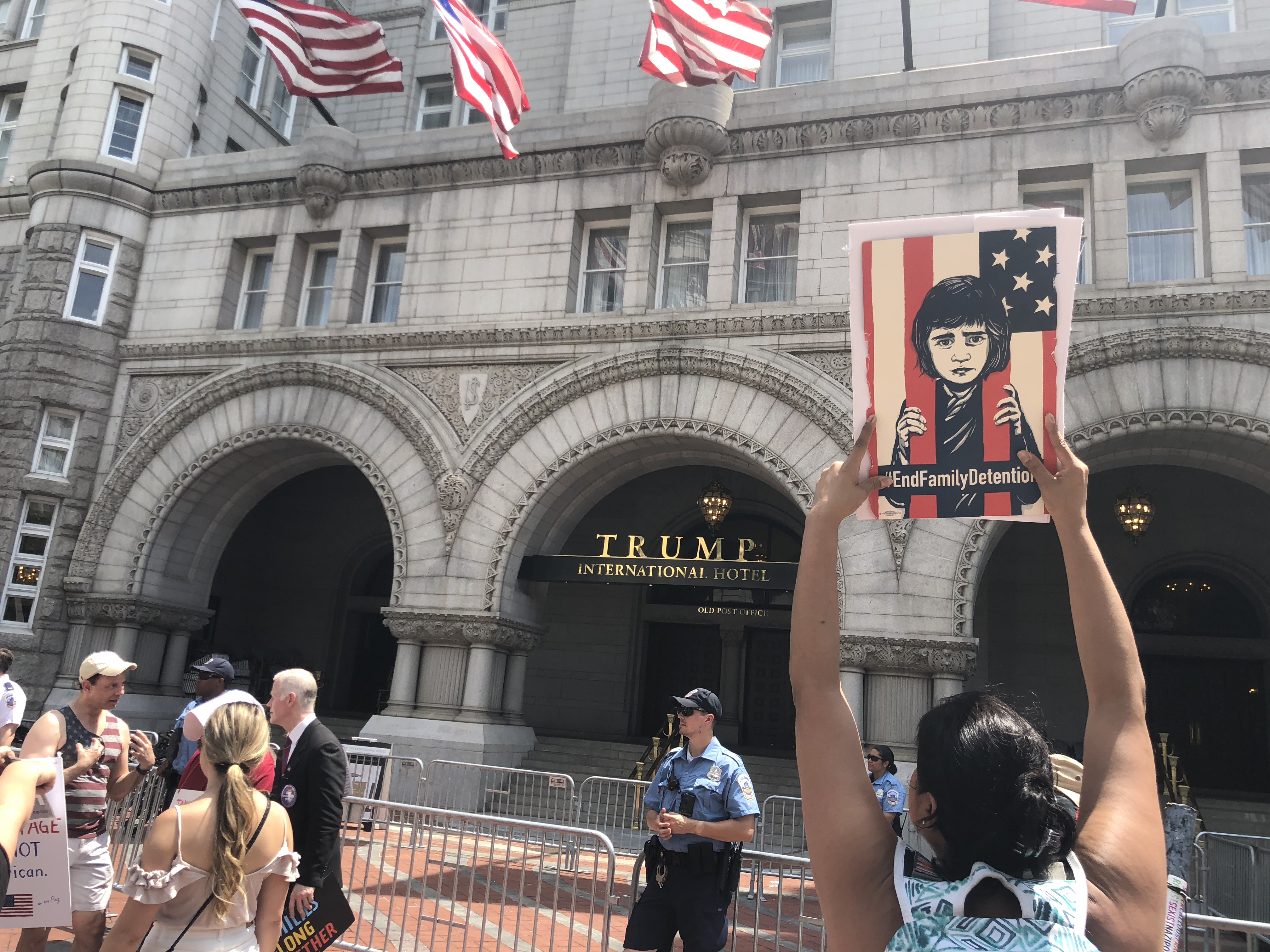 Protesters in Washington, DC, have been withstanding insanely hot temperatures to march from Lafayette Square to the White House.
As they marched down Pennsylvania Avenue and passed the Trump hotel, demonstrators shouted "shame, shame, shame" and "hey, hey, ho ho Donald trump has got to go." Other protesters booed the hotel, and some left protest signs on the barricades surrounding the building
They stopped at the Department of Justice, where shouted the same, but about Attorney General Jeff Sessions.
The crowds chanted "vote them out" as they marched back and forth. Demonstrators held signs that read "Resist" and "Not my president."
Watch the protesters on the move:
2:20 p.m. ET, June 30, 2018
2 people in DC taken to hospital for heat emergencies
Vito Maggiolo, a public information officer for DC Fire and EMS, said the agency is treating a number of heat-related emergencies today at the protest.
At least 45 people have been taken to medical and cooling tents to be treated. Two people have been transported to hospital with non-life threatening injuries.
There are firetrucks on scene, and one of the trucks is spraying mist for people to walk through to cool down. 
Watch more:
2:10 p.m. ET, June 30, 2018
One protester's message to President Trump: "Leave office"
We caught up with a protester marching in Chicago and asked him what his message was for President Trump.
He had a simple answer: "Leave office."
"You feel that passionately about it?" CNN asked.
He responded: "Very. He's the worst thing that's happened to this country."
Watch:
1:57 p.m. ET, June 30, 2018
Protesters are starting to gather in Los Angeles
Crowds of people are gathering in downtown Los Angeles right now to protest against the Trump administration's immigration policies.
California Sen. Kamala Harris, Los Angeles Mayor Eric Garcetti and several celebrities, as well as several families affected by the immigration policies, will be delivering remarks at the rally.
Watch more:
2:37 p.m. ET, June 30, 2018
Why one mom is marching with her kids: "It's going to be their generation's fight"
Rebecca Schaeffer, 38, is attending today's rally in Washington, D.C. with her husband, Sam Allen, a British permanent resident (aka a "green card" holder), and their two children, Ida, 6, and Juniper, 2.
Schaeffer knows it's the worsening of a policy that's been in place for some time, but said she is concerned that President Tump is testing his limits. "We need to resist every point. He's testing the limits of what he can do. We have to make it as difficult and slow as possible," she told CNN.
Her daughter, Ida, says she made her sign to protest that "children are being ripped from their parents."
"I want them to know what's happening," Schaeffer said. "It's going to be their generation's fight. I want to educate them and make them strong."
1:25 p.m. ET, June 30, 2018
It's really hot in DC. That's not stopping the marchers.
It's very hot in the nation's capital today — but that hasn't stopped protesters from marching on Washington, DC.
Temperatures are in the 90s in parts of city. CNN's Rene Marsh reports that firetrucks have been spraying out water, apparently to help keep the crowds cool.
"People are commenting on just how warm it is, but it's actually secondary because of everything they're hearing up on the stage," Marsh said.
1:24 p.m. ET, June 30, 2018
She sees her family in the faces of asylum seekers, and "it's heartbreaking"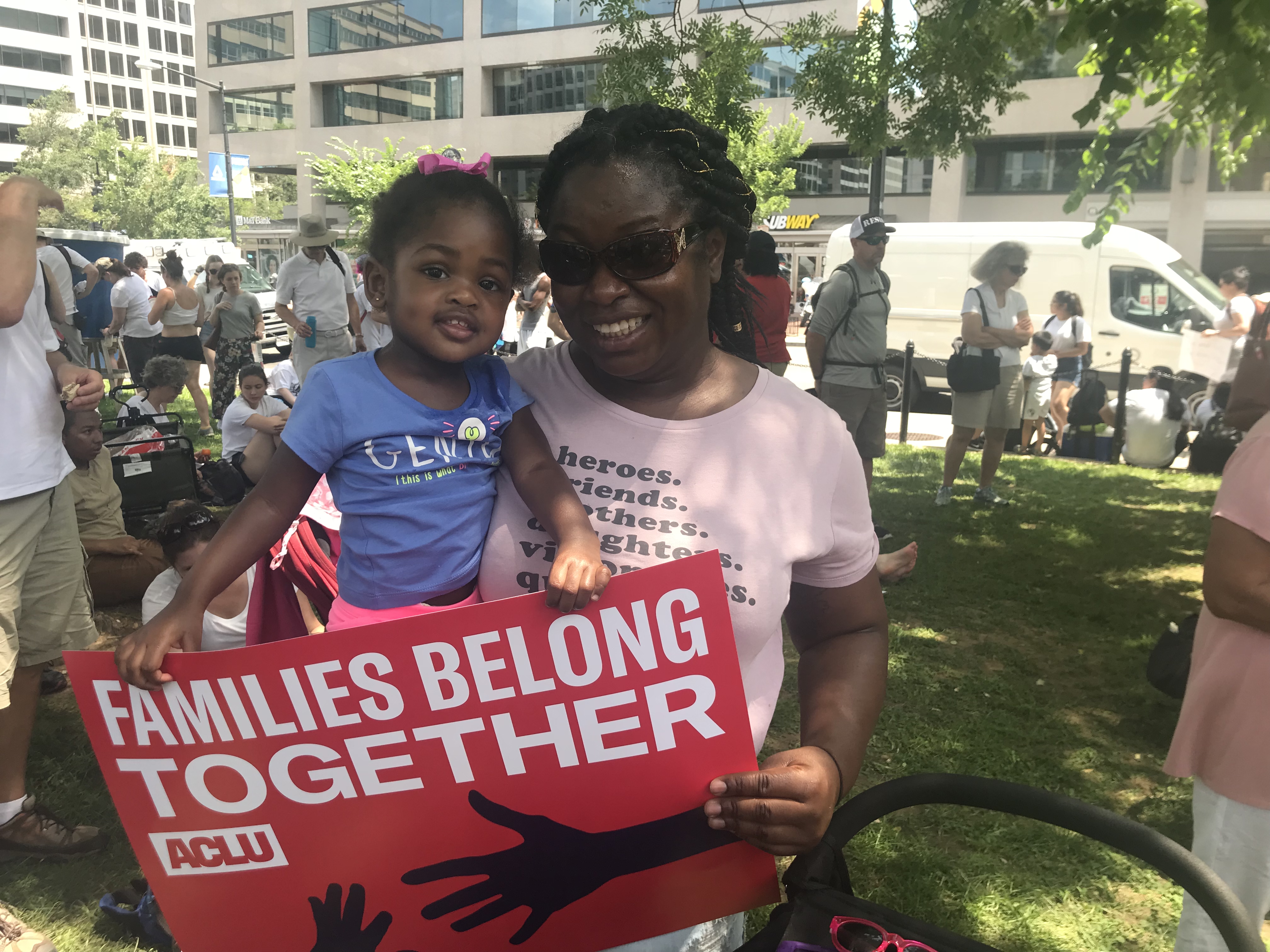 Akossiwa Lawrence came to the Washington march with her daughter, Delilah, who's almost 2-years-old.
The 36-year-old teacher from Maryland says she sees her family in the faces of asylum seekers who are currently in the news.
"It's heartbreaking," she said. "That could have very easily been me and my mom."
Lawrence says she was 6-years-old when she came to the United States from Liberia. Her family sought asylum and eventually, she said, they became US citizens. 
"I'm an immigrant but I came on the other side. I came on a plane. I can't imagine as a first-time mother having my daughter ripped from me," she said. "I just sympathize with these families and I want to do my part to make sure they're reunited."
Asked what she thinks about the Trump administration's plans to reunite families by holding them together in detention facilities, Lawrence says "that causes great concern for me."
It's an all-too-familiar idea, she says, that harkens back to the way Japanese Americans were treated decades ago.
"I guess it's just what they know to do when they fear something or someone," Lawrence said.
Families seeking asylum, she said, shouldn't be treated like criminals. "I don't think they're coming over here to manipulate the system or steal jobs," she said. "They need help."