Flooding expected in Texas
3:09 p.m. ET, September 18, 2019
What you need to know about Tropical Depression Imelda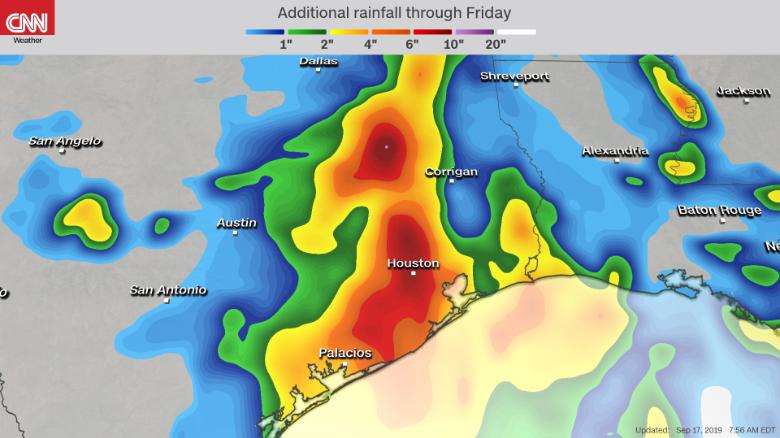 Tropical Depression Imelda dumped heavy rain over southeastern Texas on Wednesday.
The storm formed over the Gulf of Mexico on Tuesday afternoon and made landfall near Freeport, the National Hurricane Center said. It is expected to keep doing so for a couple of days as it moves inland.
Here's what we know about the storm:
Heavy rain: The storm could shower the Houston area with the most rainfall from a single storm since Hurricane Harvey.
Possible flooding: A flash flood watch covering more than 7 million people, including Houston and Galveston, is in effect and is likely to be extended through Thursday.
Activities canceled: Several schools and universities in the Houston and Galveston area announced they will cancel activities Wednesday. Among them were the Galveston Independent School District, Houston Independent School District and Texas A&M University at Galveston.
Another storm brewing: Tropical Depression 10 is brewing in the Atlantic Ocean and is expected to become Tropical Storm Jerry by Wednesday. The storm could become a hurricane by the end of the week as it passes near or just north of the Lesser Antilles, CNN Meteorologist Taylor Ward said.
2:00 p.m. ET, September 18, 2019
There are 5 other named storms churning around the globe
Imelda is one of six named storms currently brewing around the globe.
A hurricane and a tropical storm are churning in the Atlantic ocean and three tropical storms have formed in the Pacific ocean.
These are the storms we're watching:
Hurricane Humberto is a Category 3 storm in the Atlantic Ocean. It's forecast to pass close to Bermuda tonight.
Tropical Storm Jerry is 855 miles east of the Leeward Islands. The storm is expected to become a hurricane by Thursday night.
Tropical Storm Lorena is about 100 miles from Manzanillo, Mexico. It's expected to become a hurricane as it travels northwest, up the Mexican coast.
Tropical Storm Mario, which is further off the coast of Mexico, is also expected to strengthen into a Hurricane.
Tropical Storm Kiko is in the Pacific Ocean, more than 1,100 miles from Baja, California.
1:35 p.m. ET, September 18, 2019
Parts of southeastern Texas are under a flash flood warning
The National Weather Service in League City, Texas, issued a flash flood warning for south central Galveston County and southeastern Brazoria County in southeastern Texas.
The service said the area has already gotten 5 to 10 inches of rain in the past day, and more rain is expected to come soon.
"Flash flooding is expected to begin shortly," the service said in an advisory.
2:57 p.m. ET, September 18, 2019
Heavy rains cause flooding in Galveston
Parts of Galveston, Texas, have begun to flood from Tropical Depression Imelda.
The storm is dumping rain over southeastern Texas and is expected to keep doing so for a couple of days as it moves inland.
KTRK's Courtney Fischer shot this video in the Strand district downtown, which was starting to flood from the heavy rains.
 Watch:
11:18 a.m. ET, September 18, 2019
Imelda could dump 20 to 25 inches of rain on Texas
Imelda could produce 20 to 25 inches of rain as it makes it way through eastern Texas, the National Weather Service predicts in its latest storm advisory.
Imelda is currently moving slowly north toward the Houston and Galveston areas of the state. Heavy rain and significant flash flooding is forecast over eastern Texas during the next couple days.
11:09 a.m. ET, September 18, 2019
Houston area creeks "near bankfull," official says
Water levels are elevated in Harris County creeks following about 9 inches of rain overnight, according to Jeff Lindner, director of Flood Operations for the county.
Officials at the Harris County Flood Control District are "keeping a close eye on" Cleared Creek, Turkey Creek and Armand Bayou.
"A break in rain this morning will alleviate," the flooding but more rain is expected this afternoon and into tomorrow, Linder said.
More context: The term "bankfull" refers to when the water level of a stream, river or lake is at the top of its banks and any further rise would result in water moving into the flood plain, according to the US Army Corps of Engineers.  
10:28 a.m. ET, September 18, 2019
Rescue teams have moved into southeast Texas ahead of Imelda
Rescue teams in southeast Texas are getting ready for Imelda, which is forecast to bring flooding to the area even after weakening to a tropical depression.
Red flag warnings have gone up along the coast of Galveston, Texas. And the federal search and rescue team Texas A&M Task Force 1 has moved into the city in preparation for possible rescues, according to CNN affiliate KTRK.
"Our forte is water rescue, both flood rescue and swift water rescue," Palmer Buck, with Task Force 1, told the station. "I have crews from Fort Worth fire, as well as Longview fire that will be stationed here overnight."
A National Guard team is also expected to arrive today.
9:32 a.m. ET, September 18, 2019
Meanwhile, Hurricane Humberto is heading toward Bermuda
As Tropical Depression Imelda drenches the Houston area, Bermuda is dealing with Hurricane Humberto.
The Category 3 storm is expected to pass dangerously close to the island territory tonight. A hurricane warning has been issued by the Bermuda Weather Service.
Here's a look at the latest forecast from the National Hurricane Center:
9:18 a.m. ET, September 18, 2019
These Houston and Galveston schools are closed today
Several schools in the Houston-Galveston canceled classes and activities Wednesday due to Tropical Depression Imelda.
The Galveston Independent School District canceled classes Wednesday.
"The combination of pre-dawn rain and high tide indicate a probable safety issue for students and staff.  Safe travel to and from Galveston ISD is a primary concern," the school district said in a statement. 
Meanwhile, the Houston Independent School District canceled after-school activities and sporting events due to inclement weather.
The Harris County Department of Education announced that all HCDE Adult Education classes for Wednesday night have been canceled. Texas A&M University at Galveston also canceled Wednesday classes.
Other school closures for Wednesday are in effect for....
College of the Mainland
Galveston College
All Houston Community College campuses
The Texas City Independent School District