Hawaii braces for Hurricane Lane
8:27 p.m. ET, August 24, 2018
Our live coverage has ended. Go here or scroll through the posts below to read more about Hurricane Lane.
8:26 p.m. ET, August 24, 2018
Hurricane Lane is now a Category 1 storm
Hurricane Lane has weakened into a Category 1 storm, according to the Central Pacific Hurricane Center. 
Lane is expected to weaken to a tropical storm later tonight, but the threat of heavy rainfall and flooding continues.
Lane was a Category 5 storm late Tuesday before weakening to a Category 4 Wednesday morning. It dropped to a Category 3 storm overnight Thursday. Lane was downgraded to Category 2 storm Friday morning.
This was only the second time in recorded history that a Category 5 hurricane came within 350 miles of Hawaii — the first one being Hurricane John in 1994 — the National Weather Service said.
8:14 p.m. ET, August 24, 2018
Watch residents flee their home as Lahaina brush fire approaches
From CNN's Gisela Crespo
Hawaii residents Joe Morgan and Natasha Truong said they fled their home early Friday after a brush fire broke out near Maui's resort area of Lahaina.
Morgan said they had preparing for flooding from Hurricane Lane and had not expected to be evacuated because of a fire.
"We arrived at our back up location just to be adverted as the fire spread up the hill," he wrote on Instagram. "We made it safe to an elevated parking garage to spend the night in the car as our cell phone service was out. We are safe and still bracing for the brunt of the hurricane to fill in."
Morgan and Truong shared this video of the brush fire:
7:47 p.m. ET, August 24, 2018
President Trump spoke with Hawaii's governor today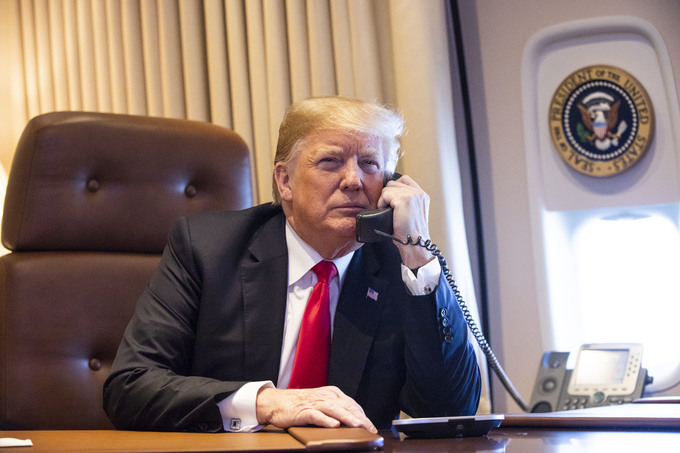 President Trump spoke today with Hawaii Gov. David Ige about response measures and preparations for Hurricane Lane, according to a White House readout of the call.
"The President reiterated that the federal government is fully committed to helping the state in the response and recovery efforts related to Hurricane Lane," the White House said.
6:03 p.m. ET, August 24, 2018
Hurricane watch canceled for Kauai
Kauai is no longer under a hurricane watch, the Central Pacific Hurricane Center reported Friday. 
Instead, a tropical storm watch is in effect for Kauai, where winds could reach up to 57 mph, the hurricane center reported. Officials urged residents to prepare for wind damage.
"Plan for hazardous wind of equivalent tropical storm force due to possible forecast changes in track, size, or intensity," the hurricane center said.
3:51 p.m. ET, August 24, 2018
The numbers behind the Red Cross and FEMA's preparations for Hurricane Lane
Red Cross and FEMA officials just gave an update on their efforts in Hawaii as the state continues to battle Hurricane Lane. 
Here's the latest, by the numbers:
1,526: The number of people who stayed in 36 Red Cross shelters Thursday night.
More than 2,000: How many people are at Red Cross shelters now (about 500 more people entered shelters Friday morning).
45: The number of Red Cross evacuation centers now open throughout the four-county area. There are additional shelters on standby in the event they are needed.
Between 2,500 to 3,000: The number of people the Red Cross expects to shelter by Saturday.
3: The number of urban search and rescue teams FEMA says are standing by in Oahu, Kauai and Hawaii.
2: How many disaster medical assistance teams FEMA has in position and on standby.
More than 80: The number of generators that have been distributed throughout the four counties, according to FEMA.
3:13 p.m. ET, August 24, 2018
This is what it looked like on the Big Island this morning
From CNN's Gisela Crespo
Paul Daniel captured this video on Friday around 7 a.m. Hawaii time (or about 1 p.m. ET).
The clip shows heavy wind and rain in Pepeekeo, on the eastern side of the Big Island. 
Watch:
2:59 p.m. ET, August 24, 2018
Second brush fire erupts in Maui
A second brush fire, separate from the blaze that began overnight in Lahaina, has broken out in Maui, a Maui County spokesperson told CNN.
The second fire is believed to have started Friday morning, near Kannapali in West Maui, said Rod Antone, communications director for Maui County. Further details on the fire were not immediately available.
In Lahaina, more than 100 homes near that brush fire have been evacuated, Antone said.
The causes of fires have not been determined, Antone said.
2:44 p.m. ET, August 24, 2018
Where Hurricane Lane is right now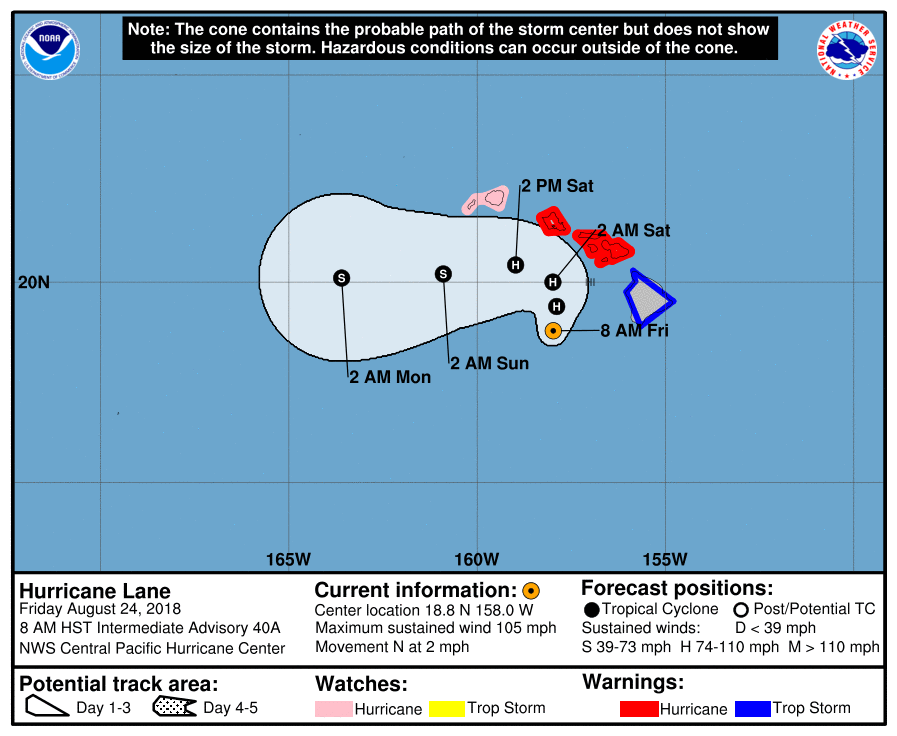 Hurricane Lane is currently about 170 miles south of Honolulu, according to a 2 p.m. ET advisory from the National Oceanic and Atmospheric Administration.
Five Hawaiian islands — Oahu, Maui, Lanai, Molokai and Kahoolawe — remain under a hurricane warning.
The advisory predicts that Lane will continue traveling northward today before turning west into the ocean tomorrow.