Florence pummels the Carolinas
2:55 p.m. ET, September 14, 2018
Mother and infant child killed by falling tree, marking Florence's first deaths
A mother and her infant child were killed in Wilmington, North Carolina, after a tree fell on their house, Wilmington Police Department confirmed in a tweet.
"WPD can confirm the first two fatalities of Hurricane #Florence in Wilmington. A mother and infant were killed when a tree fell on their house. The father was transported to NHRMC with injuries."
These are the first known storm-related deaths due to Hurricane Florence.
2:47 p.m. ET, September 14, 2018
Live map shows planes on the East Coast flying around Florence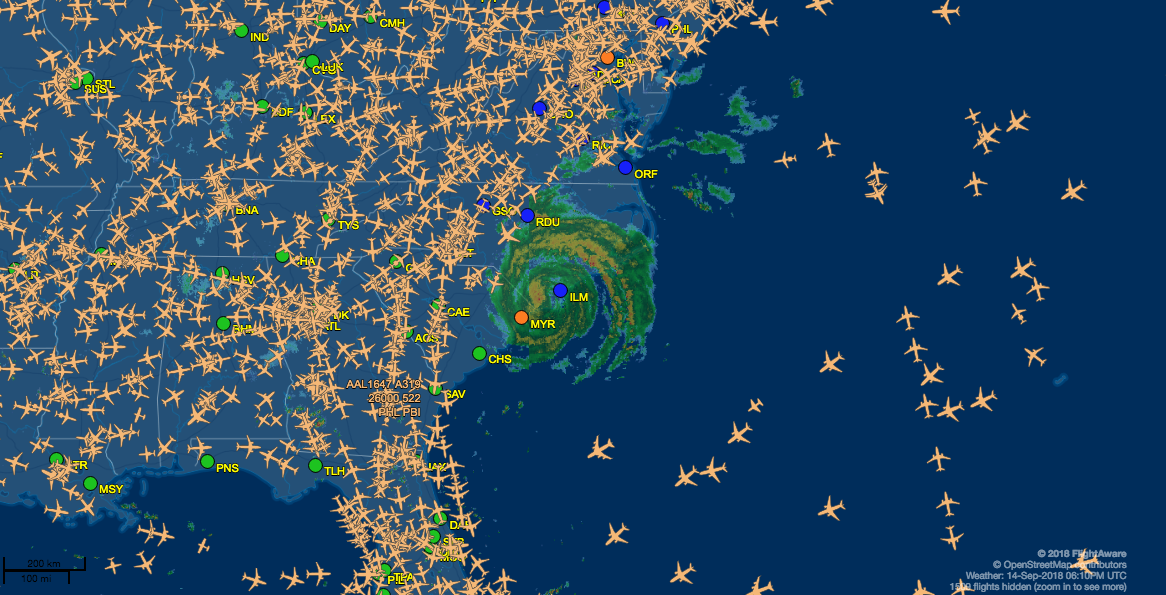 FlightAware's live map shows plenty of flights over the US's East Coast — and they're all avoiding Hurricane Florence.
American Airlines announced it canceled 340 flights on Friday. Another 210 flights are canceled on Saturday, and 100 are canceled Sunday.
Yesterday, Delta announced it canceled 150 Friday flights ahead of Hurricane Florence.
2:31 p.m. ET, September 14, 2018
Florence is now just barely a hurricane
Hurricane Florence's sustained winds have weakened to 75 mph, just 2 mph away from being downgraded to a tropical storm, according to the 2 p.m. ET advisory from the National Hurricane Center.
Still, Florence continues to bring life-threatening storm surges, hurricane-force wind gusts, and catastrophic flooding across North and South Carolina.
Florence is located 35 miles west-southwest of Wilmington, North Carolina and is moving west at 5 mph. The storm is forecast to slowly move farther inland and then turn toward the north over the coming days.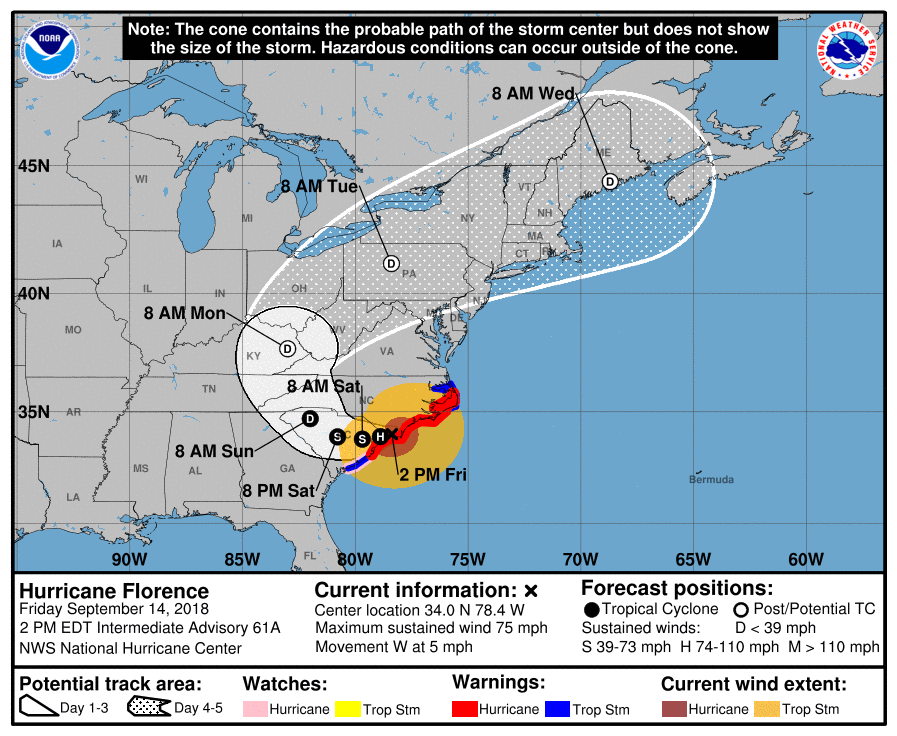 2:00 p.m. ET, September 14, 2018
Crews from New York City are rescuing trapped North Carolinians
Emergency crews from New York City are in North Carolina to help with rescues during Hurricane Florence.
NYC Emergency Management tweeted out this clip of an ongoing water rescue in River Bend:
3:34 p.m. ET, September 14, 2018
This storm is bigger, stronger and scarier than Florence
Meanwhile, in the Pacific Ocean, Super Typhoon Mangkhut just made landfall in the northern Philippines as the equivalent of a category 5 hurricane.
The Philippines is evacuating thousands of people, deploying soldiers and positioning emergency provisions as Mangkhut threatens more than four million people in the north of the country.
Here are some more details on Mangkhut's incredible strength:
Wind speeds are up to 165 mph, or 270 kilometers per hour.
Gusts are as high as 200 mph, or 325 kilometers per hour.
The typhoon force winds, or those above 74 mph, stretch from its center for about 168 miles.
The tropical storm force winds extend 550 miles across in Super Typhoon Mangkhut. Compare that to Hurricane Florence, where tropical storm force winds extend 350 miles.
More than 30 million people are expected to receive the Tropical Storm force winds on the island of Luzon.
A total of 15,328 people were evacuated in three regions of northern Luzon, according to National Disaster Risk Reduction and Management Council's spokesperson Edgar Posada.
Side-by-side images of Hurricane Florence and Super Typhoon Mangkhut show the difference in their sizes.
1:32 p.m. ET, September 14, 2018
Hurricane Florence is the latest setback to struggling flood insurance program
Hurricane Florence is poised to bring flooding and destruction to thousands of homes in the Carolinas and Virginia, and another blow to the federal program meant to insure homeowners and businesses against flood damage.
Most private insurance policies don't protect against damage from floods caused by rain, overflowing rivers or storm surge. For that damage, the National Flood Insurance Program, which is run by FEMA, provides most of the coverage.
The cost of claims is supposed to be covered by the premiums paid by policyholders. But attempts by Congress to raise premiums enough to cover actual damages caused an outcry from those living in flood zones. That prompted Congress to back off plans to raise rates and place limits how much premiums can be increased.
And that only added to massive losses in the program.
Last year with hurricanes Harvey, Irma and Maria, the program paid out $8.7 billion to policyholders, the third highest total in the program's history.
1:27 p.m. ET, September 14, 2018
Wilmington's curfew starts at 10 p.m. ET
New Hanover County and the City of Wilmington are implementing a curfew tonight, officials in North Carolina said.
The curfew will go into effect at 10 p.m. ET, and will remain in place until 6 a.m. tomorrow.
1:11 p.m. ET, September 14, 2018
Watch waves crash in a North Carolina man's front yard
The yard of Ben Johnson's Belhaven, North Carolina, home has become an ocean.
He shot footage of waves crashing onto his front yard.
"There's some rideable waves right there," he said in one video. "I don't think I'll try that out yet quite yet. I'm going to have a cup of coffee first."  
Johnson said did his best to secure his property, but the storm got the better of it.  
One by one, he and his neighbors' garage doors succumbed to the surge — and their contents began spilling out.
"The contents are floating down the street," he says in another video. "Saw a few of my good friends and neighbors rescuing my content. So maybe we can salvage a few things there." 
Watch more:
12:39 p.m. ET, September 14, 2018
More than 600,000 without power in the Carolinas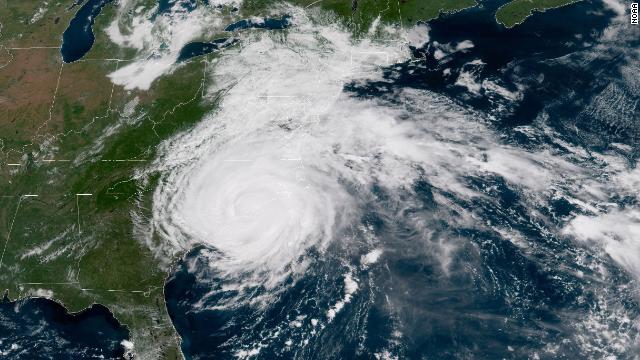 More than 620,000 customers in North and South Carolina are now without power. Here are the latest numbers:  
557,793 power outages statewide in North Carolina   
64,813 power outages statewide in South Carolina
622,606 total customers without power in both states