Florence pummels the Carolinas
2:49 p.m. ET, September 10, 2018
800 South Carolina National Guard soldiers deploy to assist with hurricane preparations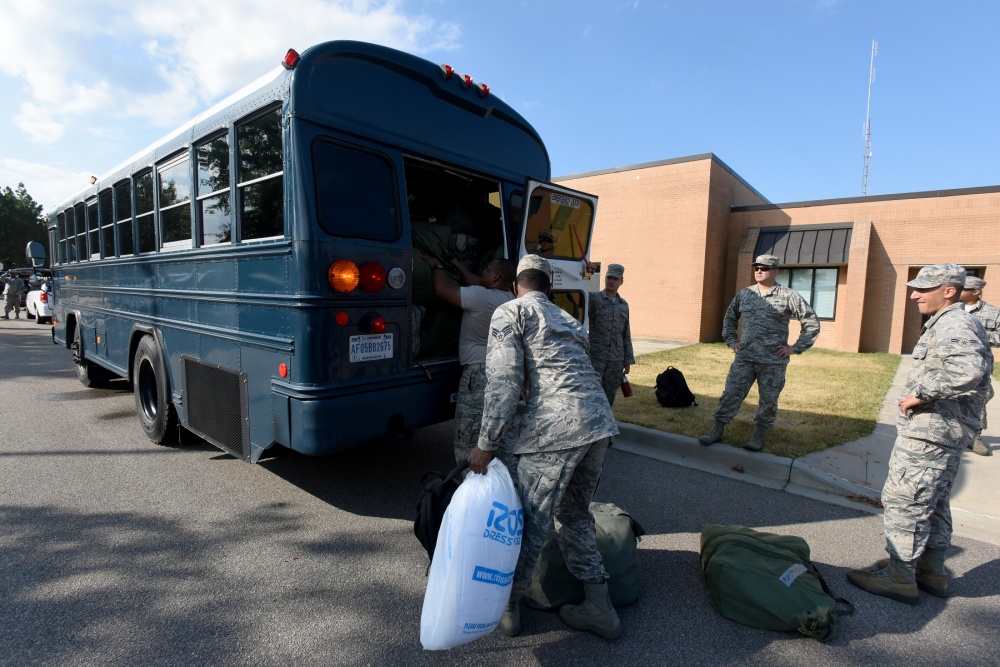 Approximately 800 South Carolina National Guard soldiers and airmen have been mobilized to prepare, respond and participate in recovery efforts associated with Hurricane Florence, according to a statement from the 169th Fighter Wing Public Affairs Office.
The guard personnel are deploying from McEntire Joint National Guard Base near Columbia and heading to Bluffton, South Carolina, for assignment, according to the statement.
2:24 p.m. ET, September 10, 2018
US Navy ships head out to sea ahead of hurricane's landfall
CNN affiliate WAVY reporter Kara Dixon took video at Naval Station Norfolk as Navy ships there left ahead of Hurricane Florence.
The video shows the U.S.S. Ramage departing.
On Monday, some 30 ships were ordered to leave Naval Station Norfolk and Joint Expeditionary Base Little Creek. They'll be heading to areas of the Atlantic out of the storm's path. 
"Our ships can better weather storms of this magnitude when they are underway," US Fleet Forces Commander Adm. Christopher Grady said in a statement on Saturday.
Watch here:
2:11 p.m. ET, September 10, 2018
American Airlines issues travel alert for more than 30 airports ahead of storms
American Airlines has issued a travel alert, including an alert for 23 airports in Georgia, North Carolina, South Carolina and Virginia, ahead of Hurricane Florence, according to a statement.
The airline has also issued a travel alert for 14 airports in nine countries and US territories ahead of Hurricane Isaac. Hurricane Olivia triggered an alert for two airports in Hawaii.
"This travel alert covers more than 30 airports — including our Charlotte hub," the airline said
The alert allows customers to rebook without penalty, according to the carrier.
2:00 p.m. ET, September 10, 2018
The last Category 4 hurricane to hit the Carolinas was 22 years ago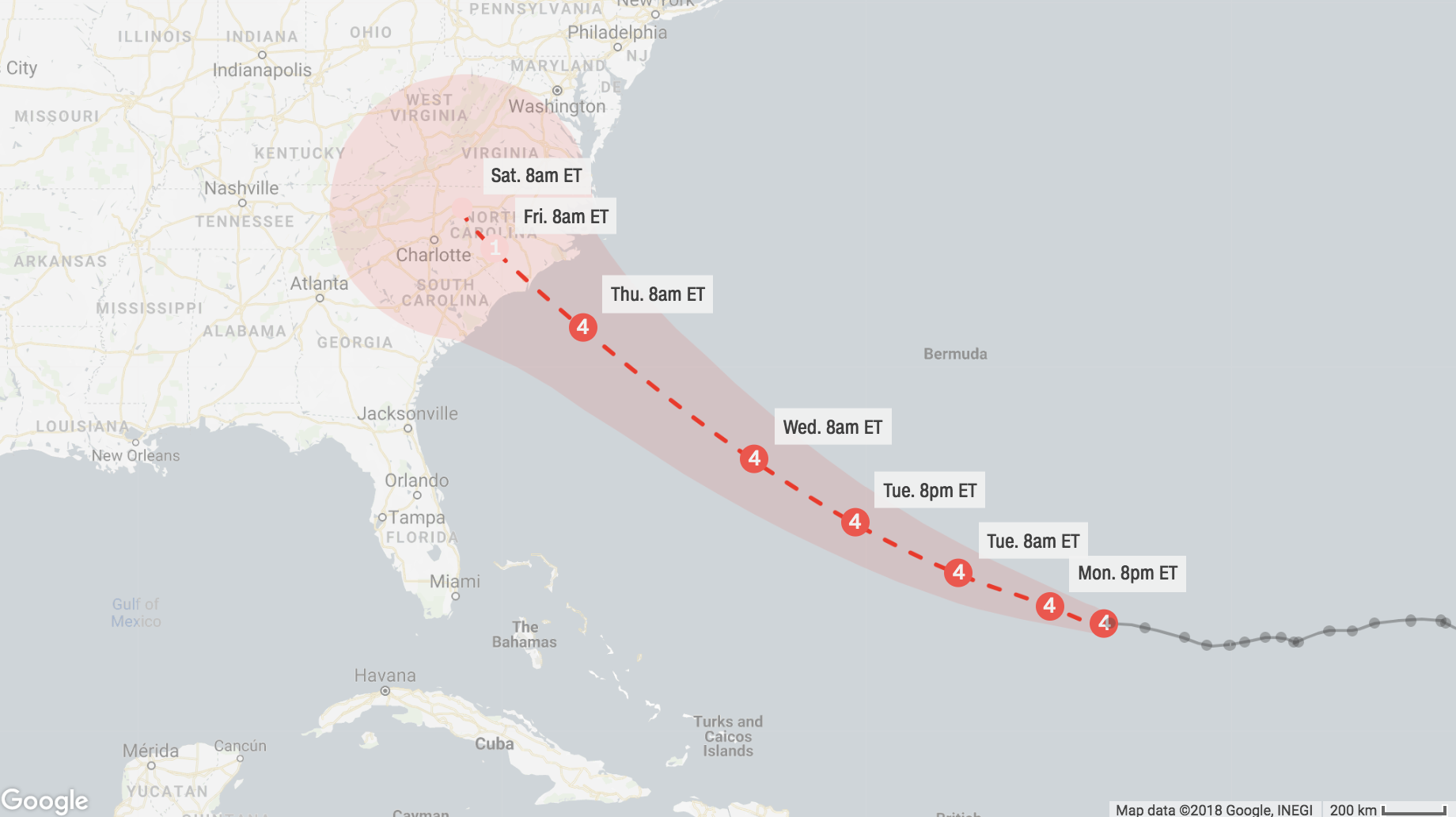 Hurricane Florence, which is currently a Category 4 storm with 130 mph winds, is forecast to strike the Carolinas as a major hurricane.
Here are some stats on past hurricanes to hit the area:
Hurricane Jeanne was the last major hurricane to strike the east coast. The Category 3 storm made landfall near Port St. Lucie, Florida, in September 2004.
Hurricane Fran was the last major hurricane to strike the Carolinas. The Category 3 storm made landfall near Wilmington, North Carolina, in September 1996.
Hurricane Hugo was the last Category 4 to hit the Carolinas. It made landfall in September 1989.
In the last 100 years, 37 storms passed within 100 miles of Hurricane Florence's current location in the Atlantic — none of them hit the US.
Hurricane Florence is on a very unusual track. In the last 24 hours, Florence has strengthened from a minimal Category 1 with 75 mph winds to a powerful Category 4 with 130 mph winds. That's an increase of 55 mph in 24 hours. It has strengthened 40 mph in the last 13 hours, which no storm has done in the Atlantic in more than a decade.
1:28 p.m. ET, September 10, 2018
Shoppers snatch up water, milk and other everyday items
Crowds formed at supermarkets on Sunday as people tried to stock up on supplies.
"Checkout lines @Costco in Charleston running all the way to the back of the store. Hurricane #florence for the win! #chswx," Michael Livingston tweeted. "Wait was about 20 min - long but fast-moving. Prep is usual: foodstocks, fuel, cash, batteries, clean-up of property for high winds. Might buy a new board game or two. :)"
Erin Byrd checked in online from Publix in Apex, North Carolina.
"Water supplies being depleted. ... Bread and milk supplies still robust," she posted on Instagram.
"We don't panic, which is why we are amused that water was so depleted a week out. We still have water supply from last year here," she told CNN.
Alicia Buchanan posted on Instagram from Walmart in Rock Hill, South Carolina.
She just moved to the area two weeks ago from Northern Virginia and still doesn't have her furniture.
"So, I'm prepping with some bottled water, a couple puzzle books, and making sure all my electronics and back-up batteries are charged," she told CNN. "I plan to do most of my cooking on the grill."
12:58 p.m. ET, September 10, 2018
They are evacuating ahead of the storm because they're afraid of flooding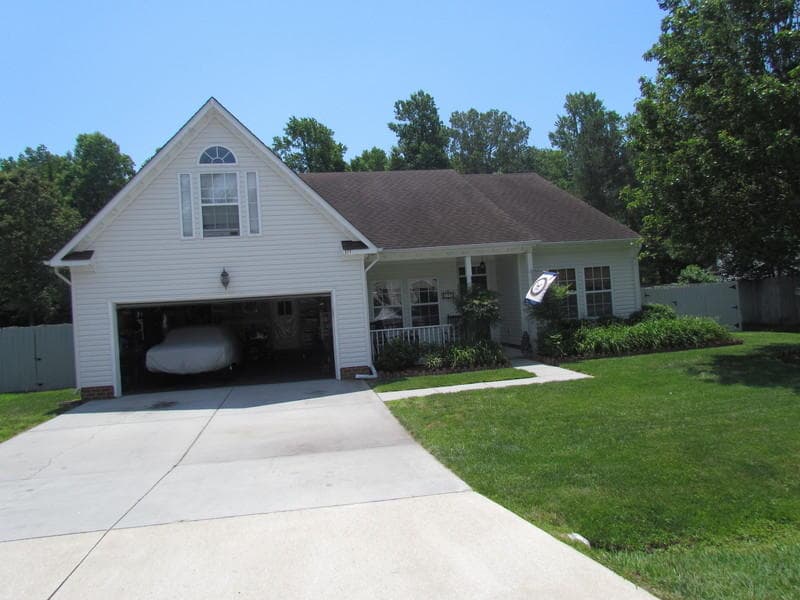 Crystal Kirwan and her family don't have much of a choice as Hurricane Florence nears the coastal Carolinas. They need to evacuate their home in Moyock, North Carolina.
"This one is hard," she told CNN. "We live paycheck to paycheck being military and it's four days until payday."
It's not the wind they are most fearful of — it's the rain. When Hurricane Matthew blew through the area in 2016, she says their neighborhood was badly flooded for a week after.
Some neighbors even had sewage back up into their homes.
"We just feel with two special needs kiddos we should not stick this one out," she says.  
The family will make the four and half-hour drive to family in Dover, Delaware, as soon as Kirwan's husband, who's in the military, is cleared from duty.
"Probably not too much better but most likely safer than here," she says.
In the meantime, the Kirwans are preparing their yard, moving valuables into the garage and making sure fence posts are secured.  
To try and lessen any potential flooding, they're cleaning out their ditches. They also installed a new garage door seal to try and stop any water from coming in.
4:59 p.m. ET, September 14, 2018
Florence just rapidly intensified. That's a pretty rare thing for hurricanes to do.
Florence has officially "rapidly intensified" into a Category 4 storm.
Just yesterday, as of 11 a.m. ET, the storm was a Category One with sustained winds of 75 mph -- now it has sustained winds of 130 mph. This is a 55 mph increase in just the last 24 hours.
A storm undergoes rapid intensification when its maximum sustained winds increase at least 35 mph in 24 hours or less, according to the National Hurricane Center.
That's a jump of about two categories on the Saffir-Simpson scale, which grades hurricane strength from 1 to 5.
While there isn't much definitive data on rapid intensification, a few key atmospheric ingredients help it occur, CNN meteorologist Michael Guy explained. They're the same conditions that often emerge in the Atlantic basin between August and October.
First: Ocean water needs to be warm -- more than 86 degrees Fahrenheit is ideal -- with that heat extending beneath the surface.
Then: Upper level winds must be calm so they don't disrupt thunderstorm activity.
Finally: A storm's internal conditions also must be just right. A hurricane needs a way to ventilate, much like a car engine, so it can continue to process all of the fuel from the warm ocean water and use it to strengthen the storm.
Rapid intensification is rare: Because all those pieces must be in place, rapid intensification is rare, with just one or two Atlantic storms per year undergoing such an acceleration.
That said, most storms that reach the highest categories, Cat 3, 4 and 5, reach these intensities through rapid intensification. Indeed, 70% of Atlantic storms that hit that mark do so through rapid intensification, according to a 2016 study published in Nature Communications.
12:16 p.m. ET, September 10, 2018
Hurricane Florence is now a Category 4 storm
Hurricane Florence grew Monday to a Category 4 storm, according to the National Hurricane Center. 
The hurricane was a Category 3 storm earlier Monday, but it strengthened to a Category 4 storm. The hurricane now has maximum sustained winds of 130 mph.
Even further strengthening is possible over the next several days.
11:36 a.m. ET, September 10, 2018
North Carolina asks Trump for federal disaster declaration
Speaking at a press conference Monday morning, North Carolina Governor Roy Cooper said he has asked President Trump for a federal disaster declaration for the state ahead of Hurricane Florence. 
The federal declaration would free up federal assistance and supplement state and local efforts in providing emergency response, Cooper says.
Gov. Cooper also says he spoke with FEMA Director Brock Long earlier on Monday.
He also said people in its path should prepare to be without power for a while.
"When it comes to utilities, families need to be ready," Gov. Cooper said. "They need to prepare to be without power for a while, that's why we're urging people to have their emergency kits and prepare for this."
Gov. Cooper foresees three separate threats from Hurricane Florence: an initial surge of ocean water along the coast, followed by strong winds, and ultimately, inland flooding. "North Carolina is taking Hurricane Florence seriously, and you should too," Cooper said.
Cooper also expects other coastal communities to follow the lead of Dare County and issue mandatory evacuation orders for residents and visitors either Monday or Tuesday.