Florence pummels the Carolinas
2:32 p.m. ET, September 12, 2018
6 nuclear power plants are in Florence's projected path
Six nuclear power plants are within Hurricane Florence's projected path, according to Duke Energy spokeswoman Mary Catherine Green.
Three of the nuclear plants are in South Carolina while the remaining three plants are in North Carolina, she told CNN. The plants are owned and operated by Duke Energy.
Duke's Brunswick Nuclear Plant, 30 miles south of Wilmington, and the Sheron Harris Nuclear Plant near Raleigh are the two plants closest to Florence's projected landfall, Green said.
Duke officials are closely monitoring the storm's progress and movements. Crews are already working to confirm the readiness of equipment and securing materials that are outside the plant walls, she said. The company is also in regular contact with local and state officials regarding storm conditions and plant preparedness.
All six plants were designed and engineered to withstand hurricane and tornado conditions, Green said.
2:18 p.m. ET, September 12, 2018
Charleston International Airport will shut down tonight
The Charleston International Airport will close Wednesday night ahead of Hurricane Florence.
The runways will close at 11:59 p.m. ET, and could reopen at 7 a.m. ET Saturday.
"Rapidly changing conditions associated with the path of Hurricane Florence will affect general aviation and commercial air service operations at Charleston International Airport at least through Friday," the airport said in a statement.
The airport, which serves eight airlines, suggested checking with individual airlines ahead of that airport closure to ensure any afternoon flights are still operating. 
2:13 p.m. ET, September 12, 2018
Florence downgraded to a Category 3 storm
Hurricane Florence is now a Category 3 storm, with maximum sustained winds of 125 mph, according to the latest advisory from the National Hurricane Center.
While the storm's peak winds have decreased slightly, the size of the wind field increased. Forecasters warned that Florence is still expected to be an "extremely dangerous major hurricane" when it nears the US tomorrow and Friday.
Here's the updated 2 p.m. forecast:
1:54 p.m. ET, September 12, 2018
Some North Carolina prisons evacuated
Inmates and staff at some North Carolina prisons are being evacuated ahead of Hurricane Florence, according to the North Carolina Joint Information Center. 
The center would not identify which prison or prisons are being evacuated and would not say where those prisoners and staff are being evacuated to now, citing security reasons. 
Every inmate who is being evacuated will be allowed to call a family member over the weekend, officials said.
Here's the statement from North Carolina Public Safety:
"All offenders and staff will be evacuated from a facility threatened by Hurricane Florence. Offenders and staff are being moved to larger facilities within the state prison system and will be moved back to the affected facilities once the storm subsides and it is deemed safe for operations to continue. This process began on Monday and will continue throughout today and tomorrow. All offenders affected by the move will be allowed to make a free phone call to a family member over the weekend."
1:34 p.m. ET, September 12, 2018
Authorities will retrieve contact information for next of kin from residents who didn't evacuate
Authorities in North Carolina will be going door-to-door Wednesday night and retrieving contact information from coastal residents who opted to stay home during Hurricane Florence's landfall.
They will ask for contact information for next of kin during their rounds, which start at 8 p.m. ET, CNN's Kaylee Hartung reported.
Nickya Rivera of Carolina Beach said she prefers to stay at home during the storm rather than venture out and face the uncertainty of travel.
"Our neighbors are staying, we got our generators. So I feel actually more comforted being in our home. It's brick, the roof is hurricane proof, with our neighbors beside us. We know where the bomb shelters are, we know where the hurricane shelters are. Being on the road with possible flooded out roads, not being able to get gas, so that's a little more concerning to me at this point than just bunkering down and being in our home where we know where we can go if we have to."
Watch:
1:20 p.m. ET, September 12, 2018
How the South Carolina Aquarium is preparing for the storm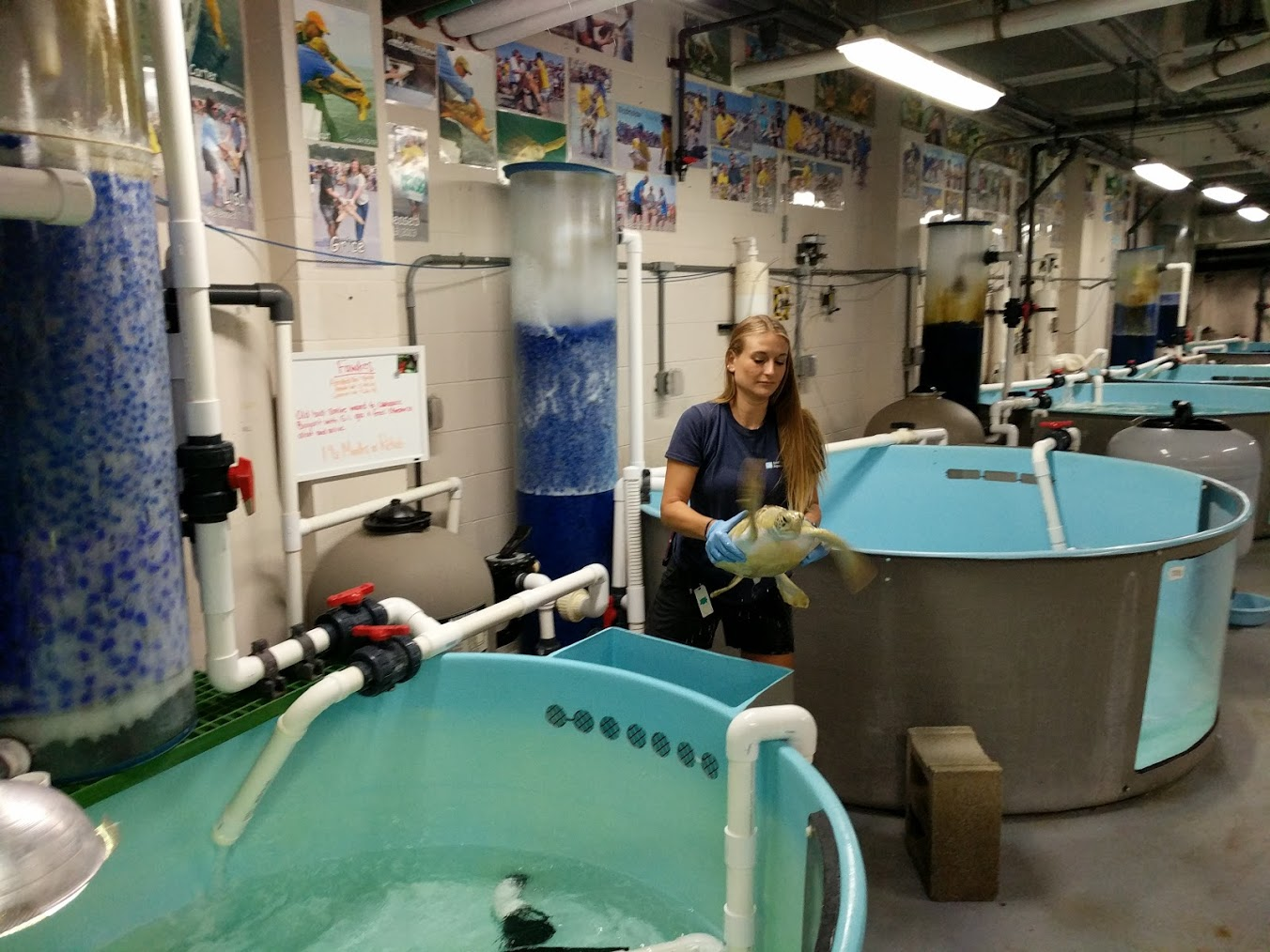 The South Carolina Aquarium in Charleston began preparations for Hurricane Florence last week, when they spotted it on the weather radar.
"Our team has lots and lots of meetings to ensure everything goes smoothly in the event of severe weather," the aquarium said in a statement.
Since then, employees have been gathering supplies and moving sea turtles to high ground. A team also volunteered to stay with the animals and ride out the storm.
Here's what it takes to prepare for a major storm:
Workers installed metal panels over the aquarium's glass windows, and gathered sandbags.
They collected any loose items outside the aquarium.
Water tanks and freshwater exhibits were topped off.
The aquarium was stocked with first-aid kits and veterinary supplies.
3:31 p.m. ET, September 12, 2018
Georgia declares state of emergency ahead of Hurricane Florence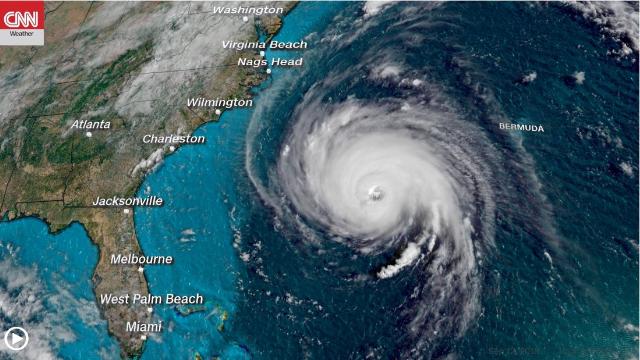 Georgia Gov. Nathan Deal signed an executive order declaring a state of emergency ahead of Hurricane Florence, according to his office.
The emergency declaration extends to all of Georgia's 159 counties, Deal's office said.
"The state is mobilizing all available resources to ensure public safety ahead of Hurricane Florence," Deal said. "In light of the storm's forecasted southward track after making landfall, I encourage Georgians to be prepared for the inland effects of the storm as well as the ensuing storm surge in coastal areas."
Georgia is the fifth state to declare a state of emergency ahead of the storm, joining Maryland, North Carolina, South Carolina and Virginia.
Updated forecasts show Hurricane Florence pausing later this week just off North Carolina's coast before turning left. No part of Georgia is currently under a hurricane watch or warning, according to the latest National Hurricane Center forecast, although the state is in a potential track area for later this week.
President Trump this morning urged people in Georgia to get ready for the storm.
Editor's note: A previous version of this post incorrectly said only three other states had declared states of emergency.
1:02 p.m. ET, September 12, 2018
This North Carolina marina is usually full of boats. Today, it's deserted.
Susan Faulkenberry Panousis has ridden out storms on North Carolina's Bald Head Island before — but Hurricane Florence will not be one of them.
"We have a hurricane plan that if it is over a [Category] 2, we leave," she told CNN. "We got out of Dodge." 
As she packed up what she could from her home on Tuesday night, she says police officers were going door to door telling people when the last ferry was and to leave the island.
Later that night, she left the island on one of those ferries. As she evacuated, she took photos of the empty Bald Head Island marina, which is normally full of boats.
The last ferry out left at 9:30 a.m. ET today.
"When that last ferry pulls out, it's very unnerving," she said.  "It's unnerving to see it pull away and know, 'That's the last chance I have of getting off this island.'"
12:39 p.m. ET, September 12, 2018
People living in Hurricane Florence's path write messages for the storm
People in the path of Hurricane Florence are boarding up their homes and businesses and leaving behind messages for the massive storm that's headed their way.
In Wilmington, North Carolina, a bar has boarded up its windows. The boards are painted over with the silhouettes of people, and the words "ILM Strong" -- a reference to the code for Wilmington International Airport.
"The forecast may be daunting but no force can stifle the spirit of downtown Wilmington," the pub, Tavern Law 1832, posted on its Instagram account.
The locally owned and operated tavern wanted to display a sign of strength for the community.
"As I write this I am surrounded by 20 hard core locals who are here expressing concern for one another and general consensus is most are staying to brave the storm for better or worse," one of the bar's owners told CNN in an Instagram message from the Tavern Law account. "People have been signing the board as they walk by."
In Rodanthe, North Carolina, on the Outer Banks, artist Randi O'Sullivan and her husband, Blake, evacuated their home on Tuesday morning along with their dog Bertha.
Before leaving, O'Sullivan painted the message "F off Flo!" on the plywood they used to protect their home that they've lived in for almost eight years.