Florence pummels the Carolinas
2:38 p.m. ET, September 13, 2018
Water — not wind — is the deadliest storm hazard
Wind often gets the headlines, but water is the thing that is most responsible for deaths in a hurricane.
Water has accounted for more than 75% of all hurricane-related fatalities in the US from 1963 to 2012. Wind, on the other hand, is only responsible for 8% of all deaths.
That's why Hurricane Florence is still an incredibly dangerous storm -- it will contain extreme amounts of water, both coming up from the ocean in storm surge, and falling from the sky in heavy rain bands.
About half of all deaths in hurricanes come from storm surge. Even though Florence has weakened to a category 2, it will contain a storm surge more like a major hurricane thanks to its massive size and slow movement.
Florence is forecast to slow down to a jog-like pace as it moves near the coastline, which will allow two full tidal cycles to push high tide 5 to 10 feet above normal.
The slow pace will also create incredible rain totals of more than 20 inches over portions of North and South Carolina. According to stats compiled from Weather.us meteorologist Ryan Maue, about 17 trillion gallons of rain will fall over the Carolinas, Georgia and Virginia.
More than 1 in 4 deaths in hurricanes come from inland flooding, which often catches people by surprise as it can occur several hundred miles from landfall.
2:26 p.m. ET, September 13, 2018
How local newspapers are covering Hurricane Florence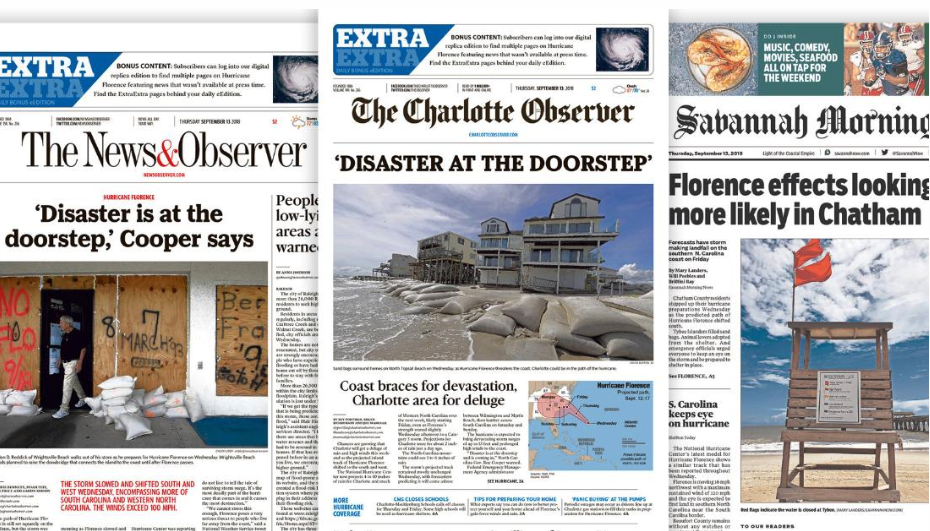 One way to get a snapshot of a community is to read its newspaper.
As Hurricane Florence barrels down on the Southeast US, the region's front pages are portraits of urgency and unease.
Check out how nine newspapers from the eastern Carolinas, Georgia and Virginia are covering the storm.
2:12 p.m. ET, September 13, 2018
This is the scene in New Bern, North Carolina, right now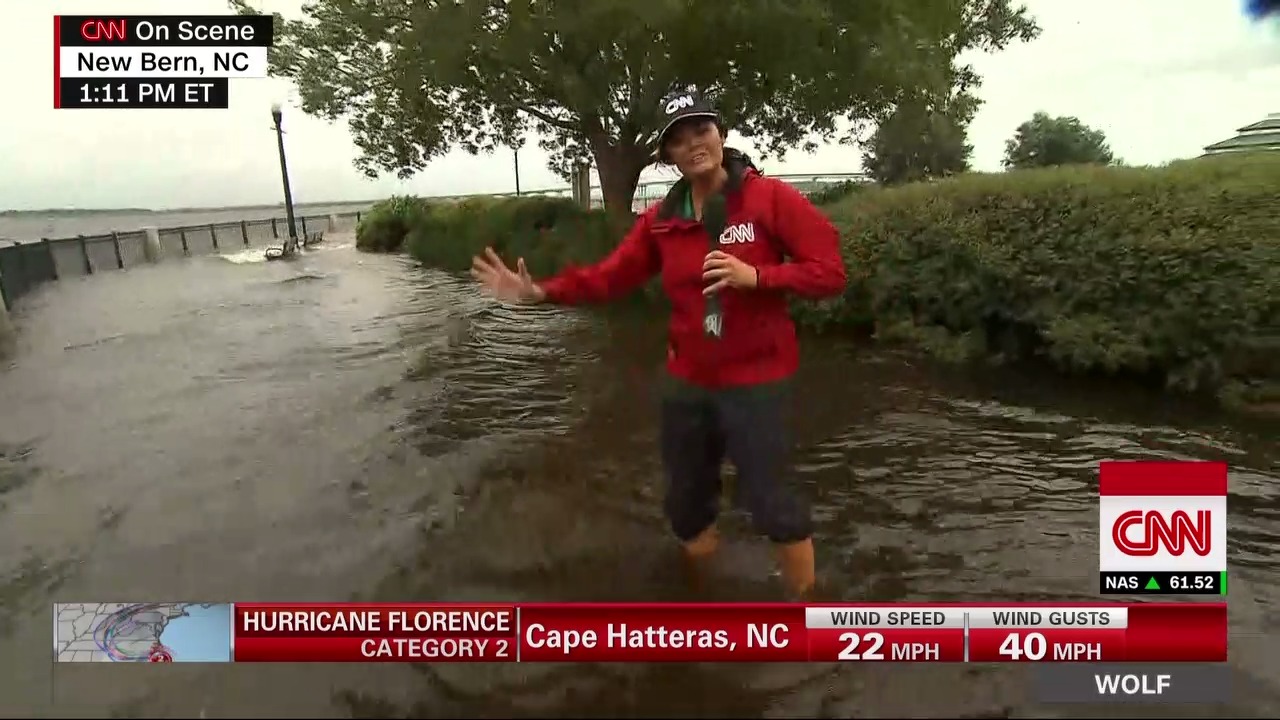 CNN's Dianne Gallagher is in New Bern, North Carolina, where Union Point Park on the Neuse River has started flooding.
"I'm almost 6 feet tall, and this is already up to my knees," Gallagher said. "And we're waiting for the rain to start setting in."
Watch more:
1:59 p.m. ET, September 13, 2018
Florence, still a Category 2, moves closer to shore
Hurricane Florence remains a Category 2 storm with sustained winds of 105 mph, according to the latest forecast advisory from the National Hurricane Center.
The storm is located about 145 miles east-southeast of Wilmington, North Carolina, and Florence's center is expected to approach the Carolina coasts later today and move near or over the coasts tonight and early Friday.
The center will release its next forecast at 5 p.m. ET. You can also follow Hurricane Florence's path with CNN's storm tracker.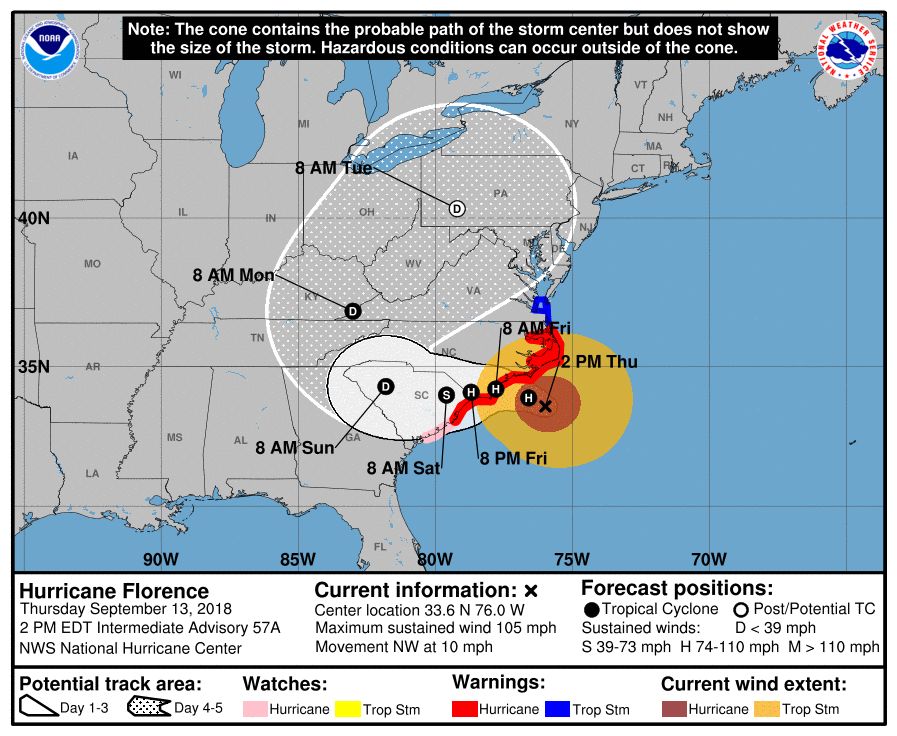 1:44 p.m. ET, September 13, 2018
Trump tweets: First responders and officials are ready
President Trump just tweeted that he has been briefed on Hurricane Florence.
"FEMA, First Responders and Law Enforcement are supplied and ready. We are with you!" he said.
Florence is currently a Category 2 storm with maximum sustained winds of 105 mph. Tropical storm conditions have already reached North Carolina.
1:30 p.m. ET, September 13, 2018
Water has risen to the docks in this North Carolina beach town
Julia Fitzpatrick tells CNN she's seeing flooding near Hammocks Beach in Swansboro, North Carolina. This is along the intracoastal. 
High tide was at 11:00 a.m. ET this morning.
She took these photos of the rising water, which has reached dock level.
1:18 p.m. ET, September 13, 2018
Here's why hurricanes are causing costlier damage than ever before
Even adjusting for inflation, nine of the 10 costliest hurricanes to hit the US mainland since 1900 have come since in the last two decades.
The trend is clear. Hurricanes are causing more damage in terms of dollars than in the past. But why?
The explanation, experts said, is relatively simple: More and more people are choosing to live near the coast, and housing and building costs in those locations are more expensive than they used to be.
"Continued development along the East and Gulf coasts of the United States is likely to increase hurricane damage simply by increasing the amount of property that is exposed to damage," a 2016 Congressional Budget Office report said.
In addition, those changes are exacerbated by rising sea levels and more powerful hurricanes due to climate change, experts said.
Add in the impacts from climate change "and it's going to bend the curve upward even more," said Tom Birkland, professor of public policy at North Carolina State University.
1:03 p.m. ET, September 13, 2018
Thousands already staying in Red Cross shelters
Red Cross spokesperson Stephanie Rendon provided an update on shelter totals:
More than 6,700 people spent Wednesday night in 127 Red Cross and community shelters across South Carolina, North Carolina and Virginia.
There have been more than 3,800 shelter stays in South Carolina to date.
Currently, there are 42 Red Cross and community shelters in South Carolina.
12:50 p.m. ET, September 13, 2018
What the 5 hurricane categories mean
Hurricane Florence is currently a Category 2 storm, with maximum sustained winds of 105 mph. The hurricane has been downgraded twice since Monday, when it was a Category 4.
But don't let category fool you: Florence is still a dangerous storm. Even though the top winds are weaker, the size of its hurricane force winds have doubled in the last 48 hours. This means that more people, structures and land will be subject to the dangerous winds. Storm surge predictions have also stayed stable.
Here's a breakdown of what kind of damage each category of storm can do:
Category 1: Winds 74 to 95 mph (Minor damage)
Category 2: Winds 96 to 110 mph (Extensive damage — Can uproot trees and break windows)
Category 3: Winds 111 to 129 mph (Devastating — Can break windows and doors)
Category 4: Winds 130 to 156 mph (Catastrophic damage -— Can tear off roofs)
Category 5: Winds 157 mph or higher (The absolute worst and can level houses and destroy buildings)
Watch what that looks like with this animation: