Florence pummels the Carolinas
7:41 a.m. ET, September 14, 2018
Hurricane Florence has made landfall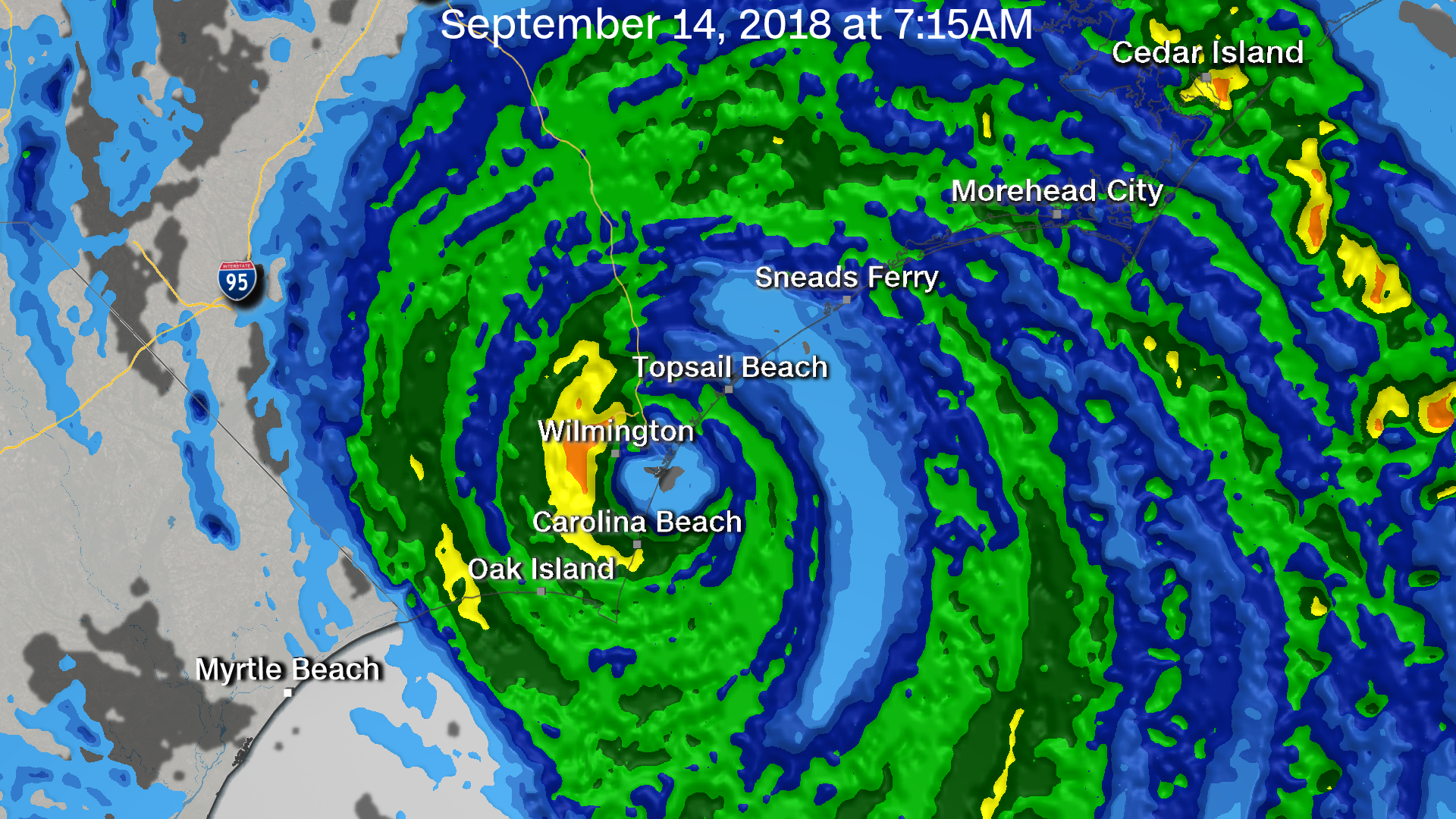 Hurricane Florence made landfall near Wrightsville Beach, North Carolina at 7:15 am ET.
It has maximum sustained winds of 90 mph, the National Hurricane Center said.
7:35 a.m. ET, September 14, 2018
Wilmington is getting its highest winds since 1960
Winds at at the Wilmington International Airport in North Carolina reached 92 mph this morning.
That marks the highest wind gust measured since Hurricane Donna hit in September 1960, the National Weather Service reported.
Here's the service's full break down of top winds in Wilmington: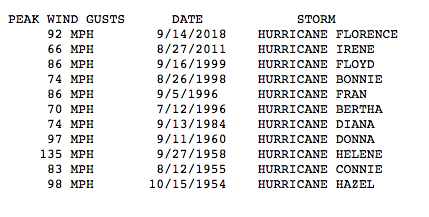 7:28 a.m. ET, September 14, 2018
What's it like to be in the eye wall? "Just insane."
HLN meteorologist Bob Van Dillen is in the eye wall of Hurricane Florence. Video showed roaring winds and pounding rain.
"That is just insane," he said.
He noted that when the eye moves over land, conditions will be calm.
Watch the footage:
7:24 a.m. ET, September 14, 2018
Myrtle Beach is in "waiting mode"
Brenda Bethune, the Mayor of Myrtle Beach, said the city is still in "waiting mode." She's expecting hurricane-force winds to start at 9 a.m. ET.
"These next couple of hours the conditions will continue to get worse," she said.
She urged residents to make any final preparations before Hurricane Florence hits.
"Any last-minute things to secure, you have another hour to do that. Stay inside during the storm," she said.
7:15 a.m. ET, September 14, 2018
Florence will make landfall soon
Ken Graham, with the National Hurricane Center, said Hurricane Florence is about to make landfall in North Carolina.
"The expanse of the winds is just incredible" he said. "And that's pushing all that water in."
We're talking a lot about storm surge today. It's expected to be one of the storm's most devastating effects.
The city of New Bern, North Carolina is currently seeing about 10 feet of storm surge. Graham said the surge could be "miles and miles inland" because the storm's winds are so strong.
Watch more:
7:10 a.m. ET, September 14, 2018
This is the scene in New Bern, North Carolina
The New Bern Police Department in North Carolina tweeted photos this morning showing flooding in the city's downtown area:
As of 6 a.m. ET, New Bern got a reported 7 inches of rain. Storm surge is more than 10 feet.
Earlier this morning, police said about 150 in New Bern were awaiting rescue.
7:02 a.m. ET, September 14, 2018
More than 430,000 without power across the Carolinas
Many customers in North and South Carolina are waking up in the dark. Here are the latest numbers:
340,264 power outages statewide in North Carolina
96,720 power outages statewide in South Carolina
So that means 436,984 total customers without power in both states