Florence pummels the Carolinas
4:45 p.m. ET, September 12, 2018
How to prep your smartphone for a hurricane
A smartphone can be a lifeline in a hurricane, but preparation is key. You don't want to be frantically downloading the Red Cross first aid app with 5% battery and spotty cell connections after the power is out.
Here's how to prepare your tech for a major storm:
Charge up: Fully charge your main phone and any extra phones you have. For backup power, charge any power packs you have, as well as laptops. To stretch out the battery life, turn on low power mode, dim the brightness, and turn off any unnecessary notifications.
Install key apps: Consider installing Zello a walkie-talkie app that lets you share audio messages and photos. FireChat is another messaging app that works without data or a signal, and instead relies on mesh networks. Airbnb's Open Homes program helps those in need of shelter. Finally, install a few of the Red Cross apps, which can offer first aid relief to both humans and pets.
Bookmark important pages: Go to your state emergency management or department of public safety site. Bookmark its main information page for the storm, and download any app they might have.
Opt in to emergency alerts: Go to your phone's settings and make sure emergency alerts are enabled for extreme threats and severe threats. The government can push these alert, which may include an evacuation order, to phones in regions via the WEA (wireless emergency alerts) system.
Download maps: Maps can be a data hog. The Google Maps app lets you download entire maps for your area to your phone. On Android or iOS, search for your city and tap the more option (three dots), then tap "Download offline map."
4:07 p.m. ET, September 12, 2018
CDC activates Emergency Operations Center for Hurricane Florence
The Centers for Disease Control activated its Emergency Operations Center (EOC) ahead of Hurricane Florence according to a release from CDC Media Relations.
The EOC will be open 24 hours day and seven days a week to respond to public health needs before, during and after Hurricane Florence. 
3:57 p.m. ET, September 12, 2018
300,000 people in South Carolina have already evacuated
South Carolina Gov. Henry McMaster, speaking a news conference Wednesday, said 300,000 people have already evacuated ahead of Hurricane Florence.
More than a million people could be evacuated before the end of the storm, he said.
About the evacuation orders: More than 1 million people in coastal areas of North Carolina, South Carolina and Virginia have been told to evacuate. 
Over 25 million people are inside the "forecast cone" from the National Hurricane Center, which extends from Virginia to Alabama as of Wednesday.
4:32 p.m. ET, September 12, 2018
They evacuated from their nursing home, still holding hands
The South Carolina Department of Health and Environmental Control said an EMS agency, which was carrying out medical evaluations in upstate South Carolina, took this photo of an elderly couple who were evacuated from a nursing home.
"We are grateful for the incredible crews still assisting with safe medical evacuations," the health department tweeted.
3:14 p.m. ET, September 12, 2018
South Carolina governor: Residents in low areas should evacuate, even if they're not under orders
South Carolina Gov. Henry McMaster urged residents living in low-lying areas to evacuate, even if they are not in a mandatory evacuation zone, during a news briefing Wednesday. 
McMaster said that although the hurricane has weakened slightly, officials are still anticipating heavier rain than past storms. That could lead to flooding throughout the state, he said.
3:00 p.m. ET, September 12, 2018
This storm chaser would rather be in the air than on the ground when Florence hits
Paul Flaherty has been flying around Hurricane Florence's eyewall for the past week and gathering data to provide the most accurate information to forecasters and emergency officials.
As frightening as the job sounds, Flaherty, flight director for the National Oceanic and Atmospheric Administration Hurricane Hunters, said he rather be in the air than on the ground when the storm finally makes landfall.
"A lot of people say we're crazy. I say the people on the ground that don't get out of the way are a lot crazier than we are. I take it up here in a heartbeat over that. That's really the message. We really want this group to listen. We're not out here for fun, believe me," he said.
He added:
"The last thing I want to do is to be reading about the people who didn't evacuate because I do look the names and I want to know why they didn't leave after we put out all this effort into getting them out of the way."
Watch:
2:44 p.m. ET, September 12, 2018
How the storm is affecting American Airlines' operations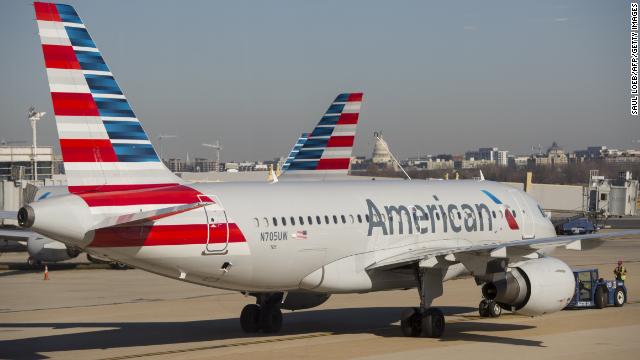 American Airlines will continue to operate out of its Charlotte, North Carolina, hub ahead of Hurricane Florence, the airline said in a statement. American Airlines says there is "no impact to operations at this time." 
However, American Airlines operations at a number of smaller airports in North Carolina, South Carolina and Virginia have been impacted:
Fayetteville Regional Airport in North Carolina: Operations canceled this evening through Saturday
Pitt-Greenville Airport in North Carolina: Operations canceled through Saturday
Albert J. Ellis Airport in Jacksonville, North Carolina: Operations canceled through Saturday
Coastal Carolina Regional Airport in New Bern, North Carolina: Operations canceled through Saturday
Raleigh–Durham International Airport in North Carolina: Scattered cancelations expected through Friday
Wilmington International Airport in North Carolina: Operations canceled through through Saturday
Charleston International Airport in South Carolina: Operations canceled through through Friday
Columbia Metropolitan Airport in South Carolina: Operations canceled tomorrow night through Saturday
Florence Regional Airport in South Carolina: Operations canceled through Saturday
Myrtle Beach International Airport in South Carolina: Operations canceled through through Saturday
Newport News/Williamsburg International Airport in Virginia: Operations canceled tomorrow evening through Friday