Florence pummels the Carolinas
12:39 p.m. ET, September 14, 2018
More than 600,000 without power in the Carolinas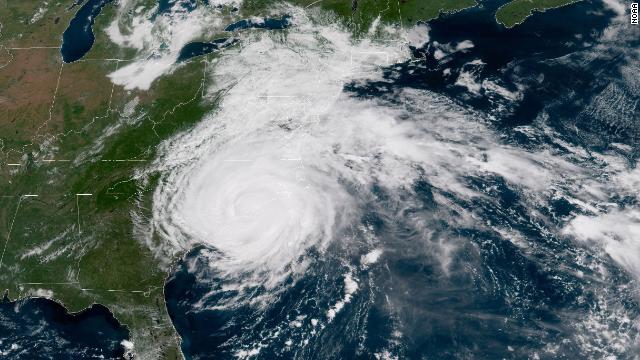 More than 620,000 customers in North and South Carolina are now without power. Here are the latest numbers:  
557,793 power outages statewide in North Carolina   
64,813 power outages statewide in South Carolina
622,606 total customers without power in both states
12:28 p.m. ET, September 14, 2018
Here's how much rain North Carolina cities have gotten so far
Hurricane Florence is pounding North Carolina with rain, and it's not expected to stop any time soon. One forecaster even suggested the state could see 10 TRILLION gallons of rain before this is all over with.
Some cities have already seen more than a foot of rain. Here are some of the heaviest rainfall reports we've gotten so far:
18.53 inches in Oriental
14.07 inches in Surf City
13.81 inches in Morehead City
13.07 inches in Jacksonville
12:17 p.m. ET, September 14, 2018
FEMA's hurricane response, by the numbers
FEMA released updated figures regarding response to Hurricane Florence this morning.
Here are the top takeaways:  
The Defense Logistics Agency has 281,000 gallons of fuel, 60 generators and transformers. (Yesterday, Army Corps of Engineers said it also has more than 100 generators in the region and 15 more on the way.)
14,000 people spent the night in 205 Red Cross shelters in North Carolina, South Carolina and Virginia.  
4,500 meals and snacks have been served by the Red Cross.
60 mobile feeding units from the Salvation Army in Virginia, North Carolina, South Carolina and Georgia.  
40,000 electric workers from 17 states have been mobilized.
4,000 National Guard soldiers and air men are on duty. 10 states are mobilizing support. 40 rotary wing aircraft are available for search and rescue.  
3,000 flood-certified insurance adjusters are on standby.
American Red Cross has deployed 1,500 employees and volunteers, 80 emergency response vehicles and more than 120 trailers of equipment and supplies.
500 HHS medical personnel have been pre-positioned, including from the US Public Health Service-commissioned corps, National Disaster Medical System and the Centers for Disease Control and Prevention.
500 members of the AmeriCorps Disaster Response Team have been activated, and more are standing by.
Storm-tide sensors and 25 rapid deployment gauges have been installed by the US Geological Survey to assist with weather monitoring and forecasting. (In addition to 231 stream gages in North Carolina and 112 gages in South Carolina, as usual.)
12:08 p.m. ET, September 14, 2018
Myrtle Beach will have curfew again tonight
The city manager for Myrtle Beach, South Carolina, John Pedersen, just signed a proclamation implementing a overnight curfew tonight. It will go into effect at 7 p.m. ET and stay in place until 7 a.m. ET tomorrow.
This is the third night in a row Myrtle Beach will be on curfew. On Wednesday night, there was one from 10 p.m. ET until 6 a.m. ET Thursday.
A second curfew went into effect at 7 p.m. ET yesterday and lasted until 7 a.m. ET today, Mayor Brenda Bethune said.
11:57 a.m. ET, September 14, 2018
Florence washed this city's signature bear statue into the middle of the road
The city of New Bern, North Carolina, is known for its artistic bear statues decorating downtown.
They were installed in 2010 to mark the city's 300th anniversary (Why bears? It's New Bern's symbol.)
Hurricane Florence has caused significant flooding in New Bern — and it has even washed one of the beloved bears into the middle of the road.
The statue was bolted down, but the storm still managed to uproot it, the City of New Bern tweeted:
7:54 p.m. ET, September 14, 2018
North Carolina governor calls Florence a 1,000-year rain event
North Carolina Gov. Roy Cooper just gave an update on Hurricane Florence, which made landfall in the state earlier this morning.
Here are the latest numbers about the hurricane and North Carolina's relief efforts:
More than a half million people are without power, Cooper said. Utilities crews are standing by to restore power once conditions are safe enough for them to get out and work.
157 shelters are open across the state, and 20,000 people are staying in them.
More than 100 swift-water rescues occurred overnight in New Bern, North Carolina alone. 
The Neuse River has seen a storm surge as high as high as 10 feet, Cooper said. Other areas are flooding, too.
Cooper called the storm a "1,000-year rain event" for parts of southeastern North Carolina.
Watch more:
11:32 a.m. ET, September 14, 2018
Cajun Navy seen making rescues in New Bern
The Cajun Navy is out rescuing people in New Bern, North Carolina, this morning, where floodwaters have overtaken the town.
The Cajun Navy is a volunteer rescue organization formed in the aftermath of Hurricane Katrina.
Organizer Clyde Cain told CNN they were staged in New Bern and had received more than 500 calls for assistance.
11:22 a.m. ET, September 14, 2018
This may be the wettest hurricane we've ever covered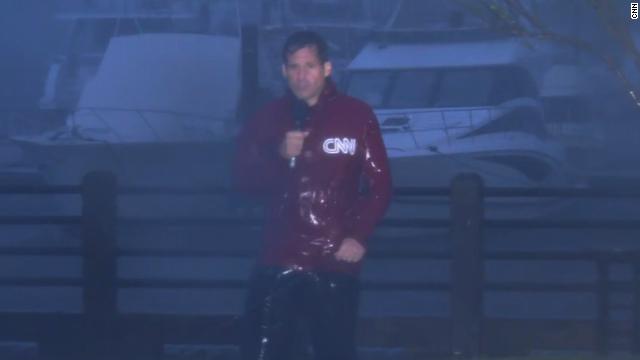 CNN's John Berman was reporting in Wilmington, North Carolina, this morning as Florence's bands dumped heavy rain on the city.
Live footage showed him drenched in the rain, and the wind got so bad, it split his microphone cord in two.
CNN meteorologist Chad Myers said Berman's standup may have set a record.
"I've really never seen a person so wet in a live-shot for any hurricane ever," he said. "This was one of the wettest storms that I've ever seen on record, honestly."
Watch more:
11:11 a.m. ET, September 14, 2018
Latest update on Florence's potential track shows it is traveling at a walking pace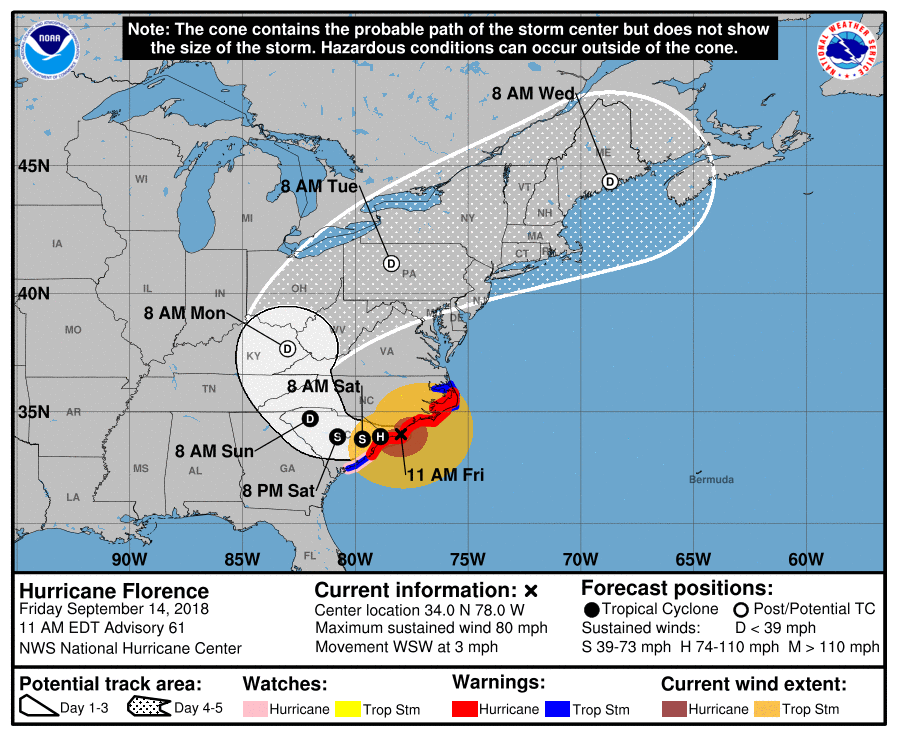 The National Hurricane Center just released an updated forecast and a map showing Florence's projected path.
The storm — which made landfall in North Carolina this morning — is expected to crawl westward, across South Carolina, before it turns to the north.
It's traveling at just 3 mph, which is a walking pace.
Parts of the Carolina coast remain under a Hurricane warning.