Florence pummels the Carolinas
10:28 a.m. ET, September 15, 2018
This is the most rain North Carolina has ever seen during a tropical system
Florence has dumped 30.58 inches of rainfall in Swansboro, North Carolina. 
This breaks the all-time record for rainfall in a tropical system in the state of North Carolina. 
The previous record was 24.06 inches, and it was set during Hurricane Floyd in 1999.  
And remember: This number — and all rain totals — are preliminary and subject to change.
10:07 a.m. ET, September 15, 2018
FEMA: This storm isn't over. There's still a lot of rain to come.
Jeff Byard, with FEMA's Office of Response and Recovery, urged residents along to Carolina coast to stay vigilant as Florence begins to move away from the area.
While the storm's winds may be weakening, water — in the form of heavy rainfall, flash flooding and storm surge — is still a concern.
"Wind can hurt you," Byard said at a Saturday morning news conference. "It is the water, it's the surge, it's the rain that ... can kill you more than the wind can."
Water has accounted for more than 75% of all hurricane-related fatalities in the US from 1963 to 2012. Wind, on the other hand, is only responsible for 8% of all deaths.
"There's a lot of rain to come. There's a lot of rain that's fallen," Byard said.
Watch more:
9:47 a.m. ET, September 15, 2018
North Carolina is still bracing for possible flooding
While Tropical Florence is starting to move away from North Carolina, its effects aren't over. Many communities are bracing for flooding.
CNN's Polo Sandoval is reporting from Lumberton, North Carolina.
"The real threat could still be ahead for many communities, because all of that water has to go somewhere," Sandoval said.
He continued: "Many people here believe that the worst could still be ahead. Yes, they were spared the wind damage, but the floodwaters — that could still be in their future."
10:22 a.m. ET, September 15, 2018
100 people still need to be rescued from one North Carolina city
About 100 people in New Bern, North Carolina, still need to be rescued from the floodwaters brought on by the storm, the city's mayor Dana Outlaw told CNN.
Rescuers have already plucked about 400 people out of the waters since Friday afternoon.
The city has seen more than 10 feet of storm surge and likely more than 10 inches of rain as of Friday evening, according to CNN meteorologists.
New Bern is home to approximately 30,000 people and sits about 37 miles northeast of Jacksonville, North Carolina.
9:09 a.m. ET, September 15, 2018
You could walk as fast as Florence is moving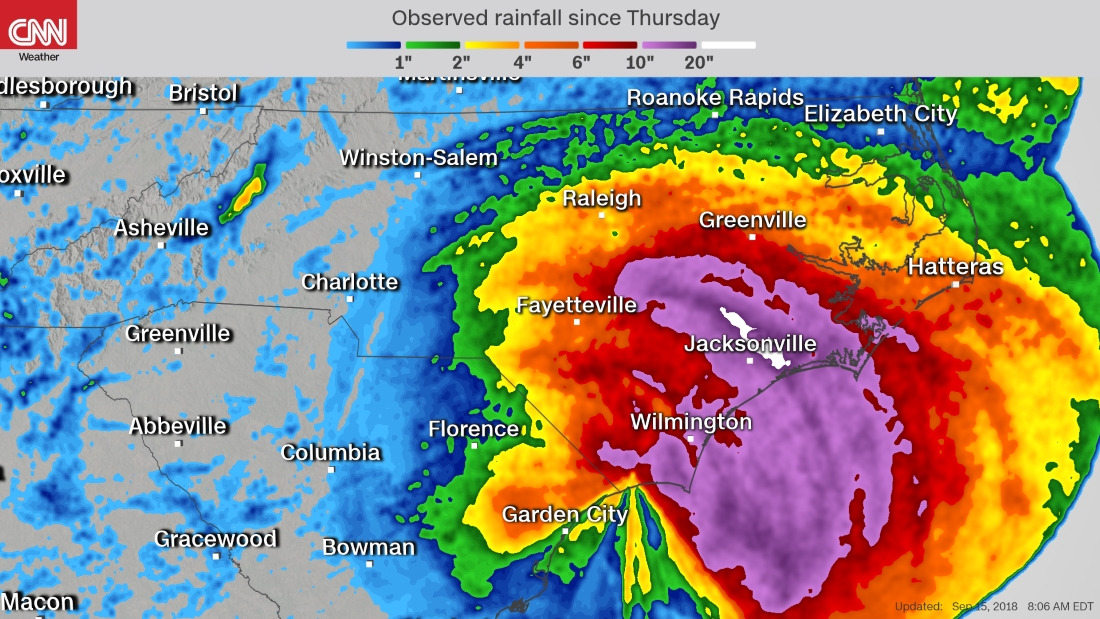 Tropical Storm Florence is moving at 2 mph. That's about as fast as you could walk.
Since making landfall yesterday in North Carolina, Florence has only moved about 100 miles. That is an average of just about 4 mph for 24 hours.
For comparison: The average speed for an Atlantic hurricane at Florence's latitude is 16.9 mph.
Why the speed matters: Florence's slow crawl is why the flooding has been — and will continue to be — catastrophic. As the storm continues to slowly move west, it is close enough to the coast to pick up moisture and energy from the ocean (therefore allowing extreme feeder bands of rain to continue to pour over the same saturated areas of South and North Carolina).
8:50 a.m. ET, September 15, 2018
Meanwhile, rescues from a super typhoon are under way in the Philippines
Florence isn't the only storm we're watching. At least two people have been killed by Typhoon Mangkhut, which crashed into Philippines Saturday morning. It's the strongest storm of 2018 so far.
Rescue teams rushed to the aid of a man who tried to cross a massively flooded area caused by the typhoon.
Watch the rescue here:
Aquino Lord, who shot the video before rushing to help the rescue team, said the team was able to get him out safely.
"The man in the video is safe," he told CNN. "He attempted to pass across the flowing water but he failed. He is from our neighboring Barangay. At the moment that this incident happened, we were not yet there. We just came to help."
8:39 a.m. ET, September 15, 2018
At least seven dead in North Carolina
Two people in Carteret County, North Carolina, have died due to the storm, according to the Carteret County Office of Emergency Management Services.
Officials say the Carteret County Sheriff's Department will release additional details this morning.
This brings the total storm deaths to seven people.
A mother and her infant child died in Wilmington after a tree fell on their house, the city's police department said.
In the town of Hampstead, a woman in cardiac arrest was found dead after emergency responders found their path blocked by downed trees, assistant county manager for Pender County, said.
Two men in Lenoir County also died: One who was hooking up a generator and another who was checking on his dogs outside.
10:03 a.m. ET, September 15, 2018
President Trump approves North Carolina's disaster declaration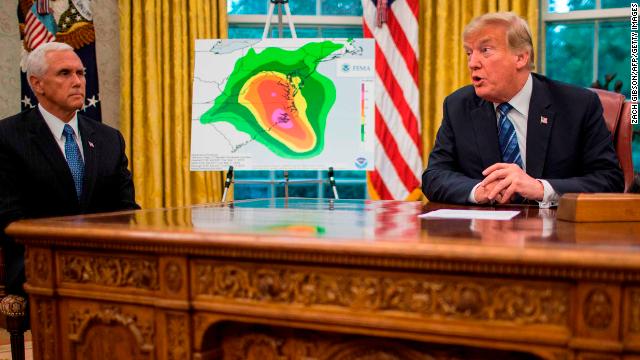 President Trump has approved a disaster declaration for eight North Carolina counties, the White House said in a statement Saturday.
The approval makes available federal funding, which can include grants for temporary housing and home repairs, low cost loans to cover uninsured property losses as well as other aid both for homeowners and business owners.
The counties included in the declaration are:
Beaufort
Brunswick
Carteret
Craven
New Hanover
Onslow
Pamlico
Pender
8:20 a.m. ET, September 15, 2018
A tree fell into this North Carolina man's bedroom (and missed hitting him by 3 feet)
A North Carolina man went to sleep during Florence — and woke up to tree branches in his bedroom.
Harry Mathias III said his father was sleeping in his New Bern home when a tree came crashing through the ceiling.
"About an hour after he fell asleep, a piece of drywall came in from the ceiling woke him, along with the rest of us, with a loud bang," he told CNN. "After taking a look we realized rain water was coming in and tree branches were coming in from the attic."
He added: "If the tree had fallen about 3-4 more feet, it would have crushed my father to death."
Despite the harrowing experience, Mathias said he dad went out to cut up other fallen trees in the rain, just 10 hours afterward.
Here's the footage: