5 dead as Hurricane Dorian slams into the Bahamas
11:02 a.m. ET, September 1, 2019
Dorian is the strongest hurricane in modern records to threaten the Northwestern Bahamas
Hurricane Dorian has wind speeds of 180 mph, making it the strongest hurricane in modern records for the Northwestern Bahamas, the National Hurricane Center said in its 11 a.m. ET advisory.
The storm has gusts of up to 220 mph.
"Catastrophic conditions" are occurring in the Abacos Islands, the center said.
Additionally, a hurricane watch has been issued for the east coast of Florida from north of Deerfield Beach to the Volusia/Brevard County Line.
Here's the latest forecasted path for Dorian: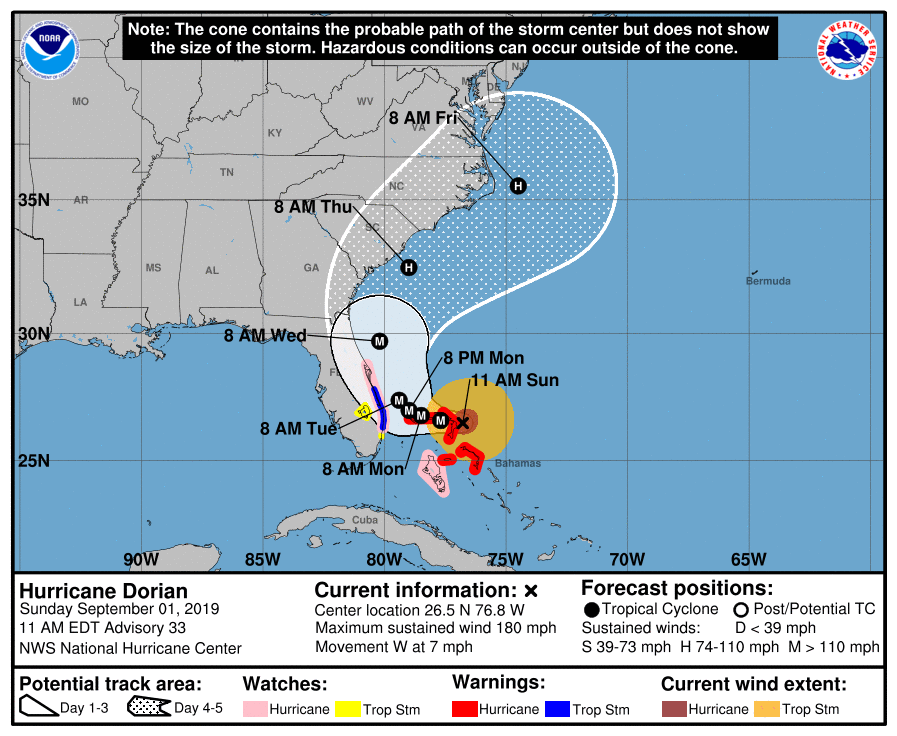 10:53 a.m. ET, September 1, 2019
3 stats that show Hurricane Dorian's power
Hurricane Dorian is a dangerous Category 5 storm. Here's a look at just how powerful it is:
With 175 mph maximum winds, Hurricane Dorian is the strongest storm anywhere on the planet this year.
Dorian is strongest storm to ever track over the Northern Bahamas, and is only the second Category 5 storm to hit anywhere in the Bahamas. Hurricane Andrew in 1992 was the other.
Dorian strengthening into a Category 5 makes four years in a row that there has been a Category 5 in the Atlantic Basin, a first since reliable satellite measurements began in the 1960s. 
10:51 a.m. ET, September 1, 2019
Parts of Indian River County will be under mandatory evacuations on Monday
Mandatory evacuations for all residents and visitors east of US Highway 1 in Indian River County will be issued Monday, Indian River County Sheriff's Office said in a news release.
Residents are urged to continue preparations, as Dorian has moved west. The center of the storm is still forecast to stay offshore, but will make a close approach to east central Florida Monday through Wednesday, the sheriff's office added.
Tropical-storm-force winds are likely along the coast. Public shelters are prepared to open tomorrow, including the special needs and pet friendly locations. Shelter locations and times of opening will be announced tomorrow morning.
10:44 a.m. ET, September 1, 2019
Florida senator to residents: "You have to take care of yourself first"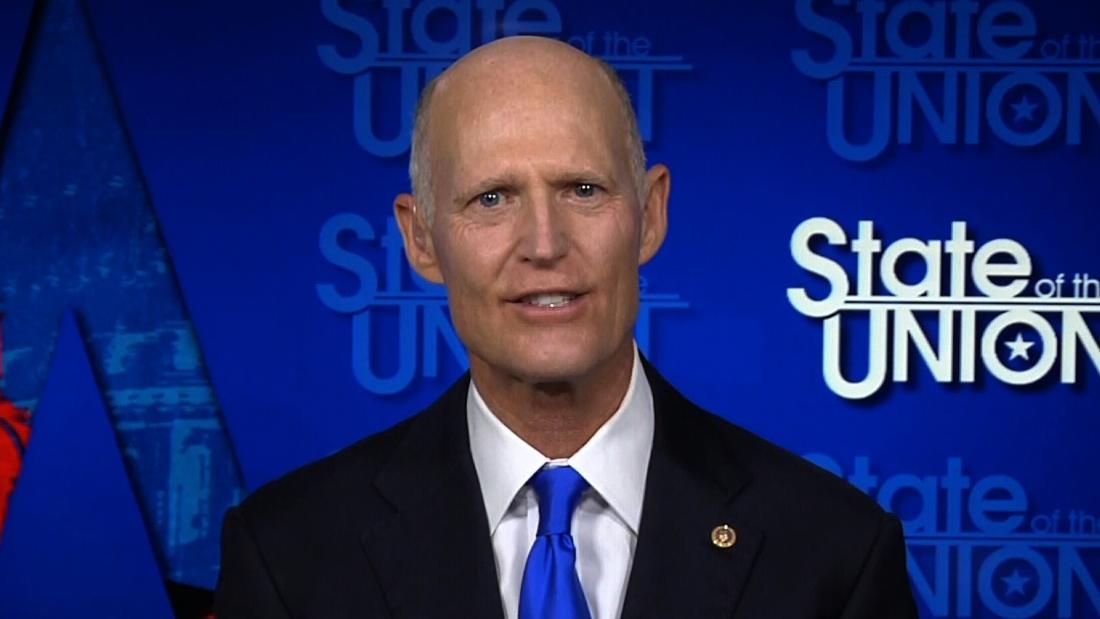 Florida Sen. Rick Scott urged his state's residents to heed evacuation orders as Hurricane Dorian approaches.
"There's good emergency management at the state, at the local level," he said on CNN. "But you have to take care of yourself first. And so if you decide not to evacuate when they tell you to, or if you wait, that's really the risk."
Scott added that he's been in contact with the White House.
"I was at FEMA yesterday, I'll be going back there today with President Trump. They've told me they'll have the resources. At my disasters in Florida, they've always shown up and done their job. FEMA has done a good job," he said.
10:19 a.m. ET, September 1, 2019
Evacuation orders issued in Palm Beach County
Mandatory evacuations have been ordered for Palm Beach County as tropical-storm-force winds from Hurricane Dorian are expected to hit the area within 36 hours. Residential structures in Zone A and B must be evacuated effective at 1 p.m. ET, Palm Beach County said in a news release.
Zone A includes mobile homes, sub-standard housing and low-lying areas prone to water intrusion. Zone B generally includes the barrier islands, land areas north and south of the Jupiter Inlet, and other surge-vulnerable areas south along the Intracoastal Waterway to the Broward County line, the county said.
Most of Palm Beach County is not being evacuated and residents should shelter within the county if possible. With the unpredictable nature of Hurricane Dorian, evacuating north is not recommended.
At 1 p.m. ET today, Palm Beach County will open seven general-population shelters, as well as the special needs shelter at the South Florida Fairgrounds and the pet-friendly shelter at West Boynton Recreation Center.
The seven general population shelters are:
Dr. Mary McLeod Bethune Elem. School, 1501 Avenue U, Riviera Beach
Independence Middle School, 4001 Greenway Dr., Jupiter
Lakeshore Middle School, 425 W Canal St N, Belle Glade
Pahokee Middle School, 850 Larrimore Rd, Pahokee
Palm Beach Gardens High School, 4245 Holly Dr., Palm Beach Gardens
Palm Beach Central High School, 8499 Forest Hill Blvd, Wellington
Park Vista High School, 7900 Jog Rd, Lake Worth
The special needs shelter is located at 9067 Southern Boulevard, West Palm Beach. If you are registered, you should have received notification. The pet-friendly shelter is located at 6000 Northtree Boulevard, Lake Worth.
For more information on the shelters, and other information about the hurricane, residents cant visit www.pbcgov.com/dem. 
9:48 a.m. ET, September 1, 2019
Hurricane Dorian is the strongest storm on the planet this year
Dorian continues to intensify and the maximum winds are now up to 175 mph, according to data from Hurricane Hunter aircraft flying through the storm.
This makes Hurricane Dorian the strongest storm anywhere on the planet this year.
"The eyewall of catastrophic Hurricane Dorian is currently reaching the Abaco islands," the NHC said in a special update at 9:30am. "This is a life-threatening situation." 
9:44 a.m. ET, September 1, 2019
Will Dorian impact Labor Day travel?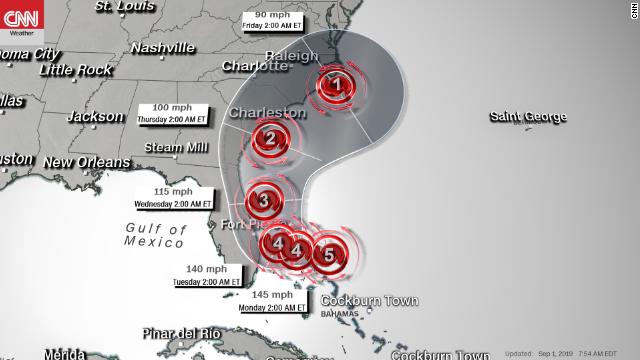 Airlines have been issuing waivers for several days to travelers headed for destinations in the storm's projected path. This would allow them to change their flights or travel to a different destination.
American Airlines, Delta Air Lines, Southwest, JetBlue, Spirit, United and Frontier have all offered waivers on change fees for itineraries in potentially affected destinations.
More destinations in Georgia and the Carolinas are likely to be added to airline advisories as the storm progresses northward.
As of Saturday morning, airlines had canceled about 200 Saturday flights to/from/within the United States and about 200 flights on Sunday, according to flight tracking site FlightAware.com.
Orlando International Airport will cease operations at 2 a.m. Monday local time, according to an official statement from the airport.
8:31 a.m. ET, September 1, 2019
The 5 hurricane categories explained
Dorian's upgrade to a Category 5 hurricane is bad news. Here's why:
Meteorologists use the Saffir Simpson Hurricane Wind Scale to measure a hurricane's strength. The scale also estimates potential property damage.
Storms reaching Category 3 and higher are considered substantial hurricanes "because of their potential for significant loss of life and damage," the National Hurricane Center writes.
The system divides storms into five categories:
Category 1: Winds 74 to 95 mph (Minor damage)
Category 2: Winds 96 to 110 mph (Extensive damage — Can uproot trees and break windows)
Category 3: Winds 111 to 129 mph (Devastating — Can break windows and doors)
Category 4: Winds 130 to 156 mph (Catastrophic damage — Can tear off roofs)
Category 5: Winds 157 mph or higher (The absolute worst and can level houses and destroy buildings)
8:01 a.m. ET, September 1, 2019
Dorian now a Category 5 storm
Hurricane Dorian now has maximum sustained winds of 160 mph, according to the National Hurricane Center. This would put the storm in the highest category on the Saffir-Simpson Hurricane Wind Scale. 
Dorian will be capable of catastrophic damage as it tracks towards the Bahamas today into tomorrow. 
Fluctuations in intensity will likely continue over the next 24 hours, but Dorian is expected to remain a very intense hurricane.
NHC said the most severe weather of the hurricane, known as the eyewall, is about to hit Abaco islands in the Bahamas.