5 dead as Hurricane Dorian slams into the Bahamas
7:27 p.m. ET, September 3, 2019
There are more than 160 shelters open across Florida
A total of 115 general shelters and 48 special needs facilities are welcoming evacuees in Florida, the governor's office said.
Jared Moskowitz, the director of the state's division of emergency management, urged Florida residents to take the threats seriously because the state will still see storm surge and high winds Tuesday night and Wednesday.
"The images coming in from the Bahamas are gut wrenching, but show exactly how fortunate Florida has been with this storm, however, there will still be impacts in Florida from Hurricane Dorian," Moskowitz said.
7:14 p.m. ET, September 3, 2019
These men and women are flying straight into Hurricane Dorian as people evacuate
Hurricane Hunters are flying planes directly into this record-breaking storm to gather the most accurate, up-to-date information on hurricanes.
"What I see when I'm out in the plane flying is a direct impact that we are able to make to help people protect themselves, and their loved ones, and their possessions," Maj. Christopher Dyke, an aerial reconnaissance weather officer with the US Air Force Reserve, told CNN.
Hurricane Dorian, the strongest to ever hit the Bahamas, has had a unique path, and the data the Hurricane Hunters have collected from inside the storm has been invaluable.
Using a device called a dropsonde, they can collect information including atmospheric pressure, wind speed, and wind direction. Changes in these numbers can help forecasters at the National Hurricane Center determine whether the storm is strengthening, shifting direction, or even changing in size or shape.
Dyke also said half of hurricane hunters are "citizen airmen" who have regular civilian lives but for two weeks a year carry out their reserve duty.
7:21 p.m. ET, September 3, 2019
'We are not going to stop until we get everybody out,' Bahamian resident on water rescues
After a group of men helped rescue a young boy and his family from a flooded neighborhood in Freeport, CNN's Patrick Oppmann briefly spoke with one of them.
Oppmann: "How many people are still out there?"
Unidentified man: "A few hundred."
Oppmann: "How long are you going to keep doing it?"
Unidentified man: "Until we get everybody. We are Bahamians, we are not going to stop until we get everybody out."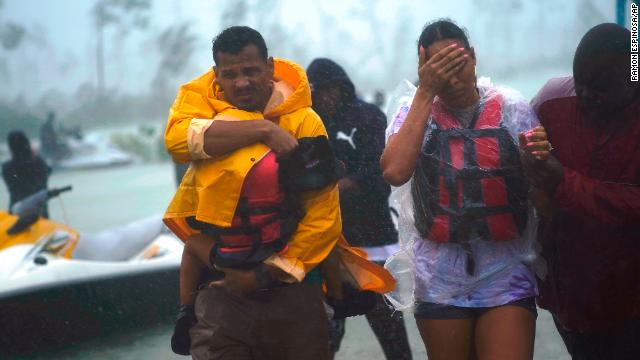 6:18 p.m. ET, September 3, 2019
Verizon is offering free calls to those affected by Dorian
All Verizon customers will have unlimited texts and calls from the US to the Bahamas until next Monday.
"Following Hurricane Dorian's battering of the Bahamas, we are offering support to our U.S. customers who are concerned about family and friends there," the company said in a statement.
Customers in Florida, Georgia and North Carolina who are in the path of Dorian will also have unlimited calling, texting and data. The offer includes prepaid customers and small businesses until Monday.
The following counties are some of the areas where customers will have unlimited service:
Florida: Clay County, Duval County, Flagler County, Nassau County, Putnam County, Seminole County, Volusia County
Georgia: Brantley County, Effingham County, Long County, Pierce County, Wayne County
North Carolina: Hyde County
"We hope these small things we can do to ensure our customers are able to connect worry-free will help bring some peace of mind before, during and after the storm," said John Granby, South Area president for Verizon Consumer Group.
5:59 p.m. ET, September 3, 2019
Search and rescue crews from Mississippi are in Florida to assist hurricane response
A team of 39 members from 20 different cities, counties and organizations in Mississippi were sent to Florida over the weekend to support local first responders, the state's emergency management agency said.
They were deployed with an inflatable rescue raft, a mobile response trailer, a swift water equipment trailer and an enclosed mobile command trailer.
5:29 p.m. ET, September 3, 2019
The Cajun Navy is on its way to Georgia and North Carolina to help
The United Cajun Navy has evolving plans for Dorian, Todd Terrell tells CNN.
He said the volunteer group has convoys on the way to Savannah, Georgia, and Wilmington, North Carolina, to stage in those locations. Some are already there in place.
The Cajun Navy has helped during a number of hurricanes and natural disasters, including Hurricane Harvey, which hit Texas in 2017, and massive flooding in New Orleans in 2016.
5:20 p.m. ET, September 3, 2019
Dorian is moving away from the Bahamas
Hurricane Dorian is pulling away from the Bahamas and moving to the northwest at 6 mph, according to the National Hurricane Center,
The storm has maximum sustained winds of 110 mph and is currently 105 miles east of Vero Beach, Florida.
Dorian is expected to speed up as it moves towards the northwest tonight and a turn more to the north is forecast by tomorrow evening.
"Hurricane Dorian will move dangerously close to the Florida east coast and the Georgia coast tonight throughWednesday night," the NHC said. 
5:08 p.m. ET, September 3, 2019
Disney World will be open tomorrow
Walt Disney World in Orlando, Florida will resume operations tomorrow with these hours:
Magic Kingdom Park: 8 a.m. to 10 p.m. ET (open for Extra Magic Hours from 10 p.m. to midnight)
Epcot: 9 a.m. to 9 p.m. ET
Disney's Hollywood Studios: 9 a.m. to 10 p.m. ET
Disney's Animal Kingdom: 8 a.m. to 9 p.m. ET
Disney Springs: 10 a.m. to midnight ET
Disney's Blizzard Beach Water Park: Closed
Disney's Typhoon Lagoon Water Park: 10 a.m. to 5 p.m. ET
Winter Summerland Miniature Golf: 10 a.m. to 10 p.m. ET
Fantasia Gardens Miniature Golf: 10 a.m. to10p.m. ET
Due to "schedule-related impacts associated with Hurricane Dorian," morning Extra Magic Hours are not available tomorrow, Disney said.
4:56 p.m. ET, September 3, 2019
Hurricane Dorian's winds are increasing along the Florida coast
Hurricane Dorian is moving closer to the Florida coast and it continues to grow in size, according to the 5 p.m. ET update from the National Hurricane Canter.
"Winds increasing along portions of the Florida east coast," the center said in the new advisory.
On this latest track, the core of Hurricane Dorian will move dangerously close to the Florida east coast and the Georgia coast tonight through Wednesday night. The center of Dorian is forecast to move near or over the coast of South Carolina and North Carolina Thursday through Friday morning.
Dorian has also become a larger hurricane: Hurricane-force winds extend outward up to 60 miles from the center and tropical-storm-force winds extend outward up to 175 miles.
Here's a look at the latest track: