5 dead as Hurricane Dorian slams into the Bahamas
9:49 p.m. ET, September 3, 2019
Bahamas PM: Dorian "the greatest national crisis in our country's history"
The north Bahamas town of Marsh Harbour has been devastated by Dorian, with more than 60% of homes damaged by the storm, the country's Prime Minister Hubert Minnis said at a press conference in the capital Nassau on Tuesday.
Speaking at the National Emergency Management Agency (NEMA) headquarters, Minnis added that "a community outside Treasure Cay, Cooperstown, has been cut off from (the) main population, at least 30 people (are) trapped in the community and were waving yellow flags, sheets, shirts, to bring attention to their survival."
"Our urgent task will be to provide food, water, shelter, safety and security," Minnis said. "Additional food will be delivered by NEMA tomorrow."
The Prime Minister said that Dorian was "the greatest national crisis in our country's history."
9:43 p.m. ET, September 3, 2019
Here's the 9 p.m. ET advisory from the National Hurricane Center
Where's Dorian? The hurricane is about 110 miles east of Cape Canaveral, Florida, and is slowly picking up speed from its days-long standstill. It's moving to the northwest at about 6 mph, the the National Hurricane Center said.
In its 9 p.m. ET advisory, the NHC predicts that the storm's center will stay about 100 miles off the coast.
What's happening tonight?
Hurricane Dorian is expected to skirt the Florida and Georgia coasts overnight Tuesday into Wednesday, then move northward to threaten the South and North Carolina coasts later in the week.
Hurricane-force wind gusts are likely to be overland along Florida's east coast and storm surge of 4 to 7 feet is also possible along the coast.
Would it make landfall?
Landfall in Charleston, Wilmington or the Outer Banks is not out of the question, CNN meteorologist Judson Jones said.
"The hurricane is forecast to track dangerously close to the Carolinas," Jones said. "Any wobble to the West and the chances of landfall in South and North Carolina is more likely. Currently, a few of the forecast models have shown a slight westward trend, which is something meteorologists will continue to watch closely."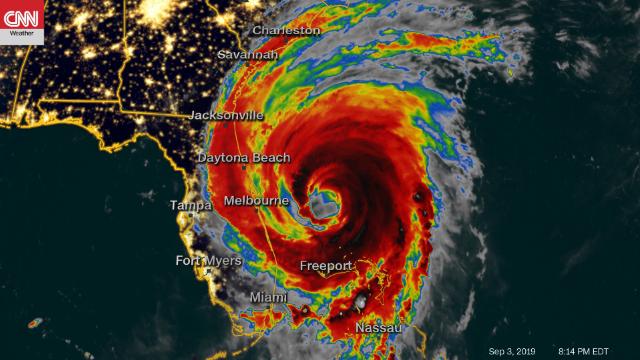 8:59 p.m. ET, September 3, 2019
A fisherman saw his wife drown in Dorian flood
Freeport resident Howard Armstrong described how his wife drowned in front of him after the storm surge from Hurricane Dorian swamped their home.
"We were doing all right until the water kept coming up and all the appliances were going around the house, like the washer machine," said Armstrong, who is a crab fisherman.
The water flooded the home to the point that his wife had to climb on top of their kitchen cabinets, Armstrong said.
Only their heads were above the water. After hours of waiting in the flooded house for rescue, Armstrong's wife succumbed to hypothermia and slipped under the water.
"She was gone so quickly," Armstrong said as he waited for his wife's body to be recovered.
Armstrong said he then "took a chance" and swam outside the house, and was rescued.
8:37 p.m. ET, September 3, 2019
At least 7 people killed in the Bahamas, Prime Minister says
The death toll from Hurricane Dorian in the Bahamas is now at least 7, Bahamas Prime Minister Hubert Minnis said on Tuesday.
Speaking to reporters at the National Emergency Management Agency (NEMA) Headquarters in Nassau, Minnis said the victims died in Abaco.
Minnis also noted that at least 25 others were wounded.
8:31 p.m. ET, September 3, 2019
South Carolina officials say residents 'must leave now'
The South Carolina Emergency Management Division has tweeted out an alert urging residents in the evacuated zones to leave immediately.
Officials say residents should evacuate no later than Wednesday morning to reach "a safe distance from Hurricane Dorian."
Here are the areas that authorities say must be evacuated immediately:
Beaufort County Evacuation Zone A
Berkeley County Evacuation Zones B, G
Charleston County Evacuation Zones A, B, C
Colleton County Evacuation Zones A, B
Dorchester County Evacuation Zone D
Georgetown County Evacuation Zone A
Horry County Evacuation Zone A
Jasper County Evacuation Zone A
They also noted that tropical storm force winds may not make travel possible on the following coastal bridges by Wednesday afternoon:
McTeer Bridge (US 21 ALT) in Beaufort County      
Don Holt Bridge over the Cooper River (I-526) in Berkeley County
Stono River Bridge (SC 700) in Charleston County
Ravenel Bridge & Ramps (US 17) in Charleston County
Wando River Bridge (I-526) in Charleston County
Wando Bridge (SC 41) in Charleston County
Isle of Palms Connector (SC 517) in Charleston County
Bridge over the Sam Pit River (US 17) in Georgetown County        
Bridge over the Intercoastal Waterway at Socastee (US 17) in Horry County
Little River Bridge (US 17) in Horry County
Pee Dee River Bridge (US 701) in Horry County
8:17 p.m. ET, September 3, 2019
47 people have been rescued in the Bahamas by US Coast Guard  
Forty-seven people have been airlifted from neighborhoods all over the Bahamas, Rear Adm. Eric Jones, commander of the Coast Guard's 7th District, told CNN's Erin Burnett on Tuesday.
Many of them needed medical attention, Jones said, after suffering blunt trauma, head injuries and even a broken pelvis.
Jones said one of the biggest challenges they are facing is that each aircraft can only lift "three to five people at a time." He also said the capacity of the Nassau hospital is "limited."
8:02 p.m. ET, September 3, 2019
The Walt Disney Company will donate $1 million to relief and recovery efforts for the Bahamas
The Walt Disney Company plans to donate $1 million "in cash and in-kind support to help and recovery efforts" in the Bahamas in the wake of Hurricane Dorian.
Disney said the donation will help nonprofit relief agencies and also include food supplies and basic construction materials.
"We hope our $1 million donation will provide much-needed relief and help our neighbors, colleagues, and all those impacted by this devastating storm begin the long process of recovery as they work to put their lives and communities back together," said Robert A. Iger, the company's chairman and chief executive officer.
In 1997, Disney purchased its first island in the Bahamas, Castaway Cay, where Disney cruise ships port. The exclusive island employs more than 60 Bahamians from Abaco and Grand Bahama, as well as several employees from other Bahamian islands, according to the statement.
"The Bahamas is such a special place to us and our guests, and we have watched the devastation created by Hurricane Dorian with concern and heartache," Jeff Vahle, president of Disney Cruise Line said. "We stand with the Bahamian people, and especially those in Abaco and Grand Bahama, as they recover from the worst storm to ever make landfall in the Bahamas.  
7:42 p.m. ET, September 3, 2019
About 244,000 people already fled South Carolina coastal towns
An estimated 244,000 people have evacuated homes in South Carolina zones expected to be impacted by Dorian, Derrec Becker, a spokesman with the state's emergency management division, said.
7:41 p.m. ET, September 3, 2019
Outer band of Dorian looms over St. Augustine Beach, Florida
Katherine Toker and her two sons were feeling restless and they decided go look at the surf at St. Augustine Beach, Florida.
When they arrived, they quickly spotted a sinister sight over the ocean on Tuesday afternoon and captured a photo.
The image shows an outer band of Hurricane Dorian, according to CNN meteorologist Judson Jones.
Here's the photo: