Hurricane Dorian threatens the US after devastating the Bahamas
7:48 a.m. ET, September 5, 2019
CNN reaches critical airport in the Bahamas. This is what they found
CNN's Patrick Oppmann and his crew have spotted US coast guard helicopters and planes flying over the Bahamas' Grand Bahama Island early this morning in an encouraging sign for the escalation of aid efforts.
Up until now, there's been no sign of any assistance from the outside world, as it's been a near impossible feat for planes to land on the island with the Grand Bahama International Airport nearly completely destroyed by the hurricane.
Oppmann described a scene of "total devastation" at the airport this week, after the storm surge submerged the airport for two days, tearing apart some of its terminals and leaving planes scattered "like toys."
The airport has been too dangerous to enter so far, as it is littered with metal and concrete – and no one has been able to come to do a damage assessment, he reported.
He said it's been impossible to imagine a plane landing or taking off, marking a key challenge for the isolated island, where the airport is a vital link to the rest of the world.
7:56 a.m. ET, September 5, 2019
Possible tornado seen in Myrtle Beach
Wayne White was checking on some properties he manages in North Myrtle Beach Thursday morning when he tweeted a video of a possible tornado in a rain band of Hurricane Dorian.
"I own White Realty and was checking on some properties that we manage. While at a traffic light, I saw the circular motion of the clouds. I grabbed my phone and about that time the funnel dropped. It was crazy," White told CNN.
The video below contains swearing:
7:27 a.m. ET, September 5, 2019
More than 100,000 customers without power in South Carolina
Downed power lines and other storm conditions from Hurricane Dorian have left more than 128,000 customers without power on the coast of South Carolina, according to Dominion Energy South Carolina.
Crew are currently responding to address the situation. Dominion Energy tweeted at 7:20 a.m. ET.
You can report your outage at dominionenergysc.com/report or call 888-333-4465.
7:29 a.m. ET, September 5, 2019
Tropical Storm conditions occurring on the coast of South Carolina
The coast of South Carolina is reporting sustained winds of 45 mph and wind gusts of 58 mph thanks to Hurricane Dorian, according to the 7 a.m. ET update from the National Hurricane Center.
The storm is moving north at 7 mph.
7:36 a.m. ET, September 5, 2019
1,600 members of the National Guard ready with high-water vehicles in South Carolina
More than 1,600 members of the National Guard have been activated in South Carolina, according to National Guard spokesperson CPT Jessica Donnelly. 
Donnelly says that high-water vehicles have been staged along the coastal region, with civilian authorities in the areas of Charleston, Georgetown, Mullins and Marion requesting assets ahead of the storm. 
Debris removal teams are also prepared to deploy to help first responders. Aviation assets are on standby to provide transportation and search and rescue.
7:07 a.m. ET, September 5, 2019
Parts of North and South Carolina are under a tornado watch
The National Weather Service has issued a tornado watch for parts of far southern North Carolina and far eastern South Carolina from 4:20 a.m. until 4:00 p.m. ET.
Tornadoes are among a hurricane's most potent threats, with nearly all tropical cyclones hitting the United States producing at least one.
That's because tornadoes thrive in part on strong vertical shear, which means a difference in horizontal winds' direction and speed at different heights. And tropical cyclones offer a lot of vertical shear.
Go here to learn more about why tornadoes and hurricanes often go hand in hand.
6:44 a.m. ET, September 5, 2019
Flash flood warning issued for Charleston, with flooding imminent
The National Weather Service in Charleston has issued a flash flood warning for portions of South Carolina, including the southeastern counties of Charleston, Berkeley, and Dorchester County until 10:15 a.m. ET.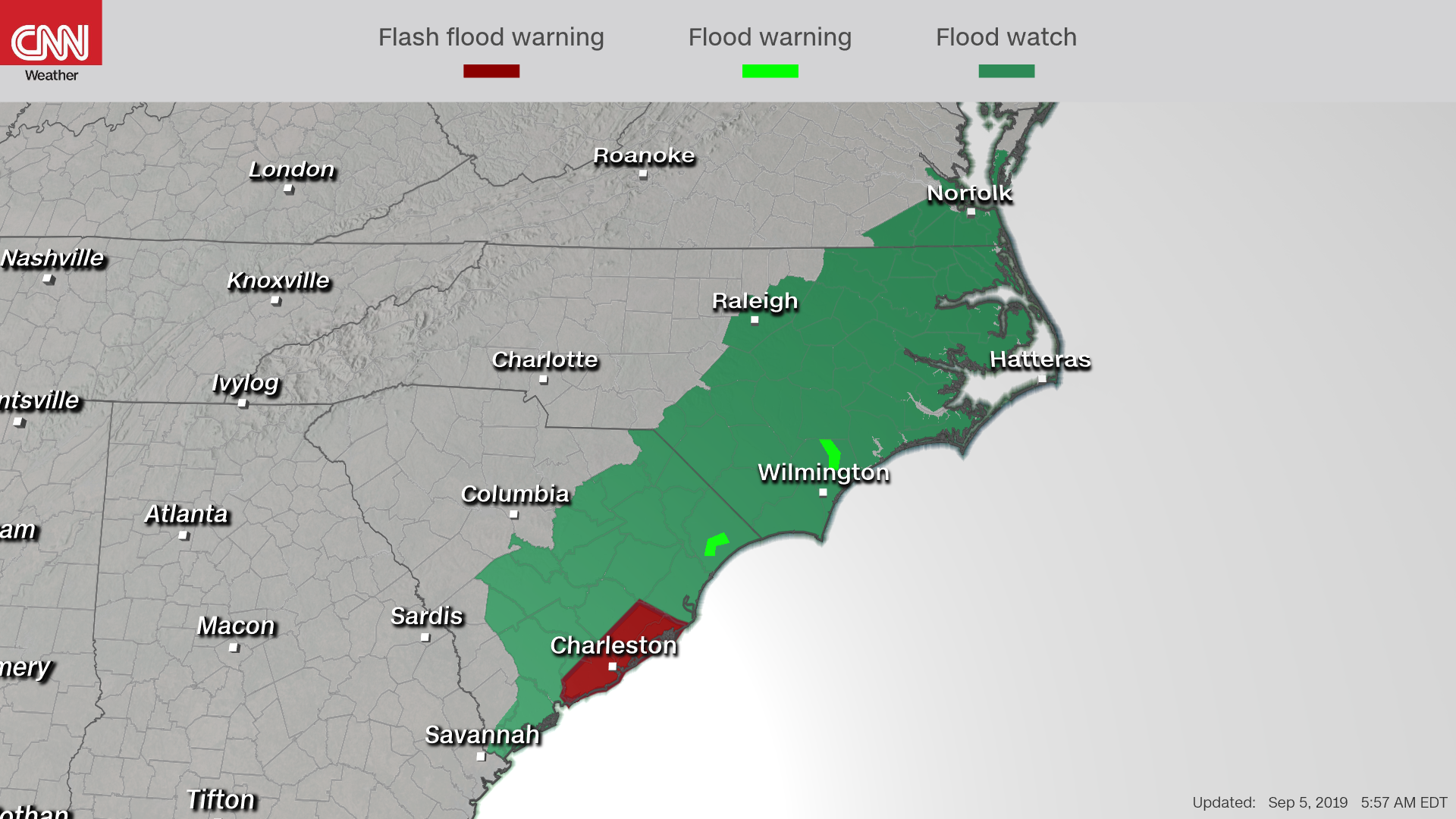 As much as 4 inches of rain has already fallen since Wednesday afternoon, with heavier rainbands from Dorian expected to bring as much as 1 to 2 inches per hour through Thursday morning, the weather service said.
Flash flooding is expected to begin shortly in locations including Church Creek in West Ashley, Downtown Charleston, North Charleston, Mount Pleasant, Goose Creek, Hanahan, McClellanville, Edisto Beach and Middleton Place.
Additional rainfall amounts of up to 5 to 6 inches are possible in the warned areas, with the potential to rise to 8 to 10 inches.
The heavy rainfall will peak between Thursday afternoon through Friday evening.
6:29 a.m. ET, September 5, 2019
Strong winds and rains batter Charleston
Twitter user Steve Adkins posted a video of downtown Charleston during the early hours of Thursday morning. In the footage, powerful winds and relentless rain can be seen pummeling the streets in South Carolina.
6:10 a.m. ET, September 5, 2019
More than 167,000 people are without power in Georgia and South Carolina
Hurricane Dorian has left more than 167,000 customers in Georgia and South Carolina without power this morning, according to poweroutage.us.
The number of people without power across the two states has been steadily rising all morning, with a jump of more than 52,000 people losing power in just the last hour alone.
The bulk of the outages are in the South Carolina, where there are more than 154,000 customers without power.