Hurricane Dorian's aftermath in the Bahamas
5:59 a.m. ET, September 8, 2019
Man spends $49k at Costco to help the Bahamas
A man walked into a Costco in Florida and left with 100 generators, all of which are heading to the Bahamas.
His receipt read $49,285.70 and most of that came from paying $450 a pop for 100 generators. Peas, beans, coffee, salt, pepper and other essentials made up the rest of his mega purchase from a Costco in Jacksonville, Florida, on Wednesday.
All of it is going to those in need on the hard-hit islands of Grand Bahama and Abaco, he said.
The man wishes not to be named. He said he doesn't want the attention and would rather that people focus on helping those affected by Hurricane Dorian in the Bahamas.
It's important that we help each other out. It's better than just sitting there," he said. "You see a need and you fill it."
A photo of the anonymous donor was snapped by Alec Sprague, who was shopping at Costco at the time.
"I had to go up there to him and say, 'Thank you for doing this,'" Sprague said. "I am so glad to see someone doing this."
5:09 a.m. ET, September 8, 2019
Bahamians don't know how many bodies might be under rubble in Marsh Harbour
One of the areas most affected by Hurricane Dorian's fury is known as the Mudd, a small town in Marsh Harbour in the northern Abaco Island.
There, concrete walls were smashed entirely and roofs were blown away, making it difficult to even locate one's own home. 
Local authorities are worried that many victims might be under rubble, but they can't determine how many. In addition, recovering these bodies, the government says, will be a difficult task. 
Most of the residents of the Mudd are Haitian migrants fleeing poverty and some of them are undocumented, who are too afraid to seek help in Nassau out of fear of deportation.
CNN's Paula Newton reports from Marsh Harbour:
3:53 a.m. ET, September 8, 2019
Rumors of cholera and other epidemics shot down by Bahamas Ministry of Health
The Bahamas Ministry of Health and the Pan American Health Organization said that there is "no quarantine, cholera or epidemics in the Bahamas," in a statement shared with CNN.
"Floods can potentially increase the transmission of water-borne and communicable diseases," the statement said.
"Nevertheless, there have not been any detected cholera cases at the moment, nor any increased number of infectious diseases due to the hurricane. The Ministry of Health and PAHO recommends that the population in the affected areas drink and use safe water and also continue to practice good hygiene such as hand washing to prevent water-borne diseases."
The ministry said it will continue to monitor the situation and provide updates.
3:52 a.m. ET, September 8, 2019
Celebrity chef José Andrés feeds thousands in Bahamas
Celebrity chef José Andrés took to his official Twitter page Saturday from devastated Marsh Harbour in Abaco where he and his nonprofit World Central Kitchen (WCK) have fed thousands of survivors this week, and want to feed more.
Andrés tweeted that his organization had delivered 14,000 meals on Friday, at least 24,000 on Saturday and could deliver as many as 30,000 with additional helicopters. 
The renowned chef asked the US Coast Guard and USAID for any available helicopters, later going on to commend the US Coast Guard for their broader relief efforts in the area.
He tweeted overnight pictures from a primary school shelter in Marsh Harbour, adding: "I've met so many heroes here I lose count...we cannot let them down."
5:39 p.m. ET, September 7, 2019
Dorian is no longer a hurricane, but it remains dangerous
Dorian is now a post-tropical cyclone, according to the National Hurricane Center's latest advisory on Saturday evening ahead of an expected landfall in Canada.
Dorian lost its status as a hurricane is because it no longer has a warm core, CNN meteorologist Gene Norman explained, though it is still a low-pressure system.
But even though it's no longer classified as a hurricane, the storm is still dangerous with maximum sustained winds of 100 mph — the equivalent to a Category 2 hurricane. Hurricane warnings remain in effect for parts of the Canadian provinces of Nova Scotia and Newfoundland, the center said.
"While the change in classification is technical, the fact of the matter is it's still a dangerous situation and people in the area should not let their guard down," Norman said.
4:46 p.m. ET, September 7, 2019
Recovery teams are bringing in bodies to a makeshift mortuary
A makeshift mortuary has been set up in Marsh Harbour, one of the areas of the Bahamas hit hardest by Hurricane Dorian, according to CNN's Paula Newton.
Newton said she saw at least two bodies on a truck at the site. The morticians told her that their work has been slow because recovering bodies has proved to be a difficult task. Many bodies are submerged in water and require dive teams to recover them.
"We are still waiting to do our work," one of the morticians told Newton.
As CNN's Gary Tuchman toured devastated areas in the town on Friday, he said the smell of death lingered in the air.
Search and rescue personnel who arrived with cadaver dogs on the Abaco Islands, where Marsh Harbour is located, brought body bags and coolers to store human remains, said Joy Jibrilu, director general of the country's tourism and aviation ministry.
Workers also brought equipment to count the dead and to understand the scope of damage, Jibrilu said.
3:20 p.m. ET, September 7, 2019
US says it's allocating $1 million in additional aid to the Bahamas
US Agency for International Development Administrator Mark Green announced $1 million in additional humanitarian assistance to help people in the Bahamas affected by Hurricane Dorian. That brings USAID's funding for the response to more than $2.8 million, the agency said in a news release.
The funding will provide food, shelter, water containers and hygiene kits to people on the Abaco Islands and the Grand Bahama Islands, Green said. It will also help transport US government supplies to the Bahamas by air and by sea.
More than 47 metric tons of USAID supplies have arrived in the Bahamas so far to assist about 44,000 people, the agency said. It added that its partner, the Bahamas Red Cross, will also distribute supplies including hygiene kits, portable stoves and towels to people affected by the hurricane.
About 70,000 people in the Bahamas have been left homeless after Hurricane Dorian flattened their neighborhoods. The death toll, now at 43, is expected to rise drastically, officials said.
2:32 p.m. ET, September 7, 2019
Dorian regains strength as a Category 2 storm
Dorian has once again strengthened into a Category 2 storm, with maximum sustained winds of 100 mph, according to a special advisory from the National Hurricane Center.
The storm had been expected to maintain Category 1 strength as it moved through the Canadian Maritimes and then finally weaken when it crossed into the Gulf of St. Lawrence, according to CNN meteorologist Allison Chinchar.
If Dorian maintains Category 2 strength when it makes "official" landfall over Halifax, Nova Scotia, it will be the strongest storm to hit the provincial capital since Hurricane Juan in 2003.
It's expected to make landfall in Nova Scotia on Saturday evening, CNN meteorologist Robert Shackelford said. A hurricane warning remains in effect for eastern Nova Scotia and western Newfoundland.
A quick refresher on storm categories: Meteorologists use the Saffir Simpson Hurricane Wind Scale to measure a hurricane's strength.
The system divides storms into five categories:
Category 1: Winds 74 to 95 mph (Minor damage)
Category 2: Winds 96 to 110 mph (Extensive damage — Can uproot trees and break windows)
Category 3: Winds 111 to 129 mph (Devastating — Can break windows and doors)
Category 4: Winds 130 to 156 mph (Catastrophic damage — Can tear off roofs)
Category 5: Winds 157 mph or higher (The absolute worst and can level houses and destroy buildings)
2:37 p.m. ET, September 7, 2019
She left the devastation to stay with her sister, but it hurts her heart that not everyone can leave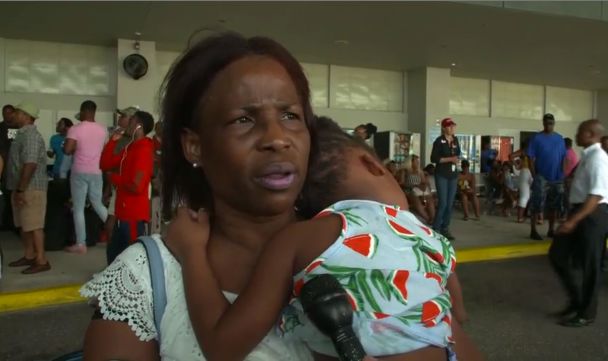 Ceva Seymour, 56, evacuated from Freeport with about 16 family members, including two three-year-old twins named Paris and London.
Seymour described how the roof of her home on Grand Bahama Island began to lift up due to the high winds at the height of Hurricane Dorian. She said she and her husband used basic tools like ropes, nails and hammers to cinch the roof of their home to the floor.
"It was very intense. You couldn't sleep," Seymour said. "I prayed a lot and asked God to calm the storm."
Though her roof managed to stay on, others weren't as fortunate, she said. Some of her relatives who live on the north side of Grand Bahama Island lost their homes entirely due to flooding.
Now, Seymour said she and her family are headed to her sister's house in Port St. Lucie, Florida, until Grand Bahama Island has water and electricity again. And though the past week has been incredibly stressful, she said she's grateful. Not everyone in the Bahamas has family members in Florida who they can stay with temporarily. Others aren't able to leave because they don't have passports.
"Having to travel here is a burden eased off us," Seymour said. "Because at least we have an opportunity to relax, whereas some others in the Bahamas can't even have this privilege."
"It hurts my heart," she added.