Hurricane Dorian's path and destruction
1:34 a.m. ET, September 6, 2019
Dorian has weakened to a Category 1 storm
Dorian has weakened to a Category 1 storm as it moves up the Carolinas coast, according to the National Hurricane Center.
The maximum sustained winds have dropped to 90 miles per hour, and it's moving northeast at 15 mph. It's now about 40 miles southeast of Wilmington, North Carolina.
Nevertheless, tropical storm conditions are spreading quickly along the North Carolina Coast, the Center said. These conditions include strong winds and rain, which could potentially cause "life-threatening" flash floods.
12:33 a.m. ET, September 6, 2019
Limited resources for emergency response in the Bahamas
Authorities in the Bahamas are hampered by limited access to important resources as they try to respond to the hurricane's damage.
The only international airport on the island of Grand Bahama was devastated by Dorian and for several days could not serve as a staging ground for medical evacuations or emergency aid deliveries. Earlier in the week, the runway had been left littered with debris, with the wreckage of a small passenger plane lying inside the domestic terminal.
"You think of the force required to throw a plane from the runway into a terminal. If anybody was in here, I don't know how they would have survived," said CNN correspondent Patrick Oppmann.
By Thursday morning, debris had been removed from the runway, residents told Oppmann, but it was unclear whether the airport was back in use.
11:59 p.m. ET, September 5, 2019
Dorian's center is "brushing" the North Carolina coast, warns National Hurricane Center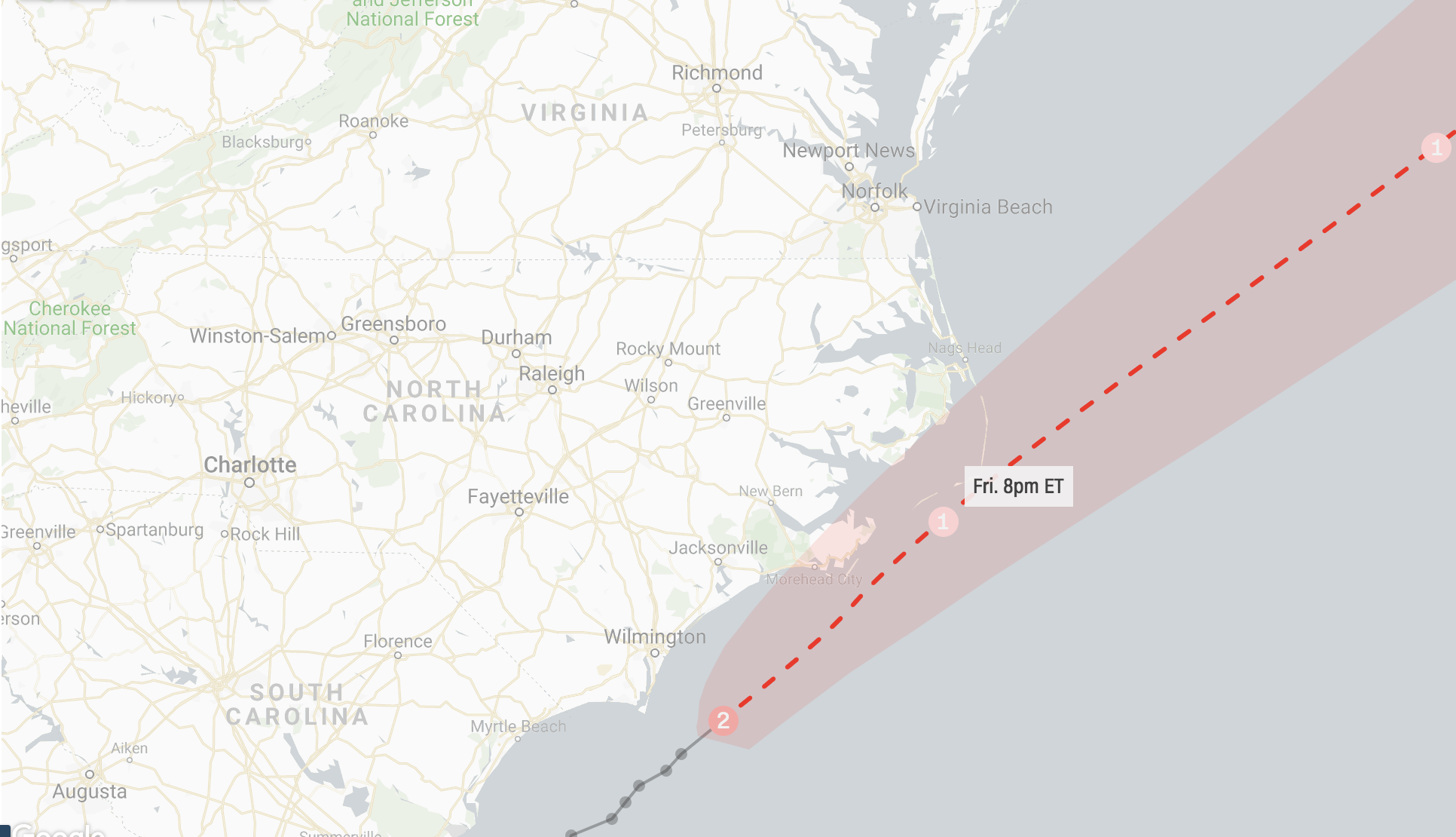 Dorian's core is "brushing the coast of North Carolina," warned the National Hurricane Center in its latest update.
It's now about 35 miles southeast of Wilmington, North Carolina. The hurricane's center is expected to move near or over the North Carolina coast tonight and Friday, before heading to Nova Scotia on Saturday.
The hurricane's maximum sustained winds have slowed slightly to 100 miles per hour, but it's still a Category 2. It's expected to speed up through Saturday, said the NHC.
Meanwhile, hurricane conditions are spreading across the North Carolina coast, with winds picking up. A weather station near Wilmington recorded a sustained wind of 61 miles per hour (mph) and a wind gust of 75 mph.
10:22 p.m. ET, September 5, 2019
There have now been five storm-related deaths in the US
A North Carolina man died yesterday of a "medical condition while attempting to secure his boat before the storm," according to Pamlico County Sheriff Chris Davis.
This brings the storm-related death count of Hurricane Dorian in the US to five, including three storm-related fatalities reported in Florida (two in Orange County and one in Brevard County) and one other reported fatality in North Carolina.
Storm-related deaths are separate from deaths that resulted directly from the storm -- that death toll has now reached 30 in the Bahamas, and may continue rising.
9:50 p.m. ET, September 5, 2019
Over 267,000 customers without power in North and South Carolina
There are now 267,680 customers without power in North Carolina and South Carolina, according to blackout tracking site poweroutage.us.
That's an increase of 26,000 customers since the last update at 8:30 p.m. ET.
The bulk of the outages are in South Carolina with 206,331 customers without power reported. More than 115,530 of those customers are in Charleston County, right by the coast.
According to the website, 61,349 customers are without power in North Carolina.
8:23 p.m. ET, September 5, 2019
Bahamas death toll rises to 30
The death toll in the Bahamas from Hurricane Dorian has risen to 30, Prime Minister Hubert Minnis told CNN's Anderson Cooper by phone Thursday evening.   
8:51 p.m. ET, September 5, 2019
Dorian's eyewall is very near Cape Fear in North Carolina
Hurricane Dorian's eyewall -- the part of the storm containing the strongest winds -- is getting very close to North Carolina's Cape Fear, the National Hurricane Center said in an advisory.
The storm was about 30 miles south of Cape Fear as of 8 p.m. ET, the NHC said.
Hurricane conditions are now spreading along portions of the North Carolina coast, the center said. The northern area of the South Carolina coast is still experiencing tropical storm conditions.
"Dorian is moving toward the Northeast near 10 mph (17 km/h) and this general motion is expected to continue with an increase in forward speed through Saturday," the advisory said.
7:57 p.m. ET, September 5, 2019
Trump tweets that he spoke with governors of North Carolina, South Carolina and Georgia
President Trump tweeted that he spoke with North Carolina Gov. Roy Cooper "as Hurricane Dorian ominously comes up the East Coast."
He also tweeted that he spoke to South Carolina Gov. Henry McMaster and Georgia Gov. Brian Kemp.
Parts of North Carolina are being hit with flooding and heavy winds by the storm. Dorian is also causing power outages in North Carolina, Georgia and South Carolina as it makes its way up the East Coast.
7:47 p.m. ET, September 5, 2019
Some hospitals and clinics in the Bahamas are flooded
Several health care facilities were damaged after Hurricane Dorian hit the Bahamas, and patients will need to be evacuated, the Pan American Health Organization (PAHO) said in a news release.
"Due to floodwaters and potential contamination with sewage and lack of safe water, the risk of diarrheal and waterborne diseases is high," the release said. "Rand Memorial Hospital in Grand Bahama is flooded and supplies damaged, and other clinics on Grand Bahama and New Providence are also flooded. Patient evacuations will be needed and supplies from PAHO's Panama Regional Warehouse are on standby."
PAHO says that three emergency medical teams, from Samaritans Purse, Team Rubicon and Humanity First, have been deployed to the Bahamas.
"Over 1,200 people are reported in various shelters in Great Abaco and Grand Bahama and an additional 800 are sheltering at Marsh Harbour Clinic," PAHO said in the release.