Hurricane Dorian intensifies as it heads for US
9:31 a.m. ET, August 29, 2019
They can't brew beer because of the hurricane. Here's what they're doing instead.
Hurricane Dorian is putting a wrench in Grove Roots Brewing production schedule. The Winter Haven, Florida, beer company shut down brewing operations for at least a week because of the storm.
"We are worried about losing power, which causes a whole string of issues with an actively fermenting beer," owner Joe Dunham said. "Power outages will take down our cooling systems that keep the fermenters cold and our large coolers holding finished product."
But instead of letting their sterilized fermenters sit idle, they're going to be put to use to help the community.
Dunham said they're filling them with 1,500 of drinking water for residents in case there's water quality issues post-storm.
"We are first and foremost a community-centric brewery," Dunham says. "We believe in our small town and will do all we can to help people. If the need arises, we will have plenty of water to share. It's the least we can do for the community we love."
Here's a look at the fermenters turned water tanks:
9:27 a.m. ET, August 29, 2019
Disney's Star Wars theme park opens as Dorian approaches Florida
Walt Disney World Resort's Hollywood Studios opened its new Star Wars: Galaxy's Edge park expansion Thursday while Florida braces for Hurricane Dorian. The park opened roughly four months after Disneyland in Anaheim, California, opened its own version inspired by the film series.
Disney has yet to announce any disruption in its opening weekend plans as of Thursday morning. The storm is expected to hit Florida's Atlantic Coast by Labor Day.
Here are some more details about Disney's newest attraction:
The setting for this new, interactive chapter in the "Star Wars" cannon is called Black Spire Outpost, on the planet Batuu, situated on the Outer Rim of the galaxy. It's not a location seen in any of the films or TV shows (yet), but it feels very familiar.
There are many fun connections to earlier "Star Wars" films and shows throughout Galaxy's Edge, the biggest being a full-scale, 100-foot-long Millennium Falcon. 
Of all the things you can buy, two are build-you-own: droids and lightsabers. These options are so popular that you can and probably should make reservations through the My Disney Experience app or online.
9:21 a.m. ET, August 29, 2019
A Florida Wawa is directing traffic because gas lines are so long
Arthur Sanders went to a Wawa in Port St. Lucie, Florida, this morning to top off his gas tank before work, and he got caught up with other Floridians filling up ahead of Hurricane Dorian.  
"They were directing traffic and had part of the parking lot blocked off," he says.  
This is the second hurricane he's preparing for: He also lived through Hurricane Irma in 2017. 
He still needs to get a few supplies but is mostly ready. He said he'll put up hurricane shutters on Saturday, and he plans to ride out the storm with nearby family.
Here's a look at the gas line this morning:
9:18 a.m. ET, August 29, 2019
Floridians are emptying store shelves ahead of Hurricane Dorian
Brooke Koontz was at the Walmart in Port Orange, Florida Wednesday night buying things to prepare for Hurricane Dorian. 
When she got there she saw some shelves were already empty.
Thankfully, soon after she got there, employees brought out a pallet of water.
"It was gone in seconds," she told CNN. "People were trying to race."  
This is the third hurricane Koontz has prepared for. She lived through Hurricanes Matthew and Irma.  
She says she's stocked up with about five to seven days of food but still needs to buy some small pools for her dogs in case they are without air conditioning for awhile.
9:13 a.m. ET, August 29, 2019
There wasn't an 8 a.m. ET hurricane update today. Here's why.
If you're looking for the 8 a.m. ET Hurricane Dorian update, it's not coming.
The next update from the National Hurricane Center will come at 11 a.m. ET.
Here's why: The National Hurricane Center releases new advisories every three hours — at 2, 5, 8 and 11, both a.m. and p.m. — when tropical storm or hurricane watches and warnings in place.
But Dorian is over water right now, and no area is under a watch or warning.
Under these conditions, the center only releases advisories every six hours: at 5 a.m., 11 a.m., 5 p.m. and 11 p.m.
The 5 a.m. ET advisory is the latest, which reported that Dorian has maximum sustained winds of 85 mph.
Here's a look at the latest predicted path: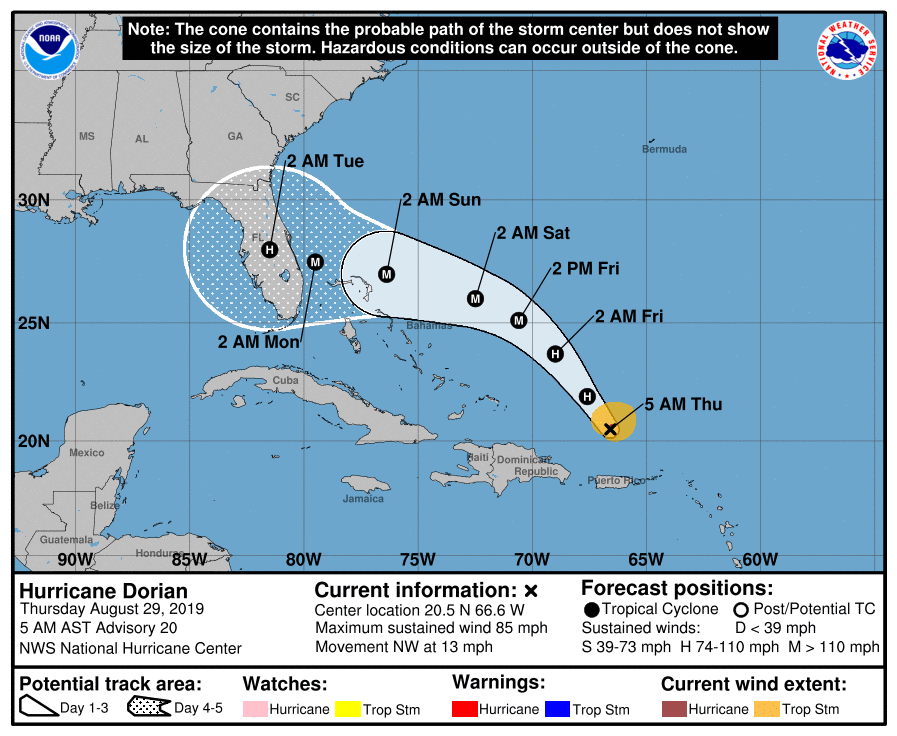 9:13 a.m. ET, August 29, 2019
Trump on Dorian: "It will be a very big Hurricane, perhaps one of the biggest!"
President Trump this morning tweeted about Hurricane Dorian, which is forecast to hit Florida's Atlantic Coast over Labor Day weekend.
"Be prepared and please follow State and Federal instructions," he said.
Last night, Florida Gov. Ron DeSantis said he spoke with Trump to give him an update on Dorian:
8:23 a.m. ET, August 29, 2019
Here's how Carnival is changing its cruise routes for Dorian
Carnival Cruise Line is making some itinerary changes to avoid Hurricane Dorian.
"Our Fleet Operations Center continues to monitor the storm and will make any adjustments as needed as the safety of our guests and crew is our number one priority," the cruise line said in a statement.
Here's a look at how the company is changing its routes:
Carnival Sunrise will stop at San Juan tomorrow, instead of Grand Turk. On Saturday it will stop at Amber Cove instead of San Juan. On Sunday, it will dock in Grand Turk, instead of Amber Cove.
Carnival Magic will stay at sea today instead of stopping at Amber Cove. It will stop in Nassau tomorrow instead of staying at sea.
Carnival Sensation will stay at sea on Sunday instead of stopping in Nassau. On Monday, it will head to Grand Turn instead of Half Moon Cay. It will head to Half Moon Cay on Tuesday and Nassau on Wednesday. 
8:04 a.m. ET, August 29, 2019
Florida could feel tropical-storm-force winds as early as Saturday
Parts of Florida could feel tropical-storm-force winds as early as Saturday evening, according to the National Hurricane Center.
The center urged residents to make preparations now ahead of Hurricane Dorian.
Dorian, currently a Category 1 storm, is forecast to grow into a major Category 3 over Labor Day weekend before landing in Florida.
12:03 p.m. ET, August 30, 2019
We are always looking for ways to improve the live updates experience. Please take a few minutes to provide your feedback on your experience here.