Hurricane Dorian intensifies as it heads for US
6:26 p.m. ET, August 29, 2019
Some Walmart shoppers in Florida are finding empty shelves
Employees at a Walmart store in St. Augustine, Florida have been busy restocking shelves as residents continue searching for supplies ahead of Hurricane Dorian.
But shoppers could not find any water bottles or gallons in the store as of Thursday afternoon.
5:14 p.m. ET, August 29, 2019
University of Miami cancels classes starting at noon on Friday
The University of Miami has canceled classes at the Coral Gables, marine and medical campuses from noon Friday through Tuesday, the university said in a press release. 
Classes will resume on Wednesday.
All university events scheduled for the Labor Day weekend have been canceled on the Coral Gables and marine campuses.
In an abundance of caution, the University is putting up storm shutters and positioning sandbags near doorways on the Coral Gables, marine, and medical campuses.
4:53 p.m. ET, August 29, 2019
Here's the latest update on Dorian from the National Hurricane Center
Hurricane Dorian is still a Category 1 storm with sustained winds of 85 mph, according to the National Hurricane Center's 5 p.m. ET advisory.
Dorian is expected to strengthen into a Category 4 hurricane by Sunday, with 130 mph winds, near the Bahamas.
Here's the latest path: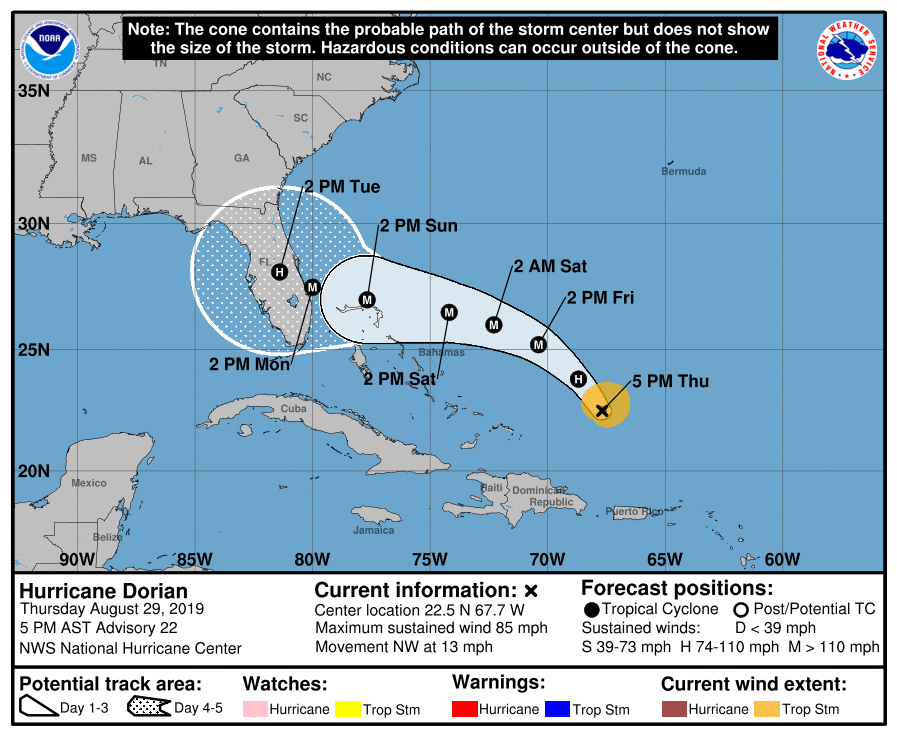 4:39 p.m. ET, August 29, 2019
Georgia governor declares state of emergency for Hurricane Dorian
Georgia Gov. Brian Kemp has declared a state of emergency for the state ahead of Hurricane Dorian.
The State of Emergency is for these counties:
Brantley
Bryan
Camden
Charlton
Chatham
Effingham
Glynn
Liberty
Long
McIntosh
Pierce
Wayne
The state of emergency is for a period of 11 days, beginning today and ending on September 9.
4:40 p.m. ET, August 29, 2019
Dorian spared Puerto Rico, so FEMA is moving teams from the island to Florida
Since Hurricane Dorian left minimal impacts on Puerto Rico, the Federal Emergency Management Agency is now shifting teams to one of the storm's next targets: Florida.
FEMA associate administrator Jeffrey Byard told reporters on Thursday that the agency has gotten "no request" to help in Puerto Rico or the US Virgin Islands.
 "Those teams are not needed so they're in the process of coming back and some of them are flying directly into Tallahassee to get ready for that mission,"he said.
Puerto Rico, still recovering from Hurricane Maria in 2017, was expected the storm to exacerbate the existing damage to infrastructure, but the island was largely spared.
Byard added that federal officials are bracing for a "big storm" that warrants a "big response" with a multi-billion dollar price tag. 
"The most important thing now is to make sure the citizens understand the dangers that Hurricane Dorian will pose," he said. This is going to be a major storm again impacting some portions of Florida, somewhere along their Eastern coast, then go inland and create a lot of havoc with infrastructure, power, roads. A lot of rain." 
4:36 p.m. ET, August 29, 2019
As Dorian gathers strength, New Orleans marks the 14th anniversary of Hurricane Katrina
New Orleans Mayor LaToya Cantrell commemorated the 14th anniversary of Hurricane Katrina today during a wreath-laying ceremony.
LaToya and other public officials gathered at the Katrina Memorial on Canal Street to remember the victims of the storm, which made landfall near Grand Isle, Louisiana, in 2005 as a Category 3 storm with winds near 127 mph.
"As Hurricane Dorian approaches Florida, we are mindful of what we experienced here during Katrina on the 14th anniversary. Let us all remember how far we have come, be grounded in love so we can move forward together," Cantrell said in a press release.
Some other facts and figures on Hurricane Katrina:
About 25,000 storm evacuees were sheltered at the Louisiana Superdome, a sports arena. Wind and water damage to the roof created unsafe conditions, leading authorities to conduct emergency evacuations of the Superdome. 
The total damage is estimated to be $125 billion (not adjusted for inflation).
In an analysis of 971 fatalities in Louisiana and 15 additional deaths of storm evacuees, 40% of deaths were caused by drowning. 25% were caused by injury and trauma and 11% were caused by heart conditions.
Nearly half the fatalities in Louisiana were people over the age of 74.
The total number of fatalities — directly or indirectly — stands at 1,833.
1:48 a.m. ET, August 30, 2019
Trump cancels trip to Poland as Dorian approaches the US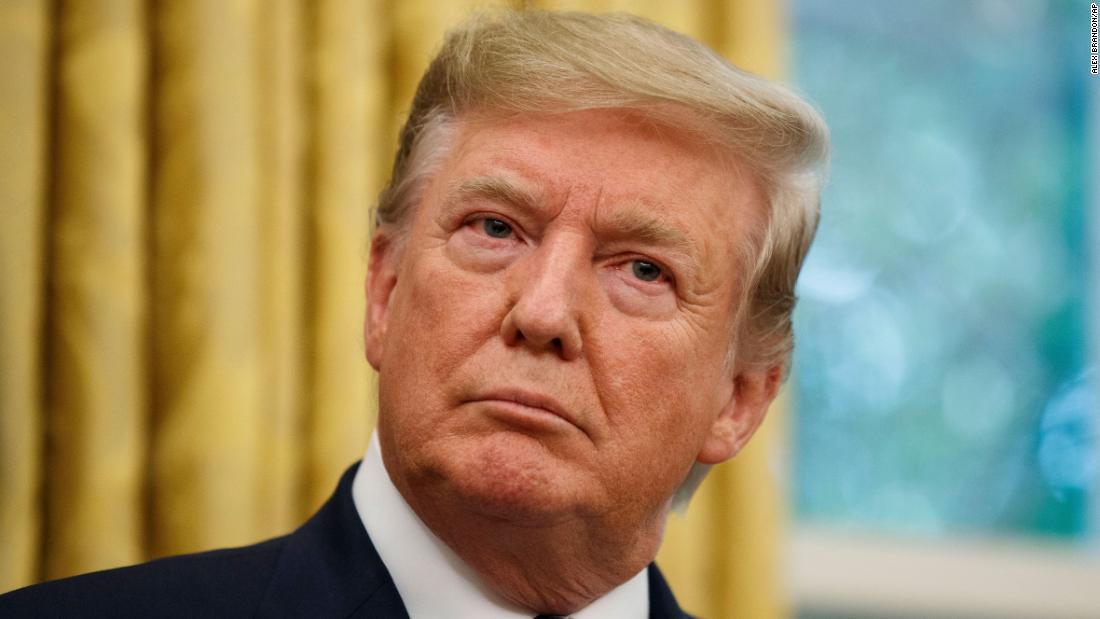 As the Hurricane Dorian approaches, President Trump will no longer travel to Poland on Saturday, a person familiar confirms to CNN.
4:17 p.m. ET, August 29, 2019
Hurricane Dorian is the strongest Atlantic storm this season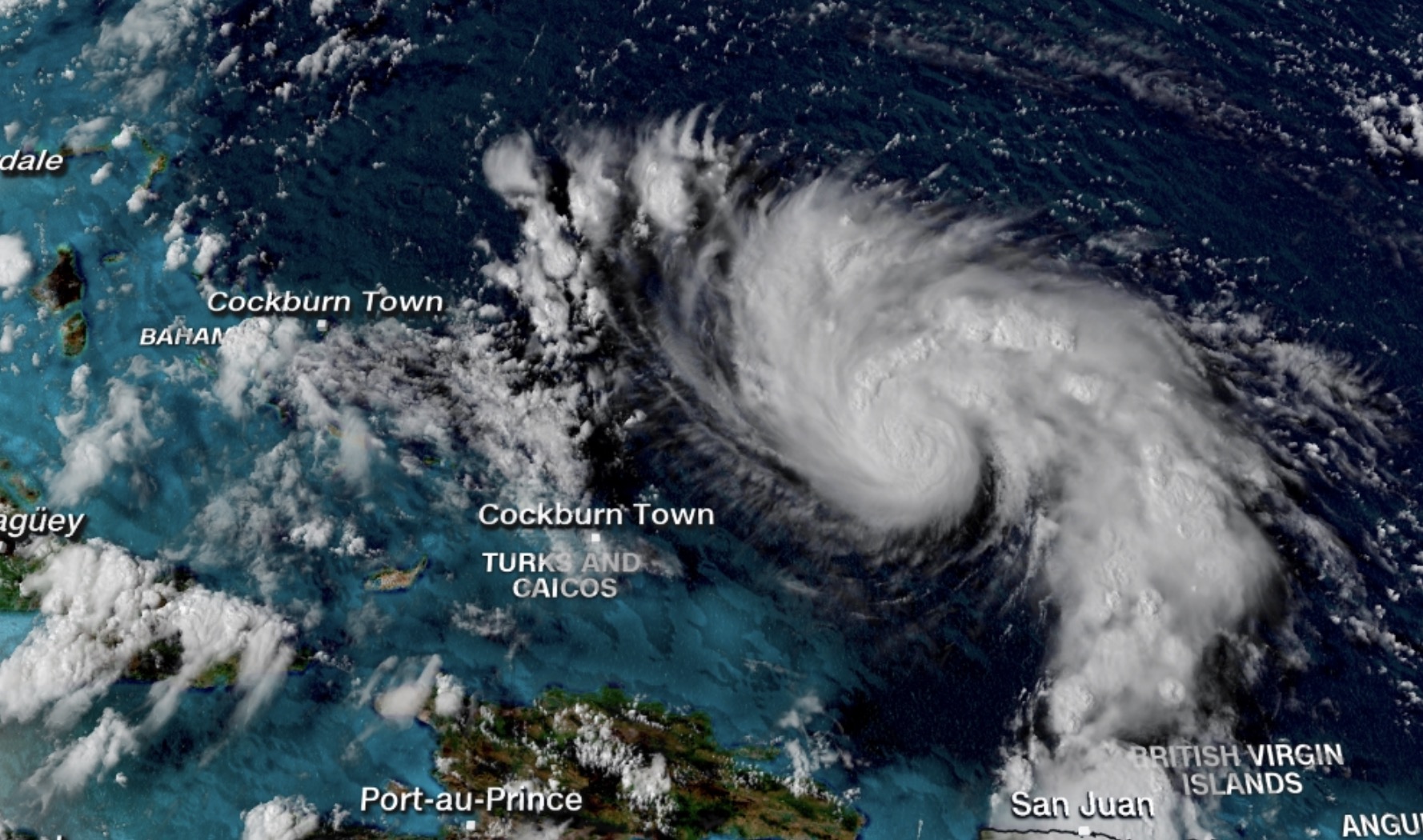 Hurricane Dorian is spinning in the Atlantic, heading toward Florida.
At 85 mph, Dorian is the strongest storm of the Atlantic hurricane season so far.
If Dorian continues on its current forecast....
It would be the strongest hurricane since 1992: A category 4 landfall would be the strongest hurricane to strike Florida's East Coast since Andrew in 1992
It would be the third year in a row with a major hurricane landfall for Florida: Major hurricanes are those Category 3 and above — Hurricane Irma hit in 2017 and Hurricane Michael made landfall last year.
It would be the fourth year in a row of any hurricane hitting the state: For Florida, this would be the the most years in a row since the 1940's.
4:00 p.m. ET, August 29, 2019
Palm Beach County schools will still be in session tomorrow
Palm Beach County schools will be open as normal tomorrow, officials announced at an afternoon news conference.
Officials are still monitoring the path of Hurricane Dorian, and they will access over the weekend after the storm hits.