Live Updates: India's Narendra Modi and Donald Trump visit Houston
3:22 p.m. ET, September 22, 2019
Modi defends his decision to revoke the special status of Jammu and Kashmir
Prime Minister Narendra Modi during his speech mentioned last month's change to Article 370 of India's constitution, which revoked the special status given to the state of Jammu and Kashmir.
In addition, the Indian government downgraded the state's federal status as well.
The special status gave the Muslim-majority state unique levels of autonomy. In place since 1949, it gives Jammu and Kashmir the power to have its own constitution, flag and autonomy over all matters, save for certain policy areas such as a foreign affairs and defense.
Modi stated that the action taken was in the best interest for the residents.
"The people of Jammu and Kashmir and Ladakh have been deprived of equal rights. The forces fanning terrorism and separatism were exploiting this situation," he said.
The Indian government deployed tens of thousands of troops in the state, most of them concentrated in Indian-controlled Kashmir – one of the most militarized regions in the world.
Hours before the announcement, all communications in and out of the state were cut off – a condition that continues for the 8th week in Indian-controlled Kashmir. The Indian government has repeatedly justified the communications blackout as a security measure and has said that it will be lifted gradually.
The steps taken on August 5 have been met with criticism from human rights activists as thousands of Kashmiris have been unable to communicate with their families for weeks.
Lauding the parliamentarians who helped pass the law by a two-thirds majority within two days, Modi asked the crowd to give them and their work a standing ovation.
"The Indian constitution which gave rights to other Indians will now give the same rights to the people of Jammu and Kashmir and Ladakh," said Modi.
2:47 p.m. ET, September 22, 2019
Modi: "We are seeing great history being made right now and also a great chemistry"
Indian Prime Minister Narendra Modi addressed India's historic presidential election this year, his fight against terrorism and the country's developments in his speech.
"We are seeing great history being made right now and also a great chemistry. The name of the program is 'Howdy, Modi!' But Modi is nothing by himself. I am a common man working on the orders of 1.3 billion people," Modi said.
The election was most expensive, with political parties, candidates and regulatory bodies spending up to $8.6 billion, according to a new study.
By comparison, the US spent an estimated $6.5 billion in the 2016 presidential and congressional contests, according to Open Secrets, an American non-profit organization.
The outcome cemented Modi's position as the most powerful political figure in recent Indian history, with his Hindu nationalist Bharatiya Janata Party (BJP) and its allies securing a two thirds majority in parliament's lower house.
Modi acknowledged the tens of millions of public toilets built across the country, the roads constructed in rural India and improvements on mail delivery speed as signs of its progress.
"We are not competing with anyone but competing with ourselves. We are challenging ourselves. We are changing ourselves," Modi said. "For America, and for Americans, there is opportunity to progress in India."
When discussing India's fight against terrorism, Modi noted that "President Trump is standing with all his strength against terrorism."
Modi closed out his speech with a look to the future and an invitation for Trump.
"In the coming days, we are going to talk and I am certain that some positive developments will come out of it. President Trump calls me the top negotiator but he himself is great at the 'art of the deal' and I am learning a lot from him," Modi said. "Mr President, I would like that you come with your family to India and you give us the opportunity to welcome you. Our friendship will give new heights to our shared dreams and vibrant future."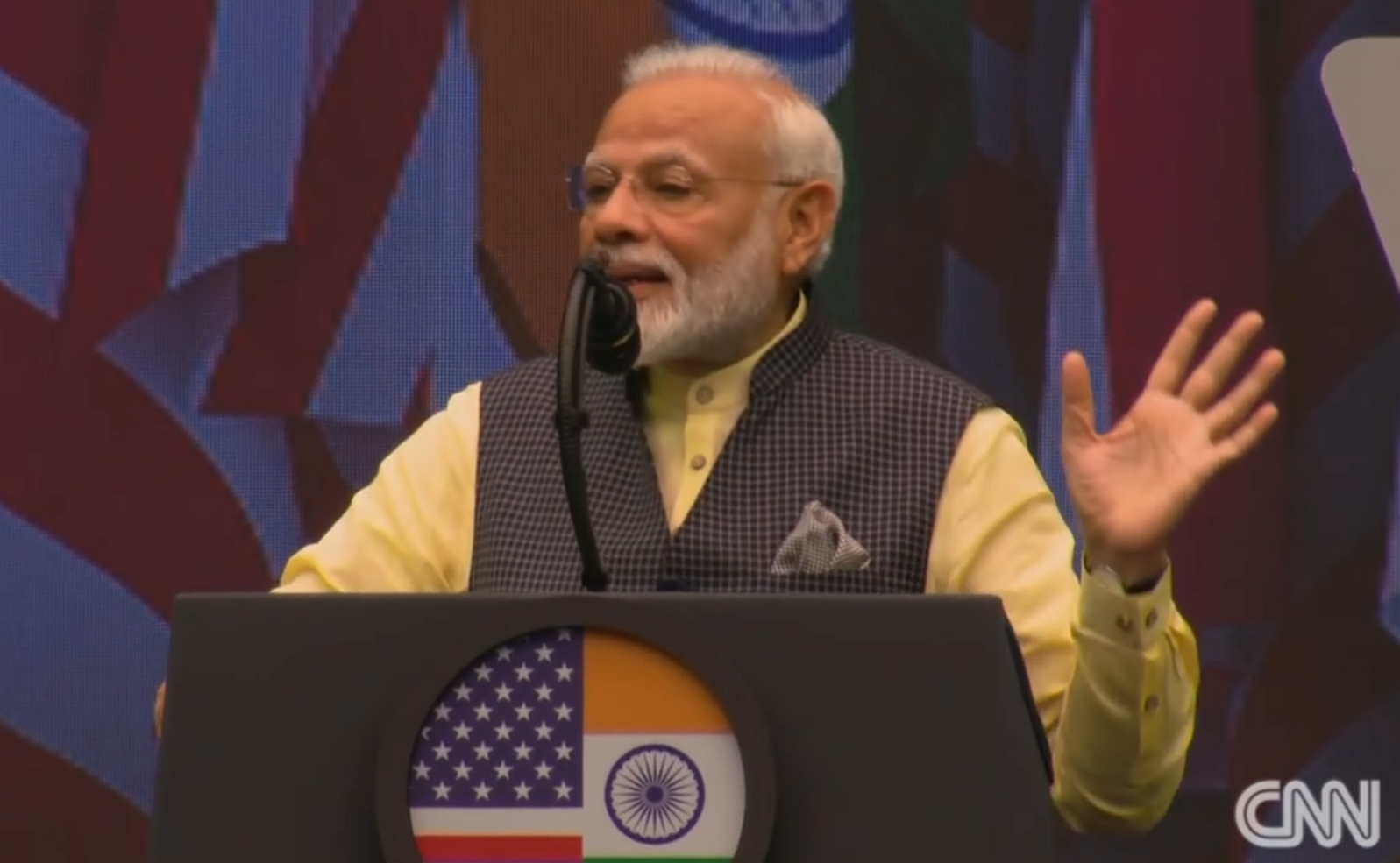 2:15 p.m. ET, September 22, 2019
Opinion: The similarities between Modi and Trump are apparent
President Donald Trump and India's Prime Minister Narendra Modi will share a stage in my hometown of Houston, Texas, at an event named "Howdy, Modi" today. This is Modi's first trip to the US since his reelection earlier this year, and it comes at a time when he and Trump are looking to forge stronger ties and trade relations between the US and India.
While tens of thousands of Indian Americans are expected to welcome the prime minister inside the NRG stadium alongside local officials, members of Congress, and other politicians, I'll be outside protesting with many others as we bid adios to Modi.
It's shameful to see the prime minister being enthusiastically welcomed in the city I know and love under the guise of multiculturalism and inclusion -- especially when Modi has stoked Hindu nationalist sentiments since he was first elected in 2014.
I'm a third-generation Indian American raised in Houston's Indian Christian community. My ammachis, or my grandmothers, immigrated to Texas from Kerala, India, in search of nursing jobs in the 1970s and established their lives in this city alongside other Indian immigrant families.
The South Asian community in Texas is a multi-religious and multi-racial community. We are queer, trans, and gender non-conforming. We are undocumented and working-class people. We trace our families back to different countries in South Asia, as well as to Africa and the Caribbean. And we are part of the reason that Houston is known to be one of the most diverse cities in America.
Instead of embracing Modi, we should be holding him accountable for the horrific human rights abuses happening all across India, and especially in Kashmir right now.
Here are just a few of the problems:
All of this is consistent with Modi's far-right Hindu nationalist agenda, which seeks to prioritize the rights of Hindus and diminish the rights of others. Modi and his ruling party have incited hate, violence and discrimination against religious minorities and marginalized people across India, including Dalits, Muslims, Sikhs, and Christians.
2:09 p.m. ET, September 22, 2019
Trump: Both India and US must protect their borders
In his speech at the "Howdy, Modi!" rally, President Donald Trump linked his concerns about security at the US-Mexico border with India's security concerns about its border with Pakistan.
"Both India and US also understand that to keep our communities safe, we must protect our borders," Trump said.
Trump also alluded to India's concerns about alleged terrorist threats from Pakistan-based organizations in Kashmir. Tensions between India and Pakistan have recently flared over the disputed border region.
"Today we honor all of the brave Indian and American military service members who work together to safeguard our freedom," Trump said. "We stand proudly in defense of liberty, and we are committed to protecting innocent civilians from radical Islamic terrorism."
1:47 p.m. ET, September 22, 2019
Trump praises India's investment in the US and first-ever NBA game in India
President Donald Trump spoke highly of India's investment in the US and mentioned the NBA which recently announced its first-ever game in India.
"We welcome India's growing investments right here in the lone star state. Nations around the world are investing in the United States because they know we have the best economy and best workers in world.We want to thank everybody and India has never invested in the US like it is doing today, and I want to say it's reciprocal because we're doing the same thing in India," Trump said.
The game in India will feature the Sacramento Kings and Indiana Pacers playing two preseason games October 4 and October 5 at the Dome, NSCI, SVP Stadium in Mumbai, the NBA stated on its website.
1:35 p.m. ET, September 22, 2019
Trump: "The relationship between the United States and India is stronger than ever before"
President Donald Trump took the stage at "Howdy, Modi!" following a speech from India's leader praising the relationship between both nations.
"You (India) have never had a better friend as President as President Donald Trump," Trump said at NRG Stadium Sunday afternoon. "Under PM Modi's leadership, the world is witnessing a strong, sovereign republic of India."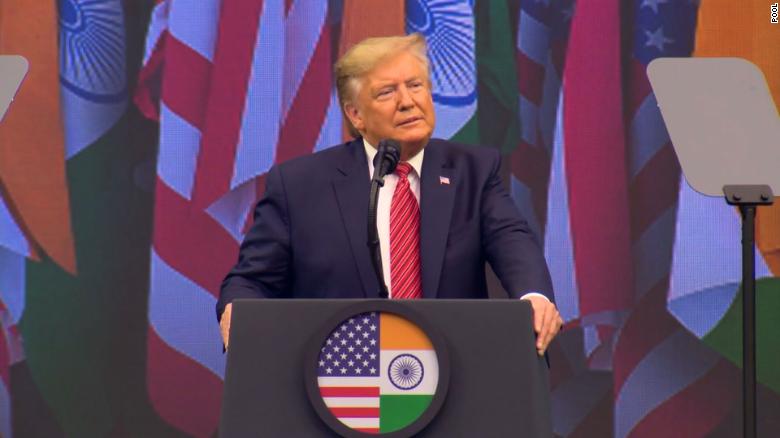 1:26 p.m. ET, September 22, 2019
Modi on Trump: India has a true friend in the White House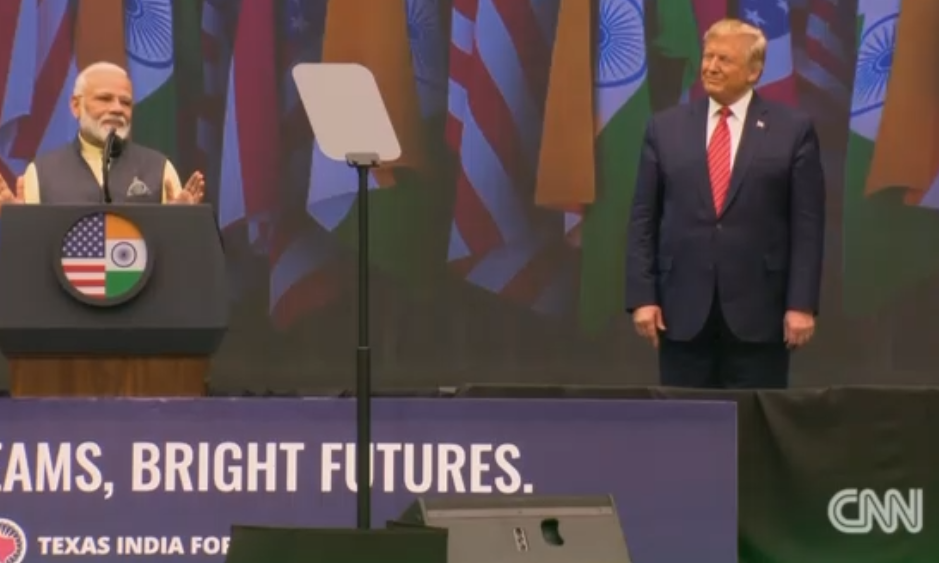 Indian Prime Minister Narendra Modi opened his rally in Houston by praising President Donald Trump.
"Friends, as I told you, we have met a few times and every time he has been the same: warm, friendly, accessible, energetic and full of wit," Modi said.
Modi also commended Trump's administration for celebrating Diwali at the White House, and talked about the relationship between the United States and India.
"India has a true friend in the White House," Modi said.
The India leader also invoked Trump in his signature campaign slogan, "Ab ki baar, Modi sarkar," which translates to "This time, Modi government." On stage, Modi replaced his name with Trump's.
1:13 p.m. ET, September 22, 2019
Trump and Modi have taken the stage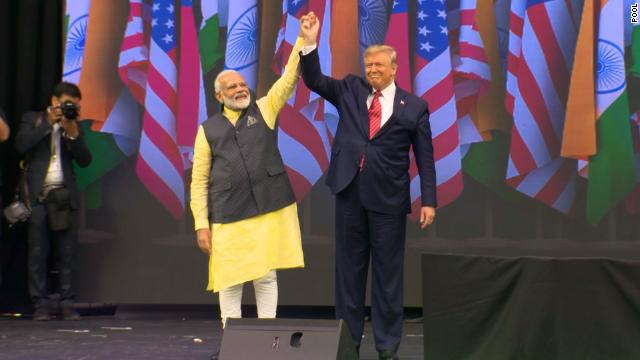 President Donald Trump and Indian Prime Minister Narendra Modi have taken the stage.
The national anthems of both countries are being sung right now, and then both leaders will make remarks.
1:11 p.m. ET, September 22, 2019
Trump has arrived at the "Howdy, Modi!" rally
President Donald Trump has arrived at NRG Stadium in Houston, Texas, where the "Howdy, Modi!" rally is ongoing.
Trump was expected to speak at 12 p.m. ET, but the rally has been delayed over a briefing he was receiving on the flooding from Imelda.
Watch CNN's live stream here.