Storms could affect post-Thanksgiving travel
11:43 a.m. ET, December 1, 2019
More than 1,300 flights into or out of the US have been delayed
In what is shaping up to be a historically busy travel day in the US, airlines will see an anticipated 3.1 million passengers today, according to Airlines for America, an airline trade organization.
A record 31.6 million passengers were forecast to travel on US airlines during the Thanksgiving holiday period, up 3.7% from last year.
By mid-morning, 1,300 flights into or out of the United States had been delayed and almost 700 had been canceled, according to FlightAware.com. Travel impacts are expected to last through Monday, the weather service said.
Delta Airlines announced weather waivers for 16 cities in the Upper Midwest on Saturday, and 22 cities in the Northeast for Sunday and Monday, including airports in Boston and the New York area.
American Airlines issued waivers for passengers traveling Sunday and Monday on flights to and from New York's John F. Kennedy and LaGuardia airports as well as Newark and the airline's hub in Philadelphia. Other cities in the American Airlines announcement include Boston, Buffalo, Pittsburgh and Toronto, Canada.
10:56 a.m. ET, December 1, 2019
Up to 2 feet of snow could hit Catskills from Sunday into Monday
The upcoming winter storm could bring up to two feet of snow to the Catskills, with accumulations of 12-14 inches near Albany and Central New York today into Monday.
New York City is expected to receive approximately 1 to 4 inches, according to a press release from NY Governor Andrew Cuomo. 
New York's Department of Transportation has engaged regional crews in snow and ice preparations and rain event monitoring.
Among the department's resources for responding to the winter storm are 1,592 large plow trucks, 183 medium duty plows, 52 tow plows, 327 large loaders and 39 snowblowers.
Roughly 4,500 workers are available to perform "in damage assessment, response and restoration across New York State," the press release stated.
9:48 a.m. ET, December 1, 2019
Winter storm may bring over 12 inches of snow to parts of western and central Massachusetts
A winter storm could bring more than 12 inches of snow to parts of western and central Massachusetts, according to a weather advisory from the Massachusetts Emergency Management Agency (MEMA).
 "1-2 inches/hour snowfall rates Sunday night are likely with 6 or more inches of snow accumulation expected by the Monday morning commute," MEMA said yesterday, adding that there is some uncertainty due to the exact track of the storm and accumulation amounts due to possible fluctuating temperatures that could transition snow to freezing rain/rain, and low astronomical tides that could affect strength of storm surges.
9:38 a.m. ET, December 1, 2019
Roads in Minnesota are covered in snow
Road conditions across the region are completely snow covered, with some areas of travel not advised in the Duluth area, the US National Weather Service in Duluth, Minnesota (NWS) reported on Facebook this morning.
Most roads are impassable and travel is extremely treacherous this morning. If you can stay home today, NWS is advising people to do so.
Numerous vehicles have become stuck in snow drifts and in roads and ditches this morning, NWS added.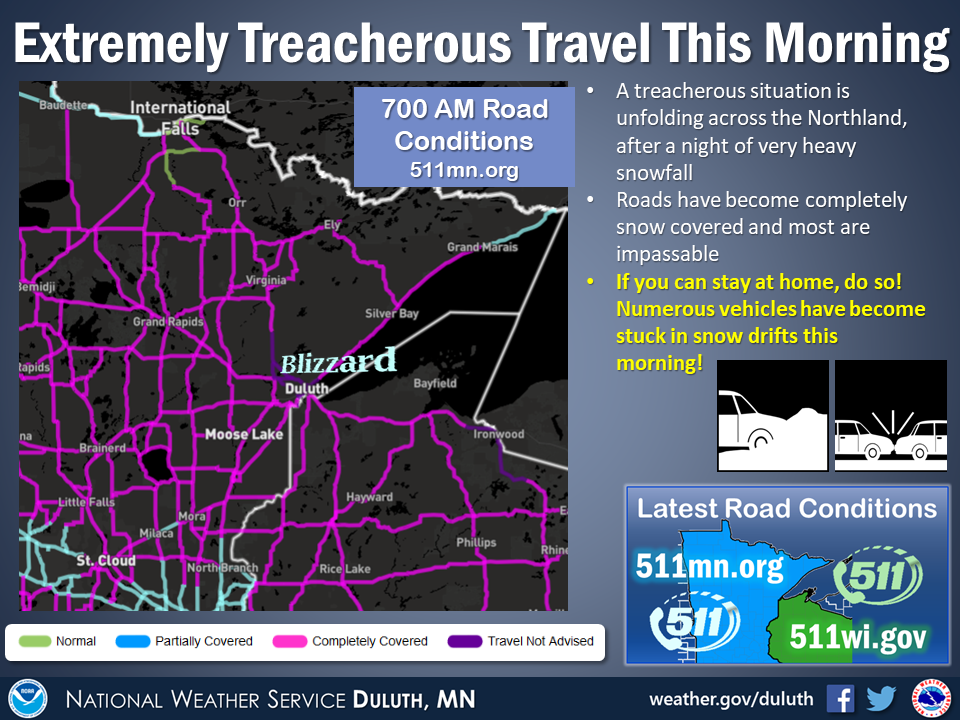 9:22 a.m. ET, December 1, 2019
More than 350 flights in the US have been delayed
As of 9 a.m. ET, 353 flights within, into or out of the United States have been delayed, according to FlightAware, an aviation company that tracks flight changes.
Additionally, 29 flights in the United States have been cancelled entirely today.
Here's FlightAware's map of the latest flight data: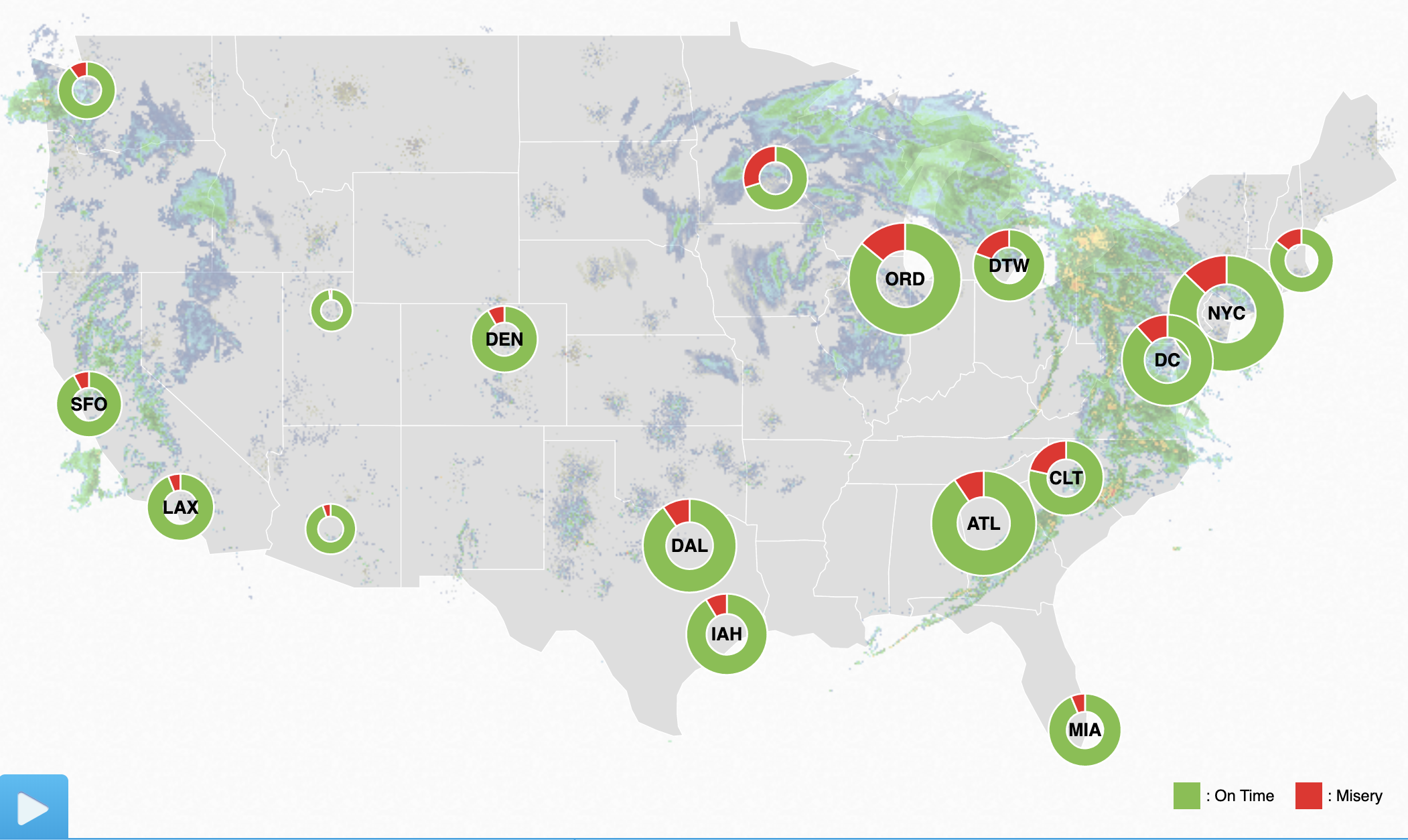 9:14 a.m. ET, December 1, 2019
How to make your post-Thanksgiving drive as stress-free as possible
Before you hit the road today, here are some tips on how to make your drive home more enjoyable and safe:
Check the weather and for road closures. With wide swaths of the country will be under threat from snow to strong winds, even thunderstorms. Check what you're about to drive through and for possible road closures on your route. That will help prepare you for when to drive, where to drive and what you're about to drive into.
Check your equipment. Make sure your windshield wipers work, that your oil doesn't need to be changed and your tires aren't losing their grip. If you're in a snowy area, bring a windshield scraper and shovel to dig yourself out of trouble.
Fill your gas tank. We know it's only an hour to Grandma's house but there's no reason to depart with your tank half full.
Bring extra supplies. Bring extra water and snacks in case you're stuck in traffic or your car battery conks out and you need to wait for help.
Bring chargers, flares and a flashlight. If you do need assistance, a fully charged cell phone, backup cell phone battery, flares and a flashlight can help light the way.
Stay warm. If your car won't run, neither will the heat. Pack warm coats and blankets to keep warm if you're stuck on the side of the road.
8:36 a.m. ET, December 1, 2019
West coast braces for winter storms
A strong storm system is impacting the West coast from Seattle south to Los Angeles, bringing feet of snow to the mountains, heavy rain to the coasts and valleys, and gusty winds.
Major travel delays are expected across the mountainous regions where chains will be required and road closures are possible due to near white out conditions at times.
The National Weather Service office in Sacramento states that "Travel is HIGHLY DISCOURAGED after 10 a.m. for the Coastal Range/Shasta County."
Up to 2 feet of snow is possible in the upper foothills, 2-4 feet of snow is forecast above 6000 feet and up to 5 feet of snow is possible on the higher peaks through Monday night.
Moderate to heavy rain is forecast across the coasts and valleys through Monday with widespread rainfall totals of 2-4 inches possible. Roadway flooding is possible across the region through Monday.
Strong winds will also be a concern through early Monday morning where sustained winds are forecast between 25-35 mph and gusts are forecast between 35-55 mph. This could lead to downed trees and power lines as well as cause a driving hazard for high profile vehicles.
8:32 a.m. ET, December 1, 2019
New York City crews are prepared for "difficult storm," officials say
At least 705 storm spreaders are "loaded'" and ready to go ahead of snowy weather expected in New York today and tomorrow, NYC Sanitation Department Commissioner Kathryn Garcia said Saturday at a press conference.
The city is expecting anywhere between 1-4 inches, Garcia said. However, she cautioned conditions could easily change.
Snow is expected to begin Sunday and then turn into a snowy/rain mix on Monday, officials say.
Another 1,500 plows will be on standby for Monday if conditions warrant snow plows, Garcia said.
Once the snow reaches two inches or more on the street officials will start plowing, she said.
American Airlines has also issued a Winter Weather Alert for more than 40 airports including the New York and Philadelphia hubs, a release from the airline says.