Heat wave descends on the US
3:19 p.m. ET, July 19, 2019
What you need to know about the heat wave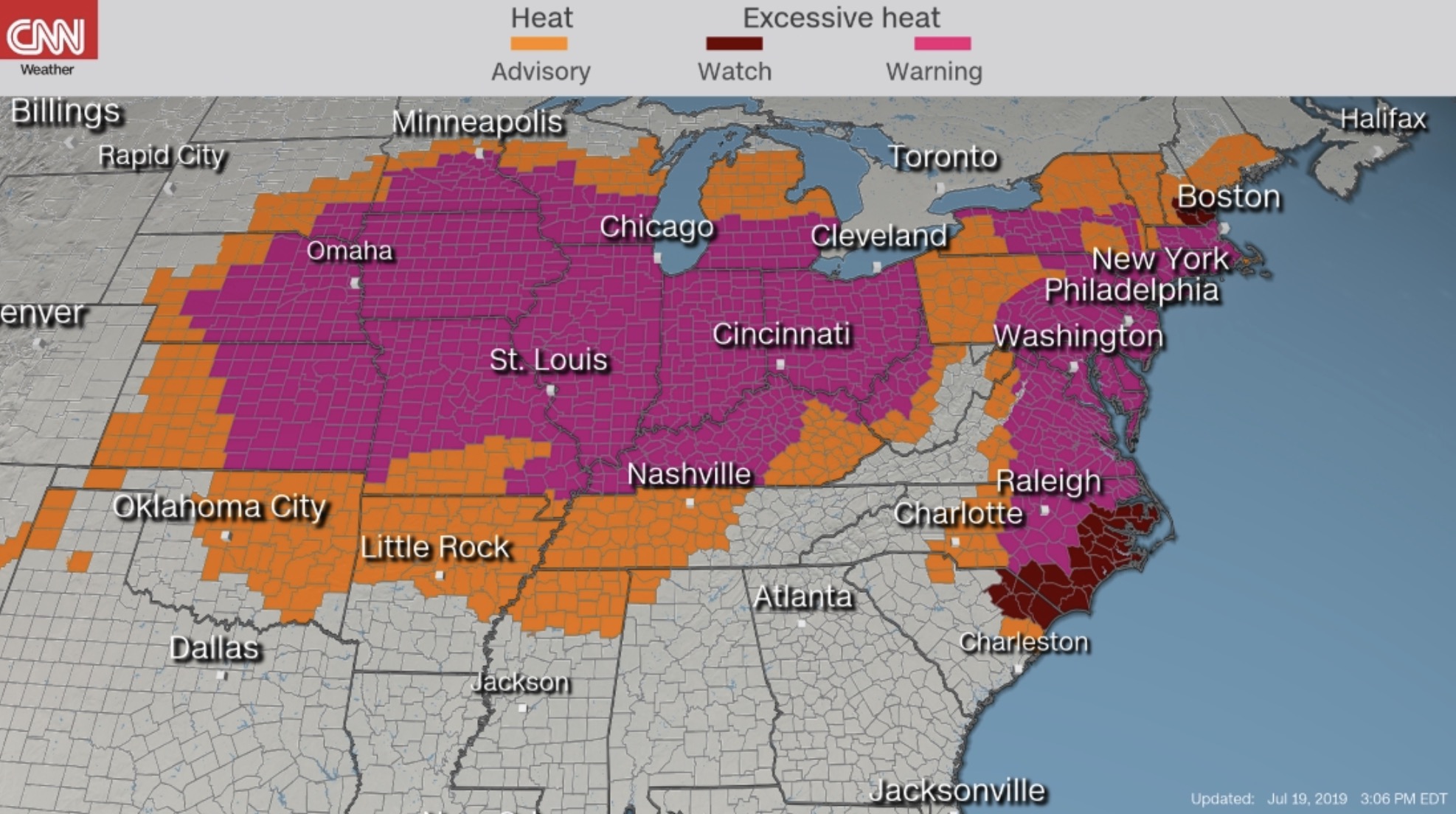 A dangerous heat wave began descending on the US Friday, and the extreme heat is expected to continue this weekend.
Our live coverage has ended, but you can keep tracking the heat wave here.
Here's what you need to know about the heat:
It's widespread: Over the next few days, more than 85% of the lower 48's population will see temperatures above 90 degrees, and more than half will see temperatures higher than 95 degrees. About 195 million people were under a heat watch, warning or advisory Friday morning.
The East Coast and Midwest are feeling the heat: Boston, New York, Philadelphia, Baltimore and Washington will be under excessive heat warnings on Friday. Major cities across the Midwest — including Chicago, Cincinnati, Cleveland, Detroit, Indianapolis, Minneapolis and St. Louis — are under similar warnings
Events are canceled: With extreme temperatures through Sunday, the Verizon New York City Triathlon has been canceled. Also canceled in the region: Saturday's card of horse racing at New York's Saratoga Race Course, and all races Saturday and Sunday at the Maryland Jockey Club in Laurel — where the heat index will reach 110 to 115.
3:17 p.m. ET, July 19, 2019
Illinois zoo animals cool off with meat and vegetable popsicles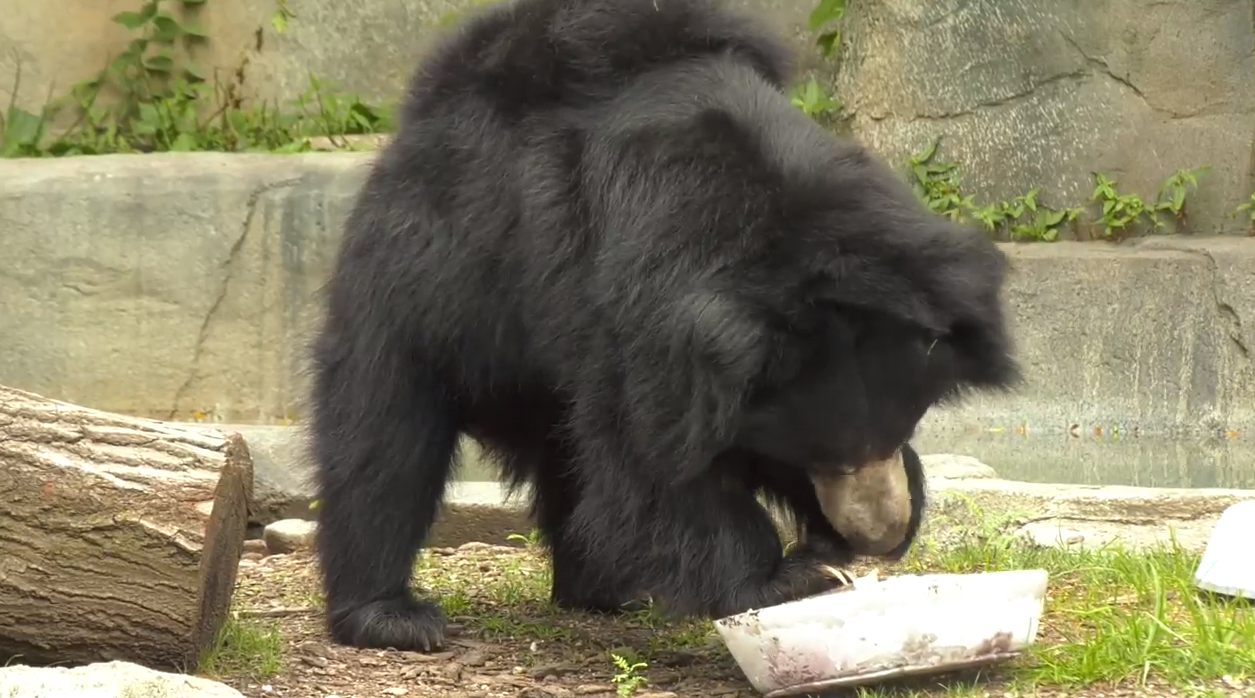 Animals at the Brookfield Zoo in Illinois are staying cool with some frozen treats.
The zoo's staff has been giving several animals –– including polar bears, grizzly bears, tigers, sloth bears and even the rhino –– ice to help them keep cool in the extreme heat, the zoo said in a release Friday.
So what's inside the animals' popsicles? The zoo said what was inside the ice depended on the animal: Some were filled with fruits and vegetables while others had bones and meat. The blocks of ice that the polar and grizzly bears received weighed 300-pounds.
2:39 p.m. ET, July 19, 2019
NYC festival featuring Megan Rapinoe and John Legend canceled because of heat
The New York City festival OZY Fest has been cancelled due to heat, Mayor Bill de Blasio announced Friday afternoon. 
The cultural festival, now in its fourth year, was scheduled to feature...
John Legend
Trevor Noah
Megan Rapinoe
Padma Lakshmi
Malcolm Gladwell
Spike Lee
Mark Cuban
Fifty performers were scheduled for the festival in Central Park on Saturday and Sunday.
1:15 p.m. ET, July 19, 2019
Chicagoland trains will run slower because the heat may buckle rails
It's going to be so hot in the Chicagoland area that the regional rail service Metra is going to have to slow trains down.
"When temperatures exceed 95 degrees, Metra is required to reduce train speed by 10 mph," Metra said in a tweet.
That allows them to compensate for what it says is, "heat related stress on the tracks."
12:33 p.m. ET, July 19, 2019
Chief of NY Utility Con Edison: heat wave has "no impact at all" in the infrastructure that was damaged in blackout
New York Utility company Con Edison President Tim Cawley said Friday at a press conference that the heat wave has "no impact at all" in the infrastructure that was damaged in last weekend's blackout that saw 73,000 customers without power. Cawley said that the equipment involved in that event has been repaired and that the company prepares for periods of intense heat throughout the year.
His comments come after Mayor Bill de Blasio ordered office buildings 100 feet or taller to set their thermostats to 78 degrees to conserve energy, and is asking New Yorkers to do the same in their homes to avoid power disruptions throughout the weekend.
Cawley said that the mayor's call for conserving energy is good for three reasons: "it's good for the environment, it lowers bills, and in a period like this, it just takes a little bit of the edge off the demand on the system."
He added that New York's peak energy consumption happens on weekdays and that while power demand is still high on weekends, the grid can handle that amount.
"We're ready for what the heat will bring, and as I said, we expect demands this weekend to rival all-time weekend peaks," Cawley said. "The system overall peaks during the weekday, and I think it's fairly intuitive, when all the businesses are in, on a Tuesday or Wednesday, the demand is the highest, on the weekend it remains high, but it's not the peak demand. When we compare weekend to weekend, we are going to rival all-time demand."
Cawley said Con Edison is "poised to respond" to any outages that might happen this weekend. The demand on the system this weekend is projected to be between 11500 to 11900 megawatts. One megawatt, Cawley explained, powers about one thousand homes, and the system is designed to handle 13200 megawatts of demand. 
When comparing to previous weekends of similar usage, and Cawley said that there were scattered outages despite the system's performance being "very strong."
12:50 p.m. ET, July 19, 2019
How to keep your pets safe in this weekend's extreme heat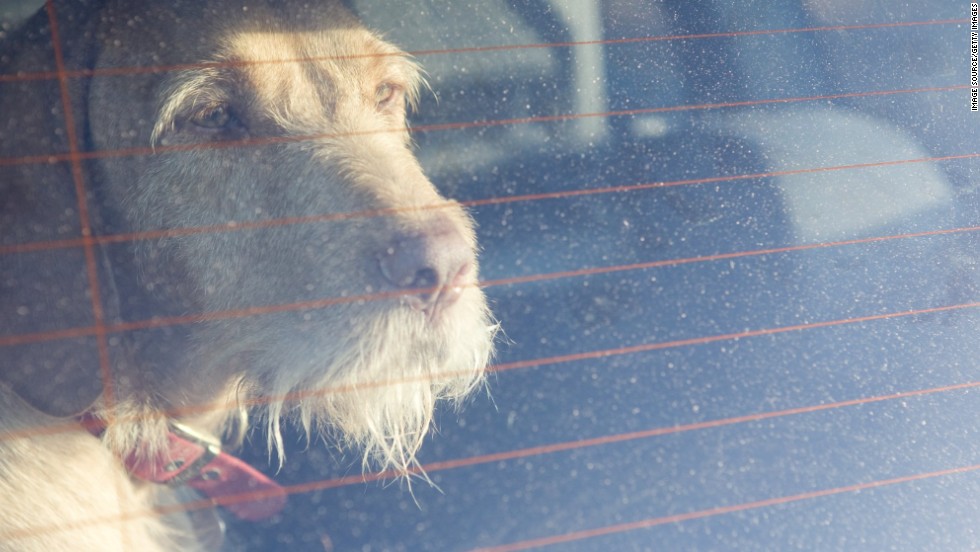 About 185 million people across the US are under a heat watch, warning or advisory as of Friday morning –– and forecasts say it's only going to get hotter.
This means it's important to make sure your furry, four-legged friend doesn't overheat.
Here are some tips from the ASPCA on how to keep your pets cool:
Make sure they get plenty of fresh, clean water all day. They can get dehydrated quickly when it's hot or humid out.
Be sure your pet has a shady place to go or keep them indoors.
Animals with flat faces, like Pugs and Persian cats, are more susceptible to heat stroke since they cannot pant as effectively. Keep them, along with pets that are elderly, overweight or have a heart or lung disease, in air-conditioned rooms as much as possible.
Never leave your pet alone in a parked car.
You can trim longer hairs, but never shave your dog. The layers of dogs' coats protect them from overheating and sunburn, according to the ASPCA.
If you put sunscreen on your pet, make sure it specifically says it's for animals.
Don't let your dog be on hot asphalt for long. Their body can heat up quickly because they are so close to the ground. The pads on their paws can also burn if the pavement has been in the sun.
Another important aspect to keeping your pet safe in extreme heat is knowing the signs of heat stroke.
The Humane Society of the United States tweeted some of the signs to watch for:
Heavy panting
Lack of coordination
Difficulty breathing
Vomiting
Profuse salivation
Excessive thirst
Lethargy
Fever
Read the tweet:
11:49 a.m. ET, July 19, 2019
Officials want you to conserve energy during the heat wave. Here's why.
Officials are urging people to conserve energy during this weekend's heat wave.
New York Mayor Bill de Blasio said on Friday that the heat emergency declared Thursday, and calls for energy rationing this weekend, are out of an "abundance of caution."
The mayor signed an executive order directing office buildings 100 feet or taller to set their thermostats to 78 degrees to conserve energy, and is asking New Yorkers to do the same in their homes.
Speaking with host Brian Lehrer on radio station WNYC, de Blasio said utility company Con Edison has not given him "good enough answers" on the reason for New York's power outage last weekend, but told him overload was not it. He said the company told him an overload is not predicted for this weekend, but residents should cut back just to be sure.
The president of Con Edison in New York, Tim Cawley, agreed with the importance of conserving energy.
"Its always a good thing to do but it's particularly good in this period because it reduces some of the demand on the system, customers will save money and it's good for the environment," Cawley said at a news conference Friday.
It's not just New York: About 185 million people are under a heat watch, warning or advisory as of Friday morning.
The heat warnings cover a large swath of the Midwest, including Chicago, St. Louis, Cleveland and Omaha, as well as parts of the East Coast, including New York City, Philadelphia, Boston and Washington, DC.
Here's how to maximize your energy efficiency, according to National Grid:
Close the blinds and drapes to prevent the sun from making your home too hot.
Turn off lights and ceiling fans when you aren't home or not using them.
Set your air conditioner up a few degrees –– even a small amount makes a big difference. For example, a 75-degree setting will cost about 18 percent more than a 78 degree setting.
Unplug electronics like televisions and computers. Even though they are turned off, they are still drawing electricity.
Try not to use hot water appliances like dish washers or washing machines.
Temporarily switch off pool pumps.
11:49 a.m. ET, July 19, 2019
NYC Fire: Don't open fire hydrants yourself
The New York City Fire Department has a warning for anyone who wants to cool off with a fire hydrant: Don't do it yourself.
City residents can request a spray cap be installed on their neighborhood hydrants.
"Do not open fire hydrants yourself as it depletes water sources and water pressure, making it difficult for firefighters to fight fires," a New York City firefighter Sophy Medina explained in a Twitter video.
11:04 a.m. ET, July 19, 2019
Heat index is more important than just temperature. Here's why.
The forecasted temperatures during this weekend's heat wave will only tell part of the story –– it's going to feel a lot hotter.
Over the next few days, more than 85% of the lower 48's population will see temperatures above 90°F, according to CNN meteorologist Dave Hennen, and more than half will see temperatures in excess of 95°F.
But what is more important is the heat index.
What is a heat index: It is also called "apparent temperature." It's a combination of air temperature and humidity, and it measures what the body actually feels, CNN meteorologist Haley Brink said.
Brink said we should pay attention to heat index because of the way humans cool down.
"We cool down by sweating, and that sweat evaporates off of our bodies, in turn decreasing our body temperature," she said. "When it is really humid outside, the rate of sweating decreases, so it actually feels warmer outside than it is."
For example, in Chicago — with a predicted temperature Friday of 98 degrees Fahrenheit and relative humidity of 58% — can expect it to feel like 118 degrees, she said.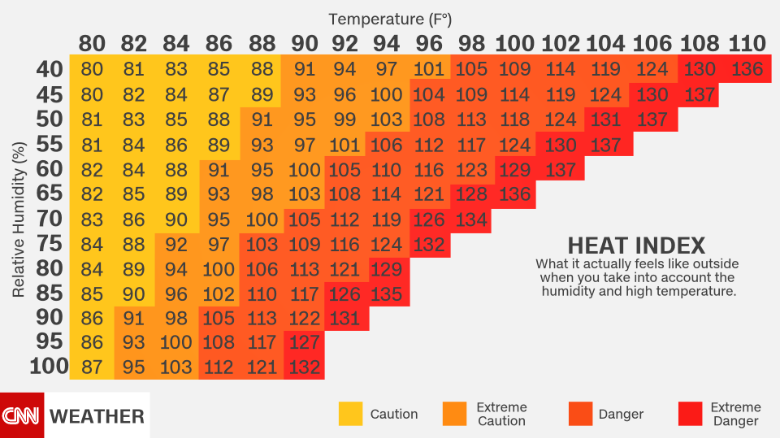 The heat index can get even higher when you consider what it feels like in the sun. These numbers on this chart are calculated in the shade, Brink said.
In "direct sunlight, the heat index value can be increased by up to 15 degrees Fahrenheit," according to the National Weather Service.
Brink said the best way to stay safe in the heat is to drink lots of water, wear lightweight, light-colored clothes and to stay near an air-conditioner.