Heat wave descends on the US
9:53 a.m. ET, July 19, 2019
It's going to be so hot roads could buckle and blow out
The Illinois Department of Transportation is warning motorists to be wary of roads buckling in the extreme heat.
"Pavement failures or blowouts occur when prolonged high temperatures cause the road to expand and buckle up or blow out, resulting in uneven driving surfaces," the Department said in a press release on their website.
The likelihood for buckling is increased even more by rain and humidity.
Buckled roads have already been seen in Kansas. The Hays Police Department posted a photo of a heat-buckled road on Tuesday.
For more on how, and why pavement buckles, watch IDOT's educational video below.
9:44 a.m. ET, July 19, 2019
Horse race tracks are cancelling races
Ellis Park in Evansville, Indiana was forced to cancel their races for Friday.
They join New York's Saratoga Race Course and the Maryland Jockey Club in Laurel. Those tracks have canceled all their races on Saturday and Sunday
9:33 a.m. ET, July 19, 2019
It's so hot that a speedway in Michigan cancelled their races
The heat index in Michigan is going to be so hot that the I-96 Speedway cancelled their races for Friday and Saturday.
"Conditions would be miserable and dangerous not only for fans but also for the teams and drivers," the speedway said in a Facebook post.
9:29 a.m. ET, July 19, 2019
Here are the areas under excessive heat watches today
About 185 million people are under a heat watch, warning or advisory as of Friday morning.
The heat warnings cover a large swath of the Midwest, including Chicago, St. Louis, Cleveland and Omaha, as well as parts of the East Coast, including New York City, Philadelphia, Boston and Washington, DC.
Meanwhile, the watches are centered around coastal South Carolina, North Carolina, Virginia and Maryland, as well as parts of New Hampshire.
Here's a look at all of the advisories, watches and warnings:
9:43 a.m. ET, July 19, 2019
Here's what you need to know to stay safe in extreme heat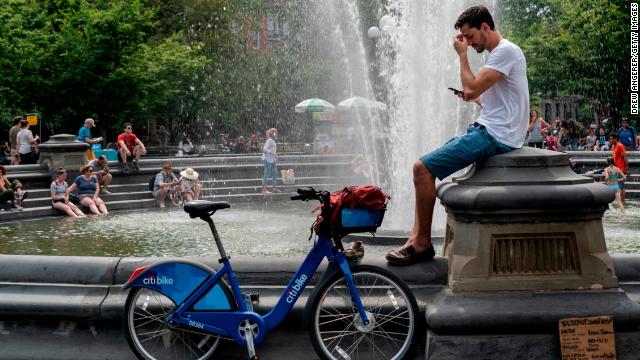 Extreme temperatures are the most deadly weather events in the United States, consistently killing more people than hurricanes and tornadoes combined.
As a potentially record-breaking heat wave grips the nation this weekend, doctors are warning people to find air conditioning and stay cool.
While dehydration is a common concern, "the most worrisome consequence" of high heat is heat stroke, said Dr. Scott Dresden, an assistant professor of emergency medicine at Northwestern University. Heat stroke can cause confusion, seizures and even death, he said.
How you can get heat stroke: Heat illness occurs when someone's body temperature rises above 104°F (40°C). Usually, we cool ourselves off by sweating and widening our blood vessels, bringing heat to the surface of our skin and letting it dissipate.
But sweating becomes ineffective as humidity rises above 75%. Our bodies can only let off heat when the outside environment is cooler than our internal body temperature of 98.6°F.
What the symptoms look like: The first symptoms are cramping and dizziness, but as the heat continues, it could cause someone to pass out or collapse. Left untreated, extreme heat stroke can trigger a dangerously fast heart rate and cause bodily enzymes to stop functioning. Ultimately, multi-organ system failure and death can occur.
How to treat it: The easiest way to treat mild symptoms is to drink a lot of fluids and get out of the heat. As symptoms get more serious, Dresden said, "we typically use ice baths in our emergency department." Wet sheets and large fans are also used in the hospital to cool patients, especially if ice baths aren't available. 
That can rapidly cool someone's body temperature, but patients are sometimes treated before they even arrive at the hospital. "Our Chicago fire department will often pack a patient's neck, armpits and groin in ice packs" to target major blood vessels," Dresden said.
Here are some more tips for how to stay safe in the heat:
Stay up-to-date on the latest forecast. Because extreme heat is predictable, it's important to keep up with the conditions.
Stay in the shade.
Drink lots of water.
If you know someone is living alone, especially elderly people, reach out to them and make sure they are in safe conditions.
Adjust your schedule to avoid physical activity outside during the temperature peaks of the day.
9:13 a.m. ET, July 19, 2019
New York City has declared a local emergency over the heat
New York City Mayor Bill de Blasio has declared "a local emergency due to the extreme heat" in New York City.
The executive order covers 9 a.m. Friday to 11:59 p.m. Sunday, and the mayor is ordering buildings 100 feet or taller to raise thermostats to 78 degrees in an effort to conserve energy.
"We are about to enter a heat emergency, and must do all we can to keep New Yorkers safe," said de Blasio. "The city government is limiting its energy use to reduce strain on the electrical grid, and now private office buildings will also have to do their part."