Harvey Weinstein found guilty
8:26 p.m. ET, February 24, 2020
Weinstein taken to Bellevue Hospital after feeling chest pains, his lawyer says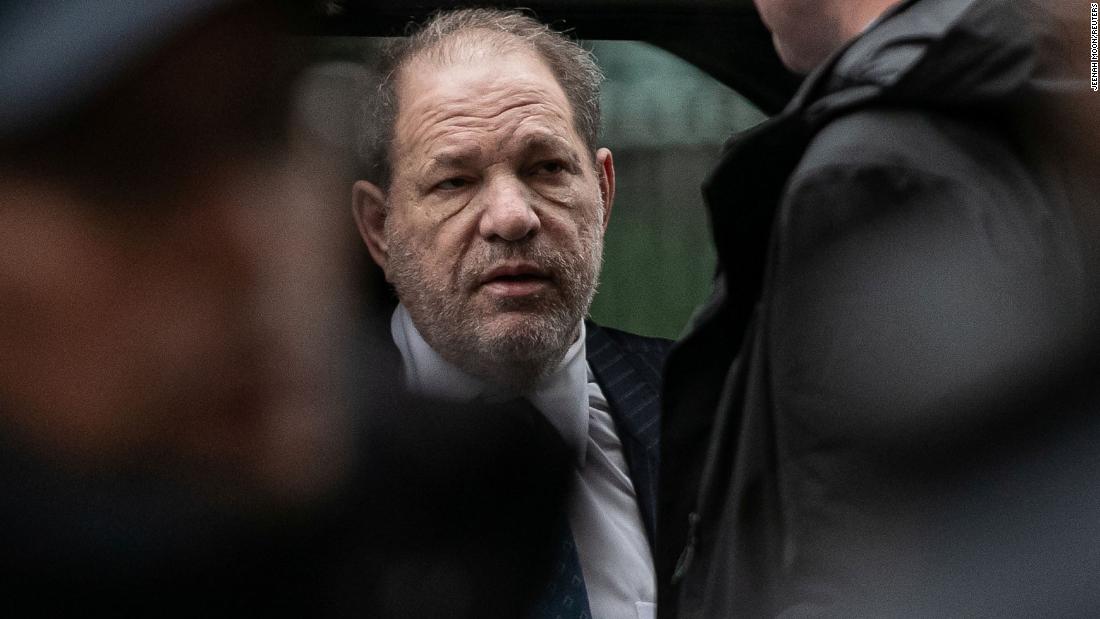 While in an ambulance on his way to Rikers Island jail, Harvey Weinstein was redirected to Bellevue Hospital, according to his spokesperson Juda Engelmayer. 
Weinstein was taken to the hospital after feeling chest pains and having heart palpitations and high blood pressure, according to his attorney Donna Rotunno.
Rotunno said Weinstein "is OK."
Weinstein is expected to remain at the hospital this evening and potentially overnight, Engelmayer said. When he is released from the hospital, he is expected to be transferred to Rikers Island. 
4:45 p.m. ET, February 24, 2020
Weinstein is being transferred to NYC Department of Corrections' custody
Disgraced movie mogul Harvey Weinstein has been remanded into custody and is being transferred to New York City Department of Corrections, the department said in a statement.
"This individual has been remanded and is being transferred into our custody. We are unable to provide further information at this time," department spokesperson Peter Thorne said.
Weinstein was found guilty of criminal sex act and rape. His sentencing is set for March 11.
4:24 p.m. ET, February 24, 2020
Weinstein's lawyer: "I don't know if Harvey Weinstein could get a fair trial"
Harvey Weinstein's attorneys Donna Rotunno and Damon Cheronis said it was impossible for Weinstein to get a fair trial.
"I don't know if Harvey Weinstein could get a fair trial," Rotunno said when asked if Weinstein had a fair trial. "We couldn't find one person who had never heard anything about this."
Cheronis noted, "it's not even the juror's fault" and said the public had been "inundated" with headlines and details about the allegations.
Rotunno said she was "conflicted" about the outcome, since Weinstein was found guilty of two counts and acquitted on others.
"We did a good job, and we worked as hard as we possibly could, but it's not the outcome we were looking for," she said.
4:45 p.m. ET, February 24, 2020
Weinstein's attorneys discussed his medical issues in court today
Harvey Weinstein's attorneys told the judge at today's hearing that he is under the care of five doctors and takes various medicines. Additionally, he receives shots in his eyes, according to his attorneys who spoke in court about these concerns after the verdict was delivered.
"He's dealing with the remnants of his back operation which was not successful. He's in need of the walker. He takes a list of different medicines. Judge, he's currently receiving shots in his eyes so he does not go blind."
Weinstein's attorneys said Weinstein could be in danger if these medical issues are not addressed.
"As we believe putting him in custody at this point before he can get some of the issues taken care of and proper documentation of them would not only put Mr. Weinstein in danger, but the New York penal institution also because they will have to care for him and be responsible for these issues," his attorneys said.
Judge James Burke said he doesn't doubt "the severity of his medical conditions" as he set the sentencing date of March 11.
Burke acknowledged he doesn't oppose Weinstein going to the infirmary should the Department of Corrections place him there and compared the infirmary to "protective custody."
3:10 p.m. ET, February 24, 2020
Harvey Weinstein booked at Rikers
Harvey Weinstein has been incarcerated at New York's Rikers Island jail. He has been assigned a New York state ID: 06581138Z.
He is listed as 5'11" and 210 pounds with brown hair and brown eyes.
The New York City Department of Corrections does not list any particular facility though Weinstein's team has asked for the North Infirmary Unit (NIU) at Rikers Island, per his lawyers' statement.
2:32 p.m. ET, February 24, 2020
What it's like outside the New York courthouse after the Weinstein verdict
Harvey Weinstein was found guilty of committing a criminal sex act in the first degree involving one woman and rape in the third degree involving another woman. A New York jury acquitted the Weinstein on the more serious charge of predatory sexual assault.
CNN's Jean Casarez is outside the courthouse now:
2:29 p.m. ET, February 24, 2020
Weinstein's lawyers want him in a special unit while in jail
Weinstein's defense team said in a statement that "issues" in the trial "will be addressed to a higher court" when they file their client's appeal
Weinstein's lawyers Donna Rotunno and Damon Cheronis also said they are working to have Weinstein brought to a special unit at Rikers' Island jail in New York.
"We are working on assuring that Mr. Weinstein is brought to Rikers' Island's North infirmary unit (NIU) at the Anna M Kross Center complex or in protective custody so that he can get the best medical supervision and care possible." 
1:28 p.m. ET, February 24, 2020
Weinstein attorney: "We'll absolutely be appealing"
Lead defense attorney Donna Rotunno said they're "disappointed" in the verdict and will be filing an appeal.
"We'll absolutely be appealing," Rotunno said. "The fight is not over."
On Weinstein being remanded to custody, Rotunno said, "We don't feel good about that at all."
She added that Weinstein is "unbelievably strong."
Rotunno said that she will talk more about the trial after the appeals process is over.
1:22 p.m. ET, February 24, 2020
Victim's attorney and Weinstein defense lawyer just had a tense exchange outside the court
Attorney Gloria Allred, who represents Weinstein accuser Miriam Haley, just spoke to one of Weinstein's attorneys, Arthur Aidala, in front of reporters.
Allred said "you're not going to silence me again" loud enough for the cameras to hear.
Aidala, who was standing with lead defense attorney Donna Rotunno, then said "alright, so then you guys aren't going to hear from us," and walked off.
Weinstein was convicted of committing a criminal sex act in the first degree against Haley.
Allred called today a "legal reckoning" adding that the women sacrificed their right to privacy in the interest of justice, and told the truth under oath despite the "unfair" attacks on their credibility by the defense lawyers.
"It's no longer business as usual in the United States. This is the age of empowerment of women. And you cannot intimidate them anymore," Allred said. "Women will not be silenced."
"This justice has been a long time coming but we're finally here and this is not the end," she added, referencing the case against Weinstein in Los Angeles – which she said she believes will move forward following Weinstein's sentencing.