At least 3 dead in California garlic festival shooting
10:29 a.m. ET, July 29, 2019
2020 Democrats react to garlic festival shooting: "This is sickening"
Several 2020 candidates posted on social media about the shooting:
Sen. Bernie Sanders said, "This is sickening to wake up to." He added: "Our corrupt political system, which is controlled by the gun lobby, has a lot of waking up to do.
Rep. Beto O'Rourke tweeted he is sending "love to all who are hurting tonight," and said, "We can accept this as our fate or we can change it."
Sen. Cory Booker wrote, "My heart is already breaking for the victims and their families and the survivors. The gun violence epidemic in this country is out of control."
Former Vice President Joe Biden asked on Twitter, "How many more families will have to lose a loved one before we fix our broken gun laws?"
Sen. Kamala Harris called the incident, "Simply horrific." She added, "I'm grateful to the first responders who are on the scene in Gilroy, and my thoughts are with that community tonight."
Sen. Kirsten Gillibrand called gun violence a "national crisis." She added, "We can't keep ignoring this."
Sen. Amy Klobuchar tweeted "there are never adequate words to describe these tragedies." She said, "Action is needed. "
Montana Gov. Steve Bullock tweeted, "No one should fear for their family's safety when they go to a festival, to school, or to a movie."
Rep. Tim Ryan called the shooting "heart breaking." He added, "There's no end to gun violence in our communities until we take action."
Rep. Julian Castro said, "Thoughts and prayers aren't enough—we must do more to prevent these tragic attacks."
Read the tweets:
9:42 a.m. ET, July 29, 2019
What you need to know about the garlic festival where the shooting took place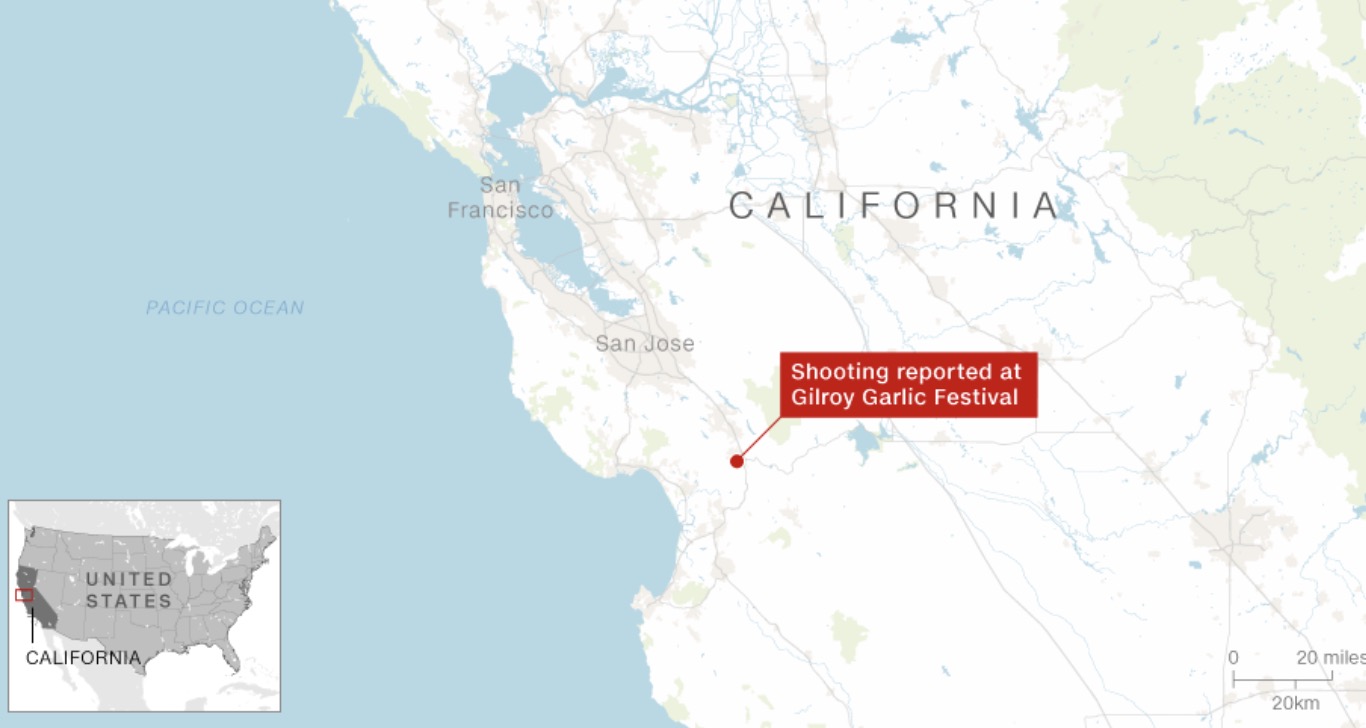 At least three people were killed and a dozen more were injured yesterday after a shooting at the Gilroy Garlic Festival in Northern California.
Gilroy has a population of about 57,000 people and is widely known for its garlic production and processing.
About the festival: The annual food festival is held at Christmas Hill Park in Gilroy, about 30 miles southeast of San Jose. Sunday was the festival's final day. It routinely attracts 100,000 people, according to previous attendance records.
The festival dates back to 1979, when the first festival was held.
9:08 a.m. ET, July 29, 2019
At least 12 people injured in shooting
At least 12 people were injured in the Sunday shooting at the Gilroy Garlic Festival in Northern California, according to emergency officials.
One person was hurt and took themselves to the hospital, per Capt. Mitchell Matlow, and as a result was not included in the initial count, which reported that 11 people had been injured.
Matlow had no information on the nature and seriousness of the injuries.
Another three people were killed, including a 6-year-old boy.
8:57 a.m. ET, July 29, 2019
"Who'd shoot up a garlic festival?"
Video from the Sunday shooting in Gilroy, California, showed the moment festival goers started running from the scene.
"What's going on," a woman can be heard asking. "Who'd shoot up a garlic festival?"
Three people were killed, including a 6-year-old boy, at a beloved annual event in a Northern Californian community.
The suspected gunman has been identified by law enforcement, but his motive in shooting up an event attended by nearly 100,000 people each year, many of them families, is still unclear.
The video, filmed by @wavyia, has been viewed more than 1 million times since she shared it on Twitter.
8:44 a.m. ET, July 29, 2019
Gilroy Mayor: "It's been a long and sad day"
There won't be many new details coming later today in the Gilroy shooting investigation, according to the town's mayor Roland Velasco.
Velasco said there will be a press conference at 10 a.m. local time (1 p.m. ET) at the Gilroy Police Department, but "there won't be a lot of new information."
Instead, authorities will be "setting the expectations for what the investigation will look like during the day."
"It's been a long and sad day," Velasco wrote in a Facebook post.
The mayor also posted a local emergency proclamation, which allows the city to request personnel, equipment and facilities while it tracks expenses that could get reimbursed by the state.
"This is critically important since we have police, fire and FBI personnel that will remain on-scene for the next few days processing the crime scene," Velasco said.
8:24 a.m. ET, July 29, 2019
Mass shootings are a "new normal" in the US
Mass shootings like the one that struck the Garlic Festival in Gilroy, California, have become the "new normal" in the US, James Gagliano, a CNN law enforcement analyst, said Monday.
But the retired FBI supervisory special agent said it was "extremely fortuitous" that armed law enforcement officers were on the scene swiftly and able to engage the gunman within one minute.
Mass shootings are often over in 5 to 10 minutes, with the gunman typically engaging with police or leaving the scene before authorities arrive, according to Gagliano.
The fast work by local law enforcement prevented "far more damage" from occurring, Gagliano added.
7:50 a.m. ET, July 29, 2019
What we know and don't know
If you're just joining us, here's what we know, and what we don't know, about Sunday's shooting in Gilroy, Northern California.
What we know:
Where it happened: The shooting struck the garlic festival in Gilroy, about 30 miles from San Jose, a beloved annual event in a community known for its garlic production.
The suspect: Investigators have now identified the suspect, who was shot and killed by police, a law enforcement source said Monday morning. Authorities say the crime scene is still active and they are investigating the possibility of a second suspect.
The victims: At least three people are dead and 11 more have been injured, including a 6-year-old boy, officials say. Those injured in the incident are being treated at St. Louise Regional Hospital, Santa Clara Valley Medical Center and Stanford Hospital.
What's next: Police say the ongoing investigation will continue throughout the night, and there will be another press conference in the morning. Meanwhile, they are urging the public to phone in tips or relevant information at (408) 846 0583.
What we don't know:
Motive: The suspected shooter's identity has not been released publicly by authorities, nor has his motive been determined.
Who are the other victims? Stephen Romero, the 6-year-old "loving boy" killed in the shooting, is the only victim who has so far been identified by local authorities. Two other festivalgoers killed in the shooting have yet to be named. Limited details have been circulated about others injured in the shooting, who remain in hospital.
7:46 a.m. ET, July 29, 2019
Two patients being treated at Stanford Hospital
Two patients remain at Stanford Hospital following the shooting at the Gilroy Garlic Festival, according to Julie Greicius, spokeswoman with Stanford Medicine. 
"Two patients were treated at Stanford Hospital after the incident. One was discharged late last night. Early this morning, a new patient arrived by transfer from another hospital for treatment at Stanford. We now have a total of two patients, with no further information available," Greicius said in a statement. 
6:38 a.m. ET, July 29, 2019
6-year-old killed in shooting was "loving boy"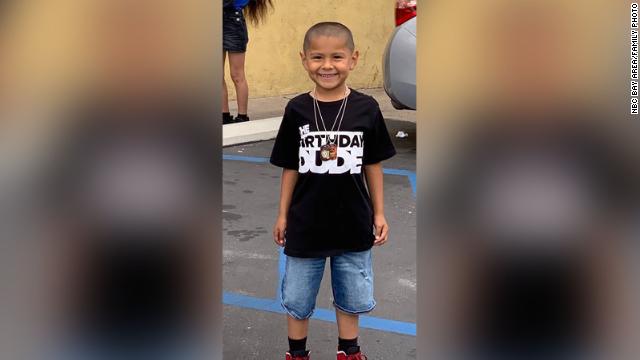 Stephen Romero, the 6-year-old killed during the Gilroy Garlic Festival shooting, was a "loving boy," who will be remembered by his family as "kind" and "happy."
Stephen's grandmother, Maribel Romero, told CNN affiliate KGO-TV that she was at home when she received a call informing her that he had been shot.
By the time she was able to get to the hospital, Romero said her grandson was already dead.
She told KGO-TV he would be remembered as "always kind, happy and, you know, playful."
"I just hope there is justice and they catch the last person or the other person and that there's justice. I want justice for my grandson," she added.
According to Romero, Stephen's mother and his other grandmother were also shot in the incident. Both have been hospitalized, she said.