At least 3 dead in California garlic festival shooting
1:09 p.m. ET, July 29, 2019
Instagram account bearing the suspect's name references garlic festival, white supremacist book
Instagram posts bearing the name of the suspected Gilroy Garlic Festival gunman mentioned a white supremacist book and showed a picture of people walking around the event shortly before the shooting began.
One included a photograph of the Garlic Festival with the words "Ayyy garlic festival time Come get wasted on overpriced sh**."
The other, made about an hour later with a photo of a sign of Smokey Bear with a sign reading "Fire Danger High Today" said "Read Might is Right by Ragnar Redbeard. Why overcrowd towns and pave more open space to make room for hordes of mestizos and Silicon Valley white tw**s?"  
The Instagram account was started four days ago, with the handle santino_williamlegan.
A mestizo is a person of mixed descent, usually white and Hispanic, or white and American Indian.   
"Right is Might" was first published in the late 1800's and has been described as a white supremacist text, promoting anarchy, and vilifying Christianity, calling Jesus the "true Prince of Evil." The natural order, according to the book, is a world at war in which the strong must vanquish the weak, and white men must rule over those of color. 
Instagram has taken down the profile.
11:11 a.m. ET, July 29, 2019
Suspect in mass shooting identified as Santino William Legan
The suspect in the Gilroy Garlic Festival shooting has been identified by investigators as 19-year-old Santino William Legan, two law enforcement officials tell CNN.
This morning, CNN spotted multiple police cars at the home of Legan's father in Gilroy, CA.
11:10 a.m. ET, July 29, 2019
Here's what it looks like at the shooting scene
Officials are working to learn more about what happened after a shooting at the Gilroy Garlic Festival in Northern California.
A gunman opened fire at the festival Sunday, killing 3 people and injuring at least 12 others.
Several law enforcement agencies are processing the scene today.
Here's what it looked like Monday morning: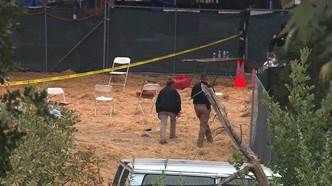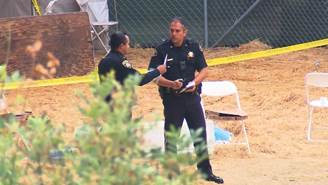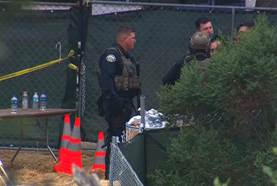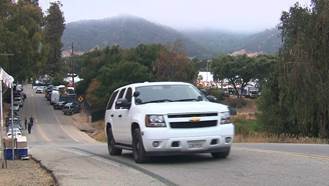 10:19 a.m. ET, July 29, 2019
Trump: We must "stop evil, prevent violence and protect the safety of all Americans"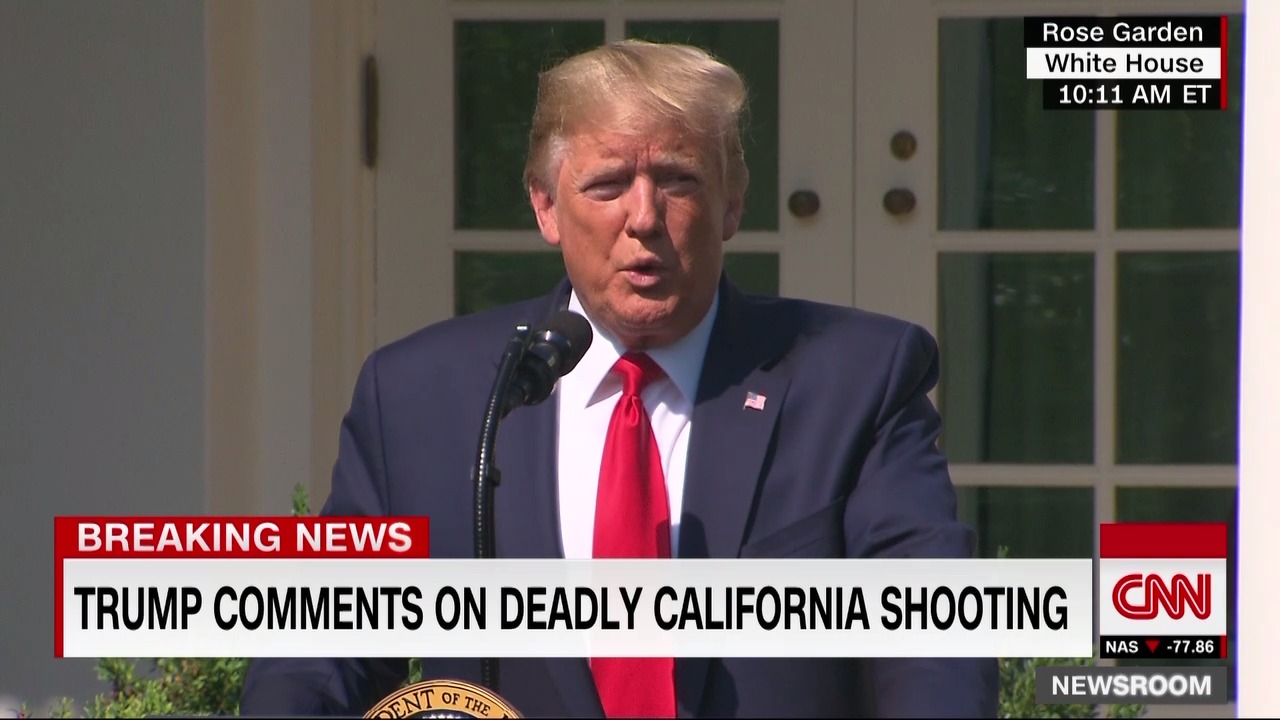 President Trump, speaking from the White House, thanked the law enforcement officers who responded to the deadly garlic festival shooting.
"We thank the brave members of law enforcement. They never let us down, who swiftly killed the shooter," he said.
Trump called the perpetrator "a wicked murderer" who "opened fire and killed 3 innocent citizens including a young child."
He offered prayers to the victims.
"We reaffirm our national will to answer violence with the courage, determination and resolve of one American family," he said.
He continued: "We will continue to work together as communities and as citizens to stop evil, prevent violence and protect the safety of all Americans."
10:20 a.m. ET, July 29, 2019
The Gilroy Garlic Festival has raised millions for local charities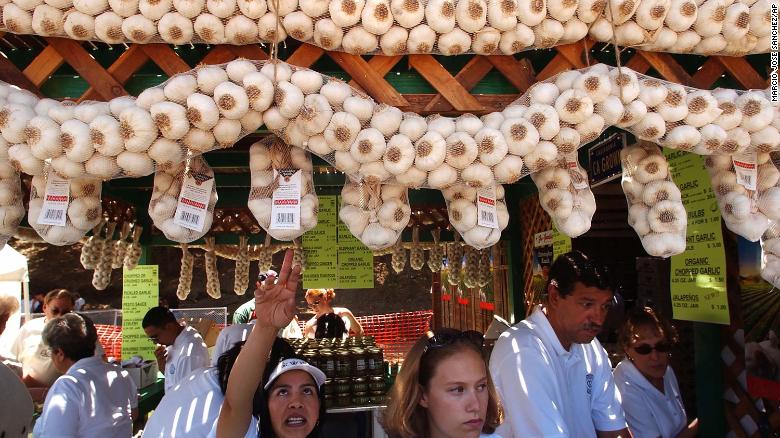 The Gilroy Garlic Festival is more than just a weekend of concerts and cooking demonstrations –– it has also raised millions for local nonprofits.
Established to celebrate garlicky foods and the tight-knit Gilroy community, the event has raised more than $11.7 million for local charities since 1979, organizers said. In 2018, organizers donated more than $255,000 to 170 different groups, including churches and school sports teams.
The culinary festival attracts more than 100,000 visitors every year to the small city of Gilroy, which calls itself the "garlic capital of the world," according to organizers.
10:29 a.m. ET, July 29, 2019
2020 Democrats react to garlic festival shooting: "This is sickening"
Several 2020 candidates posted on social media about the shooting:
Sen. Bernie Sanders said, "This is sickening to wake up to." He added: "Our corrupt political system, which is controlled by the gun lobby, has a lot of waking up to do.
Rep. Beto O'Rourke tweeted he is sending "love to all who are hurting tonight," and said, "We can accept this as our fate or we can change it."
Sen. Cory Booker wrote, "My heart is already breaking for the victims and their families and the survivors. The gun violence epidemic in this country is out of control."
Former Vice President Joe Biden asked on Twitter, "How many more families will have to lose a loved one before we fix our broken gun laws?"
Sen. Kamala Harris called the incident, "Simply horrific." She added, "I'm grateful to the first responders who are on the scene in Gilroy, and my thoughts are with that community tonight."
Sen. Kirsten Gillibrand called gun violence a "national crisis." She added, "We can't keep ignoring this."
Sen. Amy Klobuchar tweeted "there are never adequate words to describe these tragedies." She said, "Action is needed. "
Montana Gov. Steve Bullock tweeted, "No one should fear for their family's safety when they go to a festival, to school, or to a movie."
Rep. Tim Ryan called the shooting "heart breaking." He added, "There's no end to gun violence in our communities until we take action."
Rep. Julian Castro said, "Thoughts and prayers aren't enough—we must do more to prevent these tragic attacks."
Read the tweets:
9:42 a.m. ET, July 29, 2019
What you need to know about the garlic festival where the shooting took place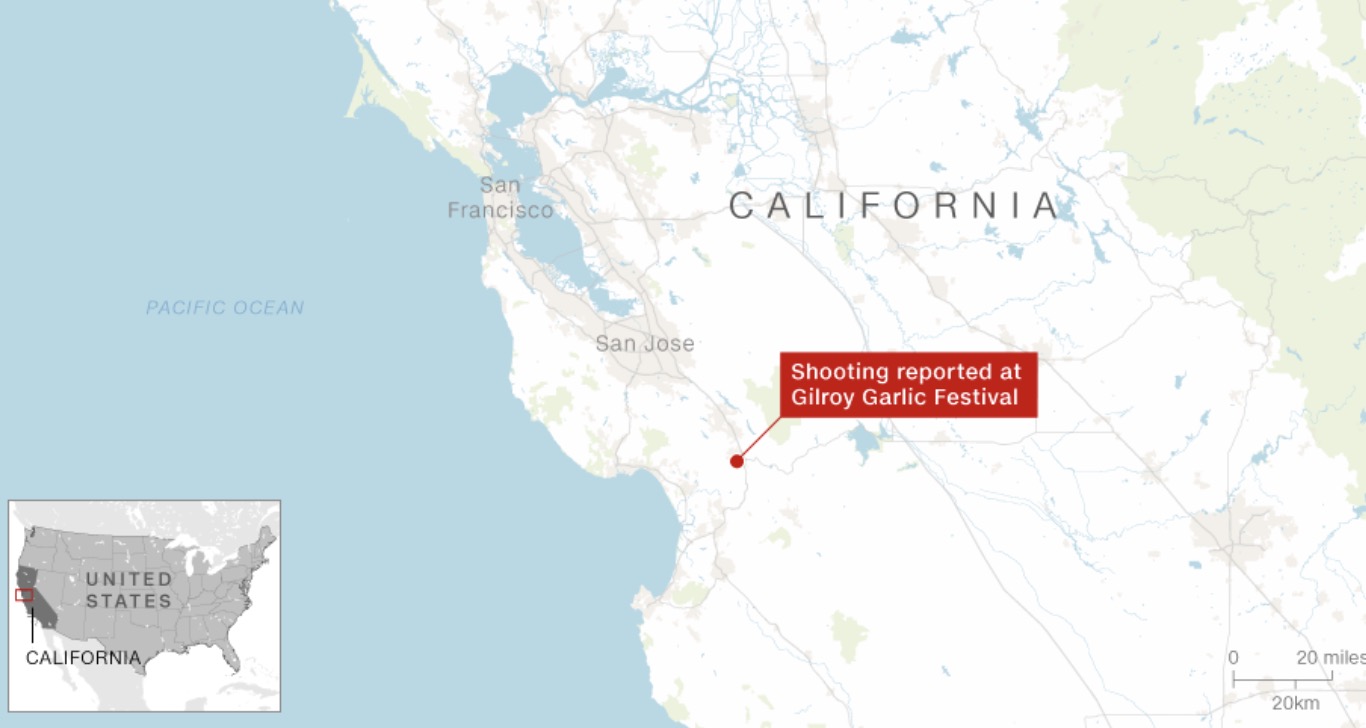 At least three people were killed and a dozen more were injured yesterday after a shooting at the Gilroy Garlic Festival in Northern California.
Gilroy has a population of about 57,000 people and is widely known for its garlic production and processing.
About the festival: The annual food festival is held at Christmas Hill Park in Gilroy, about 30 miles southeast of San Jose. Sunday was the festival's final day. It routinely attracts 100,000 people, according to previous attendance records.
The festival dates back to 1979, when the first festival was held.
9:08 a.m. ET, July 29, 2019
At least 12 people injured in shooting
At least 12 people were injured in the Sunday shooting at the Gilroy Garlic Festival in Northern California, according to emergency officials.
One person was hurt and took themselves to the hospital, per Capt. Mitchell Matlow, and as a result was not included in the initial count, which reported that 11 people had been injured.
Matlow had no information on the nature and seriousness of the injuries.
Another three people were killed, including a 6-year-old boy.
8:57 a.m. ET, July 29, 2019
"Who'd shoot up a garlic festival?"
Video from the Sunday shooting in Gilroy, California, showed the moment festival goers started running from the scene.
"What's going on," a woman can be heard asking. "Who'd shoot up a garlic festival?"
Three people were killed, including a 6-year-old boy, at a beloved annual event in a Northern Californian community.
The suspected gunman has been identified by law enforcement, but his motive in shooting up an event attended by nearly 100,000 people each year, many of them families, is still unclear.
The video, filmed by @wavyia, has been viewed more than 1 million times since she shared it on Twitter.