At least 3 dead in California garlic festival shooting
12:23 a.m. ET, July 29, 2019
Eyewitness: 12-year-old cousin got shot, had "a hole in her leg"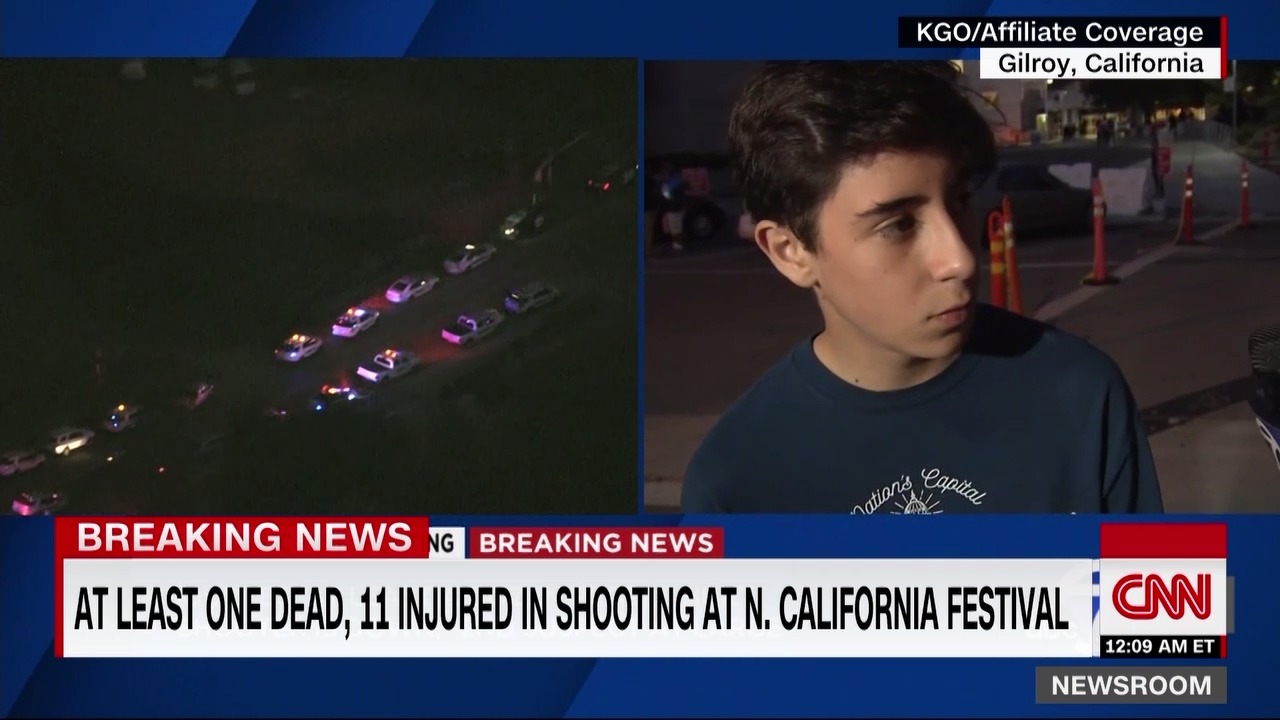 Speaking to CNN affiliate KGO-TV, an eyewitness at Gilroy described fleeing the scene of the shooting with his 12-year-old cousin, who had been shot.
"We saw a hole in her leg and she was crying," he told reporters.
"She was hurting a lot," he said. "She was running fast -- that's why we didn't know if she got shot, she was running normally ... It was probably just adrenaline because she wanted to get out of that situation."
The girl has since been driven to the hospital, he said.
At least one person has died from the shooting, and at least 11 are injured, officials say.
12:13 a.m. ET, July 29, 2019
Gilroy garlic producer: The shooting has "shattered" the beloved annual garlic festival
Christopher Ranch, one of the major garlic producers in Gilroy, said the shooting at the Gilroy Garlic Festival had "shattered" the small city's beloved annual event.
"Today the unimaginable happened. Our community has worked for over 41 years to bring together our hometown of Gilroy. And in a series of selfish acts, the unspeakable has shattered what we've always known to be a safe and united cultural experience. We are still gathering information, but we want our hometown and the world to know that we will rise above this, that we will come together, and always champion the Gilroy community," the company said on Facebook.
Gilroy is known for its garlic — the town actually smells of garlic most of the year. The Garlic Festival, a three-day event, celebrates this cornerstone of the community with food, drinks, live entertainment, and cooking competitions, according to its website.
Sunday was supposed to be the festival's final day. It was held at Christmas Hill Park, about 30 miles away from San Jose.
12:10 a.m. ET, July 29, 2019
Music performers and witnesses dove under the stage when gunshots began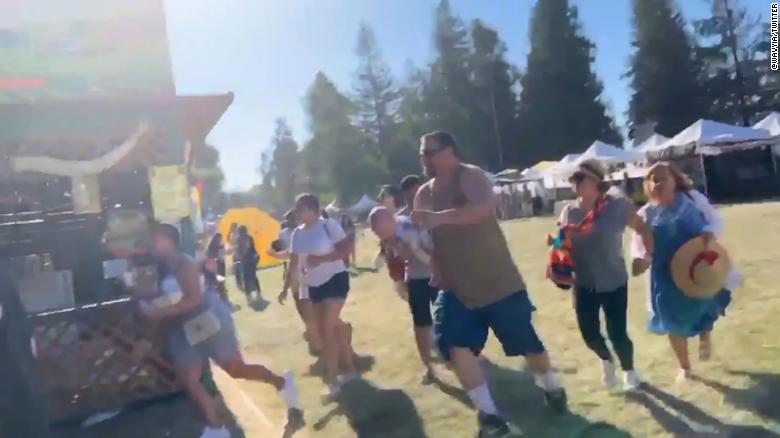 A witness at the shooting told CNN that the Gilroy Garlic Festival erupted into chaos when the shooting began around 5:30 p.m. local time (8:30 p.m. ET).
"You could hear bullets, and the bullets were hitting the ground. You can see them go up, and that's when I called out, 'It's a real gun.' So, the crew and the band ran and hid underneath the stage. So, we were hiding underneath the stage. We could hear more gunfire happening. Eventually some gunfire happened and bullets were hitting the stage that we were hiding underneath. And then eventually it stopped," the witness told CNN.
He added that while he was under the stage, he was texting his family, "telling them I love them because I had no idea what was going to happen."
Christian Swain, who had been performing with his band when the shooting began, had reached the end of the set and was about to play one last song.
"About halfway into it, we heard about three pops to the left-hand side of the stage. And, you know, it's a little confusing. We didn't know what that was. And then all of a sudden there was a whole volley of shots that all of a sudden became very obvious, so we ran off the stage," Swain said.
Watch it here:
12:09 a.m. ET, July 29, 2019
At least 11 people were injured in the shooting
At least 11 people have been injured, all suffering from gunshot wounds, according to Joy Alexiou, a spokesperson for Santa Clara Valley Medical Center.
The victims are in serious to fair condition, Alexiou said. 
Six people were transported to St. Louise Regional Hospital and another five were transported to Santa Clara Valley Medical Center, Alexiou said.
11:54 p.m. ET, July 28, 2019
Officials have recovered a firearm and ammunition
Law enforcement on the scene in Gilroy, California, have recovered a firearm and rifle ammunition, officials told CNN.
At least one person has died from the shooting, with multiple more injured, officials said. Police, firefighters, and emergency personnel are also on the scene.
11:56 p.m. ET, July 28, 2019
At least one dead and multiple people injured in Gilroy
At least one person is dead and multiple people were injured in a shooting in Gilroy, California, according to law enforcement officials.
11:42 p.m. ET, July 28, 2019
Gilroy police: "This is still an active crime scene"
The Gilroy Police Department are warning residents not to come to Christmas Hill Park, where a shooting has occurred.
"This is still an active crime scene," the police department tweeted.