Carolinas flood after Florence
11:35 a.m. ET, September 17, 2018
Florence death toll rises to 20 in the Carolinas
The body of an elderly man was found next to his submerged sedan this morning, according to North Carolina's Union County Sheriff Department spokesman Tony Underwood.
Underwood says a driver found the elderly man's body this morning while driving on Landsford Road in Union County.
Underwood says this is the second storm related death in Union County.
There are now a total of 20 storm-related deaths in the Carolinas.
11:36 a.m. ET, September 17, 2018
Elizabethtown, North Carolina, has gotten the most rain
Elizabethtown is now the North Carolina city with the most Florence rain, according to the National Weather Service. So far, it's gotten a reported 35.93 inches since Thursday afternoon.
Earlier, Swansboro had been the North Carolina city with the most rain. It's now No. 2, with almost 34 inches of rain.
Here's a breakdown of rain totals across the state:
Elizabethtown: 35.93 inches                   
Swansboro: 33.89 inches                  
Gurganus: 30.38 inches                                      
Hofmann Forest: 29.62 inches                                      
Hampstead: 29.52 inches                                      
Sunny Point: 27.44 inches                
Oak Island: 26.98 inches                                      
Wilmington: 26.58 inches                                    
Whiteville: 25.91 inches                                      
Newport/Morehead City: 25.20 inches               
Mount Olive: 25.04 inches                   
11:10 a.m. ET, September 17, 2018
Storm-related fatalities in the Carolinas now 19 people, including 1-year-old boy
The body of 1-year old Kaiden Lee-Welch was recovered on Monday, according to the Union County Sheriff Department, raising the death toll in the storm and its aftermath to 19.
Search and rescue teams spent several hours on Sunday searching for him after he was swept away in rushing waters from Richardson Creek, according to the Union County Sheriff Department.
Union County Sheriff Department described what happened on their Facebook page. 
"Union County Sheriff's detectives believe the child and his mother were traveling east on N.C. 218 going toward Wadesboro. The mother drove around the barricades on N.C. 218 and continued traveling east until her vehicle encountered rushing water flowing across the road. Her vehicle left the roadway and came to rest amongst a group of trees. She managed to free herself and Kaiden, who was in a car seat, but lost her grip on him in the rushing water."
10:54 a.m. ET, September 17, 2018
This Chapel Hill shopping center flooded so much you can paddle board in it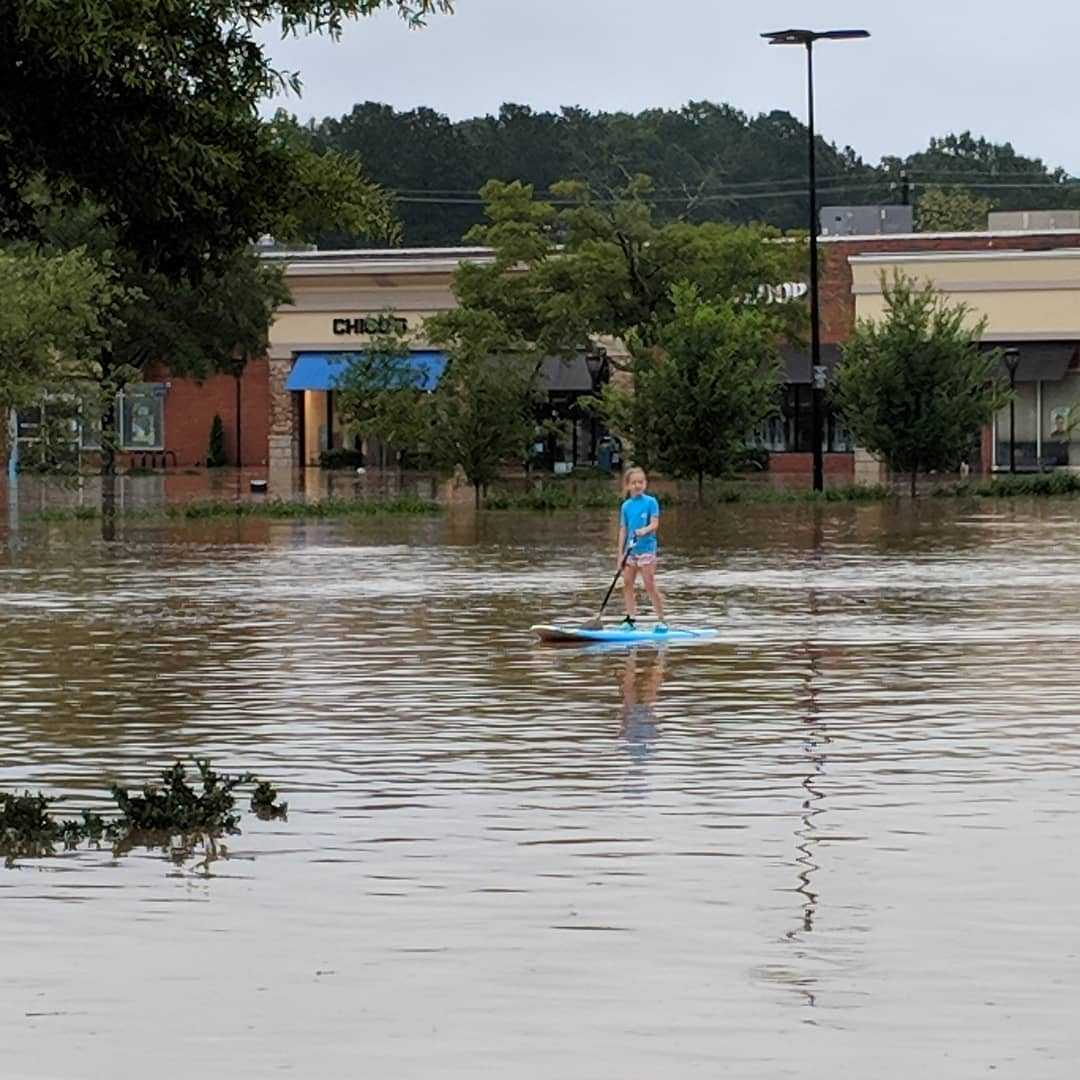 Chapel Hill, North Carolina — the college town home to the University of North Carolina Tar Heels — experienced flash flooding over night.
Resident Michael Johnson shared this photo of a flooded shopping center Monday morning.
"I was there yesterday. there was no standing water. It was raining moderately but no big deal," Johnson told CNN via Instagram. "I was surprised to see the quick change in conditions overnight," he added. 
10:39 a.m. ET, September 17, 2018
This North Carolina river could see major flooding today
The National Weather Service reports that the Cape Fear River in North Carolina is continuing to rise, and parts of it will flood today.
The area near Fayetteville is expected to see major flooding today, according to the service:
Meanwhile, the river near Lillington will likely enter moderate flooding:
10:14 a.m. ET, September 17, 2018
More than half a million customers without power
More than 500,000 customers across North and South Carolina are without power this morning.
488,551 power outages statewide in North Carolina   
16,385  power outages statewide in South Carolina
504,936 total customers without power in both states
But keep in mind: These numbers reflect the customers without power, not people. A lot of those customers might have multiple people in their households, meaning the number of people without power could be even higher.
9:50 a.m. ET, September 17, 2018
More than 500 price-gouging complaints in North Carolina
North Carolina Attorney General Josh Stein says his office received more than 500 complaints relating to price gouging.
State law says businesses aren't allowed to spike prices during any natural disaster for necessary items like food, water and hotel rooms.
Those most common reports of price gouging during Hurricane Florence has been on gas and water. The attorney general says his office has also received reports of hotels over-charging evacuees.
Businesses that charge too much may have to refund customers and pay up to $5,000 for every violation.
To report potential price gouging in North Carolina: call 1-877-5-NO-SCAM or file a complaint at www.ncdoj.gov.