Deadly shooting in El Paso, Texas
3:22 p.m. ET, August 3, 2019
Three suspects in custody, mayor says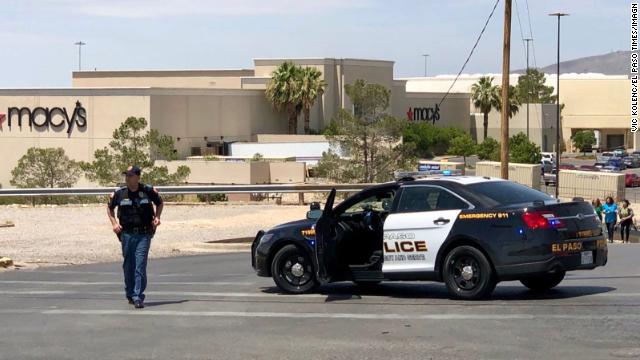 Three suspects are in custody after the shooting in El Paso, the city's mayor told CNN's Wolf Blitzer.
"This is a tragedy that I'm having a hard time getting my arms around, frankly," Mayor Dee Margo said with his voice breaking.
Multiple people are dead, and several people have been transported to the hospital, El Paso Police Sgt. Enrique Castillo said in a press briefing.
Police said they are searching multiple scenes in addition to the Walmart where the shooting reportedly took place. Castillo said there is no imminent threat to the community.
A reunification center has been set up at MacArthur Intermediate School in El Paso, Castillo added.
Watch El Paso Mayor Dee Margo's interview with Wolf Blitzer:
7:30 p.m. ET, August 3, 2019
2020 candidates respond to El Paso, Texas, shooting
New Jersey Sen. Cory Booker and Montana Gov. Steve Bullock reacted early to the shooting situation in El Paso, Texas, as information emerged Saturday afternoon.
At a public union forum in Las Vegas, Booker told reporters that he didn't have a lot of the details yet.
But he began to passionately advocate for people to join together for a "movement" now — and not to wait for Election Day — to act on passing gun reforms "before it happens to yet another community, before another person dies."
"I just want to say we are in this unimaginably just distraught moment in this country where we seem to be almost accepting this idea that these are going to be a regular occurrence," Booker said. "And so I have had enough of this, especially living in a community where gun shots are all too regular."
"We have to, in this election, have leaders who are willing to stand up and say I'm not going to let this issue be determined by what the interests of the corporate gun lobby are," Booker said.
Booker later posted to Twitter, "Enough. We need to end this national nightmare."
Bullock said "my (heart goes) out to the folks in Texas."
"I think if we could ever look at this as a public health issue — not just a political issue — we could make meaningful progress," Bullock said.
Former San Antonio Mayor Julián Castro took to Twitter to call the shooting, "truly devastating" and asked for people to "stay safe."
Democratic presidential candidate Marianne Williamson, a spiritual book author and native of Houston, offered prayers for the inhabitants of El Paso, as well as prayers "for all the rest of us as well, that we might summon up the courage to remove this scourge from our midst."
Democratic presidential hopeful and South Bend, Indiana, Mayor Pete Buttigieg tweeted, "My grandmother used to take me to Cielo Vista Mall. Now it's one more mass shooting scene. How many more must grieve before we act?
Texas Sen. Ted Cruz also addressed the shooting, tweeting, "My heart is with everyone in El Paso struck by this unspeakable evil. Heidi & I are praying for the victims & their families & are grateful for the first responders, local authorities & law enforcement working tirelessly to bring the perpetrator of this depraved act to justice."
"There are millions of people in Texas and across the country standing behind you," he added.
2:50 p.m. ET, August 3, 2019
The FBI is responding to the shooting
The Federal Bureau of Investigation is responding to the shooting in El Paso.
Gov. Greg Abbott wrote on Twitter that the Texas Department of Public Safety is assisting local law enforcement and federal authorities in bringing the situation to an end.
"In El Paso, the Texas Dept. of Public Safety is assisting local law enforcement & federal authorities to bring this tragedy to the swiftest & safest possible conclusion," Abbott wrote. "We thank all First Responders for their courageous response & urge all area residents to remain safe."
2:39 p.m. ET, August 3, 2019
Multiple people have been killed, city official says
Multiple people have been killed in the shooting in El Paso, according to Olivia Zepeda, Chief of Staff to El Paso's mayor.
Zepeda said suspects were in custody, but did not say how many people were injured or how many suspects there were.
El Paso Police tweeted that the scene is still active.
3:24 p.m. ET, August 3, 2019
Police say they have reports of multiple shooters
Police say they have reports of multiple shooters at the scene near the Cielo Vista Mall in El Paso. They added that the scene is still active and urged people to avoid the area.
"Scene is still Active. We have multi reports of multiple shooters. Please avoid area police conducting search of a very large area. Media staging will be given when area is secure," the department wrote.
4:09 p.m. ET, August 3, 2019
Beto O'Rourke urges his hometown to 'stay safe'
Former Rep. Beto O'Rourke and 2020 Democratic presidential candidate responded to the news of the shooting on Twitter.
"Truly heartbreaking. Stay safe, El Paso. Please follow directions of emergency personnel as we continue to get more updates," he wrote.
O'Rourke was born in El Paso, Texas, and was a member of the El Paso City Council from 2005-2011.
In 2012, he was elected as the US House Representative for Texas' 16th congressional district, which serves El Paso and its surrounding area.
Veronica Escobar, the district's current US representative, tweeted, "Utterly heartbroken by the developing news in El Paso. Monitoring the situation and in communication with our law enforcement. Please stay safe."
2:18 p.m. ET, August 3, 2019
Nearby businesses are on lockdown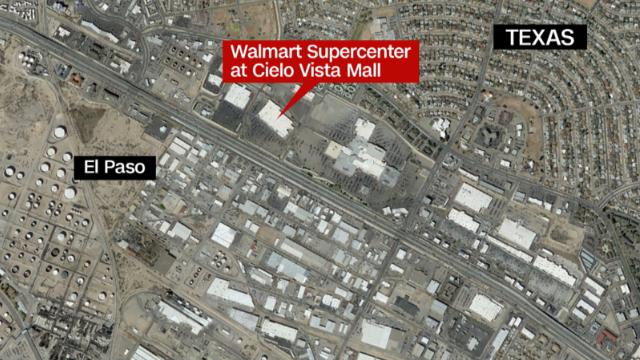 At least three businesses in the area are on lockdown.
Three Walmart employees took refuge at a Landry's Seafood house, restaurant manager Oscar Collazo told CNN. He said the women appeared "shook up" but not injured.
Landry's had already gone on lockdown, Collazo said, but opened its doors when the Walmart employees ran there.
"We never thought it would be so close to us this time," he said. "You see on the news all the time, but you don't think it could happen here until it does."
The nearby Hooters and Red Lobster are also on lockdown. Employees at those restaurants told CNN they are safe and see a lot of police, helicopters and people running around outside.
2:44 p.m. ET, August 3, 2019
El Paso police are responding to an active shooting
Police in El Paso, Texas, are responding to an active shooter in the area of the Cielo Vista Mall, the agency tweeted.
"Scene is still active," the police wrote, adding, "avoid the area."
The Cielo Vista mall is in an area full of chain storers and restaurants, including Walmart, Hooters and Red Lobster.
It is about 2 miles south of the El Paso International Airport.
The first homes in Cielo Vista were built in 1953. By the 1960s, it had become one of the city's "most desirable residential communities," according to a Cielo Vista Neighborhood Action Plan filed with the city in May 2010.