Deadly shooting in El Paso, Texas
5:49 p.m. ET, August 3, 2019
Sources identify suspect in El Paso shooting
The suspect in the deadly shooting at an El Paso shopping center is Patrick Crusius, 21, of Allen, Texas, three sources tell CNN.
The information comes from two federal law enforcement sources and one state government source. The federal sources tell CNN that investigators are reviewing an online writing posted days before the shooting that may speak to a motive.
The online posting was believed to be written by Crusius, the sources said, but that has not been confirmed.
In a news conference, Sgt. Robert Gomez of the El Paso Police Department told reporters the suspect in custody is a white male in his 20s.
11:43 a.m. ET, August 4, 2019
Forever 21 employee says crowds of people hid inside the mall for hours
Inside Cielo Vista mall, crowds of people hid inside retail stores for hours after hearing reports of an active shooter. 
Brandon Chavez, 26, an employee at Forever 21, had just started his shift when he saw customers and staffers running to the stock room to take shelter. 
"There were about 20 children and adults, plus employees hiding, all cramped like sardines. Most of us were desperate, some were on their phones, there were girls crying, people trying to talk to each other and women with babies in their arms."
Store employees had closed the glass doors but he could see police officers walking around the mall and evacuating from other stores. 
After police officers knocked on the store's doors, Chavez says his group had to leave the store, forming a line with their hands up and running.
5:34 p.m. ET, August 3, 2019
No one was shot at the mall, property owner says
No one was shot at Cielo Vista Mall or on its property, according to Simon Property Group Chief Marketing Officer Mikael Thygesen.
Thygesen says the shooting occurred on Walmart's property and in the Walmart parking lot.
The mall was put on lockdown because of the shooting, Thygesen said.
5:44 p.m. ET, August 3, 2019
What we know about where the shooting took place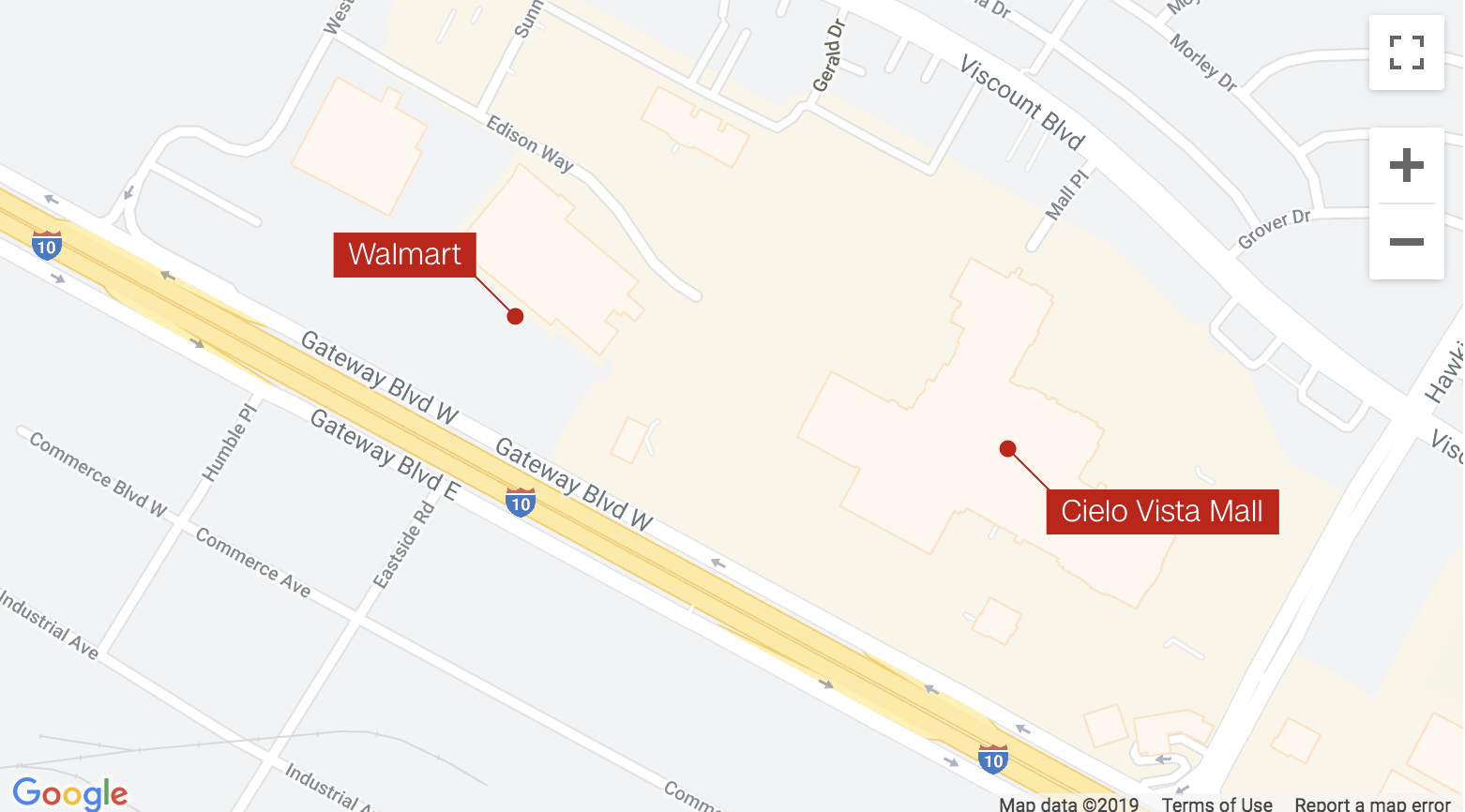 The shooting occurred at a sprawling shopping center on the east side of El Paso, located at the intersection of Interstate 10 and Hawkins Boulevard.
Police say they received reports of gunfire at a Walmart store and Cielo Vista Mall next door, but a spokesperson for Simon Property Group said that no one was shot at the mall or on its property.
The Cielo Vista Mall is the largest mall in El Paso. It also serves the nearby communities of Socorro, Fabens, Ft. Bliss and even the Mexican border city of Ciudad Juárez.
There are also several restaurants, a movie theater, a large bus terminal and a Sam's Club store in the complex.
5:06 p.m. ET, August 3, 2019
Witness: A kid ran inside a store to warn us of the shooting, but no one paid attention
Spc. Glendon Oakly said he was at a sporting goods store inside the Cielo Vista Mall when a child ran inside "telling us there's an active shooter at Walmart."
Oakly told CNN's Wolf Blitzer that no one took the child seriously because of his age and because he was talking about the Walmart nearby, not the mall where they were.
About five to seven minutes later, Oakly said he walked to Footlocker and heard two gunshots.
"I just thought about getting the kids out of the way," he said.
Oakly said Footlocker closed the cage, but some people got it open. He saw many children running around without their parents, so he picked up three kids and ran as fast as he could.
"I wasn't worried about myself," he said. "I was just trying to get those kids out of there."
Listen to Oakly's account:
4:31 p.m. ET, August 3, 2019
Trump weighs in on 'terrible' El Paso shooting
President Donald Trump called the shooting in El Paso, Texas, "terrible" on Twitter, saying that he offered the government's support to Texas Gov. Greg Abbott.
"Working with State and Local authorities, and Law Enforcement," the President wrote. "Spoke to Governor to pledge total support of Federal Government. God be with you all!"
Vice President Mike Pence also weighed in, offering prayers to the victims and thanks to law enforcement and first responders attending the scene.
"Saddened by the loss of so many innocent lives in El Paso, TX," Pence tweeted. "Our prayers are with the victims, their families, and the entire community. Grateful for the courageous efforts and swift action by federal law enforcement and local first responders."
4:05 p.m. ET, August 3, 2019
El Paso police say one suspect is in custody
El Paso police say that only one suspect is in custody and that they don't believe any other suspects are outstanding right now, according to spokesperson Sgt. Robert Gomez.
Gomez said the suspect is a man, but his age is unknown.
Earlier, Mayor Dee Margo said that at least three suspects were in custody.
There are multiple victims, according to Gomez, but he said he couldn't confirm how many or what their status was.
Authorities were initially given multiple possible locations for the shooting, Gomez said, at both a Walmart and the Cielo Vista Mall next door.
5:29 p.m. ET, August 3, 2019
More 2020 candidates weigh in on the El Paso shooting
Several Democratic presidential candidates have weighed in on shooting in El Paso, Texas expressing their condolences and calling for gun reform:
Michael Bennet
Colorado Sen. Michael Bennet tweeted, "My heart breaks for the people of El Paso. Enough is enough. We must find a way to come together as a country to end this epidemic."
Joe Biden
The former Vice President tweeted, "Heartbroken to hear the news from El Paso. Our thoughts are with those impacted by yet another senseless act of gun violence in America."
"How many lives must be cut short? How many communities must be torn apart?" he added. "It's past time we take action and end our gun violence epidemic."
John Delaney
"Today's tragedy in El Paso is heartbreaking for every American. Our prayers go out to the residents of El Paso and all those who have been affected by this horrific act of cowardice. As we all recognize, our thoughts and prayers are insufficient, we must demand action," the former Maryland congressman tweeted.
"We must address the gun violence epidemic that is ravaging our country," he added. "Thank you to all the members of law enforcement for their work at the scene."
Tulsi Gabbard
The Hawaii congresswoman tweeted, "Sending all of our love and strength to the people of El Paso during this terrible tragedy. Thank you to the brave first responders, putting their lives on the line to prevent more from being killed. We can and must come together to prevent these senseless shootings."
Kamala Harris
"Last week it was Gilroy. Today it's El Paso," Harris, a California senator, tweeted. "How can our country tolerate this? My prayers are yet again with families who are grieving and my thanks are with the first responders, but that is not enough. We must act."
Jay Inslee
Inslee, the governor of Washington state, called for support for gun control group Mom's Demand Action following the shooting.
"Truly heartbreaking news out of El Paso today," he tweeted. "We must come together and summon the courage to say: no more. We cannot allow this to remain our new normal. Support @MomsDemand as they work to combat the scourge of gun violence in our country."
Amy Klobuchar
Minnesota Sen Amy Klobuchar tweeted, "My heart breaks for El Paso and those killed and injured by another mass shooting. This can't keep happening. It just can't. Every day Congress refuses to act and pass gun laws is a horrible omission of responsibility. This is a tragedy."
Seth Moulton
The Massachusetts congressman tweeted, "Absolutely heartbroken to hear the news out of El Paso. We cannot allow this to keep happening in America. Citizens don't need guns to protect them from government—they need the government to step up and protect them from guns."
Tim Ryan
"Heart goes out to the people of El Paso and my friend Beto O'Rourke," Ohio congressman Tim Ryan tweeted Saturday.
Bernie Sanders
The Vermont senator tweeted, "Everyone in America, myself included, is devastated by the news of this latest attack in El Paso. Sadly, after each of these tragedies the Senate does nothing. That has got to change."
Tom Steyer
Billionaire Tom Steyer tweeted, "Praying for El Paso. We need gun control NOW."
Elizabeth Warren
Warren, a Massachusetts senator, tweeted that she was "heartbroken" by the news of the shooting.
"The news out of El Paso is devastating. I'm heartbroken for the victims and their families. Far too many communities have suffered through tragedies like this already. We must act now to end our country's gun violence epidemic," she wrote.
3:41 p.m. ET, August 3, 2019
At least 22 people have been injured
At least 22 people have been injured in the shooting at a shopping center in El Paso.
Eleven of the victims have been transported to the University Medical Center of El Paso, according to Ryan Mielke, the hospital's Director of Public Affairs. Their injuries range from severe to non-life threatening.
Del Sol Medical Center has also received 11 people from the scene of the shooting, according to hospital spokesman Victor Guerrero.
Del Sol said it is not expecting any additional patients at this time.