At least 31 killed in US weekend mass shootings
10:07 p.m. ET, August 5, 2019
The Dayton shooter had an extreme left Twitter feed
A Twitter account that appears to belong to Dayton shooter Connor Betts retweeted extreme left-wing and anti-police posts as well as tweets supporting the violent protest group Antifa.
The most recent tweet on the @iamthespookster account was on Aug. 3, the day of the shooting, when he retweeted a post saying, "Millenials have a message for the Joe Biden generation: hurry up and die."  He also retweeted support for Bernie Sanders and Elizabeth Warren.
Under the Twitter handle @iamthespookster, the user description says, "He/him / anime fan / metalhead / leftist / I'm going to hell and I'm not coming back." One tweet used the hashtag #HailSatan.
In the hours before the Dayton shooting, the account "liked" several tweets about the El Paso shooting, including one supporting gun control and others that called the El Paso shooting suspect a "terrorist," and a "white supremacist."
The account also retweeted posts against US Immigration and Customs Enforcement agents, including one that said, "These people are monsters," as well as multiple posts condemning police, and supporting Antifa. There were also many tweets of selfies, photos with a friend and ordinary memes and non-political content.  
The account is no longer active, but Twitter would not confirm to CNN whether it had removed the account, only saying in a statement, "We're proactively removing content that violates our policies and will be engaged with law enforcement, as appropriate."
9:23 p.m. ET, August 5, 2019
Mourners gather to honor 15-year-old El Paso shooting victim
Mourners gathered this evening at Horizon High School in Horizon City to remember 15-year-old student Javier Rodríguez, one of 22 people killed in the El Paso attack.
Javier's classmates shared their memories of him at the vigil.
"I would tell him that he should be a model because he would always be fixing his hair, moving it to the right," one of Javier's classmates said.
Clint Independent School District released a statement earlier today announcing the vigil. In the statement, the district said it was "deeply saddened and heartbroken" by Javier's death.
9:02 p.m. ET, August 5, 2019
He's made crosses for more than 25,000 victims since Columbine
Greg Zanis' crosses have been seen at nearly every national tragedy since Columbine.
He's made crosses for more than 25,000 victims since Columbine. He's traveled across the country, mourning with victims relatives. He's done this so much that you would think he's seen it all.
On Monday, he told CNN that this is the first time he's has been called to two different shootings in such a short period of time. He had talked to family members and made preparations to drive from Chicago to El Paso. He had mix emotions, he felt sad but also felt anger.
"Nothing like this has happened to me back to back," Zanis said. "I was letting it get to me."
Asked about whether this shooting feels different because the victims are mostly Hispanic and Mexican, he answered, "Let me put it to you this way: Who do I do these memorials for? Everyone."
He also had a message for President Trump.
"I feel so sorry for you Don. This is under your watch today," Zanis said.
Zanis doesn't only come to install crosses. He meets with family members, community members and anyone who talks to him.
So what's next for him? He'll drive more than 1,350 miles to Dayton, Ohio. He says he has just enough crosses and Stars of David for all the victims in his white pickup truck.
8:44 p.m. ET, August 5, 2019
Joe Biden: President Trump "preaches division"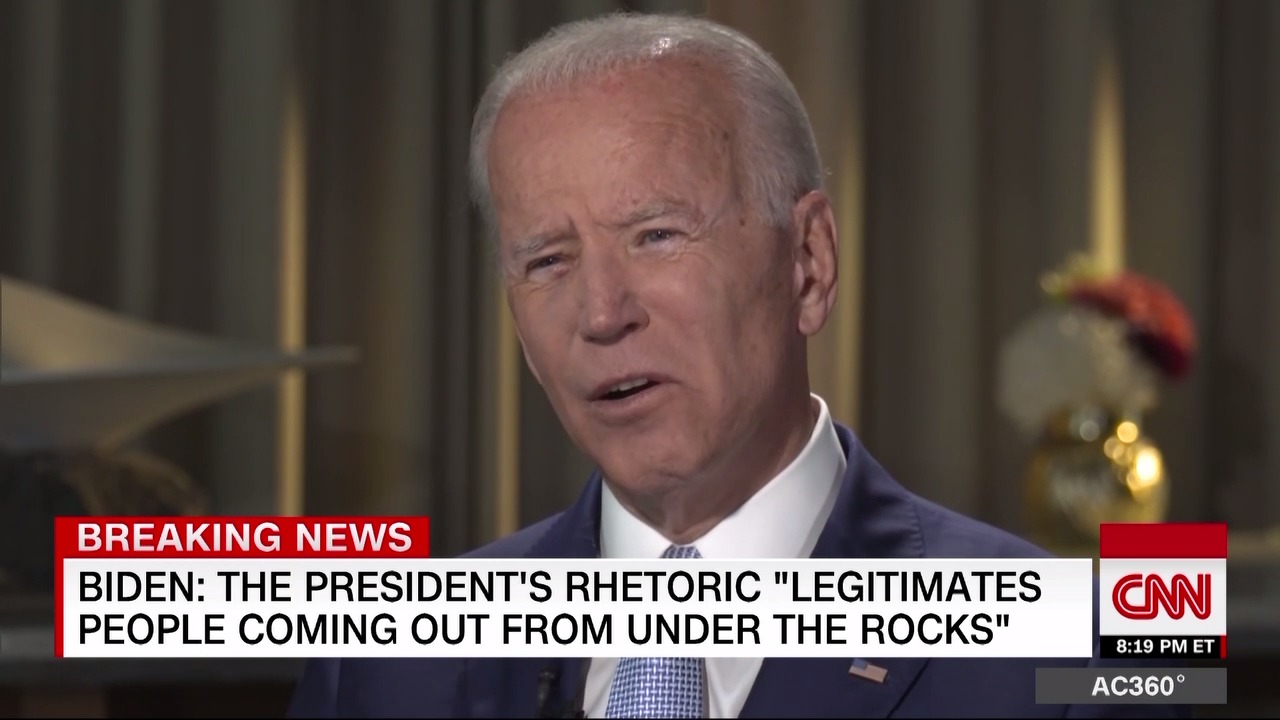 Former Vice President Joe Biden, a Democrat who is running for president, described white nationalism as "domestic terrorism."
He went on to say that President Trump's rhetoric legitimizes "people coming out from under the rocks."
"This is white nationalism. This is terrorism of a different sort. But it's still terrorism," Biden said.
The presidential hopeful would not say if he believed Trump was a white nationalist, but said "whether he is or not, he sure is using the language of and contributing to the kinds of things that they say."
"Clearly, his actions have done nothing to do anything other than to encourage this behavior," Biden said.
Trump, he said, "preaches division."
"Look, he speaks to his base, which is somewhere about 35% of the American people," Biden said. "A president should speak to everybody, everybody. The base should be Democrats, Republicans, independents across the board. That's not who he is. He's focused on his base and that's one of the ways he's able to intimidate some of the Republican colleagues."
8:09 p.m. ET, August 5, 2019
President Trump will travel to Dayton
President Donald Trump will travel to Dayton and El Paso, Kellyanne Conway, a White House counselor, told reporters today.
The President will visit both cities to express his condolences and help provide resources.
Trump wants to hear more, she said, from the mayors of the cities and those directly affected.
7:40 p.m. ET, August 5, 2019
Kamala Harris: Trump's remarks "were empty and frankly meaningless on the issue of gun violence"
Sen. Kamala Harris, a Democrat from California who is running for president, took a swipe at President Trump, saying his actions have "coddled this kind of behavior in terms of the white nationalism."
"The reality is his words also today were empty and frankly meaningless on the issue of gun violence," she told CNN's Wolf Blitzer today.
"We have seen the worst kind of tragedies we can imagine and this President will not call it what it is — gun violence that is out of control and that we as a nation are in need of reasonable gun safety laws. I feel very strongly that America needs real leadership and this President is not able to provide it," Harris added. 
Harris also called for a vote for gun legislation.
"We need Congress to act and in this case the United States Senate and Mitch McConnell should put the vote on the floor. I believe everybody should have to stand and speak on this issue and be held accountable by their constituents," she said.
7:24 p.m. ET, August 5, 2019
Mexico says the El Paso shooting is an act of terror
Mexico's Foreign Minister Marcelo Ebrard said the El Paso attack was an act of terror committed against Mexican citizens.
He went on to say that Mexico will be participating in the investigation. Ebrard, speaking at a news conference today, said Mexico is also considering a petition to extradite the suspect and is "analyzing actions regarding gun control."
"We consider this to be an act of terror, obviously on US territory, but against Mexican citizens," Ebrard said after meeting with victims at the two medical centers in El Paso, where they are being treated.
He said eight Mexican citizens were killed in the shooting. Ebrard added that six people are being treated for their injuries.
"We listened to President Trump's statement earlier today and share his condemnation of racism and xenophobia as serious problems in the US," he said.
Ebrard continued: "We are different cultures but we need to live and respect each other, in Mexico and in the United States."
7:43 p.m. ET, August 5, 2019
Dayton shooter was a member of a "pornogrind" band
Musician Zach Walton tells CNN that Dayton gunman Connor Betts was in a band called the Menstrual Munchies and that he booked that band for two shows in 2018.
"He played two shows that I put on over a year ago," Walton said. 
He described those shows as an all-day event that featured bands, including those who perform in a genre Walton called "pornogrind" in Missouri.
Walton said pornogrind is an offshoot of goregrind and grindcore music; the lyrics discuss — oftentimes in extremely graphic and violent ways — pornographic and sexual themes.
The band members were Betts and another man, Jesse Creekbaum, Walton said. CNN had previously reached out to Creekbaum for comment on Sunday regarding his relationship with Betts. He declined to comment, saying that he had already spoken with police.
"I met Jesse in like October of 2017 and met Connor in like April of 2018," Walton said. "When I met Jesse, it was just him doing 'Menstrual Munchies.'"
He described Betts as being "very quiet and shut in."
Walton said he only met Betts twice but remembers that both times he was quiet and did not speak to anyone.
CNN reached out to some people who describe themselves as fans of the genre. For some of those listeners, the music is described as an "outlet," or a "coping mechanism" that they say helps them channel anger and stress.
6:38 p.m. ET, August 5, 2019
Shooting suspect took 10 to 11 hours to travel to El Paso, police chief says
Shooting suspect Patrick Crusius took 10 to 11 hours to travel to El Paso, Texas, on Saturday, the city's Police Chief Greg Allen said.
After arriving in El Paso, Crusius got lost in a neighborhood, and "found the Walmart because he was hungry," the chief said at a news conference today.
Allen said Crusius has cooperated with law enforcement and volunteered "most of the evidence."