At least 31 killed in US weekend mass shootings
2:47 p.m. ET, August 6, 2019
The FBI launches domestic terrorism investigation into last week's mass shooting in California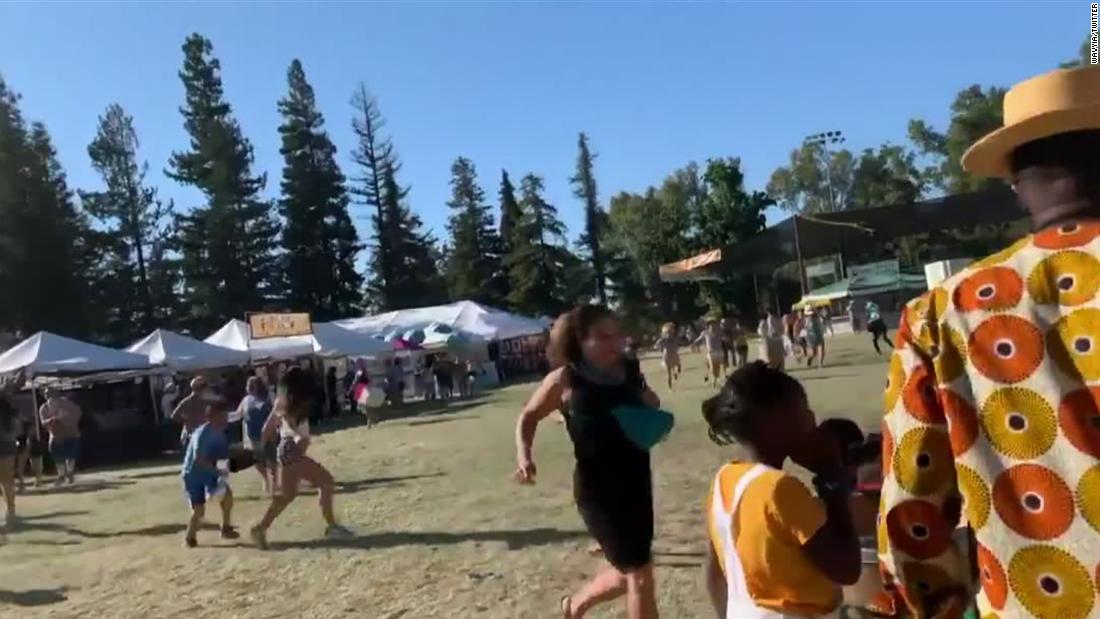 The FBI is launching a domestic terrorism investigation into the July 28 Gilroy Garlic Festival shooting that left three people dead and a dozen others injured.
Law enforcement has made no final determination of motive, but it is clear the shooter was exploring various violent ideologies, John Bennett, special agent in charge, announced at a news conference today.
"There is no manifesto," Bennett said.
Among the items uncovered in their search of Santino Legan's digital media, the FBI found a list of nationwide organizations that may have been potential targets. The targets include religious, government and political buildings, including federal facilities, courthouses, and the Garlic festival in California.
Bennett said the FBI will not be releasing any names of specific organizations.
Legan opened fire in the middle of the Gilroy Garlic Festival, which draws crowds in the tens of thousands each year. In about a minute, the shooting left three people dead and a dozen injured.
He was wearing body armor when he fired 39 rounds into the crowd before he was engaged by three responding officers, Gilroy Police Chief Scot Smithee said. 
Legan had more than 70 rounds of unspent ammunition left. A Remington shotgun was found in Legan's vehicle, and two loose rounds, a rifle scope, flashlight, and shovel were among the items found in his backpack.
Law enforcement sources previously told CNN of finding extremist material in the shooter's Nevada apartment.
2:11 p.m. ET, August 6, 2019
Ohio governor announces proposals to reduce gun violence
Ohio Gov. Mike DeWine announced proposals today to address gun violence following a Sunday's mass shooting that left nine dead.
"Gun violence doesn't just take the form of mass shootings, people are victims every day in Ohio and across the country," DeWine said in a statement. "I believe that this is both a public safety issue and an individual wellness issue — we must address both sides to help solve the problem. It's time to do something, and that is exactly what we are going to do." 
Here's what he is proposing:
He called on lawmakers to pass a law requiring background checks on all firearm sales.
Safety protection orders to remove firearms from people identified as potentially dangerous. The order would also get them mental health treatment.
DeWine wants to increase access to inpatient psychiatric care and provide access to behavioral health services.
He wants to increase penalties for violent felons in possession of firearms, as well as a host of offenses that include firearms violations.
The Ohio Department of Public Safety will expand its ability to monitor threats on social media.
DeWine will also expand the state's school tip line.
2:09 p.m. ET, August 6, 2019
Surveillance camera captures sound of gunfire in Dayton mass shooting
A surveillance camera captured the sounds of gunfire during a mass shooting in Dayton, Ohio, on Sunday.
The shooting took place in the city's downtown, nightlife district, and the camera was positioned in the back alley behind Fifth Street.
The video, obtained by CNN, shows people running away as loud bangs ring out.
Listen:
1:32 p.m. ET, August 6, 2019
Their daughter and son-in-law are dead, but they're forgiving the El Paso shooter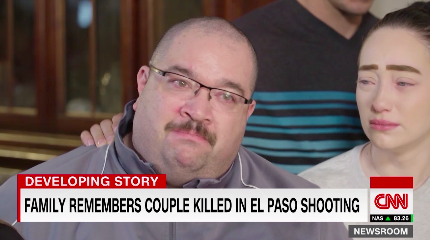 Jordan Anchondo' parents said they forgive the El Paso shooter who killed their daughter and son in law.
"We honestly forgive him. We pray for him. We hope that he finds God, because God teaches you to be loving," said Misti Jamrowski, the mother of one of the victims.
Jordan and Andre Anchondo died protecting their newborn baby from gunfire during a mass shooting in El Paso that killed 22 people. Andre jumped in front of Jordan to try to save her from the bullets as Jordan shielded their baby, Paul.
"We can't replace mom and dad," Jordan's father, Paul Jamrowski said. "That's just something you can't replace."
Their family said they are heartbroken.
"Her and Andre were like my heart. It's like I lost a part of me," said Jordan's sister, Ashley Jamrowski.
Watch more:
1:30 p.m. ET, August 6, 2019
State attorney's office deploys team to assist Dayton families with funeral arrangements
A team with the Ohio Attorney General's Office has been deployed to assist qualifying victims with funeral arrangements, lost wages and counseling.
The Crime Victims Services Team is part of the attorney general's office's Ohio Response Team, according to spokesperson Bethany McCorkle.
"We find that during a crisis sometimes people don't know what questions to ask and having trained people onsite to help walk them through the process has been beneficial," McCorkle said.
1:03 p.m. ET, August 6, 2019
He worked at an Ohio warehouse so he could send money to his family in Africa
Dayton shooting victim Saeed Saleh was as a family man who worked to send money home to his relatives in Eritrea in Africa, according a family spokesperson.
Yahya Khamis, the president of the Sudanese Community of Greater Dayton, said he is speaking on behalf of the Saleh family and knew the victim from the community of African immigrants in Dayton.
"A very hardworking guy," Khamis said. Saleh was "trying to work to help his family back home," he said.
He worked at a DHL warehouse in the area, sometimes seven days a week, Khamis said.
Saleh came to Dayton about two years ago after emigrating with his wife and his now 5-year-old daughter to Virginia by way of Sudan, Libya and Malta. Saleh also had two children — ages 10 and 14 — in Eritrea, along with his parents. His brother lives in Egypt.
A funeral for Saleh is planned Saturday.
12:44 p.m. ET, August 6, 2019
Dayton mayor says Trump's "rhetoric has been painful for many in the community"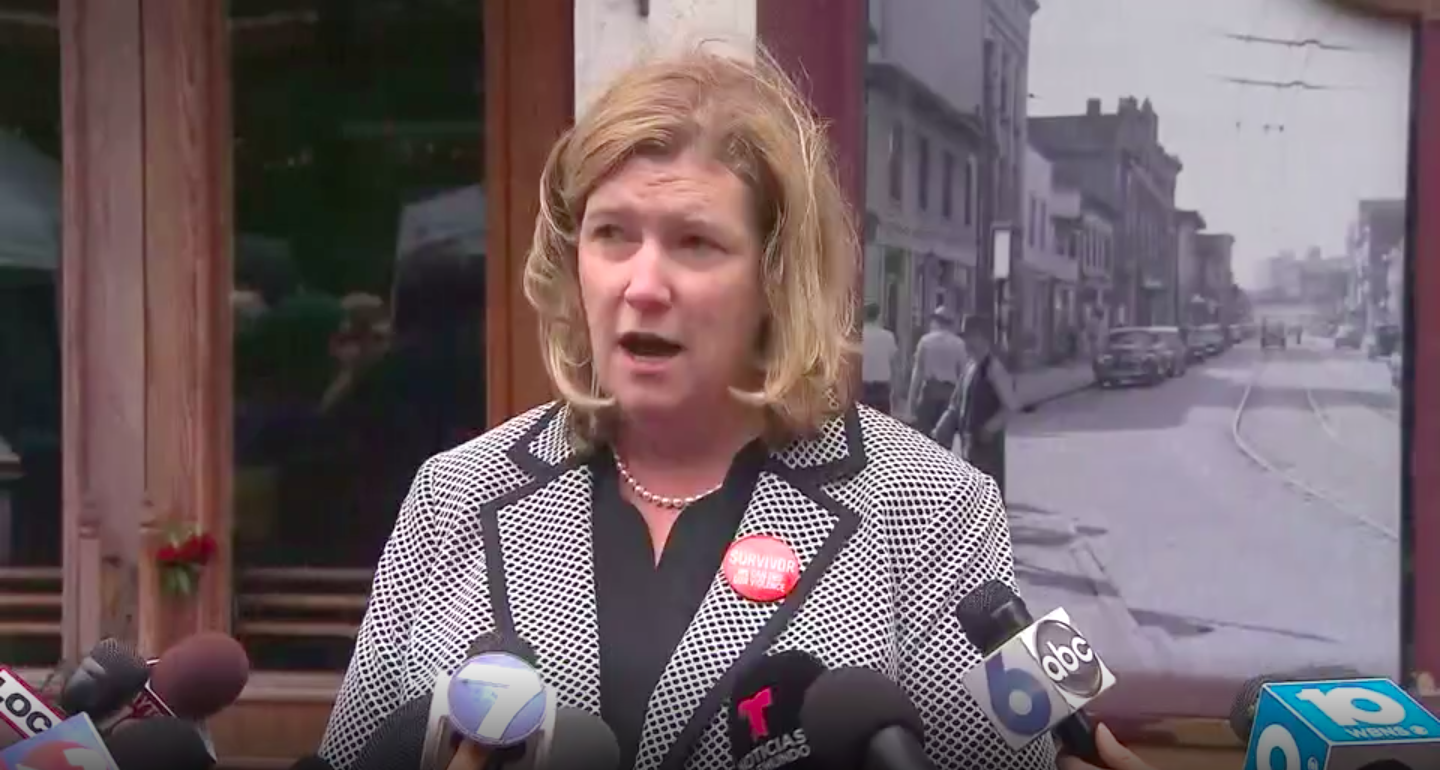 Dayton Mayor Nan Whaley said she will meet with President Trump when he visits the city this week.
Whaley was asked what she thought about planned protests in Dayton ahead of Trump's visit. Here's what she said:
"His rhetoric has been painful for many in the community," Whaley said. 
She also said that she is disappointed with the President's remarks Monday.
"I think they fell really short, he mentioned, like, gun issues one time. I think watching the President over the past few years on the issue of guns he's been... I don't know if he knows what he believes, frankly," she said.
12:31 p.m. ET, August 6, 2019
The El Paso shooting suspect turned himself in to motorcycle officer
The man who authorities say shot and killed 22 people at a Walmart in El Paso on Saturday turned himself in to a police motorcycle officer, according to police Sgt. Enrique Carrillo.
The El Paso motorcycle officer who was assigned to do perimeter control at the scene said that suspect Patrick Crusius drove to his location at the intersection of Sunmount Drive and Viscount Boulevard, at which time he exited a 2012 Honda Civic, put his hands up and identified himself as the shooter, the sergeant said. The officer immediately handcuffed Crusius, and didn't have the time to call for backup, Carrillo said.
After the suspect was handcuffed, two Texas Rangers contained the scene and secured Crusius' vehicle, Carrillo told CNN. 
12:14 p.m. ET, August 6, 2019
Mitch McConnell is "serious" about a process on gun legislation, source says
Senate Majority Leader Mitch McConnell is "serious" about allowing the Senate to have a process on bicameral, bipartisan legislation to address gun violence in the country, according to a person familiar with his thinking.
While McConnell is still having ongoing conversations with his conference, including chairmen of the Senate Judiciary, Commerce and Health committees and other senior Republicans, there are real discussions happening about what needs to be done. Red flag laws or at the very least giving states incentives to enact their own red flag laws is an option.
The person said that Democrats are acting as though McConnell won't allow a process and "I think they are dead wrong."
As with all debates McConnell entertains, there is no guarantee legislation actually passes, but there is a feeling that if President Trump is serious, he keeps his focus on this issue and he blesses proposals, that could be a recipe for more Republican support.
Trump has the support of the Republican base and if he says he supports something, that gives members cover. Keeping the President engaged, of course, can present its own challenges.