Deadly duck boat accident in Missouri
8:00 p.m. ET, July 20, 2018
Our live coverage has ended. Go here or scroll through the posts below to read more about the boat accident.
7:01 p.m. ET, July 20, 2018
2 victims from boat accident released from hospital
From CNN's Dave Alsup
An adult and a child were released from a hospital Friday, following a deadly duck boat accident at Table Rock Lake near Branson, Missouri. 
Two children and two adults remained in the hospital, Dr. Shawn Usery, chief medical officer, said in a news conference covered by CNN affiliate KSPR/KYTV.  
An adult and the children were in stable condition. The other adult was in fair condition. 
5:27 p.m. ET, July 20, 2018
Rescuers helped avert "an even worse tragedy," governor says
Missouri Gov. Mike Parson met with first responders, survivors and some of the victims' families on Friday.
In a statement, Parson said he was inspired by the rescue stories and encouraged by the strength of victims' families.
"What happened here last night was a heart-breaking tragedy, and we must all work together to support the victims and their families," he said. "The courageous efforts of emergency responders and civilian rescuers helped avert an even worse tragedy, as people rushed to help in extremely dangerous conditions. I was inspired by the stories I heard from some of those who were part of the rescue effort and tremendously encouraged by the strength of the family members of victims I met with today. We pray for all those who were affected by this terrible tragedy."
The Ride the Ducks boat capsized Thursday when strong winds and large waves swept through the area, he said.
Parson warned residents that severe storms were on the forecast for southeast Missouri today. He urged them to follow weather reports and take protective action.
The National Transportation Safety Board and the US Coast Guard are investigating the boat accident near Branson, Parson said.
4:58 p.m. ET, July 20, 2018
Missouri governor says 9 members of one family killed in boat accident
An 11-member family was on the duck boat that sank Thursday night, and nine of them were killed, Missouri Gov. Michael Parson told CNN's Miguel Marquez.
Parson described meeting with the survivors, an aunt and her 13-year-old nephew, who were still somewhat in shock and trying to figure out what had happened.
"It's difficult to find the right words to say, other than your thoughts and prayers are with her, and comfort her as much as you can," Parson said. It's "tough to see them in that position."
4:06 p.m. ET, July 20, 2018
She rode the duck boat earlier this week and was told she didn't need life jackets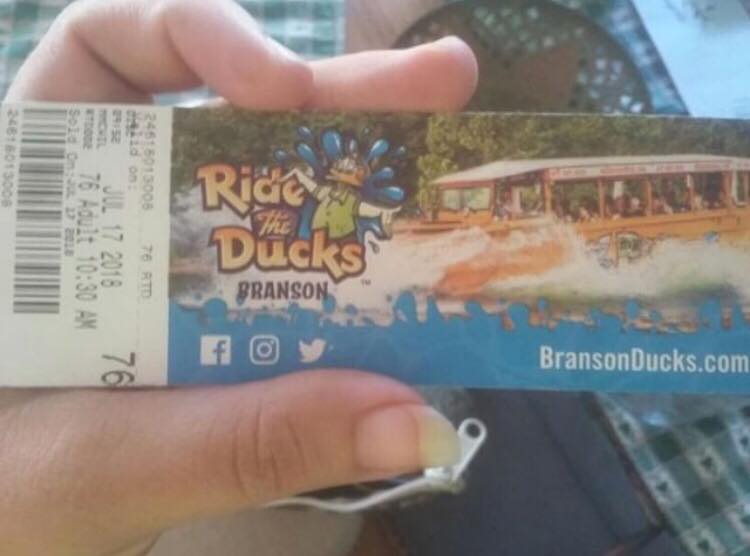 Jenni Schoenberger took the Ride the Ducks tour earlier this week and said she was told they didn't need life jackets.
Schoenberger of Spring Hill, Kansas, said the tour didn't provide a waiver to sign, but the back of her tour ticket says that the user "assumes all risk of personal injuries and property damage or loss."
Schoenberger wrote on Instagram that during the boat safety presentation, the crew told passengers "they have never needed the life jackets before and didn't plan on using them today." The boat's captain, she said, demonstrated the use of a life jacket and told passengers where they were located."He said all of that at once, but mentioned we should protect our electronics 5 or 6 times, which makes me feel like they never anticipated the 'loss' they mention would be people, but that it would just be personal items," Schoenberger said.
She said the boat's captain told passengers the vessel had been inspected by the US Coast Guard and that he was also certified by them. The safety presentation, she said, was brief.
With CNN's Maya Eliahou
3:45 p.m. ET, July 20, 2018
White House: "Our prayers are with the victims and their loved ones"
The Trump administration reached out to Missouri Gov. Mike Parson and other officials, following Thursday's deadly boat accident near Branson, the White House said in a statement.
The White House said the President and first lady Melania Trump "extend their deepest sympathies to all those affected" by the accident.
Read the full statement below: 
"President Donald J. Trump and first lady Melania Trump extend their deepest sympathies to all those affected by yesterday's boating accident on Table Rock Lake near Branson, Missouri. Tragically, a tourism boat sank during a storm while out on the lake, killing 17 people and injuring several others. Our prayers are with the victims and their loved ones. We are thankful for the brave first responders and dive crews, whose quick and decisive actions have saved many lives, and we continue to pray for their safety as their search, rescue, and recovery operations continue. Since the incident occurred, the Administration has been in contact with Governor (Mike) Parson and other State and local officials, and the President will continue to monitor and receive regular updates on the situation."
3:29 p.m. ET, July 20, 2018
Witness recalls moment it all "went downhill" in duck boat accident
Curt Elleman and his 14-year-old son, Wagner, were at Table Rock Lake Thursday when they said they saw the duck boat take in water.
"Once we saw it start taking water through the front, we knew nothing was going good from there, and then it started taking water from the back right corner, and then just stuff went downhill from there," Wagner told CNN.
Elleman said boaters on the lake immediately tried to rescue passengers as the vessel was sinking.
"The first rescuing was private boats, people that were already out there in the storm with those boats, with those ducks," he said. "They began pulling people out immediately, and then rescue people started showing up very quickly and just kept coming and coming and coming."
Elleman, a fisherman, said they watched rescuers pulled a man from the water and performed CPR on him.
"I hope he made it," he said. "I hope there's a good ending for that guy. But everybody jumped right in. It's a tragic thing." 
2:12 p.m. ET, July 20, 2018
City officials thank first responders for "working non-stop"
Branson officials took to Facebook Friday to thank the public for the "outpouring of love" and first responders for "working non-stop," following a deadly boat accident on Table Rock Lake in Missouri.
"The outpouring of love has been amazing! It has been a hard day, but we will get through this. With your help," the city wrote.
Read their post:
1:20 p.m. ET, July 20, 2018
2 equipment failures were linked to the boat
From CNN's AnneClaire Stapleton
Two small equipment failures were linked to the specific boat involved in Thursday's accident, according to a review of the US Coast Guard's records.
The Coast Guard inspected the boat annually. The last inspection was Feb. 12.
Here are a few details about the equipment failures: 
April 4, 2012: The boat lost propulsion when the operator pulled the engagement arm to engage its propeller. But the propeller did not engage. They later discovered a bolt was not tightened sufficiently.
Aug. 10, 2013: The boat again lost propulsion because of "a failed fuse that supplied power to the fuel pumps."