4:43 p.m. ET, May 8, 2019
4:43 p.m. ET, May 8, 2019
STEM School shooter will return to court Friday
School shooter Devon Erickson is scheduled to return to court Friday when charges are formally filed.
Erickson, 18, did not enter a plea during his court appearance Wednesday, and a bond was not discussed as formal charges have not been filed.
Erickson is being held on suspicion of one count of first-degree murder after deliberation and 29 counts of attempted first-degree murder after deliberation.
Erickson will remain in custody until his court appearance Friday.
4:25 p.m. ET, May 8, 2019
School shooter makes first court appearance
Devon Erickson, who police said is one of two suspects in the STEM School shooting, appeared in court Wednesday and kept his head lowered for much of the hearing.
The court appearance is ongoing, but prosecutors argued for more time before filing charges to allow the investigation to continue. Prosecutors said they expect to file charges on Monday.
Erickson, who spoke only when spoken to directly by the judge, was ordered to not contact any victims of the shooting. He was also told he must not posses firearms or any other weapons.
The Douglas County Judicial Department has not confirmed whether the other suspect, a female juvenile, will have a court appearance.
4:27 p.m. ET, May 8, 2019
Father of student victim: My son was selfless. "It got him killed, but he saved others."
The father of a student who was killed Tuesday when he rushed a shooter at STEM School Highlands Ranch said his son saved others because he was selfless.
 "Be selfless, that's what my son was, and it got him killed, but he saved others," John Castillo said of his son, 18-year-old Kendrick Castillo.
John told CNN shortly after the shooting, he and his wife Maria were frantically tying to reach Kendrick on his cell phone, and they were getting more concerned when he wasn't responding.
"I was a little bit guilty, because as I was trying to call him I thought well maybe this is the wrong thing? Maybe I am putting his life in jeopardy by having the phone ring," John said. "My anxiety and the lump in my chest was growing."  
At the reunification center, John said buses were coming in with children and they were watching the parents reunite with their kids "and we didn't have that." 
John, who is the robotics coach for the school's team which his son was on, said students kept coming up to them and saying Kendrick saved lives.
"One of the kids told me 'like a flash, he jumped up.' She said, 'You know he's a hero he saved me, he jumped up and he ran. You couldn't even see how fast he was running, out the door and after this person to tackle him,'" John said.
His parents were not surprised to hear their son ran into a dangerous situation. "We raised him to be good," John said. 
"Because of what he did, others are alive, and I thank God for that. I love him. And he is a hero and always will be. But there's another part of you that wishes he just turned and ran, retreated, hid. Did something to put himself our of harms way, if that was possible. But we know Kendrick," John said. "It's no surprise that if danger was facing him he would approach it and take it on." 
Watch more:
3:50 p.m. ET, May 8, 2019
Aspiring Marine helped stop STEM School shooter 
Brendan Bialy, a student and current poolee in the Marine Corps Delayed Entry Program, assisted in subduing one of the STEM School Highlands Ranch shooters, the United States Marine Corps confirmed in a statement Wednesday.
"Brendan's courage and commitment to swiftly ending this tragic incident at the risk of his own safety is admirable and inspiring. His decisive actions resulted in the safety and protection of his teachers and fellow classmates," the statement said. 
Bialy is scheduled to ship to recruit training this summer, according to the statement.
1:48 p.m. ET, May 8, 2019
Trump thanks first responders for "bravely intervening" in shooting
President Trump just tweeted about Tuesday's deadly shooting at STEM School Highlands Ranch in Colorado and thanked for first responders for "bravely intervening."
"Our Nation grieves at the unspeakable violence that took a precious young life and badly injured others in Colorado," he tweeted.
11:44 a.m. ET, May 8, 2019
18-year-old Kendrick Castillo was killed while rushing the Colorado school shooter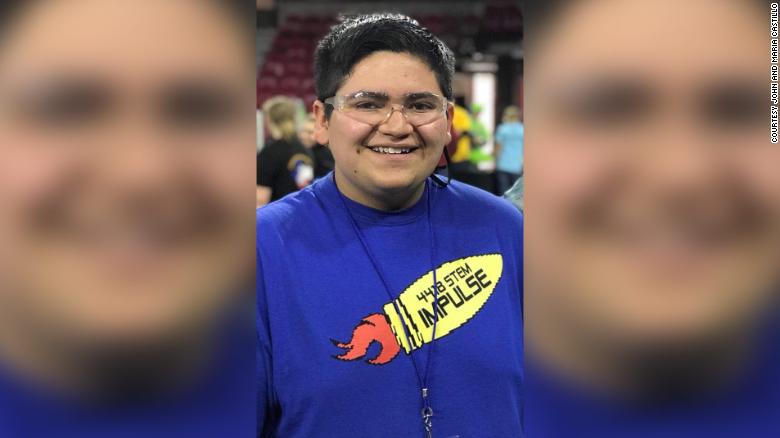 The parents of 18-year-old Kendrick Castillo confirm that the high school senior was the student killed in Tuesday's shooting at STEM School Highlands Ranch.
He died a hero: A witness in the classroom tells CNN that Castillo was shot while rushing a shooter and credited Castillo with saving several lives.