Actresses charged in college admissions cheating scheme
6:40 p.m. ET, March 13, 2019
Here's what you need to know about the massive college cheating admission scandal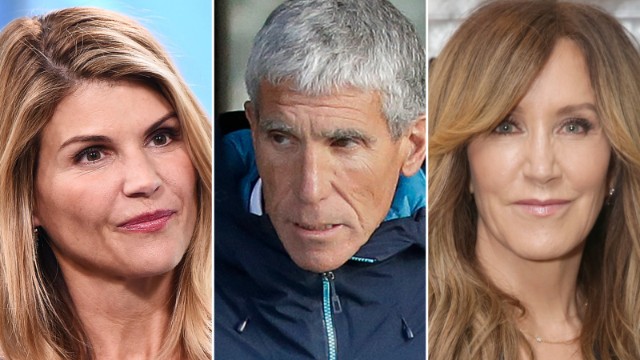 The biggest college admissions scam ever prosecuted in the US is a harsh reminder that wealthy families can cheat their way to even greater privilege. And some say this scandal is just the tip of the iceberg.
Here's what we know so far:
Fifty people were involved: Actresses Lori Loughlin and Felicity Huffman are among the dozens of parents facing federal charges. Others charged include nine coaches at elite schools; two SAT/ACT administrators; an exam proctor; a college administrator; and a CEO who admitted he wanted to help the wealthiest families get their kids into elite colleges.
The man behind the scheme: It was all orchestrated by William Rick Singer, CEO of a college admissions prep company called The Key. Singer pleaded guilty to four charges Tuesday and admitted that everything a prosecutor accused him of "is true."
Payments were concealed: Singer disguised bribe payments as charitable contributions to the Key Worldwide Foundation — a purported nonprofit that was actually "a front Singer used to launder the money that parents paid him," US Attorney Andrew Lelling said.
Two kinds of fraud: Some parents paid between $15,000 and $75,000 per test to help their children get a better score, prosecutors said. In some cases, parents allegedly took part in Singer's scheme to bribe college coaches and athletic officials.
6:41 p.m. ET, March 13, 2019
Actress Lori Loughlin's bond set at $1 million
Actress Lori Loughlin is expected to be released from custody later today after appearing in court in connection with the college cheating admission scandal.
Loughlin's bond was set at $1 million at today's hearing.
Loughlin, best known for her role as Aunt Becky on "Full House," turned herself into authorities this morning after she was charged with conspiracy to commit mail fraud and honest services mail fraud for her role in the college admissions scam, according to a criminal complaint.
She will be allowed to travel for work within the US and British Columbia, but she will be required to surrender her passport in December.
Her fashion designer husband, Mossimo Giannulli, appeared in federal court Tuesday on the same charges, according to the complaint.
The charges: Loughlin and her husband allegedly agreed to pay bribes totaling $500,000 to have their two daughters designated as recruits to the University of Southern California crew team.
But neither of Loughlin's daughters ever competed in crew, a complaint states. Instead, the parents sent photos of each of their daughters on a rowing machine.
Loughlin is scheduled to appear in court on March 29 in Boston.
6:17 p.m. ET, March 13, 2019
University of Texas fires tennis coach after college admissions scam 
The University of Texas at Austin said it has fired men's tennis coach Michael Center after they learned about his charges in connection with the college admissions cheating scandal.
Center is charged with conspiracy to commit mail fraud and honest services mail fraud, according to a criminal complaint.
"We take the criminal allegations against Michael Center very seriously and, as of today, he has been terminated as a UT employee," the university's president Gregory L. Fenves said in a statement.
Fenves continued:
"At UT, tens of thousands of students, faculty and staff members, coaches and admissions officers conduct themselves with honor and distinction every day. Any ethical breach overshadows their accomplishments and violates our culture of service and distinction. Moving forward, we must continue to strive for the highest ethical standards at The University of Texas."
4:24 p.m. ET, March 13, 2019
Applicants tied to alleged college cheating scandal will be denied admission, USC says
All University of Southern California applicants who are connected to the alleged admissions cheating scheme will be denied admission, university spokesperson Gary Polakovic said.
USC will conduct a case-by case review of students who are already enrolled at the university and might be connected to the scheme.
Polakovic said USC will "make informed, appropriate decisions once those reviews have been completed. Some of these individuals may have been minors at the time of their application process."
1:40 p.m. ET, March 13, 2019
Co-chairman of international law firm based in NYC among those charged
Gordon Caplan, the co-chairman of the international law firm based in New York City Willkie Farr & Gallagher, has been placed on a leave of absence, the firm said in a statement.
Willkie, Farr & Gallagher LLP said Caplan will have no further firm management responsibilities in the wake of allegations against him with regards to the college admissions case.
The allegations: Authorities allege Caplan, 52, made a purported charitable donation of $75,000 to the Key Worldwide Foundation in exchange for Rick Singer -- the architect of the scam -- arranging for Mark Riddell to proctor his daughters ACT exam and correct answers after she had completed it.
Singer, in a call with Caplan, explained a particular need for his daughter "to be stupid" when a psychologist evaluated her for her learning disabilities in order to obtain necessary documentation to obtain extended time on the exam.
In a different call, Singer suggests that Caplan hire a member of his staff to take online classes for her in order to improve her grades. It's not clear if this was done.
At one point in one of their conversations Caplan says, "It's just, to be honest, I'm not worried about the moral issue here. I'm worried about the, if she's caught doing that, you know, she's finished."
At another point, Caplan inquired with regards to changing the location of the test to the West Hollywood Test Center and asked whether anyone had "ever gotten in trouble with this?"
Caplan at various points asks if there have been any issues in the past.
Caplan and Singer discuss what score Caplan would like his daughter to get on the exam.
The court paperwork documents wire transfers Caplan made to a Boston bank account in the name of KWF which, unbeknownst to Caplan, Singer opened at the direction of law enforcement.
CNN has reached out to several people at Willkie Farr and Gordon himself and has not heard back.
According to authorities Caplan has made his initial appearance in District of Connecticut and was released on $500,000 bond.
One of his attorneys, Peter Cane, declined to comment by phone Wednesday.
11:57 a.m. ET, March 13, 2019
Lori Loughlin has surrendered to federal authorities in Los Angeles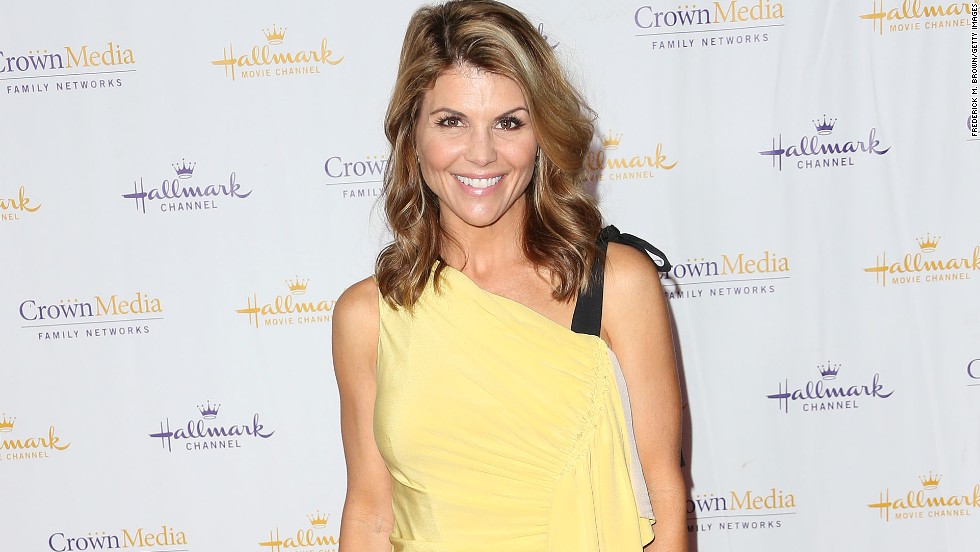 Actress Lori Loughlin has surrendered to federal authorities in Los Angeles, according to FBI spokesperson Laura Eimiller.
Loughlin and her husband, fashion designer Mossimo Giannulli, are accused of paying $500,000 in bribes to designate their two daughters as recruits to the USC crew team despite their lack of participation in the sport, according to court documents. 
The actress will be booked and is expected to make her initial appearance in federal court this afternoon in Los Angeles. 
Giannulli appeared in federal court yesterday and was released on $1 million bail. His next court appearance is on March 29 in Boston.
11:06 a.m. ET, March 13, 2019
Hercules Capital CEO steps down in wake of college admissions scandal
Manuel Henriquez, CEO of Hercules Capital, has voluntarily stepped aside as chairman and chief executive officer, according to a company statement. 
Henriquez will continue as a member of the company's board and an adviser to the company, the company said.
What was his role: Henriquez and his wife were charged with conspiracy to commit mail and wire fraud related after spending $450,000 to get his daughter into Georgetown and fix an ACT exam for his other daughter, according to court documents. 
Court documents indicate that the couple worked with Singer, who provided proctors to help testing for both of their daughters and adjust their test scores. 
The essay and application to Georgetown were falsified, indicating Henriquez's daughter had a "Top 50 ranking" in the United States Tennis Associational Junior Girls Tennis and other inaccurate information. Records from the USTA do not show she played in any USTA tournaments in high school. The documents allege the Henriquez's bribed Gordon Ernst, the head tennis coach at Georgetown, to designate their daughter as a recruit.
Their daughter was ultimately admitted to Georgetown.
Hercules describes itself as a finance company focused on providing senior secured loans to venture capital-backed companies in technology-related markets.
10:34 a.m. ET, March 13, 2019
Analysis: The scandal isn't just what's illegal, but what's legal as well
David M. Perry, a journalist and historian who is the senior academic adviser to the history department at the University of Minnesota, writes for CNN Opinion how the college cheating scandal is the tip of the iceberg.
The behavior described in this alleged fraud should be punished. But on a broader and more basic level, the case also sheds light on deep inequities in our college admissions system. Because if someone can get their kid into Harvard by buying a building, let alone by committing any of the alleged acts emerging from this case, the scandal isn't just what's illegal, but what's legal as well.
8:31 a.m. ET, March 13, 2019
Former Georgetown tennis coach placed on leave by current university
University of Rhode Island has placed tennis coach Gordon Ernst on administrative leave, according to a statement on the university's website.
Ernst is the former head coach of men and women's tennis at Georgetown University and has been charged with racketeering conspiracy.
The University of Rhode Island statement says Ernst "has not been involved in the recruitment of any current players nor in the signing of any new recruits" and that his leave is due to the incidents that occurred while he was at Georgetown University. 
The University of Rhode Island is not named in the college admissions scandal.