Actresses charged in college admissions cheating scheme
5:10 p.m. ET, March 12, 2019
5 questions about the fraud, answered
US Attorney Andrew E. Lelling District of Massachusetts answered the following questions during the press conference earlier today.
What will happen to the students?
"As to charges against them, we're still considering that."
"It's not an accident that there are no students charged in these charging documents. The parents, the other defendants, are clearly the prime movers of this fraud, it remains to be seen whether we charge any of the students."
How many students were able to make it into these schools over the years?
"We don't know the total number... this is still ongoing. So the 33 parents who we have charged, their children were able to get in somewhere. There are more than that but I'm not prepared to give you a total."
What were the different routes taken by the parents?
"There were essentially two kinds of fraud that Singer was selling, one was to cheat on the SAT or ACT, and the other was to use his connections with Division I coaches and use bribes to get these parents kids into school with fake athletic credentials. Some parents took advantage of one, I think Miss Huffman for example took advantage of one of these which was the SAT cheating scam, some took advantage of the other, and some took advantage of both. There's no pattern that way."
What kind of sentences will they serve?
It's a little premature for that, I mean the statutes that we charge people under all have very high statutory maximums but the actual sentence that someone might face, we just don't know that yet it's very premature for that. Some of these bribes are substantial, bribes between as Ii said usually between 250,000 and 400 thousand dollars, actually I should say donations to Singer from which he made these bribes of college coaches. So it's a little premature to say what ranges of sentencing they might be under.
Did the schools know?
"I think that's an important distinction to draw, it appears that the schools are not involved. It appears that in all of these instances with the exception of one USC administrator, University of Southern California administrator who we have charged. The coaches were allotted slots for athletic recruitment, The coaches worked with Singer, meaning they accepted bribes, Singer gave the coaches sufficiently impressive fake athletic credentials. Coaches used those athletic profiles to convince everyone else internally that this was a good recruit for the team, the person was admitted and the coach pocketed a bribe."
3:14 p.m. ET, March 12, 2019
Georgetown, Yale and UCLA react as coaches face charges in admissions scheme
More universities have released statements about today's arrests related to a nationwide college admissions cheating scheme. All three schools said they have a coach or former coach who has been named as a defendant in the case.
Georgetown University:
Georgetown University is deeply disappointed to learn that former Tennis Coach, Gordon Ernst, is alleged to have committed criminal acts against the University that constitute an unprecedented breach of trust. Mr. Ernst has not coached our tennis team since Dec. 2017, following an internal investigation that found he had violated University rules concerning admissions. Georgetown cooperated fully with the government's investigation. We are reviewing the details of the indictment and will take appropriate action. - Meghan Dubyak, Georgetown University spokesperson
Yale University:
As the indictment makes clear, the Department of Justice believes that Yale has been the victim of a crime perpetrated by its former women's soccer coach. The university has cooperated fully in the investigation and will continue to cooperate as the case moves forward. - Tom Conroy, Yale University spokesperson
Northeastern University
Northeastern University is aware of the criminal complaint against several individuals in an admissions bribery scheme that mentions multiple colleges and universities. Northeastern is a highly selective institution and evaluates every application with a strict level of scrutiny. While it is not uncommon for alumni and others to recommend applicants for consideration, Northeastern evaluates each applicant on the merits of their application. We are not aware of any impropriety in connection with any Northeastern admissions decisions.
Stanford University
Stanford has been cooperating with the Department of Justice in its investigation. The head coach of the Stanford sailing team has been terminated.
The U.S. Department of Justice today charged a number of people around the country in an alleged scheme in which payments were made to try to win the admission of prospective students to a number of U.S. colleges and universities. Stanford's head sailing coach was among those charged in the case.
Stanford has been cooperating with the Department of Justice in its investigation and is deeply concerned by the allegations in this case. The university and its athletics programs have the highest expectations of integrity and ethical conduct. The head coach of the Stanford sailing team has been terminated.
The charges state that sailing head coach John Vandemoer accepted financial contributions to the sailing program from an intermediary in exchange for agreeing to recommend two prospective students for admission to Stanford. Neither student came to Stanford. However, the alleged behavior runs completely counter to Stanford's values.
Based on the Department of Justice investigation to date, we have no evidence that the alleged conduct involves anyone else at Stanford or is associated with any other team. However, we will be undertaking an internal review to confirm that.
University of California, Los Angeles
The U.S. Department of Justice announced this morning a criminal case naming UCLA Men's Soccer head coach Jorge Salcedo as a defendant, and notified UCLA that it is a potential victim of a fraudulent scheme. Coach Salcedo has been placed on leave and will have no involvement with the soccer team while this matter is under review. Assistant coaches Matt Taylor and Phil Marfuggi will lead the team in his absence.
The conduct alleged in the filings revealed today is deeply disturbing and in contrast with the expectations we have of our coaches to lead their teams with honesty and integrity. If the facts alleged are true, they represent a grave departure from the ethical standards we set for ourselves and the people who work here. 
UCLA is not aware of any current student-athletes who are under suspicion. The University is cooperating with the Department of Justice and will conduct its own review to determine the proper steps to take to address this matter. —UCLA spokesperson Tod M. Tamberg released this joint statement from UCLA and UCLA Athletics
1:37 p.m. ET, March 12, 2019
Celebrities criticize those who participated in college admissions scam
Celebrities are beginning to share reactions to the Justice Department's college admissions scam investigation.
Earlier today, prosecutors accused actresses Felicity Huffman and Lori Loughlin, as well as other parents, elite college coaches and college prep executives of carrying out a national conspiracy to get students into prestigious colleges.
Some celebrities took to Twitter to express their anger about the scheme and others talked about how they got into college the old fashioned way.
Here's what they said:
1:24 p.m. ET, March 12, 2019
Felicity Huffman, designer Mossimo Giannulli and others will appear in court later today
Fashion designer Mossimo Giannulli, actress Felicity Huffman and 11 others were arrested this morning in Los Angeles for their alleged involvement in "Operation Varsity Blues," according to FBI spokesperson Laura Eimiller.
Huffman and Giannulli were arrested at their homes. The FBI served a warrant for actress Lori Loughlin — who is married to Giannulli — but she was not home at the time.
What we're watching: All 13 defendants will appear in federal court in downtown Los Angeles after 5 p.m. ET today. 
1:09 p.m. ET, March 12, 2019
NCAA: The charges "should be a concern for all of higher education"
The NCAA has issued a statement following today's charges that alleged some coaches at the universities accepted bribes in exchange for students being admitted through the athletic route.
 Here's what the NCAA said:
"The charges brought forth today are troubling and should be a concern for all of higher education. We are looking into these allegations to determine the extent to which NCAA rules may have been violated."
12:42 p.m. ET, March 12, 2019
USC, Wake Forest, and the University of Texas react to news of explosive admissions scam
We're starting to see some of the colleges react to the news that members of their respective communities were involved in the massive admissions scam.
University of Texas spox J.B. Bird:
Federal authorities notified us this morning that we were victims of an organized criminal effort involving admissions. We have just become aware of charges against our Men's Tennis Coach Michael Center and he will be placed on administrative leave until further notice while we gather information. We are cooperating fully with the investigation. Integrity in admissions is vital to the academic and ethical standards of our university.
Wake Forest:
Wake Forest is aware of the allegations regarding head volleyball coach Bill Ferguson. The University has retained outside legal counsel to look into this matter. Wake Forest has placed Ferguson on administrative leave and named Randi Smart interim coach, effective immediately. We will have no further comment at this time.
University of Southern California:
We are aware of the ongoing wide-ranging criminal investigation involving universities nationwide, including USC. USC has not been accused of any wrongdoing and will continue to cooperate fully with the government's investigation.
We understand that the government believes that illegal activity was carried out by individuals who went to great lengths to conceal their actions from the university. USC is conducting an internal investigation and will take employment actions as appropriate.
USC is in the process of identifying any funds received by the university in connection with this alleged scheme. Additionally, the university is reviewing its admissions processes broadly to ensure that such actions do not occur going forward.
1:02 p.m. ET, March 12, 2019
How parents cheated the system to get their kids into college, according to prosecutors
Officials with the FBI and the Department of Justice, as well as the US Attorney for the District of Massachusetts, just detailed how the massive college admissions cheating scam worked.
A man named Rick Singer is at the center of it all, prosecutors alleged: He set up a non-profit, and parents came to his organization for help getting their kids into college.
From there, there were two routes Singer and parents would take, officials said:
Test scores: Singer would have some retake students' SAT and ACT exams, changing answers to get a higher score. In some cases, parents and Singer would arrange for students to see a therapist, who could sign off on allowing more time for the exams.
Athletics: Singer was in contact with coaches at the universities, and he arranged for students to be admitted through the athletic route — even faking pictures of the students as athletes.
12:20 p.m. ET, March 12, 2019
Some parents paid up to $6.5 million for "guaranteed admission," FBI says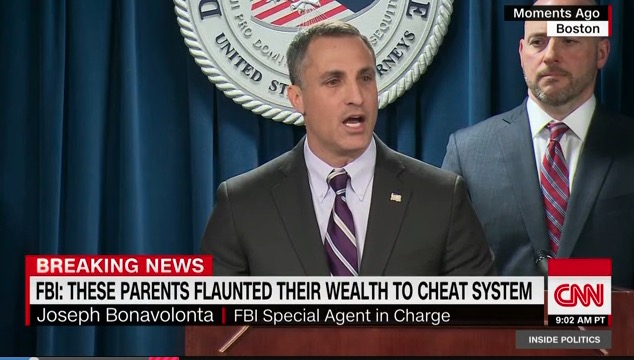 Joseph Bonavolonta, the FBI special agent in charge, said some parents paid millions of dollars to ensure that their children gained admission to prestigious universities.
"This is a case where they flaunted their wealth, sparing no expense, to cheat the system and set their children up for success with the best education money could buy — literally," Bonavolonta said.
Some parents sent as much as $200,000 to $6.5 million for "guaranteed admission," he said.
12:03 p.m. ET, March 12, 2019
Justice Department releases list of defendants and the charges they face
The Justice Department has released a chart of those charged in the university entrance racketeering case, along with the specific crimes.
For most, the charges range from conspiracy to commit racketeering and conspiracy to commit mail fraud and honest services mail fraud.
Others, such as defendant William Singer, face racketeering conspiracy; money laundering conspiracy; conspiracy to defraud US and obstruction of justice.