12:04 p.m. ET, October 18, 2019
Our live coverage of the Chicago strike has concluded. Read up on the latest developments below.
7:57 p.m. ET, October 17, 2019
Chicago Public School teachers strike will continue Friday
From CNN's Brad Parks
Chicago public school teachers will continue striking Friday, the district said Thursday.
"CTU has told us they will continue their strike, which means classes will not be in session tomorrow, 10/18," the Chicago Public School District said.
All school buildings and other sites will be open Friday to provide students with a safe place to stay and access to free meals, the district said.
Read the school district's contingency plan here.
The Chicago Teachers Union announced its strike Wednesday evening.
Some 25,000 Chicago educators went on strike Thursday, demanding what teachers across the country also have been clamoring for: smaller class sizes, more support staff, higher raises and more school funding.
The union said teachers don't plan on going back into classrooms until a fair deal is struck.
3:51 p.m. ET, October 17, 2019
What the rally looks like from far above
CTU members are rallying in the Loop in downtown Chicago. CNN affiliate WGN has a helicopter up that shows what it looks like from above.
Watch their Facebook Live coverage here.
3:38 p.m. ET, October 17, 2019
A Chicago hospital is offering free childcare for its employees, complete with Legos and therapy dogs
From CNN's Alisha Ebrahimji
Today and tomorrow, Shirley Ryan AbilityLab, a rehabilitation research hospital, is hosting 35 children of employees.
All the children are Chicago Public School students.
The kids are enjoying interactive games, building LEGO sets and watching movies. The hospital's therapy dogs, Wrigley and Louie, are around to keep them company throughout the day, too.
The childcare service is being offered free of charge to employees and being managed by the hospital's Therapeutic Recreation and Child Life teams.
"As a hospital, our patients rely on our team members—including nurses, doctors and therapists—to deliver care," Megan Washburn with Shirley Ryan Ability Lab told CNN. "This childcare offering gives our employees peace of mind while ensuring patients continue to receive the highest level of care."
3:15 p.m. ET, October 17, 2019
Happening now: Chicago Teachers Union rally and march is underway
The Chicago Teachers Union, along with the AFT (American Federation of Teachers) President Randi Weingarten, are leading a rally and march downtown. 
They're joined by union members, grassroots community groups, elected officials, and other allies.
CNN is on the ground.
You can watch our coverage below:
1:27 p.m. ET, October 17, 2019
Chicago mayor says school will remain cancelled throughout the duration of the strike
From CNN's Amanda Watts
Chicago Mayor Lori Lightfoot addressed the media on Thursday morning, while Chicago Public School teachers began their strike.  
When asked if school was cancelled tomorrow as it was on Thursday, Lightfoot said, "Yeah, until we get notification from CTU [Chicago Teachers Union] that they are intending to come back to the classroom, school is cancelled for the duration." 
The Mayor said they need the union to come back to the table and bargain in good faith, face-to-face. 
"I think we have put on the table a structure both on compensation, around class sizes, around staffing and another of other supports that have the outline and framework for a deal, but we can't bargain by ourselves," Lightfoot said.  
"This isn't about politics for me. This is about making sure that we are protecting our children, that we're providing a safe and nurturing environment for them. And that we get a deal done that both respects the teachers and the support staff, honors our fiduciary responsibility to the tax payers and then puts in place a good solid foundation for our children on which to continue to grow and thrive."
"We need to get our kids back in school. Every day we are out, that hurts our children, that hurts our children. So we need to make sure that we do everything possible to create an environment where we can get back to the table, where we can get a deal done, so that our kids can be back in our normal rhythm and cadence," she said.
Lightfoot said if there is a willingness, they could get a deal done today. When asked why the union continues to say they aren't close to a deal, Lightfoot said, "we obviously have differences of opinions, which is why there's a strike." 
12:50 p.m. ET, October 17, 2019
Chicago Teachers Union says negotiations are still stalled
The Chicago Teachers Union said their negotiations with Chicago Mayor Lori Lightfoot are still stalled, "with the mayor refusing to put key provisions meant to help Chicago's students succeed into writing," the group said in a statement. 
"We want the people of this city to know that we don't take this strike lightly, and I say that as both a teacher and a parent," said Monroe Elementary School teacher Lori Torres in the CTU statement. 
11:46 a.m. ET, October 17, 2019
Here are some of the signs they're carrying in Chicago
From CNN's Gianluca Mezzofiore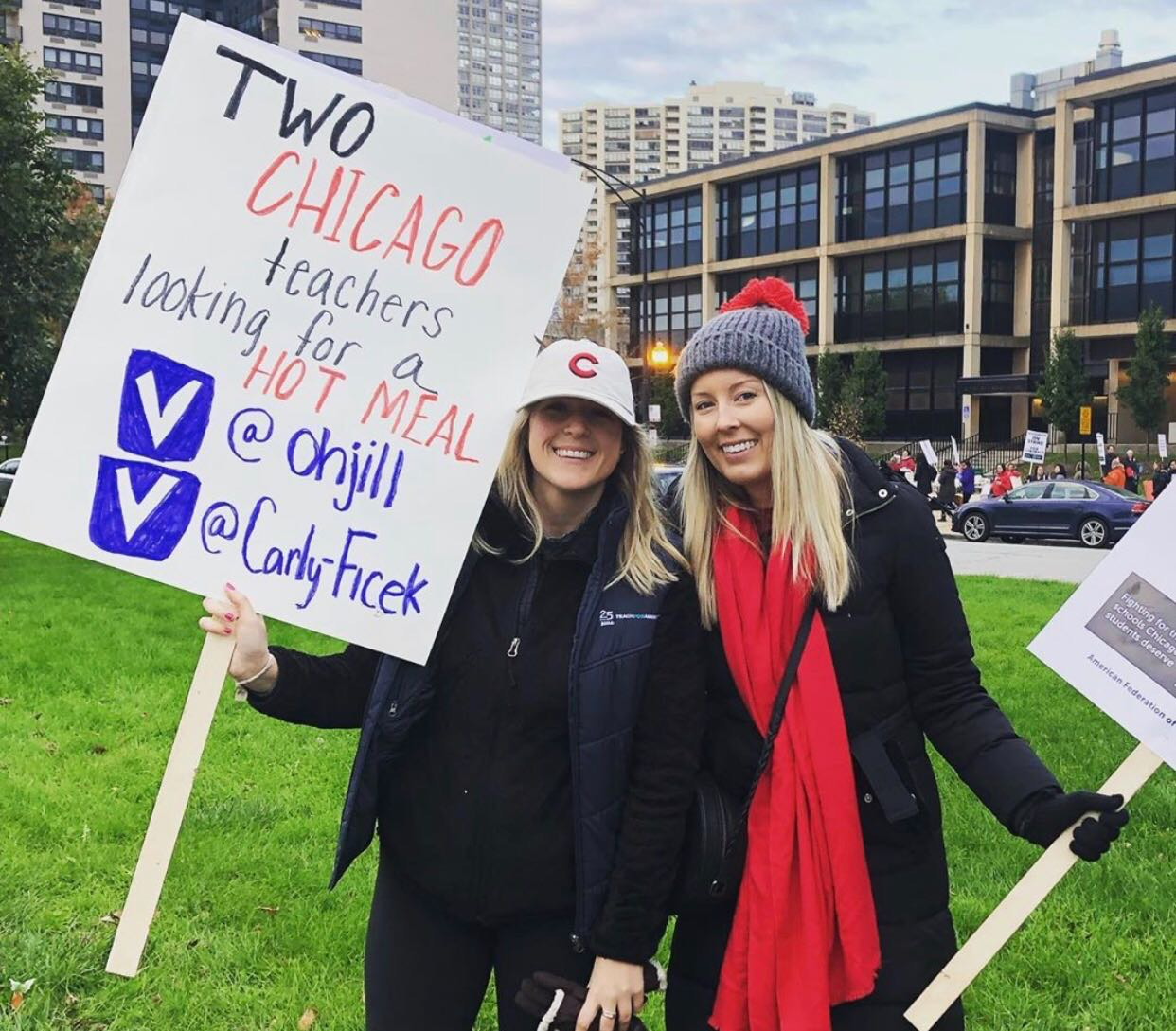 Jillian Nolke (on the left in the photo above), a 28-year-old 8th grade teacher at Walt Disney Magnet, took pictures of some of the most colorful signs at the Chicago teachers' strike.
Here are some of them: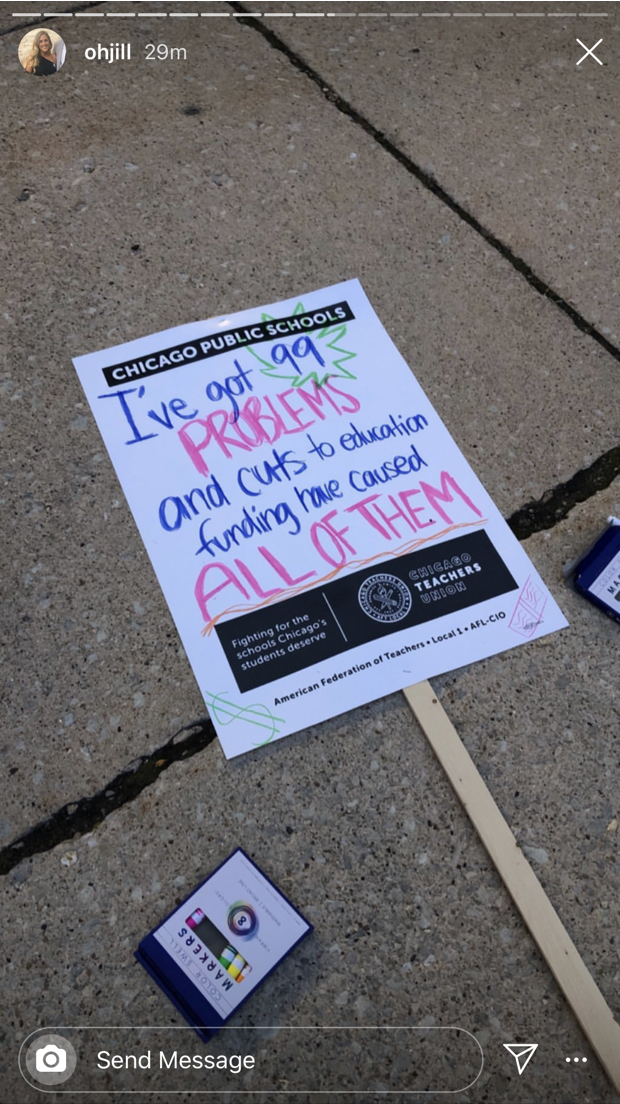 10:54 a.m. ET, October 17, 2019
It's her first year in CPS. She's striking against overcrowded classrooms
From CNN's Gianluca Mezzofiore
Syeda Sakina, 30, is an English teacher at Kenwood Academy. She told CNN it's her first year in CPS.
"I'm striking because I believe in smaller class sizes, equitable teaching, and to hire more counselors, social workers, and nurses in ALL schools. These are basic rights that every child deserves in a school. Overcrowded classroom means less chances to succeed because you aren't given proper attention and feedback. Especially as an English teacher, when and where do I find time to meet with my students to go over their paper if I have more than 32 kids in my classes?"