Massive wildfires rage in California
6:01 p.m. ET, November 12, 2018
Our live coverage of the California wildfires has ended. Go here or scroll through the posts below to read more about the fires.
5:59 p.m. ET, November 12, 2018
Sandra Bullock donates $100,000 to help save animals from California wildfires
Actress Sandra Bullock has made a $100,000 donation to The Humane Society of Ventura County, which is on the ground helping the non-human victims of the wildfires in Southern California.
"Our efforts for rescuing and caring for evacuated animals from the Hill and Woolsey fires had caught her attention and her team reached out to the shelter to show their support," the organization wrote on Facebook.
"Sandra Bullock and her family have reached out to other nonprofit organizations both during this incident and in the past. However, this time she wanted to contribute to those on the front line rescuing animals in peril and hope others will choose to do the same."
The group said the donation will help provide care for animals — from horses and bulls to donkeys and ducks — evacuated from the fires.
"The HSVC pledges to care for these animals for as long as is needed or until their owners feel comfortable in safely reuniting their families," the organization wrote.
5:55 p.m. ET, November 12, 2018
How to reduce your exposure to wildfire smoke
Wildfires are ravaging through northern and southern California and as powerful winds sweep through the state.
Northern California's Camp Fire and the Woolsey and Hill fires in Southern California have led officials to issue unhealthy air quality warnings throughout the San Francisco Bay area and affected populations in and around Los Angeles.
Here's what you need to do to reduce your exposure risk:
If your eyes feel like they're stinging, smoke exposure could also be inflicting other damage. Particles could be getting into your respiratory system.
If you see a haze, smell smoke or know of a wildfire in your area or a place you plan to visit, check the Air Quality Index to see whether you need to limit your time outdoors.
When advised to stay inside, keep your windows and doors closed. It's OK to keep the air conditioner running, but make sure the filter is clean, and close the fresh-air intake to prevent smoke from entering, according to the CDC.
Dust masks actually trap large particles and don't protect your lungs from smoke inhalation, but a mask that uses a filtering respirator can offer some protection. The CDC also has tips for how effective different types of masks can be, depending on your exposure.
5:41 p.m. ET, November 12, 2018
Instead of evacuating, this restaurant owner stayed and offered hot meals to first responders
Marco Gonzalez didn't even think about shutting down his restaurant when the Agoura Hills community, near Los Angeles, was ordered to evacuate Friday morning.
The neighborhood began to evacuate as the Woolsey Fire approached, but Gonzalez stayed behind with a handful of staff at Tavern 101 Grill & Tap House, cooking meals for firefighters and first responders.
"I told my people, I told them I wanted to open just to be here for police, firefighters and first responders," Gonzalez said. "We weren't able to get any deliveries into the restaurant, so I'll go out and buy whatever I can."
"What they're doing is putting themselves in harm's way and we have to do whatever we can to help," he added.
He started preparing meals with a team of four on Friday, which has since grown. Now, Gonzalez said he even has customers coming in volunteering to help.
Gonzalez's sister-in-law, Lyndsay McDougal Cannon, began a Venmo page for donations that raised more than $45,000 in less than three days.
"Marco is a good man, he has a fabulous family and the fact is he is teaching his kids in times of tragedy, you think about others. It's amazing," Cannon said.
Money the restaurant doesn't use will go toward police departments and fire stations and a Woolsey Fire relief fund.
5:26 p.m. ET, November 12, 2018
This nurse spent her birthday treating patients after barely escaping a burning car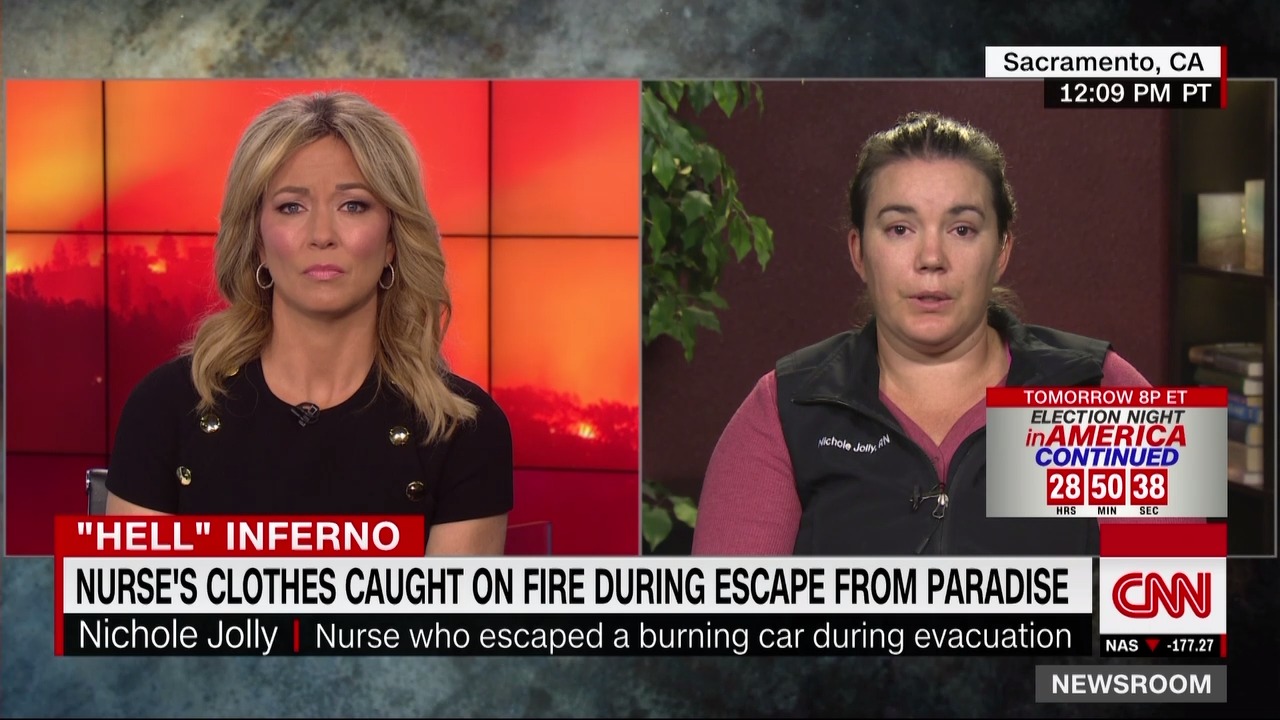 Nichole Jolly spent her 34th birthday evacuating and treating patients as the Camp Fire consumed Paradise, California.
Jolly, a nurse who worked in Paradise, barely escaped her burning car.
"I called him (her husband) and I said, 'Nick, I'm going to die. I'm not going to make it out of here, there's just flames everywhere, and I don't know what to do.' And he said, 'Don't die, run. If you're going to die, die fighting. You have to run.'"
Jolly did run, and eventually made her way to a firetruck. The respite was short-lived; the firefighters called for air support, but were told it couldn't reach them. Smoke was filling the air, and they were running out of oxygen.
Finally, a bulldozer cleared the path, allowing the firetruck and other vehicles a straight path to the hospital.
"This dozer just came out of nowhere and cleared a path and he saved all of us. He saved everybody's lives. Those dozer operators are incredible. They deserve to be the heroes in this story," Jolly told CNN.
She spent her birthday on Friday helping others at the hospital.
"I just had to keep going, I had to keep working. When we got back to the hospital, I had to keep working. I had to stay busy. I'm trained to be a nurse and I'm trained to help people and that's what I do, and that's what Karen Davis (another nurse) does and all of our staff that was at the hospital. We worked and we just stayed busy. And we didn't think about ourselves and our possessions that we just lost and anything else. We just helped these people. You know, that's what nurses do."
Watch it here:
5:21 p.m. ET, November 12, 2018
The last time Paradise got rain was 210 days ago
The part of Butte County devastated by the Camp Fire hasn't gotten a half-inch of rain on any calendar day for 210 days, Jonathan Pangburn, a spokesman for the California Department of Forestry and Fire Protection.
The area is full of "critically dry fuel available for burning," Pangburn said.
Here are some other statistics from CNN Weather:
The last time the town of Paradise had 0.50 inch of rain was on April 16. This could be the second longest stretch for Paradise without 0.50 inch of rainfall. The longest was 231 days, ending November 5, 1966.
The month of May had just under a quarter inch of rain.
Paradise went 128 consecutive days with zero rainfall, which ended October 1. That means the entire months of June-September had zero rainfall. It was the third longest stretch with zero rainfall for them. 
4:31 p.m. ET, November 12, 2018
Private boats deliver supplies to residents stranded in Malibu
A group of five private boats traveled 25 miles from Marina del Rey to Pirate's Cove beach in Malibu carrying food, water, fuel, diapers and other supplies for residents who did not evacuate during the Woolsey Fire.
About 30 people met the boats at the beach and transferred supplies to jet skis, dinghies and surfboards.
Residents refused to leave because they were afraid they wouldn't be able to re-enter to defend their property. They haven't had access to supplies since the roads closed.
4:14 p.m. ET, November 12, 2018
Firefighters went straight from Thousand Oaks shooting to wildfires
Several firefighters who responded to last week's bar shooting in Thousand Oaks, California, went straight to fight the wildfires ripping through the state, said Los Angeles Fire Department Capt. Frank Lima.
"They've been 48 to 72 hours on shift, doing what we do. We go there, we risk our lives. Our firefighters are out there.  Meanwhile many of them have lost their own homes and have been displaced, but they're still serving the community," Lima told CNN on Monday.
Many of the firefighters carry an "anvil of worry on their backs" with their own families in danger, he said. Whenever natural disasters happen -- hurricanes, earthquakes and fires -- firefighters "stay there all the way to the end even though their wives and kids -- the only things on their backs that they own are their clothes," Lima said.
"Our members try to cope with from all the things that they're seeing, massive high tolls — the death tolls are increasing. It gets really tough for our firefighters on the lines worrying about their families," he said.
Watch it here:
3:33 p.m. ET, November 12, 2018
The mayor of Paradise is living in a motor home after her home was destroyed in the Camp Fire
Paradise Mayor Jody Jones lost her home when the Camp Fire swept through her town last week.
Jones was running an errand when the fire broke out.
"It took a long time to get out, and there was fire on both sides of the car. You could feel the heat coming in through the car. You could see the telephone poles burning and trees and structures and flames 30 feet in the air. It was scary."
Jones is now living in her motor home.
"That is fine for now. We have a bed and we have a roof. We're good, but that's not good for the long term. So yes, we've started looking for a more permanent place to live," she said.
Watch more: