Massive wildfires rage in California
11:18 a.m. ET, November 9, 2018
Camp Fire evacuees trapped in cars beside burning trees
Whitney Vaughan, a resident of Paradise, California, had gone to work Thursday morning not realizing how close the Camp Fire was. Upon arrival, she was told Paradise was under immediate evacuation.
After rushing home, she and her husband joined the chaotic evacuation.
"The flames were whipping and spreading so fast. It began to jump the road. There wasn't anywhere to go ... The people behind us abandoned their cars and took off running carrying their babies and kids," she told CNN.
Traffic was at a standstill, and as she and her husband waited, she filmed the line of cars stuck beside burning trees.
"We barely stayed ahead of it and multiple times, as we followed the flow of cars, we thought the fire was going to kill us. It was everywhere. After 3 and a half hours we finally made it through the gridlock," Vaughan said.
Watch it here.
10:45 a.m. ET, November 9, 2018
Malibu declares mandatory evacuation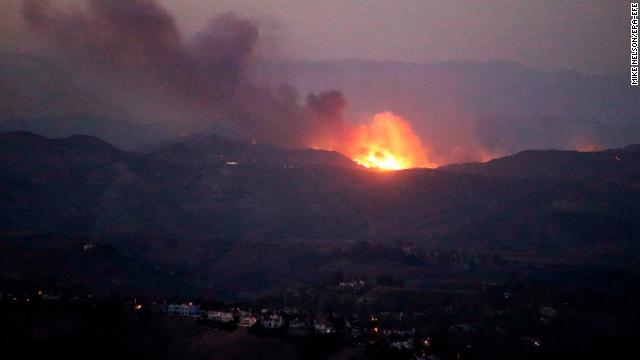 Malibu has ordered a mandatory evacuation due to the fast-moving Woolsey Fire that has charred parts of Ventura and Los Angeles counties.
Residents were advised to evacuate through the Pacific Coast Highway, and avoid canyon roads.
According to the emergency alerts, the nearest evacuation center for Malibu residents is at Palisades High School, and large animal evacuation centers have also been established at the Zuma Beach parking lot and the Hansen Dam Equestrian Center in Lake View Terrace. 
The Los Angeles County Fire Department also tweeted that residents faced "imminent threat" and should "leave area immediately."
10:43 a.m. ET, November 9, 2018
Woolsey Fire crosses 101 Freeway and forces road closures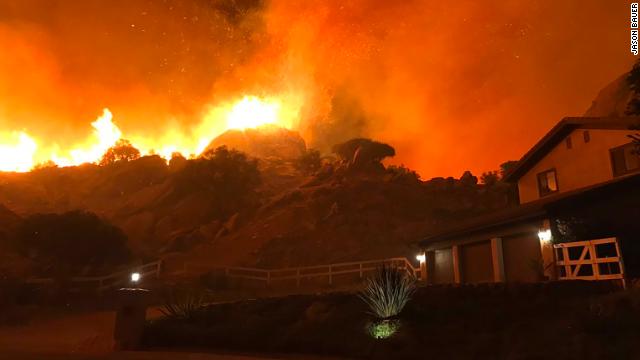 The Woolsey Fire, straddling Ventura and Los Angeles Counties, jumped the 101 Freeway and triggered road closures.
The fire forced ramp closures near Cheseboro Road, Valley Circle and Reyes Adobe.
Ventura County Fire Capt. Scott Dettorre told CNN affiliate KTLA the area of Liberty Canyon and Cheseboro at the 101 Freeway is a major focus of the firefight.
"Please, please, please if you are asked to voluntarily leave the area, please do. If/when that mandatory comes, don't hesitate, go. Make sure your stuff is packed and ready. Please leave the area," he told KTLA.
Dettorre said many structures were lost in the fire. The winds, he said, were going to pick up and firefighters were gearing "for a few more hours of strenuous battle."
10:14 a.m. ET, November 9, 2018
The Woolsey Fire "came out of nowhere"
Jason Bauer helped his parents evacuate from Bell Canyon in Ventura County, California, as the Woolsey Fire was approaching their home.
"I went there after work and you could see flame and smoke about a mile away. But it looked like it was moving parallel and away so it seemed okay," Bauer told CNN. "I came home and an hour later got a call from my mom that the flames were coming over the ridge so I rushed up there."
Bauer and his father were on the street when "the flames just came out of nowhere."
"There was no fire department around. It just sorts of blew up quickly," Bauer added.
He took this video of the fire from the street:
9:50 a.m. ET, November 9, 2018
Northern California hospital damaged in raging Camp Fire after patients quickly evacuated
Flames from the Camp Fire damaged Adventist Health Feather River Medical Center in Butte County, but the extent is unknown, according to a statement on their website.
Patients were forced to evacuate to Enloe Medical Center and Oroville Hospital for their safety, their website said. Photographers at the scene shot a series of images showing search and rescue teams scrambling to evacuate the patients.
"While we did sustain damage to some parts of our property, we are unable to confirm the full extent of that damage at this time. Until it is safe for our team to return to the site, we are unable to confirm any reports," the hospital said in a statement.
Adventist Health clinics in Paradise and Chico will remain closed Friday, the hospital said. 
9:29 a.m. ET, November 9, 2018
They were still reeling from a mass shooting when the Hill Fire erupted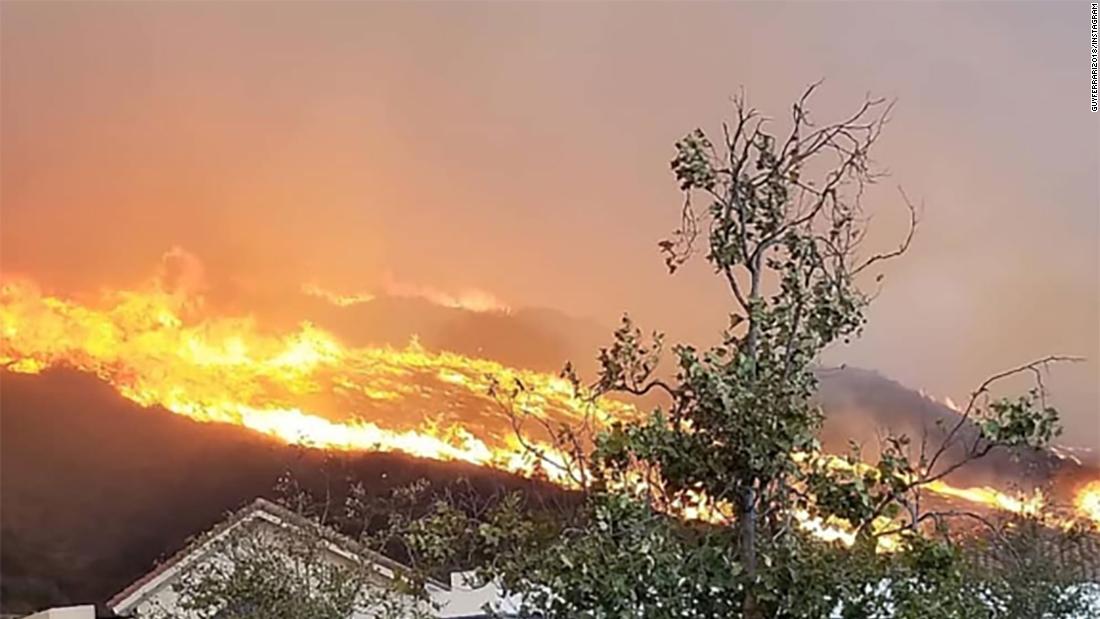 Just down the road from the Thousand Oaks bar where 12 people were killed in a mass shooting, residents were also grappling with the Hill Fire, which quickly spread to cover 10,000 acres, Ventura County Fire Department officials said.
Just 12 minutes after it started Thursday afternoon, the flames spread across the 101 Freeway, leaving several drivers temporarily stranded. The highway is expected to remain closed Friday morning, Ventura County Fire Chief Mark Lorenzen said.
Residents took to social media to share their views of the flames nearly consuming the hillside in Newbury Park, which borders Thousands Oaks to the west.
While no homes or businesses have been lost due to the fast-moving fire, a number of RVs and outbuildings have been burned and a firefighter suffered a minor injury, authorities said.
Fire officials anticipate the fire will reach the Pacific Ocean.
9:39 a.m. ET, November 9, 2018
3 massive wildfires are burning in California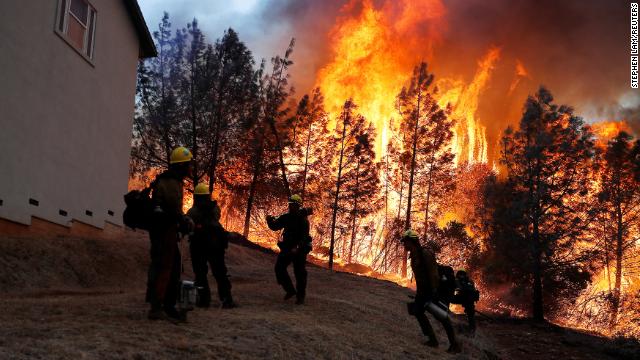 A series of fast-moving wildfires are racing up and down California early Friday, destroying thousands of structures in their paths and forcing thousands of residents to evacuate through flame-lined streets.
Here's a breakdown of the fires:
Camp Fire: The fire broke out Thursday and forced 40,000 residents to evacuate in Butte County, California. It is burning at a rate of about 80 football fields per minute. So far, it has burned through 20,000 acres, injured firefighters and residents, and prompted hospitals and schools to quickly evacuate. Authorities believe up to 1,000 structures have been destroyed -- most of those in Paradise, a town of 26,000 people about 85 miles north of Sacramento, a Cal Fire spokesman said.
Woolsey Fire: The blaze in Los Angeles and Ventura counties grew thousands of acres overnight, exploding from 2,000 acres to 7,500 in a matter of hours. Mandatory evacuations were in effect early Friday, and 30,000 homes were under threat from the blaze. Some structures have already been destroyed, Cal Fire reported.
Hill Fire: The blaze started Thursday afternoon, the flames spread across the 101 Freeway, leaving several drivers temporarily stranded. The highway is expected to remain closed Friday morning, fire officials said. It quickly spread to cover 10,000 acres.
And here's where they are located on a map: