Deadly wildfires burn in California
9:49 p.m. ET, July 30, 2018
Our live coverage has ended for the night. Go here or scroll through the posts below to read more about California's wildfires.
9:49 p.m. ET, July 30, 2018
Here's how to help the victims of the Carr Fire
From CNN's Christopher Dawson
The Carr Fire raging in Northern California has claimed six lives and destroyed at least 966 structures.
At least 19 people were still reported missing in Shasta County, California, officials said at a community meeting Monday evening.
Nonprofits are offering assistance for those forced to leave and help with the eventual rebuilding. 
You can support these efforts via this link.
The Tri Counties Bank, which serves the affected region, has launched the 2018 Carr Fire Fund and contributed an initial $25,000 to benefit fire victims.
GoFundMe has verified this campaign, and you can support it here.
9:49 p.m. ET, July 30, 2018
Man who lost home: "It looked like an atomic bomb went off"
Josh Lister and his family lost their home and belongings after the massive Carr Fire swept through Redding, California.
"It looked like an atomic bomb went off," he said.
Some residents were given only 30 minutes to evacuate, not knowing if they would see their homes again. 
Lister and his family faced a "firestorm" as they fled their home, he said.
"We had zero warning," Lister said. "We went to sleep. It was just like a normal day, and we're woken up at six o'clock in the morning with banging on the door, telling us that we had to get out immediately."
Watch more:
4:50 p.m. ET, July 30, 2018
He was a "pillar of strength" for his firefighting crew
From CNN's Stella Chan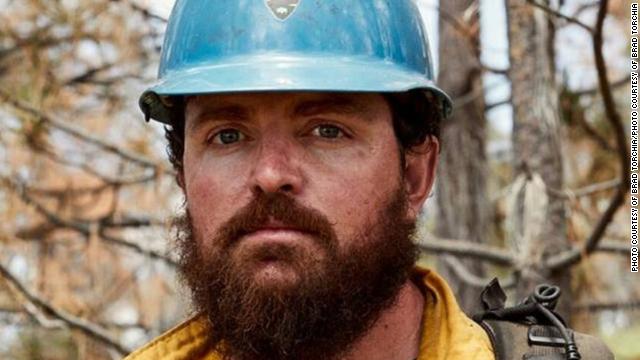 Officials expressed grief at a news conference Monday over the death of Capt. Brian Hughes, who was struck by a tree while battling the Ferguson Fire near Yosemite National Park this weekend.
Woody Smeck, superintendent for the Sequoia and Kings Canyon National Park, said the 33-year-old firefighter of the Arrowhead Interagency Hotshots held his team together over several fire seasons.
"Hotshot teams are a tight knit close group that really care for each other and Brian facilitated that caring and connection, kept team in strong unity. This particular team is remarkable, held together several seasons. This type of work, retention is a challenge, this team held together (two to three) seasons. This is a tribute to Brian, keep people connected, supported. He was their pillar of strength. He had a bright future ahead of him, gone way too soon. That crew has been pulled from the fire and have strong support from the community."
Hughes is the second person to die while tackling the Ferguson Fire. Braden Varney, 36, a heavy fire equipment operator, died July 14 while battling the blaze.
3:16 p.m. ET, July 30, 2018
A firenado exploded near Redding last week. Here's how it happened.
From CNN's Brandon Miller
Video taken near Redding, California, last week showed a "firenado" approaching teams battling the Carr Fire.
What exactly is a firenado?
As you may have guessed, it's short for "fire tornado." The intense heat from the fire causes the air to heat up quickly and rise rapidly. Combined with surface winds that are obviously quite strong, it creates a vortex similar to a dust devil. 
But don't let the name fool you: They are not the same as tornadoes that form during severe thunderstorms.
1:55 p.m. ET, July 30, 2018
What you need to know about the mushroom-shaped clouds appearing over the Carr Fire
From CNN's Judson Jones and Brandon Miller
The Carr Fire raging in Northern California is so large and hot that it is creating rare mushroom-cloud like formations known as pyrocumulus clouds — which are basically its own localized weather system.
Here's how they form: Normal cumulus clouds form because the sun's rays heat the ground, forming warm air that rises because it is less dense than the cooler air above. As it rises, the air cools and condenses to form the cloud.
During a wildfire, however, the extreme heat from the flames forces air to rapidly rise. As the fire burns trees and other plant life it causes the water inside them to evaporate into the rising air. This additional moisture in the atmosphere condenses in the cooler air above, on smoke particles also produced by the fire.
They don't just look like thunderstorms — they act like them, too: The clouds can produce lightning and cause the winds to gust and blow in different directions, CNN meteorologist Brandon Miller says.
Sometimes they even contain enough moisture to become a pyrocumulonimbus — another way of saying a cumulus cloud that produces rain. The rain that falls from a pyrocumulonimbus cloud sometimes can put out the same fire that created the cloud initially.
Here's what it looks like on satellite:
1:00 p.m. ET, July 30, 2018
He was on the phone with his great-grandchildren when flames engulfed their home
From CNN's Amir Vera and Dan Simon
Ed Bledsoe left his home in Shasta County, California, on Thursday to go to the doctor. The Carr Fire had been burning for four days at that point and Bledsoe said he didn't realize the fire was coming into his neighborhood.
While he was out, his 70-year-old wife, Melody Bledsoe, called and told him she and their great-grandchildren — 4-year-old Emily Roberts and 5-year-old James Roberts — could see the fire.
He tried to get back to the house but couldn't find a way. However, he was able to get through on the phone.
Bledsoe broke into sobs as he described his last conversation with his grandson.
He just kept saying 'Grandpa, come and get me,'" Bledsoe said. "'The fire's coming in the back door. C'mon Grandpa.' I said 'I'm right down the road.'"
Watch more:
12:24 p.m. ET, July 30, 2018
This is what the California wildfires look like from space
The National Oceanic and Atmospheric Administration shared satellite images taken Sunday over Northern California.
The white in the images are clouds, while the brown is smoke:
11:57 a.m. ET, July 30, 2018
Carr Fire in the top 10 most destructive in California history
From CNN's Brandon Miller
As of Monday morning, the Carr Fire has destroyed 966 structures, making it the 9th-most destructive fire in California history, according to Cal Fire statistics.
The records go back to at least 1923, and seven of the top 12 most destructive fires have occurred since 2015.