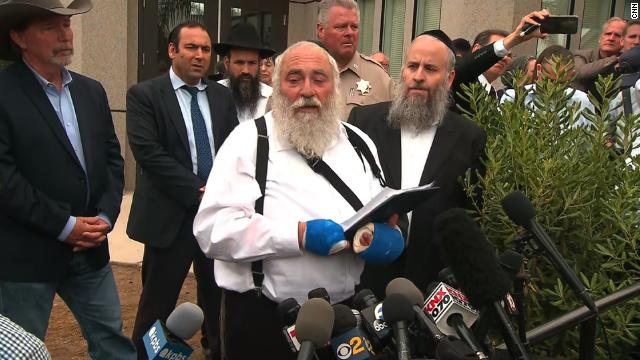 Rabbi Yisroel Goldstein, leader of Congregation Chabad, gave an emotional account of his encounter with the shooter.
Speaking at a press conference on Sunday, Goldstein said he came face-to-face with the shooter in the lobby of his synagogue, saying he saw "a young man standing with a rifle, pointing right at me."
"I couldn't see his eyes, I couldn't see his soul. I froze," Goldstein said.
Goldstein was shot in the hands, losing an index finger in the attack.
Goldstein said off-duty Border Patrol agent Jonathan Morales, as well as former soldier Oscar Stewart, tried to tackle the gunman when his gun jammed.
The gunman was able to run away, got into his car and fled the scene.
Goldstein said Morales had recently discovered his Jewish roots and traveled 3 ½ hours from El Centro, California, to pray with the congregation on Passover. The rabbi had previously told Morales to arm himself when he comes to their congregation, saying he told Morales, "we never know when we will need it."
Goldstein choked up as he talked about his friend Lori Kaye, who died in Saturday's shooting. "She died to protect all of us," he said. "She didn't deserve to die right in front of my eyes."
Goldstein recalled grabbing a prayer shawl to wrap his arm and bleeding fingers. He said he saw his congregation outside and felt compelled to do something, so he stood on a chair and declared:
"We are a Jewish nation that will stand tall, we will not let anyone or anything take us down. Terrorism like this will not take us down."
Watch the emotional press conference here.
Artemis Moshtaghian contributed to this report