12 dead in California bar shooting
1:18 p.m. ET, November 8, 2018
California's newly elected governor orders flags to be flown at half-staff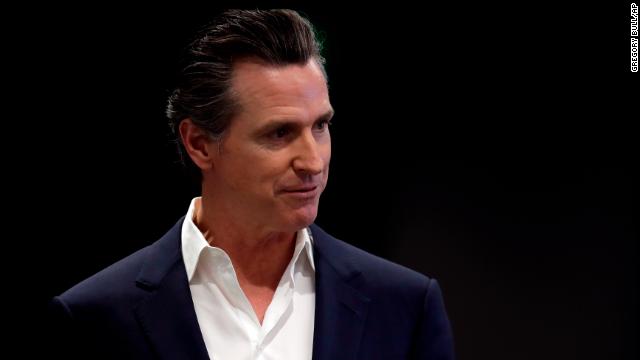 California Lt. Gov. Gavin Newsom ordered flags to be flown at half-staff in the wake of last night's deadly shooting at Borderline & Grill in Thousand Oaks.
In his statement, Newsom, who won the California governor's race Tuesday, said more must to be done to "address the root causes of these devastating acts at every level of government."
Here is his statement:
"Jennifer and I extend our deepest and heartfelt condolences to the friends and families of Ventura County Sheriff's Sgt. (Ron) Helus, and to the friends and families of the many who lost their lives in yet another horrific act of gun violence. We join the Thousand Oaks community in its grief and, together with all Californians, recognize the bravery and heroism of our nation's peace officers and first responders. 
This atrocious act and the many mass shootings that came before are beyond heartbreaking — they are societal failures. Simply saying 'enough is enough' isn't enough. We must address the root causes of these devastating acts at every level of government."
1:02 p.m. ET, November 8, 2018
California senator calls for "stronger federal gun regulations" after bar shooting
California Sen. Dianne Feinstein called for "stronger federal gun regulations" after last night's deadly shooting in Thousand Oaks.
She also cited recent mass shootings in her argument for stricter gun laws
"Today we add Thousand Oaks to the ever-growing list of communities that have suffered mass shootings," she said in a statement. "These mass murders are depressingly pervasive. Schools. Theaters. Malls. Offices. Synagogues. Grocery stores. Bars. Concerts. Churches. They're inspired by racism, revenge, terrorism or just pure hatred. The one common attribute: easy access to guns."
Read her statement here:
"Some will say California's strong gun laws didn't prevent this shooting, but without stronger federal gun regulations, there's little California can do to keep guns coming in from other states. Without stronger laws to prevent straw purchasing and close the gaping holes in our background check system, a presumptive murderer barely has to lift a finger to buy a gun.
Some will say we need more guns, not fewer, an absurd claim in a bar full of students with security guards where an armed police sergeant was killed. Republicans argue we shouldn't talk about gun policies after a mass shooting. They're wrong. This is exactly the time we should be talking about enacting gun safety measures. We don't know all the details of this latest shooting, but we do know how to start to reduce the frequency of these murders. What we' re missing is Republican willpower to get it done.
A renewed ban on military style assault weapons—which have no place in civilian society—is ready for a vote. A bill to ban high-capacity ammunition magazines is ready for a vote. A bill to ban bump stocks, which Republicans agree should be illegal, is ready for a vote. A bill to close the gun show and online loopholes is ready for a vote. Bills to prevent terrorists from buying guns, keep guns away from domestic abusers and allow loved ones to get a gun violence restraining order, each is ready for a vote.
We could hold these votes next week and have bills on the president's desk by Thanksgiving. Instead, Republicans refuse to take any action at all.
This failure to act is cowardice of epic proportions. We may not be able to stop all gun violence, but that doesn't mean Republicans should be allowed to bury their heads in the sand and not to — to stop any of it.
What we're lacking is intestinal fortitude from congressional Republicans and President Trump to say enough is enough. As long as they stand in fear of the NRA and worry more about the power of the gun lobby than the lives of their fellow citizens, we'll see more Thousand Oaks, more bodies lying at the foot of failed Republican leadership."
12:53 p.m. ET, November 8, 2018
Slain deputy was providing back up for other deputies all night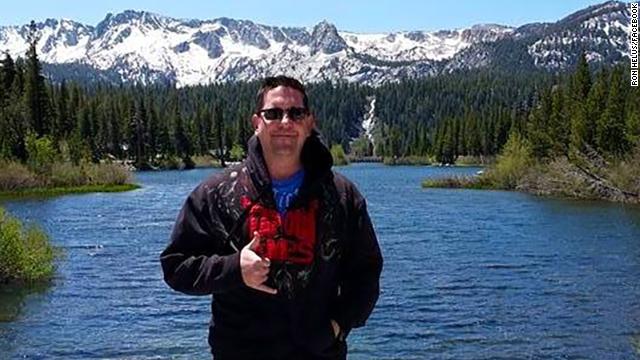 Ventura County Sheriff's Sgt. Ron Helus spent the evening backing up fellow deputies on calls before he was fatally shot.
"He was going to every call that he could, because that's how he was…. and rushed here to continue doing that, to continue saving lives," Senior Deputy Julie Novak told CNN affiliate KCAL/KCBS.
Six unarmed, off-duty law enforcement officers who were at the Borderline Bar & Grill stepped in to help, Novak said.
A woman whose daughter was at the bar during last night's shooting there told officials one of the officers "stood in front of her daughter — protecting her life with his own," Novak said.  
12:35 p.m. ET, November 8, 2018
Shooter posted online about his military service
California bar shooter Ian David Long posted information about his military service on a special forces forum called Shadowspear in March 2017.
In his post, Long said he had served in Afghanistan, was an infantry machine gunner in the US Marine Corps for four and a half years, and was an instructor in Okinawa.
Here's part of what he wrote:
"I was honorably discharged in 2013. I am graduating with a B.S. in Athletic Training in two months. I found out a little too late that just wasn't the job for me. Maybe the ego got the better of me but it took only one time for a 19 year old D-2 athlete to talk down to me and tell me how to do my job that I realized this wasn't the career I wanted to head."
CNN also spoke to a friend who served with Long, who confirmed the suspected gunman had served in Afghanistan and moved to southern California to pursue a degree in sports medicine. 
12:15 p.m. ET, November 8, 2018
Deputy killed in shooting owned a gun safety company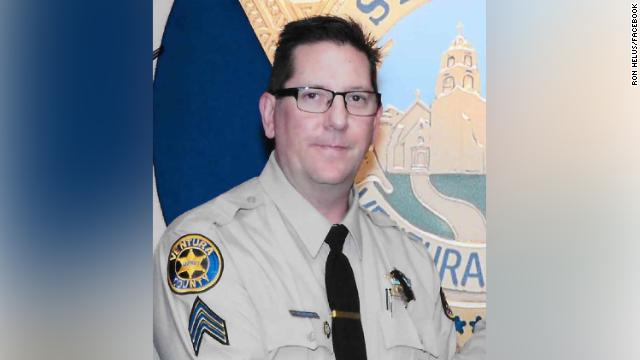 Sgt. Ron Helus, who was fatally shot at the Borderline Bar and Grill in Thousand Oaks, ran a business in which he taught gun safety to concealed carry weapons permit applicants, according to Ventura County Sheriff's Deputy Chris Dyer. 
Helus was a firearms instructor for recruits in the sheriff's basic training academy, he said. 
According to Helus' LinkedIn and Facebook page, he also founded a company called Gun Control: Firearms Training and CCW Instruction in 1993.
Helus, a 29-year veteran of Ventura County Sheriff's Office, still owned and operated the company when he died. 
12:07 p.m. ET, November 8, 2018
Shooter attended California State University Northridge
The shooter in last night's bar shooting was once a student at California State University Northridge. In a statement from University President Dianne Harrison, she said that Ian David Long last attended the school in 2016.
Here's the full statement:
On behalf of California State University, Northridge, our hearts and thoughts are with the victims, survivors, first responders and loved ones affected by the horrific massacre that occurred in Thousand Oaks last night. We have learned that the reported shooter is a former CSUN student, who last attended in 2016.
I know that many in the community have been impacted by this terrible tragedy. I ask that faculty and supervisors be supportive and considerate of anyone who has been touched by this tragedy. Also, please know that University Counseling Services has people available at (818) 677-2366 if you or someone you know need assistance or support. As members of the Matador family, I ask that our campus come together and support one another during this troubling time. Please check CSUN.edu for updates as more information becomes available.
In accordance with a proclamation issued by the White House, I have directed that U.S. flags on campus fly at half staff until sunset, Nov. 10, in honor of the victims of this senseless tragedy.
Again, I share my deepest condolences and sympathies with those affected by this horrific massacre.
11:52 a.m. ET, November 8, 2018
Victim notification process is "slow and methodical," official says
As families of the Borderline Bar & Grill shooting wait for word on missing loved ones, the Ventura County Sheriff's Office is continuing to work on notifying them.
"It's a slow and methodical process," Ventura County Sheriff Deputy Bill Hutton said. "Everyone here wants to know — family, friends, relatives. We're doing everything we can to get information (out to them)."
Family members will have access to chaplains, victims advocates and counseling on site. 
11:42 a.m. ET, November 8, 2018
Flags fly at half-staff at the White House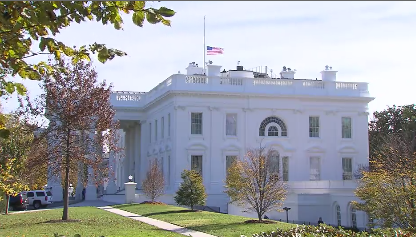 President Trump ordered flags to be flown at half-staff in remembrance of the 12 people killed at a bar shooting in Thousand Oaks, California.
Here's a portion of the President's proclamation:
"As a mark of solemn respect for the victims of the terrible act of violence perpetrated in Thousand Oaks, California, on November 7, 2018, by the authority vested in me as President of the United States by the Constitution and the laws of the United States of America, I hereby order that the flag of the United States shall be flown at half-staff at the White House and upon all public buildings and grounds, at all military posts and naval stations, and on all naval vessels of the Federal Government in the District of Columbia and throughout the United States and its Territories and possessions until sunset, November 10, 2018. I also direct that the flag shall be flown at half-staff for the same length of time at all United States embassies, legations, consular offices, and other facilities abroad, including all military facilities and naval vessels and stations."
11:18 a.m. ET, November 8, 2018
Some Cal Lutheran students were at the bar
Some California Lutheran University students were at the Borderline Bar & Grill last night, according to university spokesperson Karin Grennan.
"The Cal Lutheran community is grieving over what happened last night. We know some of our students were there," she said in a statement.
Classes were canceled on Thursday.
At least five California State University Channel Islands students were also at the bar, according Erika D. Beck, the university's president.
Beck said they are safe.